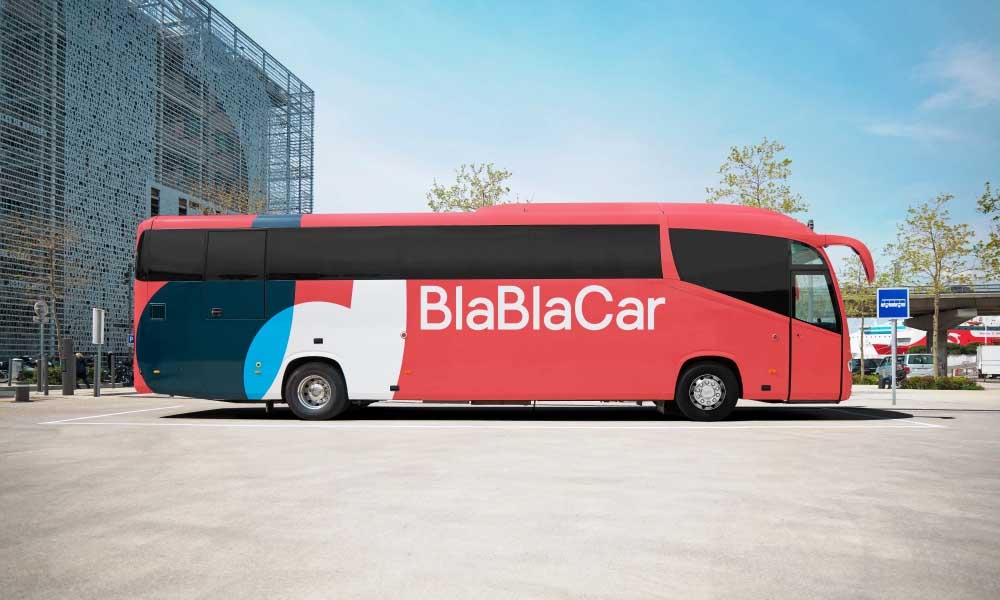 Modern technologies and digitization have left no stone untouched when it comes to automating the business and people's preferences. Over the last decade, the word "online" has become the talk of the town, whether you are talking about online taxis, online food delivery, online air and movie tickets booking, or even online property hunting. Among them, the online taxi service market has been growing leaps and bounds, and why not, after all, it offers comfort, security, less prices, and carpooling. BlaBlaCar is Europe's leading online ride-hailing market that connects drivers with riders. So, let's discuss what makes BlaBlaCar successful in French and why entrepreneurs think of investing in a BlaBlaCar clone app to digitize their existing transportation business.
If you belong to metropolitan cities, you might have faced traffic jams more often. In addition to that, users today prefer private transportation instead of public transportation due to the ongoing pandemic situation. Plus, owning a car is an expensive affair. This situation makes entrepreneurs think about investing in an app like BlaBlaCar and successfully launching it on local markets or even globally.
Online ridesharing marketing continues to grow at 19.87% and will soon reach $218 billion. The figure clearly defines that the future of the online ridesharing market is promising. After going through this blog post, you will
Have complete details of BlaBlaCar company details

Know how does it work

Come to about know about its business and revenue model

Able to understand why having an app similar to BlaBlaCar benefits your business
So let's uncover some truths about the well-known French carpooling platform, BlaBlaCar, and its business and revenue model.
What is BlaBlaCar Clone?
BlaBlaCar clone is a pre-built and trusted version of the BlaBlaCar app that comes with all the alluring features and allows taxi business owners to accept and manage online ride-booking requests with ease. After the success of the BlaBlaCar app in the market, many startups and even well-established business owners have started to invest in the BlaBlaCar clone app to drive business growth.
Interesting Facts About BlaBlaCar Carpooling Service
BlaBlaCar is an online service for carpooling that connects drivers and riders who want to travel between cities and share the cost of the trip. It's a unique business model from any other online ride-hailing app; here, the rider can travel at any point in time; all they need is to select a rider and book a seat. Along with Europe, BlaBlaCar claims to be the most trusted carpooling service across the globe.
Today, BlaBla car operates in more than 22 counties and serves more than 18 million customers every quarter.
Brand Name: BlaBlaCar
Industry: Transport
Establishment Year: September 2006
Founders: Frederic Mazzella, Francis Nappez, Nicolas Brusson
Headquarter: Paris, France
Area Served: 22 countries
Active Users: 90 million (2021)
Number of Employees: 600
Revenue: $85 million (2018)
Platform Availability: Android, iOS
Funding Timeline
In 2009, the company raised €600,000 from their friends and family members.

In 2010, BlaBlaCar raised 1.25 million euros from ISAI.

In January 2012, BlaBlaCar raised another 7.5 million euros from Accel Partners in order to expand its operations in Europe.

Bla Bla Car recently announced that it had received $201m in funding, making it one of the best-funded technology startups in Europe. Among the investors are US venture capital firms Lead Edge Capital and Insight Venture Partners as well as Stockholm-based Vostok New Ventures.

Recently in April 2021, French startup BlaBlaCar has raised a $115 million funding round, and the company has also started a bus marketplace and acquired Ouibus and online bus ticketing platform Busfor.
How Does BlaBlaCar Work?
The working pattern of BlaBlaCar is easy as it comes with certain advanced features that allow customers to book or share a car without any hassle. Here, we will go through from the customer's point of view how BlaBlaCar works and ensure a cost-effective riding experience for customers.
Using the website or application, passengers are asked to enter location details with the travel date

Here passengers can also find verified drivers for their ride and check their profiles for safety purpose

Now users can book their seats online; once the booking confirmation gets done, passengers will receive the driver's contact details.

Moreover, passengers can also share their rides with other riders on a long journey, and they can also leave reviews based on overall service.
This is how BlaBlaCar makes long journeys easy, peaceful and convenient.
BlaBlaCar Business Model: Disrupting the Road Travel with Trusted Carpooling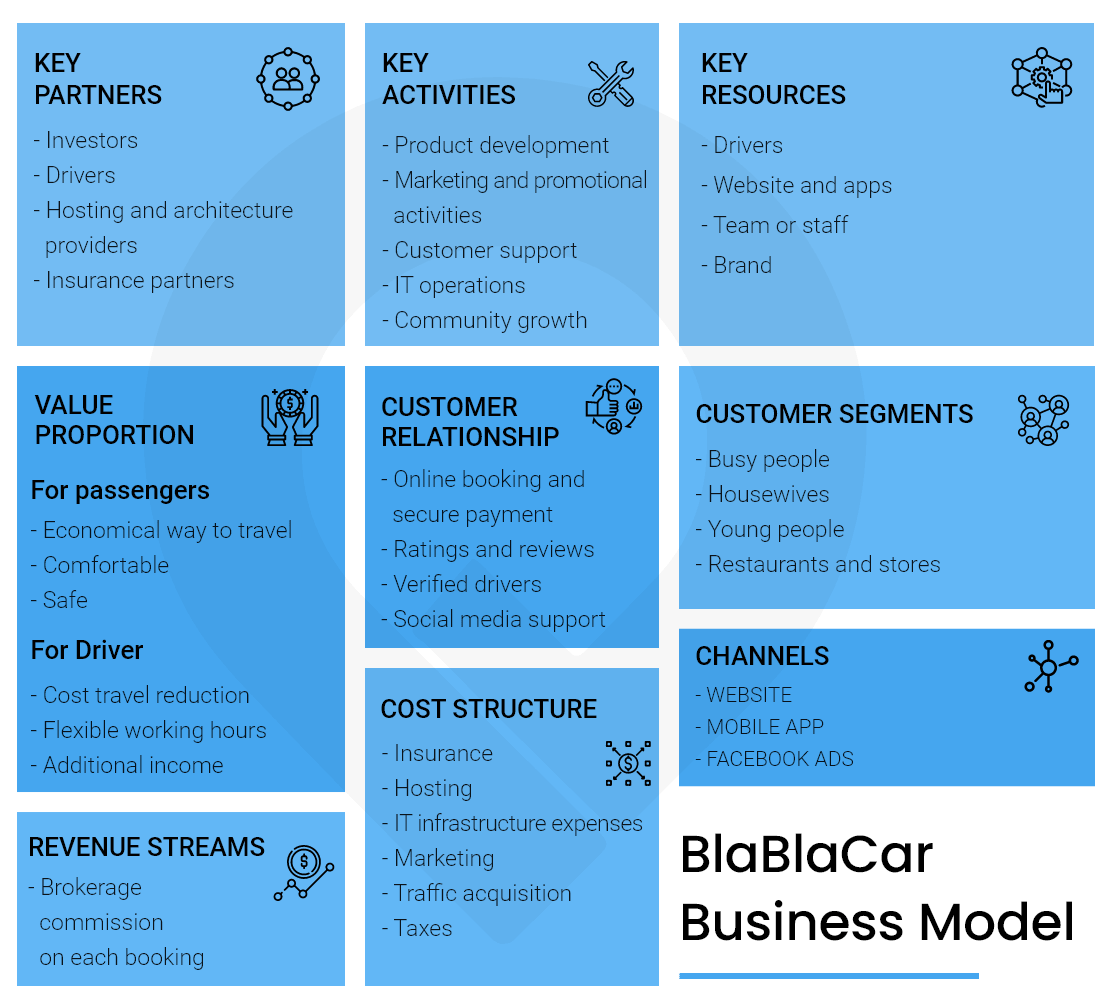 BlaBlaCar has built a community of millions of users across the globe. Born in France, it has already proved its worth in Europe and has expanded its service in 22 countries, including the United Kingdom, Russia, Germany, and India. BlaBlaCar provides last-minute travel options and allows riders to share rides with passengers who want to travel on the same route.
The company's business model is attractive and offers some attractive value propositions to passengers and drivers.
Value Proposition for Drivers
Drivers can earn a handsome amount of money by renting their car

They can work flexibly

Drivers are also able to save the cost of fuel by sharing the ride with passengers
Value Proposition for Passengers
Passengers can travel long-distance journeys at competitive prices

They can also book a taxi or bus at the last minute

Customers are allowed to choose verified drivers based on their ratings and pricing structure
Revenue Model- How Does BlaBlaCar Make Money?
Having been successful in 13 countries across the globe, French ridesharing startup BlaBlaCar has entered India after becoming the largest long-distance ride-sharing network in the world. Now, you must be eager to know how it makes money in millions without owning a single car? Let's uncover the truth.
The vast majority of BlaBlaCar's revenue comes from commission fees averaging 10-20%

Another source of revenue is advertisements (there has been news somewhere that they come from ad monetization) as well as partnerships (such as the one with AXA).
Usually, the company does not charge any commission in the new markets like Mexico in order to build a strong customer base, but France, Spain, UK, Italy, and Portugal are completely being monetized.
Extensive Benefits Entrepreneurs Can Reap from App Like BlaBlaCar
Let's face it, on-demand taxi booking apps have unequivocally revived the conventional taxi industry. Customers today want instant gratification for everything, and booking a cab has become an integral part of their daily lives. Booking an online taxi is a fast, comfortable, and safe way for many consumers, so there will be no downturn in this market.
On the other hand, the pandemic has made the digitization process much faster; taxi business owners are looking for creative ways that allow them to keep their business afloat and ensure the highest profitability. They are also searching for ways to stay connected with customers, and what could be a better option than having an app like BlaBlaCar?
Along with automation, entrepreneurs can also avail following benefits,
Gives you an online presence

Better exposure

Attract customers

Online promotions

Boost profitability

Increased brand visibility
Revamping your existing business is no more cumbersome as an app like BlaBlaCar gives an insight into real-time updates for your business. If you are new in the online taxi industry and are unaware of features and functionalities, take a look right now.
What Influences The Cost To Develop An BlaBlaCar Clone App
Sometimes entrepreneurs do not want to bring any innovation in business, and the cost is the major factor. They usually have a perception that having an app is an expensive affair, but they are unaware of what benefits it brings to their business. If you are engaged with the taxi business and want to develop a BlaBlaCar clone app, we have clarified all the finer points and show you what factors influence the development cost.
To develop a unique app for your transportation business, you have to evaluate a cost based on the following measures:
Features you want to integrate

App design you have planned

The business model you choose

Number of team members and their location

App platform
The more features you want to integrate, the cost of development would go higher. To save cost and time, you can also opt for readymade solutions. If you want to get a detailed quote, contact us, we will mobilize your taxi business like a pro.
Achieve Targetable Growth with BlaBlaCar Clone Script
Online taxi apps have surely made our lives comfortable; the rising demands of the buyers must have prompted business owners to develop a BlaBlaCar clone script to better serve their customers. If you are willing to grab a lucrative opportunity by embracing mobility solutions, this is the right time to take a step ahead.