Have an Insight into Types of Food Delivery Apps
To comprehend how to develop a food delivery app, you should first know its types. There are three types of food delivery apps: aggregators, new delivery apps, and a fully integrated model.
Aggregator Apps: Aggregator apps are also known as third-party apps. Most small restaurants follow this approach where customers place orders and wait for it to be delivered by the delivery provider. If you are running a small restaurant and lack online visibility, this option would work best for you.
New Delivery Apps: In such kind of food delivery type, restaurants do not have to hire their own delivery providers. This is the ideal option for those restaurants that either have not established their own delivery service yet or simply cannot afford it.
Full-stack Food Delivery App: This app stands for complete delivery solutions, from managing orders to delivery partners to assigning orders. Everything can be managed with ease.
Find the best option for you and dwell in the emerging food delivery market.
A detailed Explanation of Food Delivery Business Models
The online food delivery business has become a "sweet spot" for many entrepreneurs, choosing the business model that could meet your business requirements. If you are unaware of how online delivery works, check out the app workflow and make the final decision, or consult a food delivery app development company that can understand your requirements and provide you with suitable solutions.
There are numerous food delivery apps popular in the market, however, each of them works on different business models but here we would like to have a glance over the business and revenue model of the food delivery app.
Food Delivery Apps Business Model
Food delivery apps usually follow three-tier segments which include customers, restaurants, and delivery providers. For the smooth running of a business, it is important to connect all three segments in an appropriately way. Here we are going to explain how it is beneficial for users, restaurants, and delivery providers.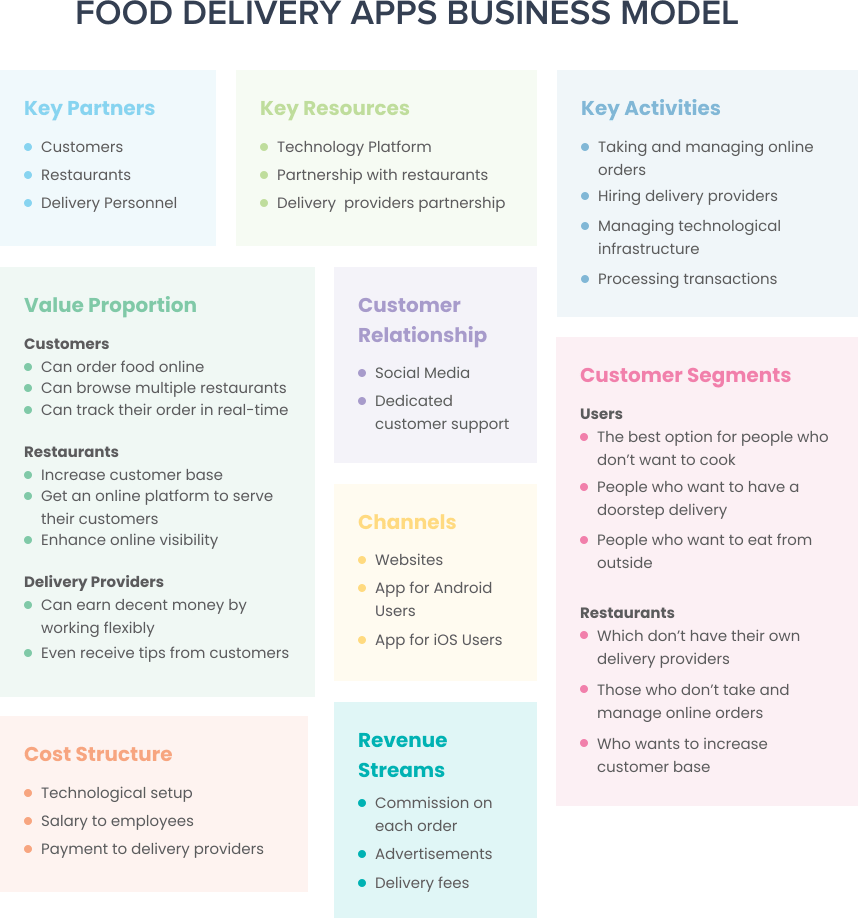 Value Proposition
For Users:
Customers can place an order at their convenience
They have an extensive range of restaurants to choose from
Saves time and money
For Restaurants:
Helps to increase online visibility
Provides an extensive customer base
Increases order value as it is the easiest way to reach customers
For Delivery Providers:
The best source of earning additional income
Delivery providers can work as per their preferences (either full time or part-time)
Get tips from happy customers
Food Delivery Apps Revenue Model
There are different ways from which food delivery apps make huge money; these ways include:
Commission on Orders:
This is the primary source of revenue, food delivery apps receive a commission on each order, the commission rate varies from business to business.
Advertising:
Another exciting way to generate money is displaying ads on apps. Restaurants who want to increase their visibility and order value can pay high.
Delivery Fees:
Usually delivery charges based on distance, if the customer's location is far from the average limit, food delivery apps can charge additional delivery fees.
Required Development Team Structure
Developing a multi-feature food delivery app is not a cakewalk. You should have an experienced team of developers who are well-versed with trending technologies and frameworks. Your team must have:
UI/UX designers
Android and iOS developers
Front and back-end developers
Product manager
Tester
Marketing and sales team
From a discussion about the project to actual development to the final delivery of the project, each team member's role should be decided in advance to make the overall development cycle smooth and speedy.
Cost Estimation to Develop a Food Delivery App
It would be challenging to come up with the exact development cost of the food delivery app. Well, the cost of developing a food delivery app depends on numerous factors such as the type of the app, the number of features you want to integrate, the cost of developers, app design, etc.
More features and functionalities=more cost
| | |
| --- | --- |
| Development Part | Approx. Hours |
| Research and planning | 30 |
| Basic feature integration | 120 |
| Visual prototypes | 40 |
| Design for Android and iOS platform | 120 |
| iOS development | 600 |
| Android development | 650 |
| Backend development | 225 |
| Admin panel | 60 |
One of the major factors that regulate the cost of food delivery apps is location. Yes, if you want to work with developers belonging from western countries such as Europe and the USA, per hour development cost would go high. Whereas if you choose India, per hour development cost would lie between $20-$25.
If you want to have an extraordinary app with some unusual features, the price may go up. After all, the food delivery app development cost does not only depend on coding, it's a long process that includes designing, development, testing, and support.
If you want to know the exact development cost, contact us, we will make your app development process less painful.
Stick to Your Budget While Developing an App for Restaurant
It is always critical to minimize time and money spent on building apps. If you are looking to develop an app for your restaurant but lack finances, here we have come across the most cost-effective ways to cut down development costs.
– Implement Ready-made Solutions
Getting started with a ready-made solution is always a profitable idea. As you don't need to spend a huge amount on development and infrastructure, change logo, theme, business name and start selling online. It saves development cost, time and enables you to hit the market earliest.
– Develop an MVP App
Instead of spending huge time and money on the development, opt for MVP. This is the basic version of your app that you can test on real users. Collect feedback from users and make necessary changes. It will cost you less in the end than redesigning the app from zero.
– SaaS Model
Recently we have overheard the term " SaaS" as most startups choose this business model, as you don't have to ponder thoughts on development, infrastructure, designing, etc. Pay as per your usage and start receiving orders online.
How Food Delivery Apps Makes Money – Monetization Strategies
Food delivery apps do not make money only from delivering food to customer's doorsteps. There are numerous ways through which they can make money.
– Commission income:
This is the primary source of revenue through which the food delivery app makes money. The owner earns revenue in the form of commission on each order placed by customers.
– Delivery charges:
If the customer's location is far from the restaurant, the customers have to pay additional delivery charges.
– Advertising income:
Advertising is another way that food delivery apps make money. New restaurants can take advantage of the platform's popularity as they can pay a certain amount, so that restaurant will appear at the top of the search results. It will help them to receive orders and revenue simultaneously.
Best Tech-Stack for Food Delivery App Development
Earlier, we have discussed that your food delivery app should have modern features and functionalities, so it is imperative to choose the best tech stack that delivers exceptional user experience and make your on-demand food delivery app development future-proof.
For front-end development consider HTML5, CSS3 and JavaScript
For back-end development consider Java, Node.js, and Python
For the Database consider My SQL, PgSQL, Amazon Aurora
Third-party APIs
For Payment - Braintree, Stripe, PayPal
Restaurant List- Google Places API, Foursquare API
For Registrations - Facebook SDK, Gmail SDK
For Storage - AWS, Google, Azure
For Analytics - Firebase, Google Analytics
For Push Notifications- Twilio
Things to Do Before Launching Food Delivery App
Finally, your restaurant app is ready to launch, it seems like a simple task but the time between food delivery app development and app launching is important as it will decide the success of your app. Here you need to follow certain pre-launch tactics.
– Do Market Research
The App development industry is crowded, you need to conduct market research before launching your app to both stores. You can also analyze competition, it will help you determine the best way to launch and monetize your app.
– Create a Landing Page
The best way to engage users with your food delivery app is to promote it before it's been launched. Create an appealing landing page that captures the user's eyeballs and compels them to leave their email ID. This will help you drive reviews and installs at the time of launching.
– Create a Buzz
Promote your app on social media and various platforms, it will drive traffic to your website and application. Generate some pre-launch buzz by posting fresh and quality content that excites people to install your food delivery app when the app launches.