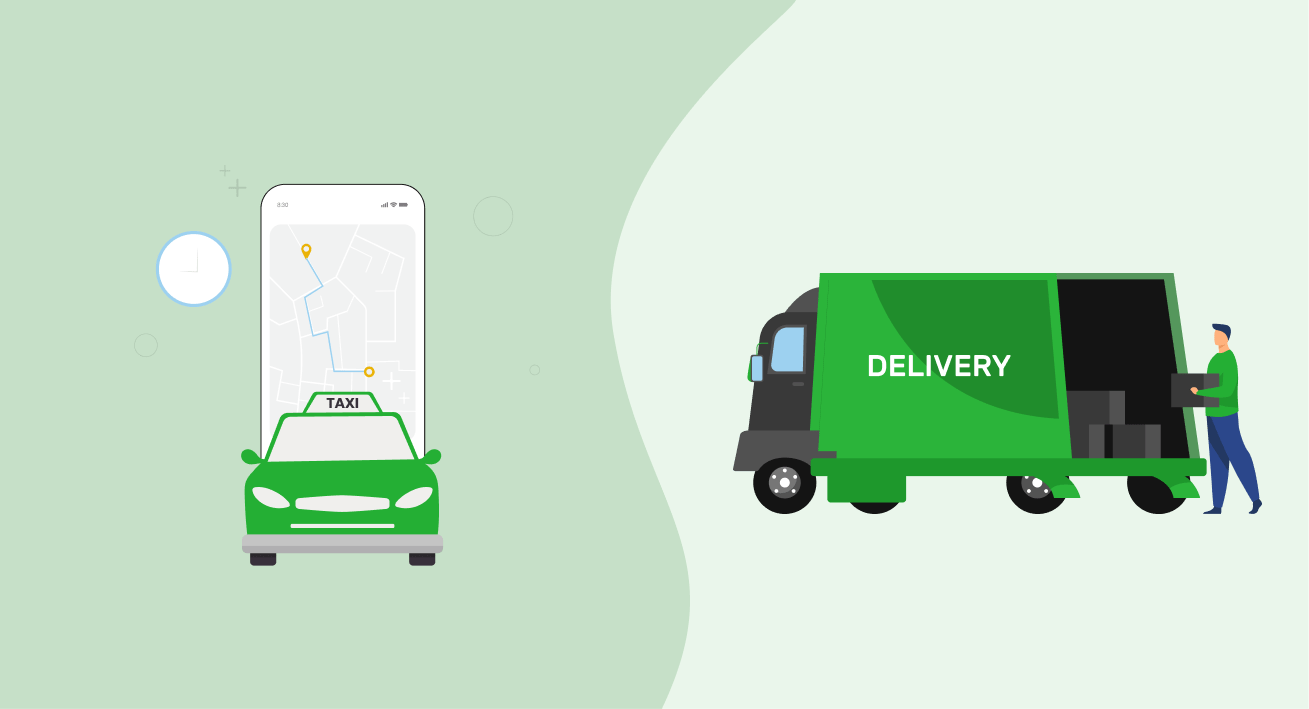 If we talk about the taxi industry, then we can notice a huge growth in recent years. Since taxi booking is no longer a daunting task, anyone can book a cab by scrolling through apps. The revenue of the taxi segment and the ride-hailing market is forecasted to acquire
$332.50bn
in 2023.
The market for ride-booking services is already quite saturated, as it is characterized by a few established players and new components. Big players are increasingly focusing their attention on this growing trend in order to maintain their market share. Such huge taxicab giants like Uber, Grab taxi, Lyft, and InDriver contributed to the growth rate accordingly.
With so many competitors out there, Siberian InDriver managed to become the world's swiftly-thriving mobile app. InDriver is a Siberian ridesharing giant that has acquired international popularity with its unique operating module. As of sensotower's reports, it was the 2nd biggest ride-booking app on the global market by completing 150 million installs in 2020. At present, InDriver serves 47 counties covering 700+ towns out there.
You might wonder how on earth it achieved second place on the worldwide app download list! In this guide, we will talk about the InDriver business model and how InDriver works, and also the revenue stream, which will clear all the prospects behind the success story of this trip-reserving platform.
What is an InDriver App?
InDrive first came into existence in 2012 by Arsen Tomsky in Yakutsk – one of the most glacial metropolises in the globe, located in Siberia. The local students decided to launch a group named "independent drivers" on social platforms in reaction to the rapid expansion in taxicab costs due to the cold wave. Through social media, riders and drivers are used to connect, where the group associates share their location to reach out with a price offer, and the motorists connect with specific riders to provide them with a taxi booking service.
The group was going well as well in the start-up phase, and after one year, the company 'InDriver' was officially established in 2013. It was introduced with a unique concept allowing customers to set their fares. The main reason behind the popularity of InDriver is that it enables customers to set a price range to get a taxi. The concept was so unique that most people found it accurate to set their own charges to get the services.
With the offered fare, consumers will receive ride requests from the drivers on which they can pick the one ride to reach the destination. The app allows users to select the driver based on the ratings and previously completed trip insights to get a better experience. Consumers can pay directly to the cab driver without snooping with the mediator. At present InDriver has four to five main products – city rides, city-to-city rides, courier delivery, freight delivery, and inLocal services. Some safety features have been integrated into the app, such as real-time location sharing, chat support, and an emergency button to maintain a safe and secure environment for users and drivers.
Development Keychecks of InDrive
On the date of Dec 2014, InDriver crossed the border and was introduced internationally in Astana, Kazakhstan.
100 million rides were booked via the InDriver app, with 5 million signed-up riders on the solution in Feb 2017.
In November 2018, InDriver decided to spread services in Africa and Arusha in Tanzania.
In 2018, the company set up a momentary office in New York City and, later sometime, based its headquarters officially in Mountain View, California.
In 2021, it started to offer its rides in Pakistan, and over the year, it evolved to the most installed taxi-booking app in the nation.
In the earliest of 2021, it achieved the status of Unicorn and was holding the $150m investment.
By the end of March 2022, InDriver expanded the firm by setting up its service hubs in the Americas, Asia, the Middle East, and Africa.
The firm rebranded its name from "InDriver" to "InDrive" In October 2022.
Take a Sneak Peak at How InDriver Works?
The trip booking platform offers easy app usage for users, which you can check with the below steps.
step 1: Sign up for the app with a contact number.
step 2: Select your service, whether it's city rides or city-to-city rides.
step 3: Present your reasonable fare.
step 4: You will now receive requests from drivers.
step 5: Choose the motorist, and next, you will see the estimated period with the driver's location.
In-depth Analysis of InDriver Business Model
InDriver business model is simple and easy to understand, just like other ride-booking giants like Uber and Bolt, which works to connect users and professional drivers to commutes.
Value Proposition
InDriver's business model allows users and motorists to scroll through the app and consume the services offered by the business more conveniently.
For Users,
InDriver offers a digital platform to book a ride where consumers can choose to book a ride based on city trips or intercity services.
The app offers a totally unique feature allowing customers to choose their own fare based on their preferences.
The app is integrated with the live tracking feature, which enables riders to share the location with their connections.
For Drivers
Professionals are offered to earn money for driving, and drivers can earn extra money on flexible working hours.
Through the app, medium drivers can negotiate the fares with users if the driver is not convenient to work for the user's fare offer.
InDriver offers 24/7 chat support and emergency call service during ongoing rides for any help.
Customer Relationship
InDriver is the on-demand service provider platform.
Consumers can access the service of door-to-door courier delivery service.
The fare negotiation feature is integrated into the app, making it easier for drivers to accept the booking and users to create the bookings.
Consumers are provided with the review feature to rate a particular driver.
The app users can easily switch to the driver's mode to earn extra money on their flexible hours.
inDriver Funding Rounds
| Date | Transaction Name | Money Raised |
| --- | --- | --- |
| Sep 8, 2017 | Series A InDrive | $5m |
| Aug 19, 2018, | Series B InDrive | $10m |
| Jan 15, 2020, | Series B DnDrive | $75m |
| Feb 3, 2021, | Series C InDrive | $150m |
Source:Crunchbase
InDriver Revenue Model
InDriver revenue model has two major income sources: the commission model and the in-app advertising model.
Commission-Based Model
InDriver is making money by charging a minimal commission from every transaction performed on the app. Drivers of the platform are allowed to reject the ride if it's not suitable for them, and in return, they don't have to pay any penalty charges making it more beneficial for employees to work based on their preferences.
Usually, the company charges around 5 to 8% commission which can be variable depending on which market it operates in. Uber charges a flat 25% commission, and Bolt charges around 10 to 15% commission. As you can see, it's a truly low commission amount compared to other taxi giants like Uber and Bolt. It stands for one of the main reasons behind the growth boost of the platform.
Advertising-Based Model
Currently, the advertising revenue model is kind of popular among digital business platforms. It is surely a beneficial source to generate a steady flow of income. Under this model, the InDriver as a platform allows other brands and businesses to promote their business on the app. In return, they got to earn money based on the advertisement pricing.
But at present, InDriver aims to level up their business with the actual product experience and not like other promotional ads. Currently, it is working on expanding its services; as of now, InDriver has already launched courier delivery and freight services. In the near future, InDriver may come up with food delivery and other on-demand services.
Summing Up
InDriver made it more convenient for users and drivers to use the app because of the flexibility it offers. Be it how Indriver works, a unique feature of fare negotiation, or advanced features like location sharing and the emergency button, it has proven to be the most effective feature for app users. InDriver business model stands as the perfect match if you want to develop your taxi-hailing app. Despite the custom-made solution, you can also opt for the ready-made solution of the InDriver clone from Elluminati, which ensures long-term growth in the on-demand ride-hailing market.