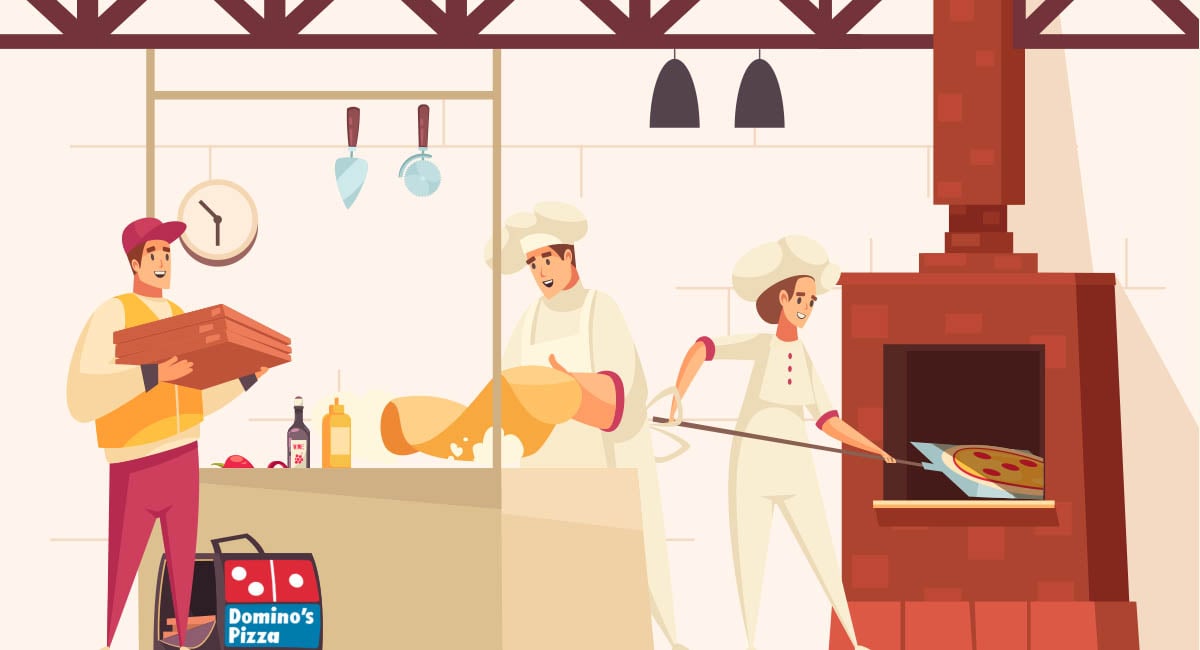 While there are lots of fast-food companies struggling to fend off the rise of cut-throat competition, Domino's pizza has won millions of hearts by expanding its operations and leveraging modern technology into its operations. You might get shocked to know that Domino's daily delivers more than three million pizzas across the globe on average. Well, this does not happen overnight; it took lots of years to achieve this milestone. Now you must be excited to know why Dominos has captured a huge slice in the pizza market and why your pizza parlor should also embrace building a mobility platform to better connect with customers. Hold on, today we will throw some light on how dominos work, its business and revenue model, so let's get started.
Pizza is the most loved food among all age groups, and when it comes to Domino's, no one ever dares to resist. Domino's has built an impressive and huge following in the pizza market. The brand manages to capitalize on the delight of pizza worldwide. In addition, Domino's keeps evolving with technological advancements and customers' preferences.
Today, Domino's ubiquitous, with more than 12,500 stores across 80 locations, earning lots of profits. The brand has changed lots of things to entice customers, from modifications in the menu to improvements in pizza recipes. Living in the digitally connected world, the brand also has proliferated its operations; now, users can order pizza through a dedicated app and website. In fact, more than 50% of sales come through online ordering; hence the company has leveraged modern tech tools and also implemented voice-ordering applications.
Domino's Exciting Facts You Didn't Know
Brand name: Domino's Pizza
Founded In: 1960
Founders: Mark R. Morsfiled
Headquarter: Michigan, USA
Operates In: Globally
Location Covered: 17000
Number of employees: 14000
Stock Symbol: DPZ in NewYork Stock Exchange
Domino's currently operates across 90 countries with 17000 stores that include more than 10,000 delivery providers and 350,000 employees.
Worldwide, on average, three million pizzas are sold by Domino's every day.
In the year 2013, the first vegan Domino's pizza was launched in Israel using cheese for gooey topping.
In the year 2018, Domino's was the only brand that had sold maximum pizzas across the globe.
New Year's eve is the busiest and most profitable day for Domino's.
Technological Advancements
In order to meet the rising demand of customers, Domino's has launched an online ordering facility and offering customers numerous digital ways to place orders.
Domino's also enabled customers to place an order through wearable devices.
More than 75% of Domino's international market holds online ordering.
Domino's also testing drone and robot delivery overseas to make doorstep delivery swift and accurate.
Domino's Historical Success
Established in 1960, Domino's pizza was founded by two brothers in Michigan. They were working at the small restaurant and paid $500. Later, in order to fulfill their dream, they borrowed a further $900 and opened a pizza outlet named Domino's.
Later, Domino's opened its first franchise location in 1967 and 1978; gradually, you can see more than 1700 stores operates across the globe.
The company launched its first international store in 1983 in Manitoba. Later, it continued to expand its operation across UK and Japan.
When it completed 38 years in the pizza domain, the founder of Domino's announced retirement and sold his 93% shares to private firm Bain Capital for $1 Billion.
In the year 2004, the company finally went public and listed on the New York Stock exchange and raised approx. $339million through its first IPO.
Domino's pizza remains one of the popular pizza chains across the globe and beating its close rivals, including Pizza Hut, US pizza, Papa John's pizza, and many more.
Today, Domino's operates more than 17000 locations across 85 countries, including America, Asia Pacific, Europe, Middle East, and South Africa. The brand has a current market valuation of around $11.73 billion.
Domino's Pizza Business Model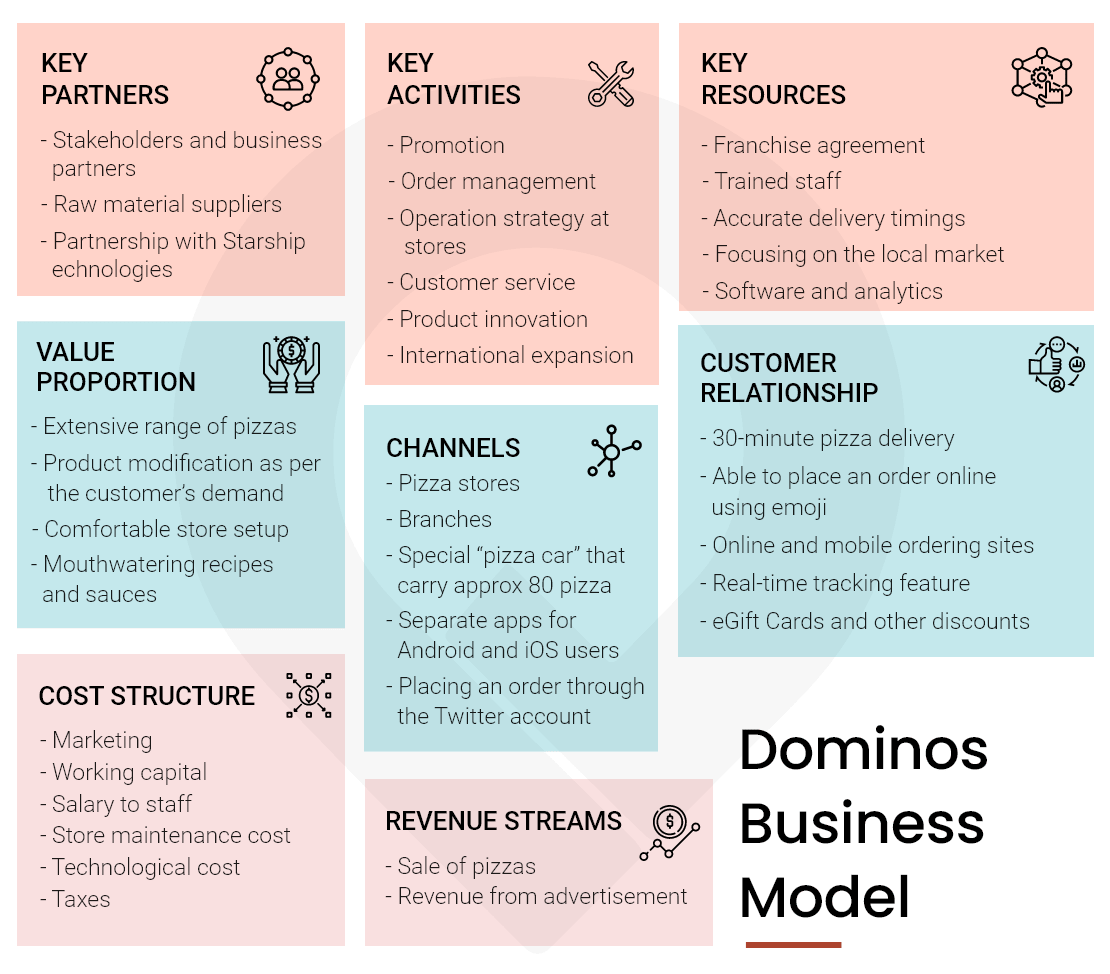 Domino's business model is straightforward as it either sells pizza online or runs franchise stores for its customers. In addition, Domino's technological innovation enhances the brand value as it also offers digital ordering with real-time tracking features.
Customer Segments
Domino's Pizza serves a huge customer base globally; the brand's major target is youth, working professionals, and event organizers.
The brand also runs effective marketing campaigns that target different mega-events and offer them huge discounts and deals that boost their sales and increase brand value around the globe.
Value Propositions
The brand offers value to its customers in multiple ways:
Digital Ordering: Domino's lets its customers place an order online through a dedicated app or website. Most US adults order pizza online, and the brand offers its customers quick delivery with exclusive deals.
Global Expansion: Domino's right now operates in more than 85 markets, including America, Africa, the Middle East, and Asia.
Easy Ordering and Accessibility: Users can easily place orders online via a phone call or app. They can also visit stores and takeaway pizza at their convenience.
Supply Chain Management: Domino's has an integrated dough manufacturing and supply chain system that ensures the quality and consistency of its franchise stores.
Key Partners
Domino's pizza works with various partners that include:
Vendors
Franchise partners
Marketing partners
Strategic partners
Marketing partners include tie-ups with popular brands such as Primo, Kagome, Visy, and much more since it has a huge following base.
Domino's Revenue Sources
The primary revenue source of Domino's is from selling pizza as it contains the maximum part of its revenue. Along with that, revenue received from advertisement and sponsorship is also the second-largest source of income since its application has a huge number of downloads.
In addition, Domino's also generates a significant amount of revenue from royalty and franchise fees received from its franchisee's partners. In 2018, Domino's pizza generated total revenue of $3.34 billion, which was higher than the brand's revenue generated in 2017.
Take Your Pizza Parlour Online with Dominos Like App
We have understood Domino's business and revenue model but have you noticed one thing that makes it popular in the pizza market? Adoption of modern technology. Yes, it does not only offer quality pizza but also keeping pace with consumer's evolving preferences and advancements in technology. In the same way, if you are about to step into the pizza delivery market or already running a pizzeria, this is a good time to implement a feature-rich pizza delivery system that helps you reach the right people and make your pizza outlet a considerable success.
Heading towards digitization, today, more and more entrepreneurs are taking advantage of digital technology to boost their sales and revenue and begin with online ordering, and delivery options won't cost you more. It will not only meet the rising needs of customers but streamline your operation and drive more sales. If you really want to increase your customer base, adding a delivery service to your pizza parlor will help you set yourself apart from your rivals. Let's go through some important reasons why your pizza parlor should look forward to investing in dominos like app development solutions,
It would be comfortable for customers
Stand out you from rivals
Increase brand recognition
Improve your business bottom line
Drive more revenue
Furthermore, today's diners expect comfort along with supreme food quality. To keep up with modern customers' demands, you need to offer them digital ordering services. But it is not as simple as it seems- you need to shake hands with an experienced technology partner who is familiar with the functioning and also helps you with business planning.
How to Move Your Pizzeria Online
Now you must be clear about how much does it important is to embrace modern technology solutions for your pizza business. Taking your conventional business online may seem daunting, but in the world of digitization and social distancing, it is the only way to survive and thrive.
Thanks to a digital technology solution that helps you develop a pizza delivery app without spending much. Now the question is how to move your pizza business online? Well, there are three ways:
You can partner up with food delivery marketplaces such as GrubHub, Zomato, and Postmates.
You can integrate custom delivery solutions from Elluminati
Both ways are win-win for your pizza delivery business, if your business has been affected much due to the pandemic, this will surely help you come out from the adverse impact caused by the outbreak and increase your business's profitability.
Cost Idea For Adopt Dominos Workflow
Technology has paved a new road for businesses to run. Dominos clone app have become the backbone of the restaurant and pizza business in recent years. The usage of mobile apps has stiffened business owners to develop a mobile app to promote their business online. Everyone wants to earn a name like Domino's but is hesitant to embrace solutions as they are concerned about cost.
The development cost of a app depends on multiple factors such as the app's complexity, features, designs, testing, etc. The total time essential for development depends on the number of programmers involved in each process. If you want to integrate more features, the development costs will go higher. But if your pizzeria has only one store and limited resources, you should opt for white label solutions.
To know the exact development cost, contact us, and we will glad to help you achieve new highs.