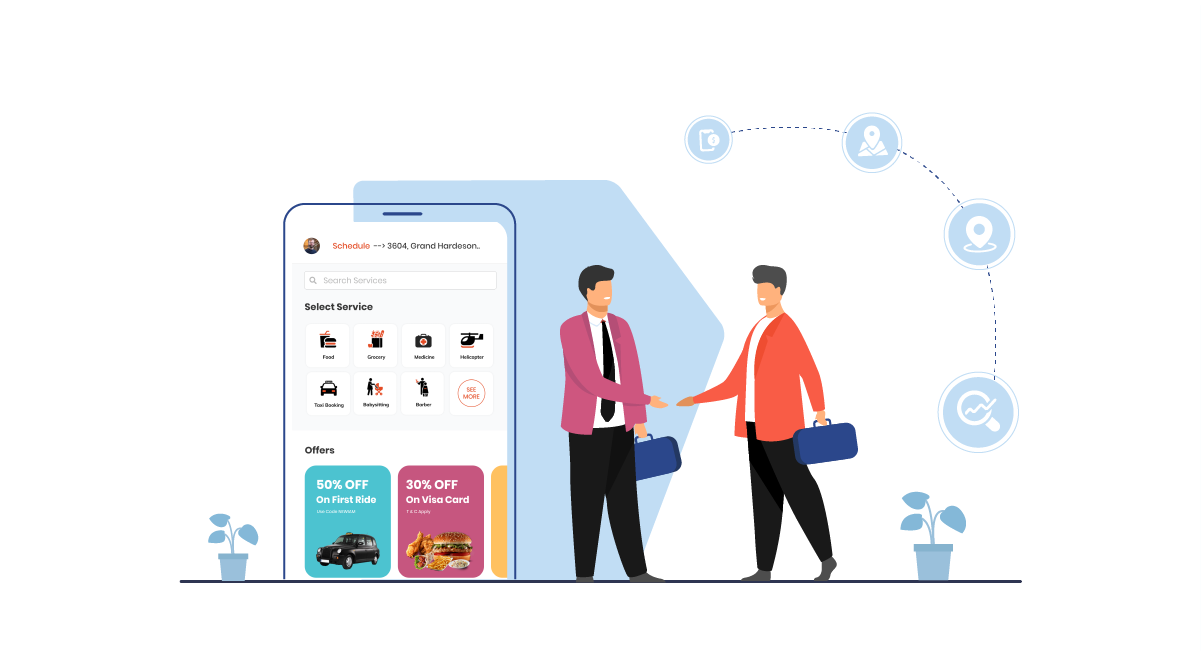 Multi-service app trends are finely directing the business strategies for entrepreneurs around the globe and getting much more popular due to an increase in the demand among users. They are making things much easier for the entrepreneurs where they can engage multiple service partners readily and thus cultivate a gigantic customer base. One of the finest ways to do this was by getting a multi-service Gojek clone app allowing businesses to give away multiple verticals of services through a single platform. The idea behind this platform is to connect customers with various service providers and merchants and fulfill their myriad requirements.
For people in Southeast Asia, this platform is a stroke of luck, as they have been served by a multiple services platform, Gojek. Moreover, the demands have risen for such platforms freakishly around the globe. Entrepreneurs would definitely love to fall into the space, as of huge scope and ease in networking their business. However, there is a lot to know before about how to build an app like Gojek before actually falling into space. There are a lot of complex processes and decisions to be overcome. Well, here is a list of important trends that definitely need to be taken note of before ascending into that space.
Trends To Know Before Getting a Multi Services App Platform
Innovation plays a major role nowadays for businesses, and that also leads to exciting trends in the multi-services platform. With succeeding there, some of the incredible upgrades introduced changed the business's methods entirely. An app like Gojek does have massive dependencies on the business model and revenue layouts leading to optimizing them with the technological benefits. The list is longer, though here are a few important trends noted for the entrepreneurs before they launch their multi-services businesses like Gojek.
Advanced Analytics
Advanced analytics involves a demographic and pictorial representation, which optimizes data collected for a business. Business owners will be easily able to dig into the essential insights about their business like sales, user choices, best products and services, and all such characteristics. The reaction of all the results also becomes faster when the analytics are automated, based on which the decisions can be made more speedily and accurately.
A fully-featured dashboard is consolidated with an app like Gojek, making it super easy for owners to take note of all characteristics and have a scope to plan for better strategies.
Real-Time Status
The real-time status in an online business allows admins to connect all the business prospects coherently. The activities are noted in real-time, which will be able to act on the go. For a giant business where it is serving multiple services, real-time mass notification improves internal communication. Say here it could be between partners, merchants, and business admin.
Plus, the customers would be easily answered for all their requirements with the least effort. That is how it helps them boost the customer's engagement. The activities are notified on the spot, and the respective holders would be notified for the same to act on them instantly. In the upcoming opportunities, this is not just trends but a lot more for the businesses. Apparently, it will be an essential characteristic proferring incredible benefits for a business in their on-demand business.
Live Geo Tracking
The geo-tracking within the multi-services platform would become more and more important as the demands are rising from customers, and it becomes necessary to serve them without any distractions or crashes in it. Service providers like deliverymen and ride providers should have a seamless experience to track the best routes possible within the app.
It is a trend for a reason because the roads are getting congested, and routes are in higher demand to get optimized for serving the customers consistently. Further, a business is formed by adhering to the huge service providers network, which indeed had to be tracked to eliminate the fail down of the services.
Hot Zones
Hot zones or heat maps are the graphical representation of some important aspects of the business. In this case of a business, an app like Gojek considered which the heat zones could be data about the most served areas, products, or services most in demand; in short, it depicts the interpretation of prevailing insights of a business. It makes things easier for business owners to analyze complex information easily.
It is a trend and an important one as it gives the easiest way to analyze the qualitative and quantitative insights with the benefits of understanding them well enough. On-demand multi services businesses would be blessed to have these tools integrated into their platform as that would make it a lot of straightforward for them to take note of the data most effectively.
A Dynamic Pricing System
An app like Gojek has a lot more to think about the pricing objectives as there are myriad services offered to the customers. The factors will be distance, items, tax, and providers, which will affect a business owner to set structure. So dynamic pricing allows a business to see the pricing structure manually, considering all important factors, as a few of them noted before.
There will be a need for advanced algorithms and custom, rule-based pricing systems to enforce a successful dynamic pricing strategy. With the advancement in technology and better formulations, the trend is set to get a dynamic pricing structure in the competitive on-demand industry.
A Long Way to Go!
Landing to the right decision here becomes more important, and that too at the right time. Following the multi service app trends for a business implementing a mobility platform for their customers, it also has to make the decision as to which of the tech stack and trends have to be executed. Here Elluminati is playing a role in making things easier, proffering the most suitable platform for their business.