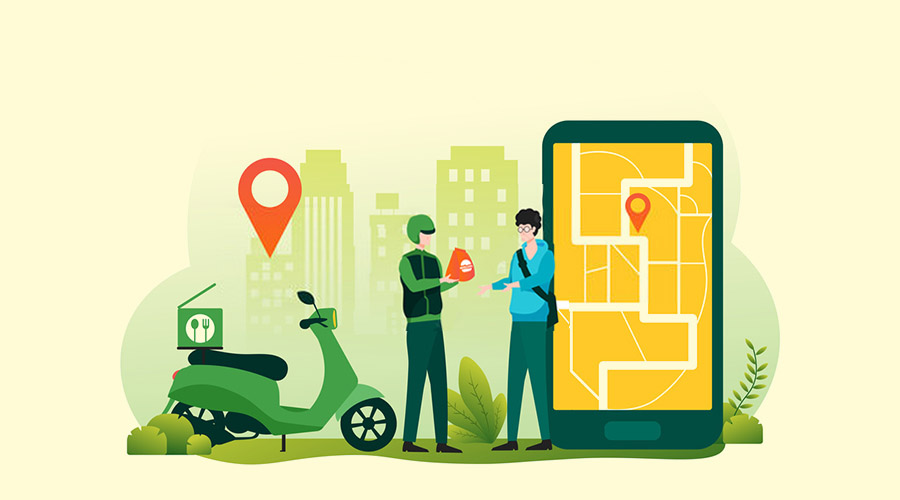 Ever since innovation played a major role in the market, tech methods have benefited the industries soon and still. Business through mobile apps is one of them, and now even that is being restructured by a multi-purpose app, that is Gojek. The Gojek business model includes strategies to offer multiple facilities within an app that leverages the Indonesian market. Gojek is a notable example of a unicorn of Indonesia that has become a matter of moment serving in over 180+ cities in many countries of Southeast Asia.
Gojek, in its starting years, wasn't performing well enough. When it was initiated, it wasn't serving these many solutions like meals, rides, daily needs, couriers, etc., all in one platform. The firm is a prior startup in Indonesia valued at 10 billion USD. There is a lot more to know about this for entrepreneurs inspiring to get a Gojek clone app for their multi-service businesses and make the most of it. So, here is this blog to discuss everything about it – how Gojek works, the business model of Gojek, revenue channels, and other important facts about it.
What is Gojek?
Gojek is multiple services providing company facilitating consumers, like daily grocery requirements, meals, bike taxi, logistics, online money transfer, and a dozen other facilities being a multi-purpose app. Nadiem Makarim created the company, with Kevin Aluwi and Michaelangelo Moran, in 2010, first as a ride-hailing company in Jakarta, Indonesia. It is the most treasured firm in Indonesia, being a startup as a unicorn of Indonesia. Besides, it serves in the Philippines, Vietnam, Thailand, Malaysia, etc.
Gojek came into existence with its app with 4 facilities – GoSend, GoShop, GoRide, and GoFood, in 2015. Consecutively it has been called up as a multi-facility app, serving around 20 facilities. Later that, Gojek and Tokopedia announced a completion in the partnership, establishing a new company GoTo, on 17 May 2021, a group that merges e-commerce, online market, and financial facilities. The organization has been appreciated in Fortune's 50 that diverted the countries in 2017 in 17th position and in 2019 in 11th position.
Important Facts and Figures of Gojek Workflow
Launch Years: 2010
Founders and Co-founders: Nadiem Makari, Kevin Aluwi, Michaelangelo Moran
Headquarters: Jakarta, Indonesia
Parent Company: PT GoTo Gojek Tokopedia
Funding Stages: 13
Funding Amount: $5.3B
Acquisitions: 13
Number of Investors: 15
Number of Investments: 13
Customer Base: 190 million (2021)
Source: (Crunchbase, Statista)

How Does Gojek Works?
Gojek works in numerous services like meals delivery, transportation, courier services. In total, the firm is now serving 20 different resources through different concepts known as Super Apps, outshining several industries with versatile working strategies. Let us look at the working of Gojek:
Look for Service
Consumers have to look for the desired assistance as the smartphone app has a numerous range of facilities. They got to select their desired ones from GoFood, GoShop, GoRide, and GoSend. By selecting their service segment, consumers can move forward in the app.
Book Service
Then consumers have to select the service they want to utilize within the app. For instance, when they consume picked groceries, they will be selecting the items required by adding those to the cart. Further, to finalize the items, they have to reserve them.
Pay For Bookings
Consumers afterward have to checkout for the reserve and pay with the desirable mode given in the app. However, each method has different charges like cash-on-delivery will have high charges as of eliminating undesirable ordering.
Fulfill Service
The services will be fulfilled by the respective providers like in the above example we have explained about ordering groceries. Stores will prepare the items and orders and assign the shipping to the providers transporting it to the entered location.
Gojek Business Model : Outstanding Strategies of Multiple Benefits Platform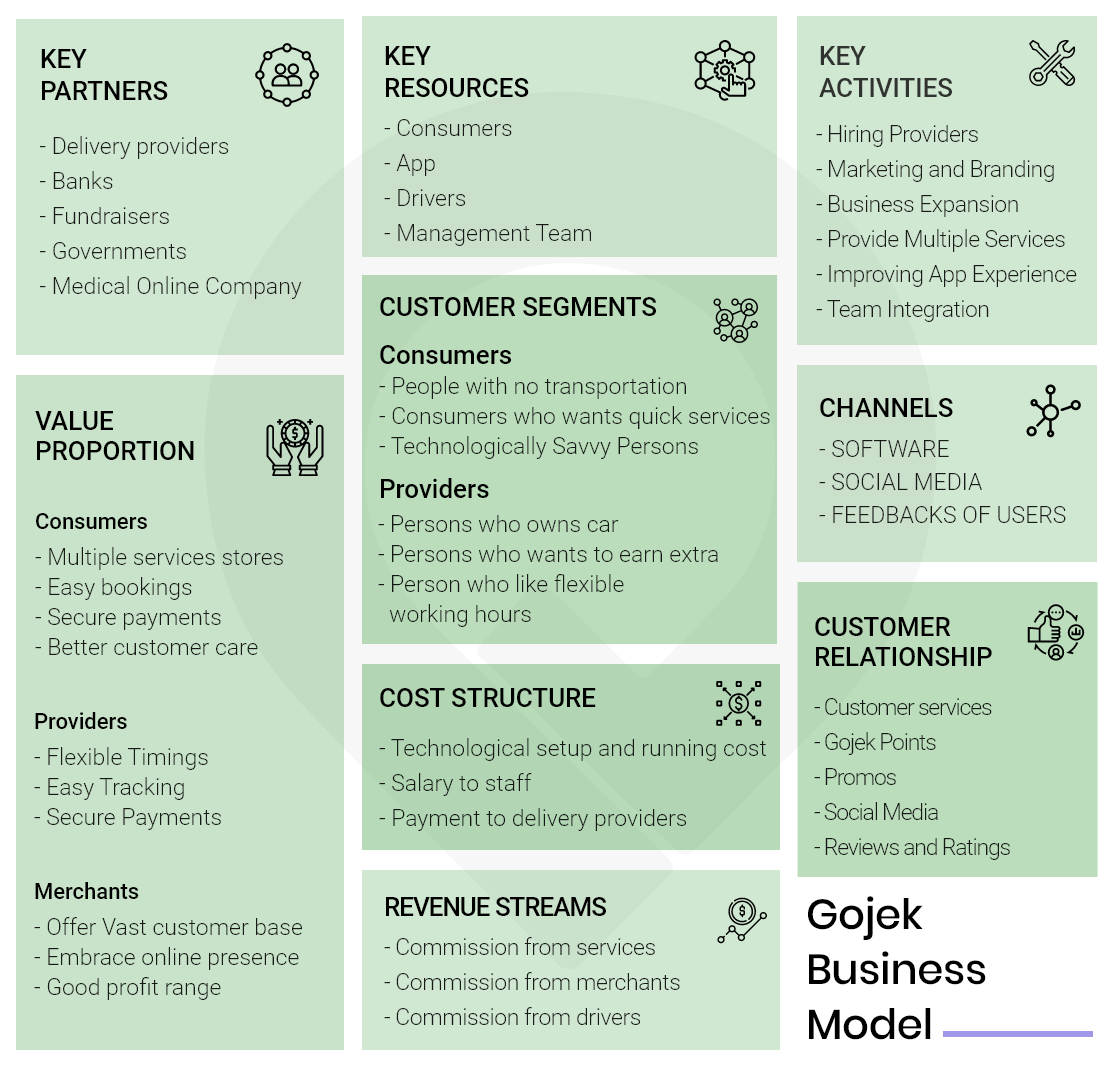 Gojek is a multiple amenity company and its business model consists of three sectors of a marketplace – utilizers, vendors, and persons for delivery or rides.
Gojek Key Stakeholders
Gojek has managed to get numerous funding rounds since 2014 and yet. The firm has 15 lead partners as lenders and 13 funding stages. Besides, Gojek has acquired 13 organizations. The collaboration with Bluebird, Tokopedia was also a remarkable step of the organization, opening the doors for numerous opportunities. Today, it has multiple partners as listed down:
Fundraisers like Google, Paypal, Visa, Banks, Meta, Telkomsel, etc.
Drivers who provide delivery services, rides, and other shipping facilities
Transportation companies, merchants, services providers, third-party payment handlers, online medical companies
Indonesian Government in being supporting Gojek for electrifying two-wheel transportation in Indonesia
Value Propositions of Gojek
Consumers
Allows multiple services in a single app
Provides secure online payments
Vast selection of providers and merchants in the app
Enhanced customer care services
Drivers
Easy signup and verification in the app
Flexible working hours
Extra perks to earn
Merchants
Merchants get a wide presence in the digital platform
Acquire a huge customer base
Secure good profit range in the platform
Customer Relationships
Gojek app manages its relations with the consumers with several devices and ways.
Allows improvised assisting through an intuitive app
Connects through social media
Allows feedback from consumers and also acknowledges
How does Gojek Generate Revenue?
Gojek is called an Indonesian Unicorn, the first startup valued at more than 10 Billion USD. They have expanded their services in several countries and are exploring various markets of SouthEast Asia. Its revenue generation strategies are impressive, managing to fight heights in competitive markets with its workflow. Here are the key resources of the revenues of Gojek.
Commission on Services
Gojek has a wide list of features allowed to the consumers in return for a significant amount. When consumers book any service from the app, they will have to pay an extra amount, which Gojek serves as their charge of the facility or charge for using the app.
Commission from vendors
Gojek partners with multiple merchants in order to serve buyers and access a huge consumer base. In return, they charge a feasible amount for them as an extra amount on each completion of the orders or bookings.
Commission from Drivers
Delivery providers have to give the tiniest amount for assisting the application, which is an earning source of Gojek. Gojek allows a lot of benefits to the shipping providers, like referral codes, and therefore the price charged for managing the app is bargainable.
Growth Timeline of Gojek
Since its inception, Gojek's works have risen to great heights, passing down to several stages in the market. Here is the overview of when and how the organization is promoted to each stage of success.
In 2009, Gojek was launched as a transportation company with 20 drivers and a call center.
Until 2014, it struggled to manage its heightening, and afterward, investors initiated contributing to the firm's earnings.
After receiving prior stage fundings, the business expanded in nearby cities with an app, 400 drivers, starting courier, taxi-hailing, and shopping, all within the app.
Till March 2015, they expanded in Jakarta and nearer places like Bali and Subhaya, with more than 2000 drivers.
In the consecutive months, they have launched GoFood and increased the number of drivers up to 30000.
They disclosed Go-mart, a shopping assistant in the form of an app, in September of the same year.
They acclaimed the fundings after that month from multiple investors. And announced new use cases like Go-clean, Go-busway, Go-box, Go-massage, etc
Before that year ended, they also announced Go-tix, which allows booking a ticket.
In February 2016, it had 2 acquisitions; both were Indian startups.
Expanded to several cities of Indonesia in combining with Bluebird, a taxi organization in Indonesia
Further in that year, they also announced Go-car and Go-auto with the expansion in several other country cities.
In 2017 and 2019, the organization was featured in the Fortune's 50 companies list, numbers in 17th and 11th position, respectively.
In 2020, it managed to gather 170 million buyers in Southeast Asia.
In 2021, it completed its tie hand with Tokopedia and launched a new company, GoTo.
Gojek Business Model is Versatile To Adopt For Your Business
Gojek's business model have enabled the entrepreneurs to open several gates for startup ideas enabling them to forge success in unique ways. The firm has multiple wings of facilities like meals orders, ride-hailing, logistics, digital money transfer, automobiles, and several others.