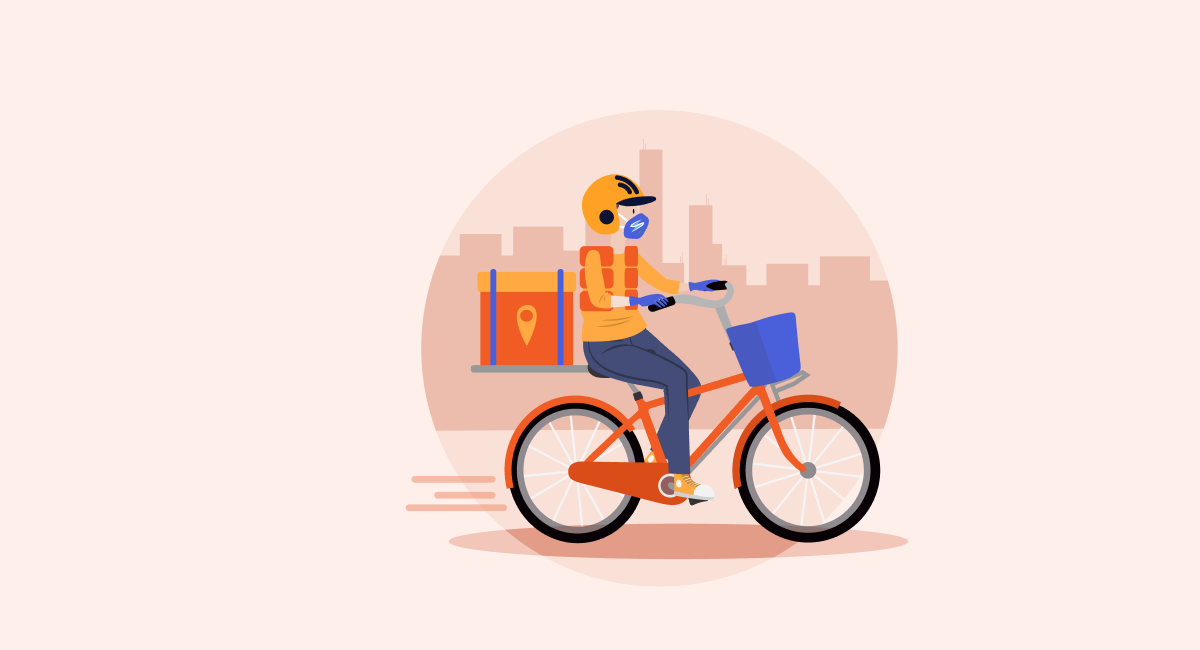 If we take a sneak peek into the growing restaurant trends, then we realize that the Ghost kitchen concept is gaining more popularity at present. So yes, our today's concept is dedicated to the Onnow business model, which is one of the famous Ghost kitchens from Bangladesh. Here, we will discuss how Onnow works along with some strategies that will help entrepreneurs properly understand how such platforms generate profit; let's dive into the topic.
Overview of OnNow
The OnNow is a direct-to-consumer (D2C) business model that works to deliver food directly to your doorway. Their menus are designed and vetted by expert culinary artists, and they use specially sourced quality ingredients to create the food art. Plus, they offer a wide range of menus that cater to all palates and lifestyles. Onnow currently operates in more than 42 cities of Dhaka, allowing users to order meals from their nearby areas.
"Ghost Kitchen Bangladesh itself is not a traditional restaurant with dine-in facilities or even a cloud kitchen company. Rather as a food-tech company, it provides restaurants with virtual menu concepts or virtual brands, technology, and food safety training," Tahmid, CEO at OnNow.
The ghost kitchen or cloud kitchen business is a relatively fresh concept in the food industry. Ghost kitchens typically have a large and varied menu and can operate multiple virtual restaurant brands out of the same kitchen space. This model has become increasingly popular in recent years, especially with the rise of food delivery apps and services.
So the Onnow business model has adopted the core concept of Ghost Kitchen and currently provides a digital platform for the empowerment of small kitchens and restaurants
Key Notes:
Industry
Food and Beverages
Founded On
2020
Headquarters
Dhaka, Bangladesh
Primary Office
Singapore
Financial Status
Backed by Venture Capital Around the World
Company
Private Limited
Co-founder
Syed Tahmid Zaman,
Ashraful
Official Website
https://www.onnow.io/
The company was previously recognized as the Ghost Kitchen Bangladesh, but over the time, it went through rebranding and is now recognized as – Onnow.
The word Onnow refers to the word "rice" or "food," which is a widely used term in the Bengali language.
The company made it to appear in the list of Reality Show – Bangladesh Innovation Grant as the best startup (BIG 2021).
The Ghost Kitchen Bangladesh was scaling at a rapid speed where; they made it possible to open 50 internet food outlets by the end of December 2021.
The expansion journey was going too well, and the number of internet diners hit 100 when it came to the end of December 2022.
Onnow gathered the total funding of $695K on Feb 1 2023, from the seed round.
How Onnow Works?
With the evolution of the latest technology and changing preferences of user's demand, online food delivery has become majorly popular in today's scenario. With digitalization, it's now possible for users to scroll through a wide variety of menus just by tapping on the mobile screen.
So basically, Onnow is an online food delivery platform, adapted from the concept of the Ghost Kitchen, that allows users to order food from well-known food brands counting on Wrappo, Froggy's, Burger Oppa, and more.
OnNow allows users to order food from the website and web application.
So, first of all, users have to register themselves under the app platform.
Once the registration is complete, users can scroll the menus and make a choice to order their favorite food, and afterward, they can proceed to the checkout screen.
After placing an order, the particular kitchen will accept the order and prepare the ordered item as per the user's customization details (if given any).
Next, the order delivery request will be allocated to specific delivery providers, where the delivery provider will pick up the order from the restaurant or kitchen to attempt the delivery.
Users will be notified when their order gets picked up and out for delivery.
Using efficient navigation support, the provider reaches the customer's location and delivers the order. By that time, users will be able to track the order to know about their order status.
Let's explore the business model to more clearly understand how Onnow works.
Onnow Business Model: Delivering the Delicious Dishes
Onnow is an on-demand food delivery business model that executes an efficient operation flow, caters to fulfill users' food cravings, and provides an online platform for small and mid-sized restaurants to grow.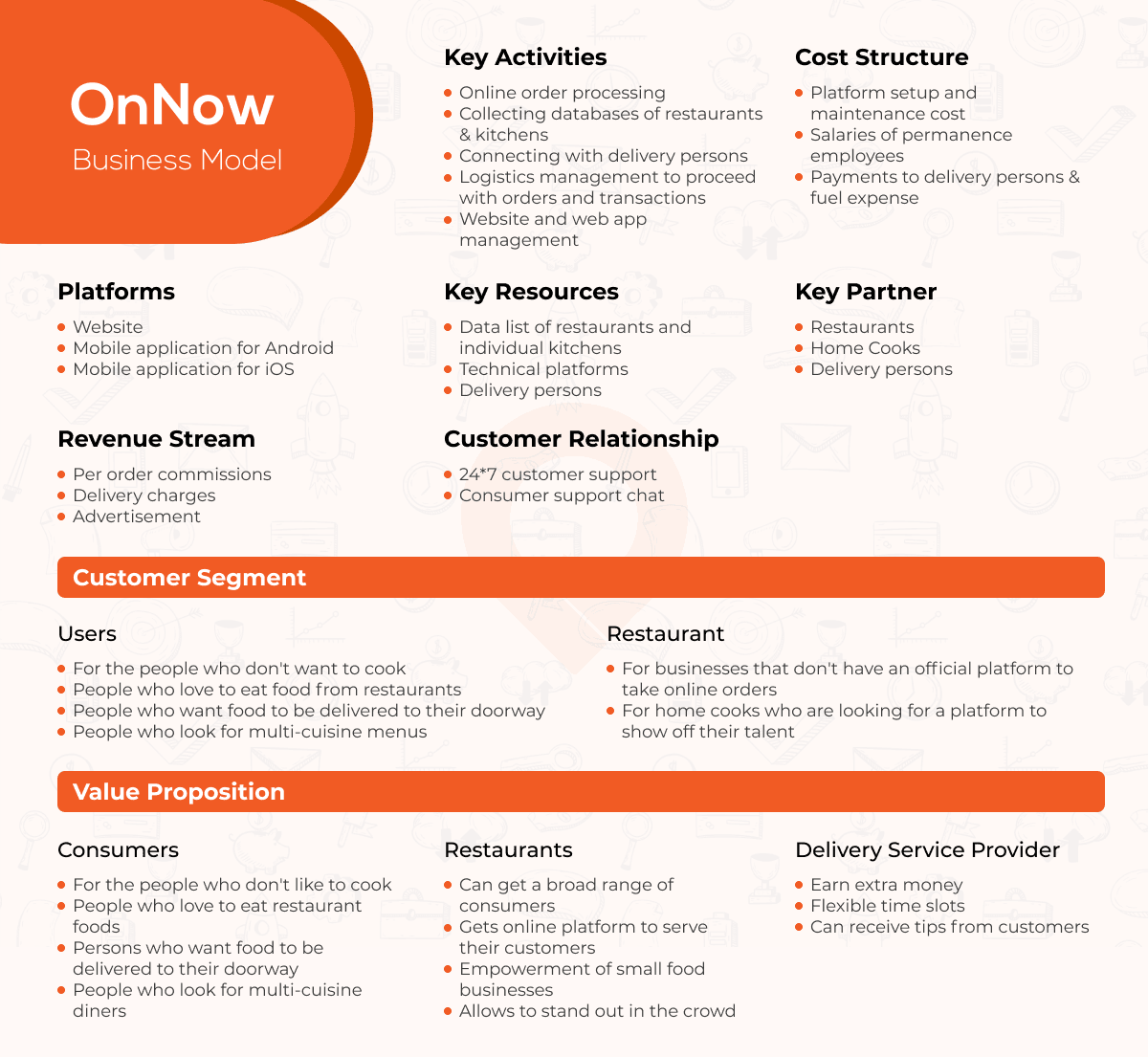 Key Resources
Data list of restaurants and individual kitchens
Technical platforms
Delivery persons
Key Activities
Online order processing
Collecting databases of restaurants & kitchens
Connecting with delivery persons
Logistics management to proceed with orders and transactions
Website and web app management
Consumer Segments
Users
For the people who don't want to cook
People who love to eat food from restaurants
People who want food to be delivered to their doorway
People who look for multi-cuisine menus
Restaurant
For businesses that don't have an official platform to take online orders
For home cooks who are looking for a platform to show off their cooking talent
Value Proposition
Buyers
Make an order online
Get through the menus of multiple restaurants
Watch out for the order status
Pay through online wallets
Give reviews and ratings
Restaurants
Can get a wide range of consumers
Gets online platform to serve their customers
Empowerment of small food businesses/home cooks
Allows to be the center of attraction
Delivery Service Provider
Earn additional money
Flexible time slots
Can receive tips from consumers
Customer Relationship
24*7 customer support
Consumer support chat
Cost Structure
Platform setup and maintenance cost
Salaries of permanence employees
Payments to delivery persons & fuel expense
Key Partners
Restaurants
Home Cooks
Delivery persons
Revenue Stream
Per order commissions
Delivery charges
Partnership with Restaurants
Platforms
Onnow is currently working on expanding its service criteria; hence it consists of some limited resources.
Key Resources
The resource list of the Onnow business model is majorly dedicated to restaurant partners and individual kitchens that are looking to gain more consumers to sell their dishes.
Technical platforms or channels, such as a website and web application, are also key resources for receiving and managing orders online.
Delivery partners are one of the essential elements of the Onnow business model that works to fulfill the order delivery request.
Key Activities
The Onnow business model operates mainly under two channels where one stands for consumers and the second one is for restaurant partners. The business includes a web application and website for users to connect with nearby restaurants to place an order and get their meal delivered to their doorway.
So, the key activity of Onnow is to process requests for online orders.
Restaurant partners are the key resources of the business hence collecting the databases of restaurants is also one of the key activities of the business.
Onnow currently uses third-party services to fulfill the delivery request. Consequently, it's also an essential activity for the business to connect with delivery persons.
At last, the management of the website and web application is likewise considered to be a key activity of the business.
Consumer Segment
How is OnNow beneficial for users?
This platform is beneficial for people who either do not have the time or do not want to cook. They can easily order food through the web or app.
For foodies who love to taste a diverse selection of foods can explore a wide range of dishes to try out.
A great advantage of ordering meals online is that consumers can choose the home delivery option to receive the order at their doorstep.
How does Onnow work for home cooks and restaurant partners?
Small or medium-scale restaurants get an opportunity to expand their business.
It makes a great platform to leverage delivery services to fulfill your orders if you have a shortage of staffing.
It helps to streamline the management of order deliveries and eliminate the requirement to invest in multiple platforms to run the business.
It is a cost-efficient method for handling deliveries, as it eliminates the need for multiple systems to run your business.
Restaurants and individual kitchens get their own digital platform to receive online orders.
Restaurants and individual kitchens get their own digital platform to receive online orders.
For all online food delivery businesses, the major source of income comes from the acquired orders. As we have seen that Onnow is currently growing; hence the growing platform majorly relies on a commission-based strategy that can be explained as follows;
Delivery Charges
Such food delivery platforms rely on delivery charges to earn profit. Usually, they charge a minimum amount of cost to fulfill the delivery request. Moreover, these charges can vary depending on the location of delivery.
Partnership With the Restaurants
Commission from restaurants and food ventures is also a great source of income for food delivery platforms to generate revenue. Simply saying, entrepreneurs can earn money by charging commissions on the order bill of restaurants registered under the platform. The same applies to the home cooks and individual kitchens that are registered under the OnNow business.
The restaurant affiliate marketing strategy also stands for a great opportunity to earn a hefty source of income. This strategy refers to promotional advertisement of food ventures through the website or mobile application. It allows both – business owners and food ventures to achieve benefits.
Cost to Build an OnNow Clone
There are a lot of new concepts emerging in the trend of mobile app development, such as cross-platform approach, AI and machine learning, 5G technology, live chatbots, and more. Such concepts majorly affect the budget to build a food delivery app. Generally, the cost structure to build an app like Onnow relies on the functionalities you would like to integrate into the app. Here are some further elements that also influence the budget scenario, such as;
App Type – Simple to Complex
App Platform – Native or Cross-Platform
UI/UX designing – Basic to Modern
Inhouse team or Outsource team
Testing & Maintenance
So yes, there are a lot of factors that directly affect the overall cost of building an app. However, we can conclude the estimated cost structure to build an app that ranges from $15,000 to $45,000 and can be more; all depending on the app functionality you have chosen for.
Why is Online Food Delivery Platform a Great Opportunity to Invest?
Investing in an online food delivery platform can bring numerous benefits. Firstly, it allows restaurants to expand their reach and attract more customers, as these platforms are often used by people looking for convenient meal options. This increased exposure can lead to a boost in sales and revenue for restaurants.
Additionally, online food delivery platforms provide a convenient and hassle-free option for consumers who are looking for a quick meal. This convenience is especially appealing to busy individuals who may not have the time or energy to cook or go out to eat. As a result, investing in these platforms can help satisfy the growing demand for food delivery services in an on-demand economy.
Moreover, investing in an online food delivery platform can lead to cost savings for restaurants. By partnering with a platform, restaurants can benefit from shared marketing and promotional efforts, as well as streamlined order and delivery processes. This results in cutting of the overhead costs and helps to improve the profit ratio.
Overall, investing in an online food delivery platform like OnNow Clone can be a smart and profitable decision for both restaurants and investors alike. That's it for the day; here, we have looked through the OnNow business model that helped us to understand how Onnow works actually for entrepreneurs.