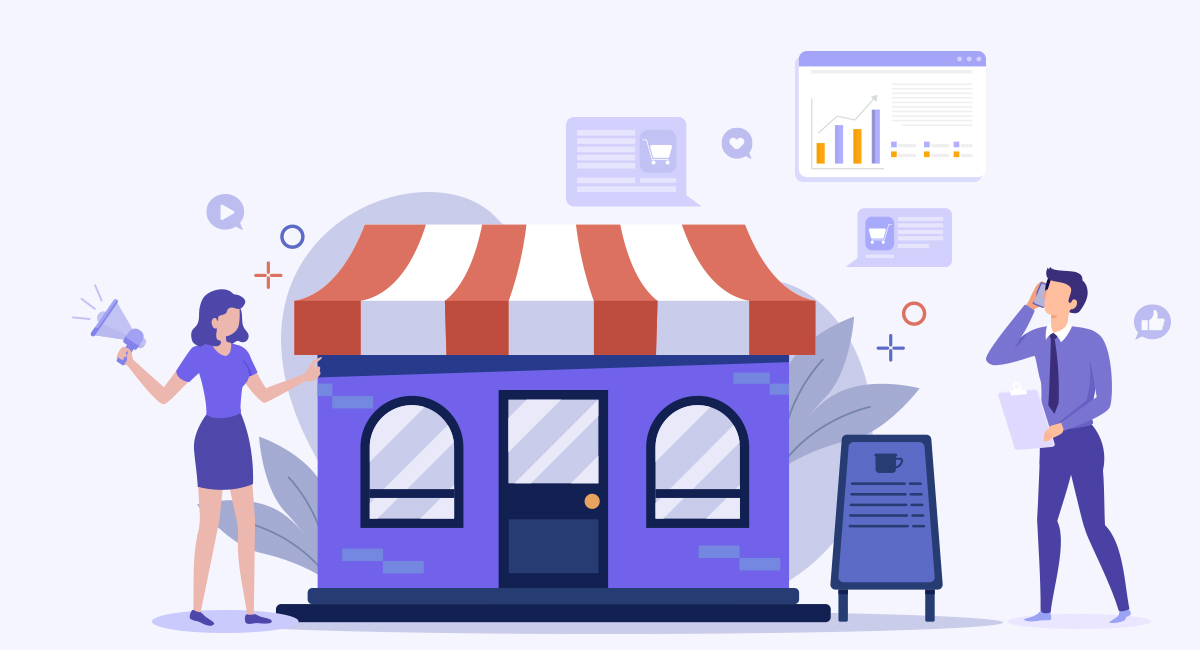 The marketing landscape keeps evolving, from plain-vanilla newspaper ads to radio to flyers to personalized promotional strategies, marketers experimenting with different techniques to survive in this digital age. Indeed, there are numerous marketing methods, but affiliate marketing is still in its infant age but one of the highly effective tactics to drive sales and revenue.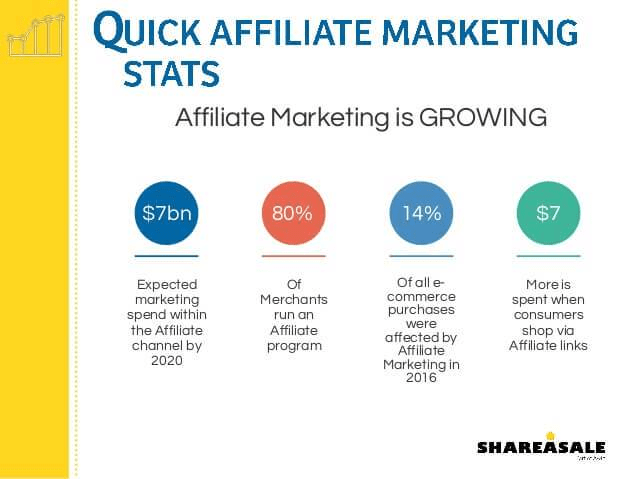 Source: (CedCommerce)
What is affiliate marketing? And why does it hold an important position in the marketing space? To understand affiliate marketing in a nutshell, we have taken into consideration the definition of it given by Pat Flynn, the owner of Smart Passive Income,
"Affiliate marketing is the simple technique to earn a commission by promoting third-party's products and services. If you find any product interesting and you want to promote it to others, you can do it and earn a piece of income for each sale that you make."
Well, this is the general meaning of affiliate marketing, but here we are talking about the restaurant industry. So, let's dig into detail about how restaurants benefit from affiliate marketing and bring revenue.
What is Restaurant Affiliate Marketing?
To put simply
Restaurant affiliate marketing is when you promote a dish of any food item from a third party by placing affiliate links or ads within your website, blog, app, or vlog.
The restaurant industry is changing, from normal dine-in to online ordering to cloud kitchen; there is much more happening in the restaurant industry. You won't believe it, but the restaurant industry alone is worth US$44 billion per year. It means the restaurant industry is not now limited to dine-in, but it has much more to offer.
No doubt, affiliate marketing is a great way to bring revenue, especially when you don't sell products or services. It is just an agreement where a restaurant owner pays another business or "the affiliate" a certain percentage of commission for sending traffic to them.
So we can say that it is a win-win situation for everyone, the restaurant owner, the buyer, and the affiliate.
Now you know what restaurant affiliate marketing is, so let's focus on how it works.
How Does Restaurant Affiliate Marketing Work?
There are many structured ways to get started with affiliate marketing. It is usually the case that companies offer their affiliates unique links or codes to share with customers. When customers use that link or code to purchase, the affiliate gets paid.
There are three most-followed commission structures for affiliate programs:
Purchased-based commission. In this structure, if a customer uses the affiliate link on the merchant's website to make a purchase, the affiliate partner gets paid.
Traffic-based structure. No matter, those visitors make a purchase or perform some other action, the affiliate partner receives an amount for every customer they refer to the company's website.
And the last one is the customer acquisition commission structure. Affiliate partners receive a commission when their campaign results in a sale or new customer for a merchant.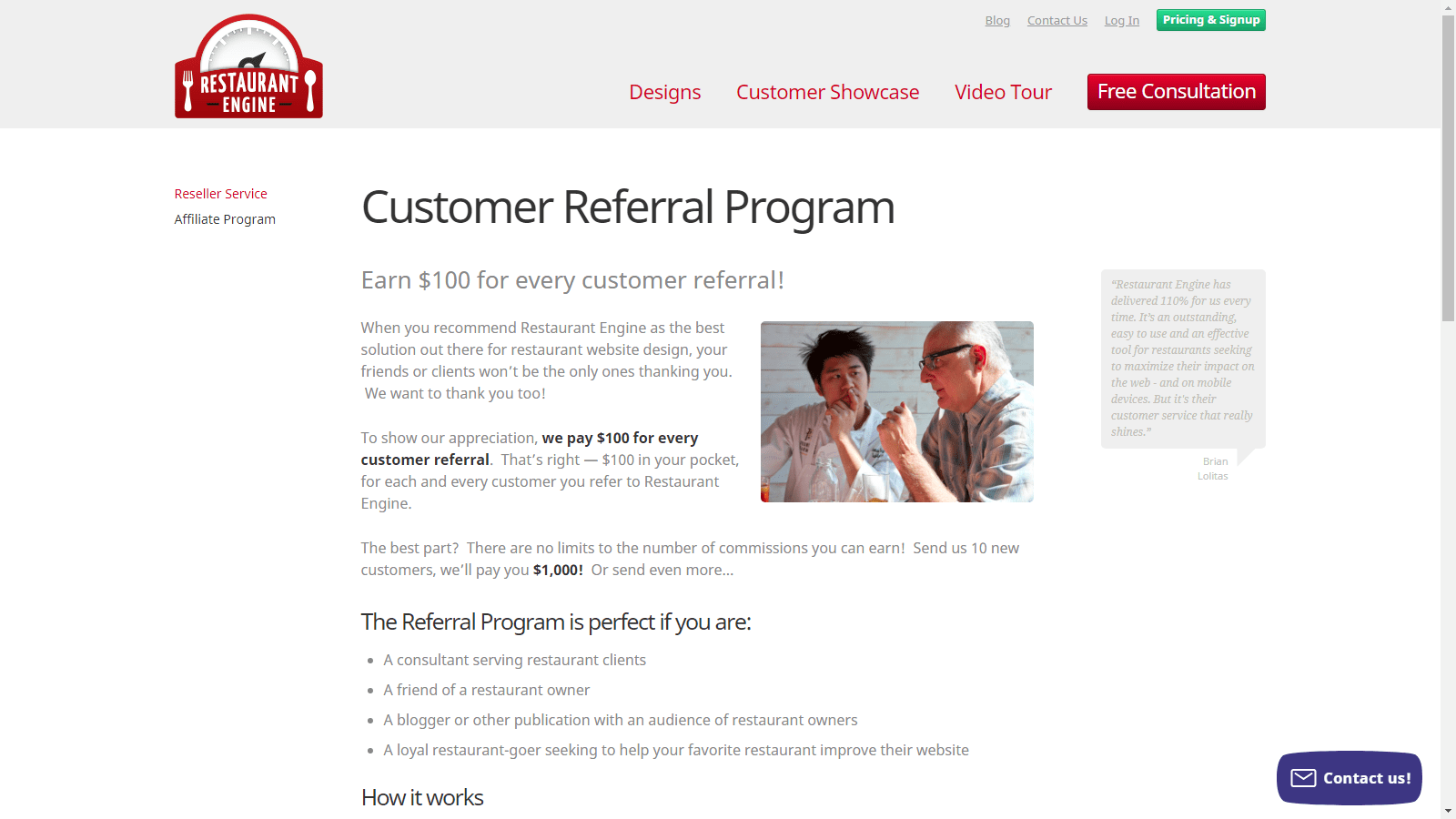 Source: (Restaurant Engine)
One of the most popular restaurant affiliate programs out there is the Restaurant Engine. This is an affiliate marketing example that follows a commission-based income structure. Food bloggers can earn income by recommending a Restaurant Engine service as it is a website design company and allows users to promote its products by creating links. Whenever users click on a link and show their interest in any of their products, they can make each referral commission.
Benefits of Joining a Restaurant Affiliate Programs
Affiliate marketing is also referred to as performance-based marketing, where affiliate partners each reward for driving the desired action. These actions might consist of site visits, sign up for the newsletter, completion of lead form or sales. Today, it is one of the popular and low-risk ways to promote your products.
Now the question is, why would your restaurant business get started with affiliate marketing? Well, there are several benefits you can not overlook.
It's a Low-cost Marketing Technique
Affiliate marketing has become one of the most effective methods of marketing today because it leads to win-win relationships. Let's examine it from three different points of view:
It's affiliate marketers who perform most of the marketing work, meaning that affiliates (and not brands) are typically responsible for the largest chunk of associated costs.
Usually, the nature of affiliate marketing is commission-based, so you only need to pay commission to the affiliates for the sales they make
In contrast to paying for every click on your paid advertisement, this marketing tactic is far more effective and budget-friendly
High ROI
Marketing strategies that focus on affiliate marketing have proven to have much higher returns on investment than those that focus on traditional marketing. Restaurants could benefit from affiliate marketing up to a great extent.
There are countless people using social media platforms and sharing experiences with their followers. It means you have many affiliates who promote your products with their acquaintances and send you traffic that eventually boosts sales and ensures high ROI.
However, it is your duty to please those affiliates; you can offer them free dessert, heavy discounts on festivals, introducing attractive meal plans, etc.
Low-Risk
This is one of the benefits of affiliate marketing. Imagine you are new to the restaurant industry and lack an adequate budget to promote your products; what will you do? Here affiliate marketing acts as a savior. Low risk equates to low costs; since you only need to pay money if there is a conversion, or else, there is nothing to lose.
Restaurant Affiliate Marketing Draws More Profit Than You Envision
If utilized correctly, affiliate marketing is an excellent marketing technique. It is like having a pool of marketers located across the globe and working on the same goal- generate sales and leads. Make sure you use affiliate marketing for your restaurant business today to reap tremendous benefits.