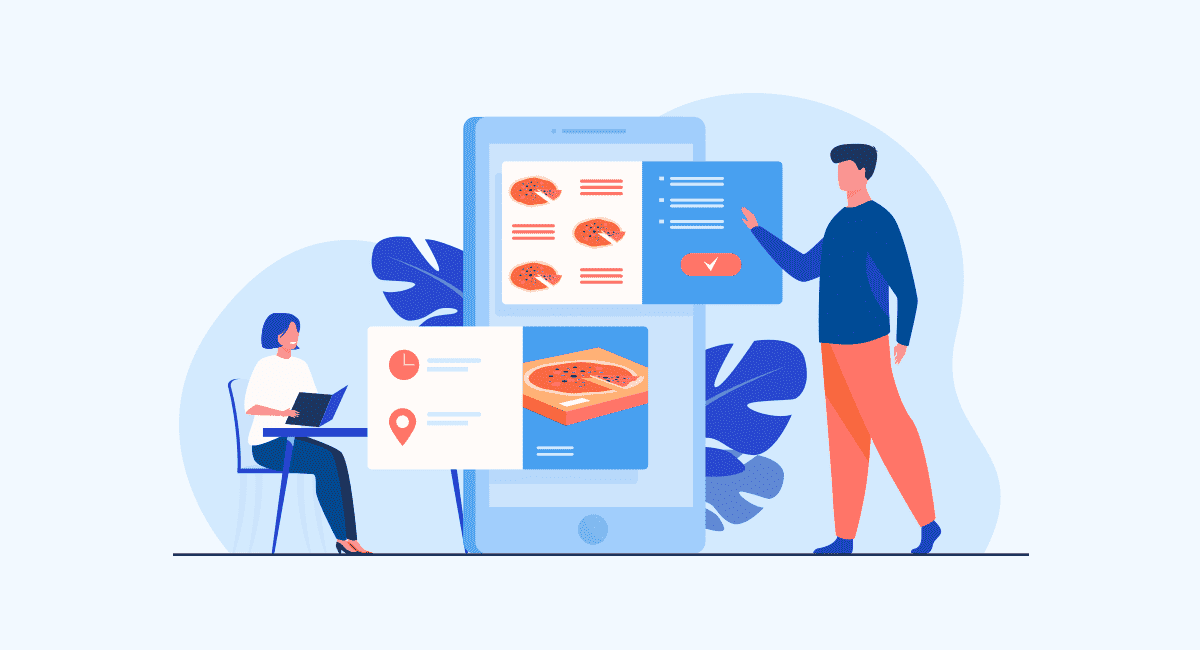 Before the pandemic, restaurant dine-in was booming as there was an increased number of daily walk-ins. The COVID outbreak led to the disruption and collapse of this trend. With all the lockdowns and regulations lifted, is it still the same? Absolutely not. Post-COVID, when lockdowns were lifted, the surge in people dining in has far exceeded expected figures. This load of people can be handled with ease when backed by restaurant POS systems.
With the lockdowns lifted, restaurants are also having a hard time delivering diners and leaving a bad reputation. This is different for some restaurants. Especially the ones who opted for market developments and have followed the trend are witnessed to be booming. The universal and ideal step of harnessing technology has revolutionized small and big restaurant businesses.
POS Systems for Restaurant Businesses: In-depth
What is Point-Of-Sale System For Restaurants?
Restaurant POS Systems are platforms that help to select, order dishes, and process transactions by incorporating them with a checkout terminal. Mainly the hardware side is renowned due to its utilization worldwide. The software side of the system is way too advanced, which can be molded as per requirements by integrating different features and tech.
Types of Point-Of-Sale System For Restaurants
The types of POS platforms that are widely used in a variety of restaurants are as follows:-
Handheld Systems
Checkout terminals
Self-Service Kiosks
Steps to follow when utilizing a POS system for a restaurant business.
Cloud POS
In a cloud system, the flow starts with the user logging into their account and getting access to their site. Users must add their services, menu, diners, and staff members. With that, the restaurant POS systems are ready. Now the user can generate invoices and process transactions seamlessly.
Self-hosting System
Such a system requires the user to download the platform on their device. With that, users must add their menu to the system. After that, the user adds customers and staff. Users can now easily generate invoices and process transactions by adding entities to the software.
Hardware-based POS system
Such restaurant POS systems have initial requirements, which include printers for receipts and barcode scanners. With that said, the POS system needs the final input, i.e., the addition of diners, restaurant members, and menu.
Benefits of POS Systems for Restaurant Owners
Streamlined Flow of Processes.
Handling through the POS is way easier than one can imagine. The POS software handles everything from the customer entering the restaurants to them leaving. Giving the customers a seamless experience is the ultimate goal in making them dine in frequently.
Registration and Profile Creation
Once the buyer downloads the app, the registration procedure makes the first interaction of users with the app. The registration procedure for new users must be simple and straightforward, with the option to sign up via social media platforms, emails, or SMS. Users can customize their profiles after successful registration by adding essential information such as name, address, and phone number.
Inventory Management
With integrated record handling, your inventory can also be managed through the POS system, all thanks to the newer integration and implementations.
Time Shaving and Cost Saving
By managing the process flow and working on any weak links, the restaurant's efficiency can be directly enhanced, leading to lesser time consumption and better cost reduction in each operation. With an automated system, the restaurant will gain better profit figures, which is its ultimate goal.
Improved Security
As platforms are integrated with robust security algorithms, any sense of data breach or transaction bugging is impossible. Security can also be enhanced by integrating different advancements.
Seamless Transactions
Embedding universal payment gateways and renowned wallets, the possibility of any uncertainties is nil which will gain the customer's certainty towards your platform.
Inclusions in a Restaurant POS system
Incorporating restaurant POS systems can benefit the business, to accomplish the same, certain inclusions are to be kept in mind. The below-mentioned are the key lookouts that are necessary for the integration of the point of sale system in your restaurant business:-
Hardware
Equipping devices compatible with POS systems for restaurants will reduce the time consumed for integrating POS, boosting the restaurant's capabilities for dishing out better services to diners.
Restaurant Website
Integrating a restaurant POS platform and creating an online identity through a website will make the diner handling process easier. Embedding restaurant POS systems into a restaurant reservation platform will help establish an all-rounded restaurant handling.
Incorporating Potent Payment Gateways
Having renowned payment methods in the checkout terminal helps to deliver a smoother experience for diners when paying for their orders through the restaurant's POS.
Inventory Platform
An integrated platform for keeping a record of goods and materials in and out of the inventory helps keep track of what is needed and how much is needed.
Guide to Choosing the Best Restaurant POS Systems
Choosing a point-of-sale system for restaurant businesses can take time, as many aspects must be considered. Upon integrating the same, the below-mentioned implementation is the one to look out for:-
Subscription and Transacting Charges
The subscription plans and transactional charges are considered when choosing a POS. Mainly the reason for considering charges is the requirement of deciding the pricing strategy for the menu to maintain profit margins and keep the business up and running.
Hardware & Software
Appropriate devices and online platforms that have compatibility with the checkout panel can help integrate the same. An ease in installment time can also reduce the time of incorporating and learning the checkout system.
Features
The total number of features needed in POS greatly impacts its pricing. In simpler terms, the number of features is directly proportional to the pricing. Choosing appropriate features better suit your needs is the key to an optimal POS matching your requirement.
Convenience of Use
POS native to its user can enhance the user experience by providing the user with a better experience when using the system. With better user-friendliness of the POS, it is likely to be utilized frequently.
Customer Support Service
Better customer support can help the system user to get in touch with the POS company to troubleshoot their queries or issues. This helps in delivering positive feedback from the customer's side.
Best Restaurant POS Systems
Square
The Most rated POS system is because it is free as well as good for businesses running on a tighter budget.
Lightspeed
An Ideal Point-of-sale platform best suited for take-outs and also best for customer loyalty.
Clover
The Clover POS system is ideal for food trucks, rated best for its easy installation and integration.
Revel
From Bars to hospitality businesses, the Revel POS is among the best-rated systems to integrate in these industries.
Subscription, Transaction Fees, and Insights for Implementing Best-in-Class Restaurant-Specific POS
Quote and Facts For POS
Subscription Fees
Square: $60/ month
Clover: $44.95/ month
Revel: $99/month
Lightspeed: $169/month

Payment Processing Charges
Square: 2.6% + 10 cents
Clover: Varies with Transaction Processor
Revel: Varies with Transaction Processor
Lightspeed: 2.6% + $0.10 per payment

Market Standout Points
Square: Integrated Payroll, User-Friendly, Loyalty
Clover: Monthly Contracts and Inventory Bookkeeping
Revel: Staff Governance, Multilocation Supritendance, Diner Relation Managing
Lightspeed: 24×7 Backing, Menu Lookup, Offline Panel
What Necessitates Integration of POS Systems for Restaurants
Scaling
A restaurant with multiple outlets, when incorporating a Point of Sale system to increase its handling and maintain the operational flow. With more outlets, the restaurant also raises its requirement for its online platform to scale, and integrating POS is also simple regardless of the number of outlets.
Efficiency
The restaurant's efficiency ought to increase by integrating robust POS systems. With the implementation of tech in restaurant enterprises, the processing time is greatly reduced, saving a lot of funds.
Order Accuracy
The chances of incurring flaws in the operational flow, as the probability of incurring losses because of human errors, is reduced upon embedding the system.
Employee Accountability
The integrated feature that supervises employees helps the owner with proper employee management and helps with better accountability of labor costs without any losses incurred by the employees.
Table Management
Integration of floor plans in the system is more convenient as it helps to sort orders in a table-wise manner and generate invoices hassle-free.
Inventory Bookkeeping
With embedded bookkeeping, the record of material taken out from the inventory gives an idea for ordering prior, based on what is required with quantity needed.
Customer Relation Management(CRM)
With the POS panel, the diners receive a message as an invoice receipt upon payment. The customer can share their review with the details added to the digital register with an added feedback form. The restaurants can share coupons and discounts to establish better customer relations. With various loyalty programs for diners, the restaurant ought to have better relations with its diners.
Compliance through Security
With technology comes robustly enhanced security to deliver diner's consent for the system's security. As there are no chances of information breaches and funds bluffing, the diners should have better and positive feedback from the hotel.
Booming Trends: Point of Sales System Integration in Restaurant Businesses
Cloud
With the surge in advancements in cloud technology and easy integration of cloud in platforms on the Internet, the development possibilities and ease are limitless. With cloud systems and their evolution, tech can further enhance opportunities to scale your enterprise and gain more profits.
Better Hardware and Enhanced Software
With the rigorous contribution of developers and tech experts, the developments in hardware are quite intriguing. With the software integrated with the best tech advancements and development, convenience also increases.
Improved Mobility
With the POS system integrated into compatible hardware, all thanks to IoT, any checkout-related operations are possible to access. This results in enhancing the operations to flow without any flaws.
Integrating AI and Machine Learning
Embedding AI and Machine learning in the restaurant point of sale system helps to provide recommendations on the basis of the most ordered dished and diners' preferences derived from their previous invoices and suggest newer dishes that match the customer's liking.
Contactless Transactions
During the COVID outbreak, a rise in technology was witnessed, which developed a new contactless payment through credit cards or ATM cards. With the surge of scan-to-pay, the broadened spectrum of transactions has made checkout processes even more convenient through POS.
Voice-activated POS
As discussed earlier in the mobility enhancements by POS, the contribution of Voive-activated POS has also given a surge in providing convenience to the staff as they can add records by inputting prompts through speaking. This can also help in keeping the hardware as the staff members include chefs and serving personnel. This helps in getting access to the system hands-free.
Incorporating Third-Party System
The restaurant point-of-sales technology, which has advanced to a wider extent, integrating different services provided by third-party providers, including delivery platforms, reservation systems, and service management, can boost provide greater convenience. reservation systems
Conclusion
To sum up! In the technological field, where the sky is the limit for newer developments and advancements, integrating them is an optimal and profitable choice as that is what restaurant owners want. A potent workforce with a better understanding of the restaurant POS systems will be a piece of cake, increasing the restaurant's efficiency and operation handling to contribute to scaling on the go.
With a small initial investment in a potent restaurant reservation system, manpower handling, and other add-ons to manage the operation efficiently and optimally, the possible profits and revenues generated are exponential.