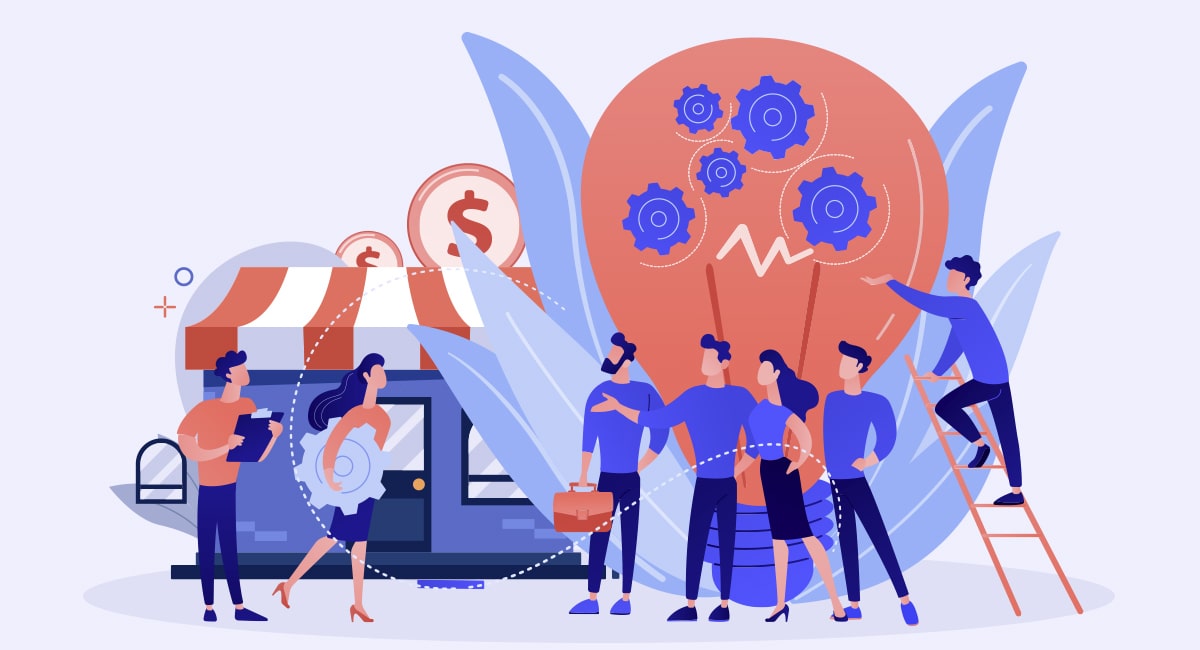 Running a restaurant business is not easy, and it is indeed an expensive affair.
Whether you are planning to open a new restaurant or have been occupied with the restaurant industry for so many years, the process is expensive and time-consuming. Employees are often considered as true assets of the company. You can not run a restaurant without having skilled employees. Hence, it is critical to pay them on time, listen to them, and keep them happy so they won't go anywhere else. Here in this blog post, we are going to discuss ways to reduce and manage labor costs.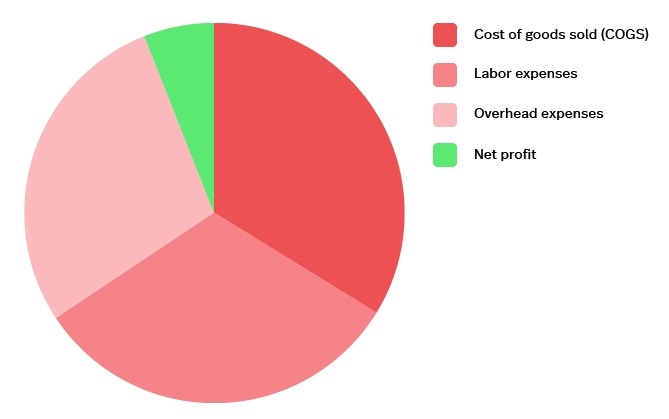 Source: lightspeed
But with the higher inflation rate, labor costs also increasing, sometimes it would become hard for restaurant business owners to keep up while sticking to the restaurant's operating cost. Here you can see one-third of the restaurant's revenue goes to labor expenses. According to the survey conducted by Restaurants Canada, labor cost is the biggest issue affecting restaurant managers across the globe.
According to the Bureau of Labour Statistics, the restaurant and hospitality industry's labor turnover rate is high at 75%, one-third of total employees are unlikely to work at the same place for a whole year.
So how to control this situation? How can you manage a restaurant's labor costs and remain profitable? Before heading towards ways to reduce labor cost, let's go through the meaning of labor cost in the restaurant industry.
What is Restaurant Labor Cost?
In general terms, restaurant labor cost means the total amount spent on the employees.
Restaurant labor cost consists of flowing things:
Employee wages and salaries
Bonuses
Taxes
Overtime
Vacation and sick leaves
Healthcare
To calculate accurate labor costs, you need to add up all employee expenditures related to wages, extra perks, and other expenses. You can also search for some online calculators to know the accurate labor costs.
You have to be familiar with the key elements that result in labor cost; if you fail to do so, it would be harmful to your bottom line. Here we will discuss how to calculate labor cost and interesting ways to manage it while keeping employees happy.

Source: 7SHIFTS
For the restaurant business, calculating labor costing is a headache. There are several ways to calculate labor cost; by doing this, you will come to know how much amount you spend on labor. Let's see how you can calculate labor costs. There are a couple of ways such as,
Labor cost as a percentage of total sales: total labor cost/ total sales
Labor cost as a percentage of operating cost: labor cost/ total operating cost
These are the two types of labor costs associated with the restaurant industry. Here we are going to discuss how to calculate labor cost using sales and operating cost data for the specific period. If you want to calculate it as a percentage of total sales, you can divide sales by total labor cost. If you want to calculate it as a percentage cost, you can substitute sales with an operating cost. Extra utilities, rent, and food expenses consist of operating costs.
According to BDO research, the ideal percentage of your labor cost should be less than 25-30% of the total restaurant sales. This percentage may differ from restaurant to restaurant; let see what should be the ideal percentage of labor cost by different industries,
Quick Service Restaurants (QSR): 29.4%
Fast food: 28.9%
Casual dining: 33.2%
Upscale dining: 30.4%
pizzerias: 31.3%
All you need to identify where your restaurant stands on the labor cost. If you exceed the above percentage, then you should manage this as soon as possible.
Tips to Manage Labor Cost
As a restaurant owner, you might get worried about how to control and manage excessive labor costs. After all, you don't want to spend money on such things which do not add any value to your business. In this blog post, we will find how to manage employee labor costs and increase profitability.
Restaurant owners should follow some strategic approach that reduces labor costs and optimize operations without disrupting the working pattern. Here we have shared five tips for managing labor costs. These tips will help you reduce labor turnover and prepare you for new growth.
Reduce Labor Turnover
This is the very first step you can ever take to reduce labor costs. We all know that it costs more to lose labor than hiring and training new employees. Thus, keep your existing staff happy. If you don't know how to do it, you can check online how to increase employee engagement level to bring better results.
Invest in a training and development program. According to one of the surveys, over 69% of workers are worried about job security. Here are three tips that can help you keep them happy and productive all the time.
Empower your workforce
Allow them to take part in decision making
Make wellness a priority
Give training to employees so that they can work more in the least possible time. It means you don't need to spend money on overtime as they have the capabilities to accomplish their work within the timeline. One skilled employee can train other employees, which means you can save training costs. In case, if any employee leaves without any notice, you can have other employees with the same skills. Thus, you won't have to spend bucks on emergency recruitment.
Improve Training
Let's face it, if you are given two different doctors' choices for your critical surgery: one is new, and another one is trained, you will opt for training, right? Yet, many restaurant business owners and HR leaders overlook the importance of employee training. Investing in labor training will surely give you desirable results in the long run, increasing employee productivity which ultimately increases sales and revenue. Here we have explained the best ways that help you make a productive and efficient team.
Create Employee Training Plan
Based on the labor's skills and working experience, create a detailed training plan. From treating guests to serving them to resolve their issues to see off, give proper training to each employee and evaluate their performance after the stipulated period of time.
Offer Checklist for Reference
Whether tasks are normal or tricky, using a checklist reduces human error, improves employee productivity, and enables employees to accomplish each task with accuracy. Moreover, if any issue arises, you can easily find out who is responsible for certain errors.
Cross-train Your Staff
As discussed earlier, training increases productivity and reduces labor turnover ratio. Train new employees in all areas of the restaurant so that you don't need to hunt for the new employees when anyone leaves suddenly. It will not only increase overall functionality, but you will have well-versed staff members in the long run.
Hire Carefully
No doubt, restaurants are using smart technologies that automate certain tasks and require less human intervention. But you have to hire staff when it comes to performing intellectual tasks. Every time it feels like hiring and firing an employee in the evolving restaurant industry is a daunting task, but control your emotions, and don't make decisions when you are in a hurry.
It may seem easy to say yes to hire employees for small jobs such as dishwashers, table clothes washers, etc. But make sure you have coordinated with your staff member before you hire anyone. Otherwise, you will lose money and won't get anything in the end.
Try to hire employees within the circle first, then outsource. Hire the best employees who have vast experience in the same field. Arrange interviews so that they can show their skills and interact with your existing team members. By doing this, you will come to know about their working pattern, nature, and so on. Overall, it will increase productivity and reduce labor turnover.
Invest in Technology
Modern technology solutions have changed the entire restaurant industry trends drastically. Eventually, it is making the restaurant industry more competitive and automatic as it was never before. For instance, you can integrate digital kiosks so that your customers can order conveniently and reduce labor costs simultaneously. Since you no longer need to appoint an order taking the person to take orders manually, customers can order themselves. Here are some ways that reduce labor costs.
If you are a small restaurant, list yourself in popular food delivery apps such as Zomato, GrubHub, Postmates, and Doordash
Install digital kiosks for food ordering
Offer your customers multiple payment options such as PayPal, Stripe, or any other payment solution to make swift and secure checkout transactions
Use high-end equipment such as ovens, food mixtures, and fryers.
After all, modern technology solutions make your business stand out among the competition, reduce labor costs and reap many benefits in the long run.
Smart Scheduling
Labor scheduling can be a hassle, but you can reduce labor costs if you have the right technology. Managers often face issues when it comes to scheduling, from manually updating huge Excel sheets to making calls to the employee and sending confirmation shifts requests.
Yes, it is a time-consuming and tiring process. Here you need to act smartly by leveraging employee scheduling software to reduce 3% labor cost and make coordination easy. Instead of mailing and calling, updating in software, your staff members will easily come to know about their timings and schedule. Smart scheduling saves extra labor costs.
For instance, you find that after 10 pm, no customer arrives at your restaurant, but your closing timing is 11 pm, here you can adjust operating hours or even adjust your scheduling.
Summing Up
Labor costs are rising across the restaurant industry. Therefore, it is inevitable to implement the techniques mentioned above to reduce labor costs. This will help you stick to your profit. However, remember this won't happen overnight. You need to consider many factors such as hiring, technology, training, and labor turnover before you actually hope for profitable results.