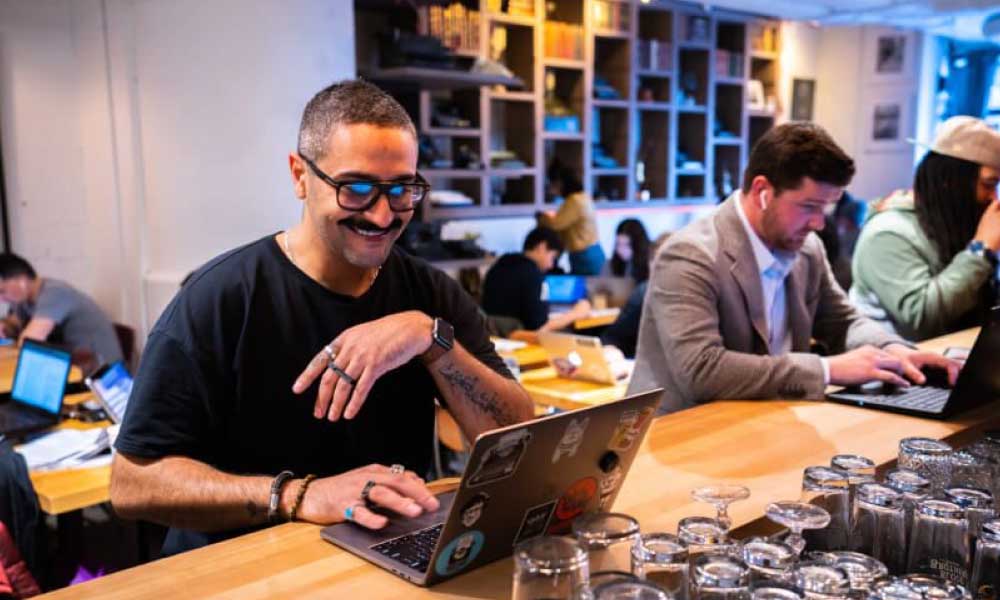 "If you want to be in the restaurant business for an extended period, then you need to pay gratitude to your consumers. "
So talking about loyalty programs and how much it is important for the restaurant business. Today, competition is fierce, and customers want the best product and service but at cost-effective prices. The same applies to the restaurant business. Foodies are always eager to have the best loyalty programs that cater to their budget. To increase customer retention ratio and ensure they stick to their brand, restaurants launch loyalty programs, reward points, cashback, etc.
Whether you talk about the Airline industry, eCommerce industry, or movie industry, everyone has a Loyalty Membership Program, so how can the restaurant industry be left behind? Cut-throat competition has forced restaurant business owners to validate their marketing strategy and loyalty program kind of techniques can lead to "repeat and long run customers."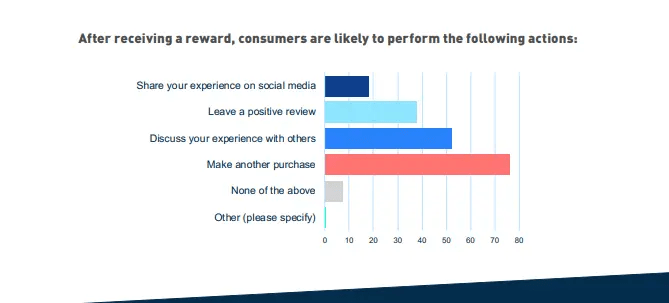 In the above image, you can see after receiving a loyalty reward, more than 76% of customers visit restaurants, and the rest of the customers follow that brand on social media.
End of the day, who does not like to enjoy a delicious meal at cost-effective rates or for free?
If you are occupied with the restaurant business, around 40% of your revenue is from repeat customers while the remaining is from walking customers. Offering a loyalty program is the finest way to engage with customers and call them back in. If you have not offered such programs, you are losing lots of money and customers on the table.
What is the Loyalty Program
The term "loyalty programs" is not new to businesses. This is one kind of marketing technique that has been used by restaurant business owners to expand their customer reach. It is basically an effective method to invite loyal customers back and also invite new patrons to your consumers.
For the restaurant industry, loyalty programs are most important as you can easily know what your customers think about you, and is there any room for improvement or not? It is also an exceptional way of improvising your business module through the help of your loyal customers.
Why You Need Loyalty Program For Your Restaurant Business
Do you want more repeat customers? Do you want those kinds of customers who spend more and regularly visit your place?
If YES, then a loyalty program could be the ultimate tool that increases customer retention ratio and allows you to accelerate sales. Today, customers love to earn points and get free stuff. Most of the people shop at a grocery store or apply for a credit card or maybe sometimes flown on a particular airline to earn free points and get rewarded on their purchases.
This is why restaurant loyalty programs have gained massive attention among marketers to drive repeat sales. The motto is to retain and augment the customer base and maximize profitability. Loyalty programs are effective and well-planned marketing strategies to attract customers to order more food or visit a restaurant over a rival.
Fast-food chains like Starbucks and Dunkin' Donuts have launched loyalty programs and earned millions from customers. It also helps them to build a strong community. However, every restaurant can not earn a million dollars, but it will definitely increase sales and delight customers in the long run.
In a neck-to-neck competitive business world, where customers can take a second to switch their favorite restaurant, loyalty programs would surely prevent them from doing so.
As per the study by Oracle Hospitality, more than 55% of customers recommend the restaurants they are most loyal to. So we know reactivating customer is important, after all, it offers benefits such as:
Improve customer experience
Boost customer loyalty
Contribute to consumer segmentation
Keep current customers happy
Build brand advocates
Furthermore, as per the research it costs more to acquire new customers than to retain current customers. Here loyalty programs help restaurants to create a solid customer base while investing less time and money.
Loyalty Program Ideas For Restaurant Business
Customer loyalty means a customer's willingness to visit your restaurant again and again as a result of a positive customer experience, satisfaction, and feel the customer gets from the transaction.
Restaurant loyalty programs are the best way of showing customers that they are valued. This feeling encourages customers to visit a restaurant or order food repeatedly. You can also gather information about your customer demographics; eventually, it can also boost your marketing efforts.
In a restaurant loyalty program, the customer may be given,
Special discount
Rewards
Free delivery
Keep current customers happy
Build brand advocates
There are many types of loyalty programs used by marketers; below are the five unique ideas that are easy to adopt for the restaurant business.
Loyal Points
A loyal points-based loyalty program is most used and can work practically for any kind of restaurant business. If you are new to the restaurant industry, you can award points every time a customer orders a meal or drink. Those earned points can then be redeemed for further transactions.
This type of point system is very popular in the food and restaurant business because it encourages short-term and frequent purchases. You can attract customers by giving them free points; those free points will later encourage users to place an order from your restaurant. Eventually, this is a win-win situation for both parties.
Besides, loyal people will continue to order with a view to earning bigger rewards.
Offer Digital Food Ordering Facility
Today, people prefer to order a meal through an online food ordering system rather than visiting a restaurant as it saves time and offers comfort. This is why many restaurant owners are developing food delivery apps as it enables their customers to order food from varied options and get it delivered at their doorsteps.
If you want to increase the repeat customer ratio, you can offer them this facility to order online and get free delivery as nobody likes to pay delivery charges when they order online.
Free Dessert or Drink
This is another exciting way to attract customers. You can offer them free dessert or a welcome drink while they wait for their table. You can also serve dessert after a meal. By doing this, you can treat loyal customers in a unique and special way, and that would help you earn customer trust and make a strong relationship with them.
Send Gifts On a Special Occasion
No one ever says, "I don't like receiving gifts". It means this could be the best idea to attract eyeballs. You can send small gifts to your loyal customers; it will encourage them to visit your place again and again. For instance, on birthdays or anniversaries, you can send small gifts as it will not cost you more but encourage the frequency of visits.
If done well, this loyalty program can be a strong differentiator in building long-lasting customer loyalty.
Send Personalized Offers
Personalization is a key when it comes to impressing customers. These days, marketers leverage personalized emails to increase sales. Same way, restaurants also can send personalized offers to their loyal customers.
This loyalty program gets massive attention because it boosts word of mouth publicity. To make it, more special restaurants can even modify the regular menus, which will promote curiosity and make the loyalty program even more actionable.
And You Are All Set To Stay Ahead In The Race
Overall, a loyalty program is a great way to reward customers with attractive deals, perks, gifts, and many other special offers. It is relatively a modern tool used by many restaurants for rewarding customers for their support and other activities.
However, loyalty programs are just the starting point to foster customer loyalty. You can go even further by establishing a relationship with individuals in a personalized way.