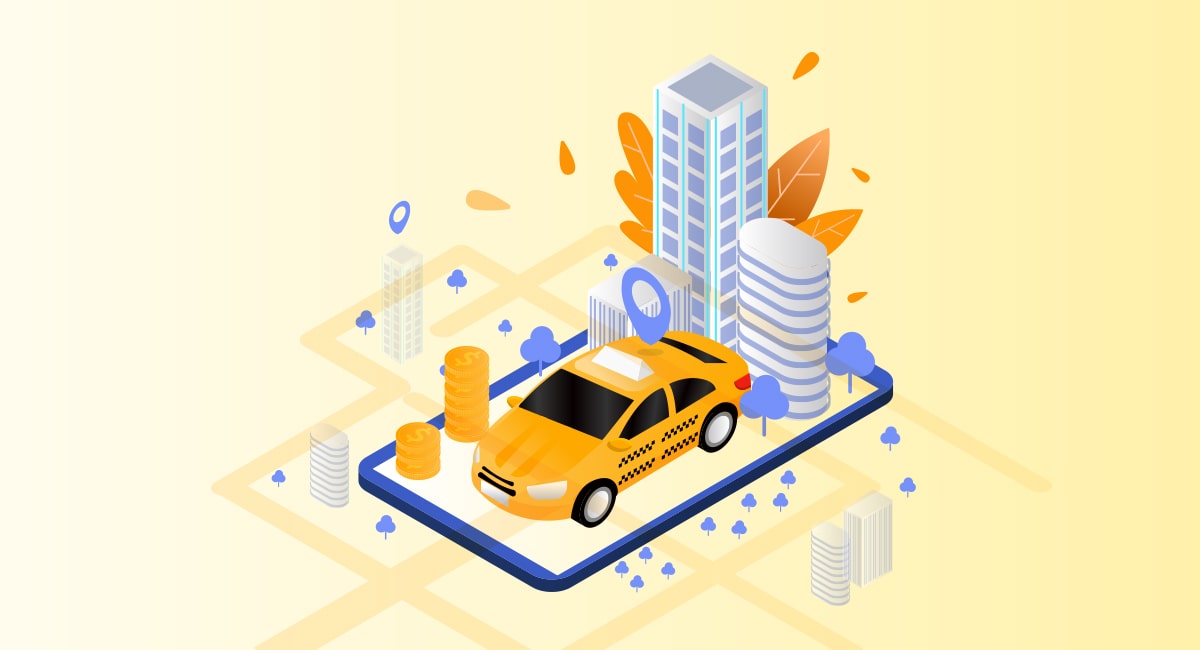 Modern technology solutions have given birth to many new business models, and the online ride-hailing business is one of them. The digital advancements that occurred over the past few years have completely changed the face of the transportation business. From carpooling startups trying to minimize emissions to chauffeur-ordering services, online taxi booking services seems to be a hot space for entrepreneurs right now. Uber's arrival set off the change. And in this race, a well-known brand, G7, has garnered the majority of votes and preferences. With on-demand taxi services, there are a lot of companies competing in the market. And here, we will analyze the business model of G7 and why investing in the G7 Taxis clone offers lucrative opportunities to investors and business owners.
More importantly, despite the many challenges the taxi industry faces, such as pandemics, work-from-home patterns, etc., across the globe, startups tackling the taxi-hailing space continue to emerge in Paris, seeming unfazed by the recent news.
There has been immense progress in the ride-hailing industry. In only ten years, we have seen it increase and be adopted by customers rapidly. It is expected that the global taxi market will soon reach $218 billion by 2025.
In France and European countries, the cab service has expanded, and it is no longer difficult to find a taxi for a ride to your destination. Additionally, people's affinity towards convenience and safety increased after the pandemic, and companies are taking advantage of this preference by fulfilling modern patron's needs.
What is a G7 Taxis Clone?
G7 Taxis clone is a pre-built ride-sharing script that taxi business owners can leverage to expand and automate their conventional business. By having a G7 Taxis clone, a business can cater to their users with a real-time taxi services network that will provide an extensive range of vehicles for a ride.
It would be great if you are thinking of kick-starting your own online cab booking service business. You can get started with G7 Taxis Clone that matches drivers with passengers, enables them to make an online payment for the ride, and ensures a hassle-free ride experience.
G7 Taxis: Statistics and Facts
G7 Taxis has been around since 1905 and allows riders to book a cab online using its website and apps. It connects riders with skilled drivers to reach a specific destination. Riders can view vehicle options, and ratings of drives before submitting a request. Users can also schedule rides by entering valid dates and times.
Company Name: G7 Taxis
Founded Year: 1964
Founders: Count André Walewski and Baron Rognat
Headquarter: Clichy, France
Area Operates: 180 cities in France, 20 countries
Number of vehicles: 9000 taxis in Paris, 4000 electric taxis
Company Slogan: The City is Beautiful
Apps: Available on Play Store and App Store
Type: Private
Taxis G7, one of Europe's leading taxi service providers and one of India's first radio taxi companies, has partnered with Meru Cabs to create eCab, an international mobile app.
It was founded by André Colonna Walewski, Pierre Bonaparte's great-grandson, and is incubated with Taxis G7, Europe's leading radio taxi hub that dates back to 1905. With 13000 affiliated taxis, it transports 20 million passengers annually.
Within two years, the eCab network will cover half of the world's cities, nine countries, and three continents.
How Does G7 Taxis Work? Get Taxi In Less than 4 Minutes
The 2019 Apps and Mobile Internet Trophy named G7 Taxis the best application of the year in the "Smart Car" category. Booking a cab with G7 Taxis is easy as riders need to enter 2-3 details, and they are done. Here we have presented the working flow from the customer's point of view.
G7 Taxis is a popular ride-sharing marketplace that aggregates riders with drivers. Using dedicated solutions such as apps or websites, passengers can search for a nearby taxi and book the ride to reach their destination.
Once the rider booked a cab, drivers get a notification including all the details such as the passenger's name, location, and contact details.
According to time and availability, drivers can either confirm or reject the ride request. Once they accept the ride request, passengers will get notified.
Riders can select from the pool of different vehicles like SUVs, sedans and book a high-rated driver. Along with that, riders can also leave specific instructions for drivers. For instance, you can tell the driver to wear a mask and use sanitizer during the journey.
Once the booking gets confirmed, riders can pay online and track the driver in real-time. They can also leave reviews and ratings once the ride gets over.
Isn't it easy and convenient? Yes, it is, and this is what makes G7 Taxis popular across Europe and other countries. Now, it's time to peep into its business and revenue model. Here we go.
G7 Taxis Business Model- What Makes the Company Grow More Promptly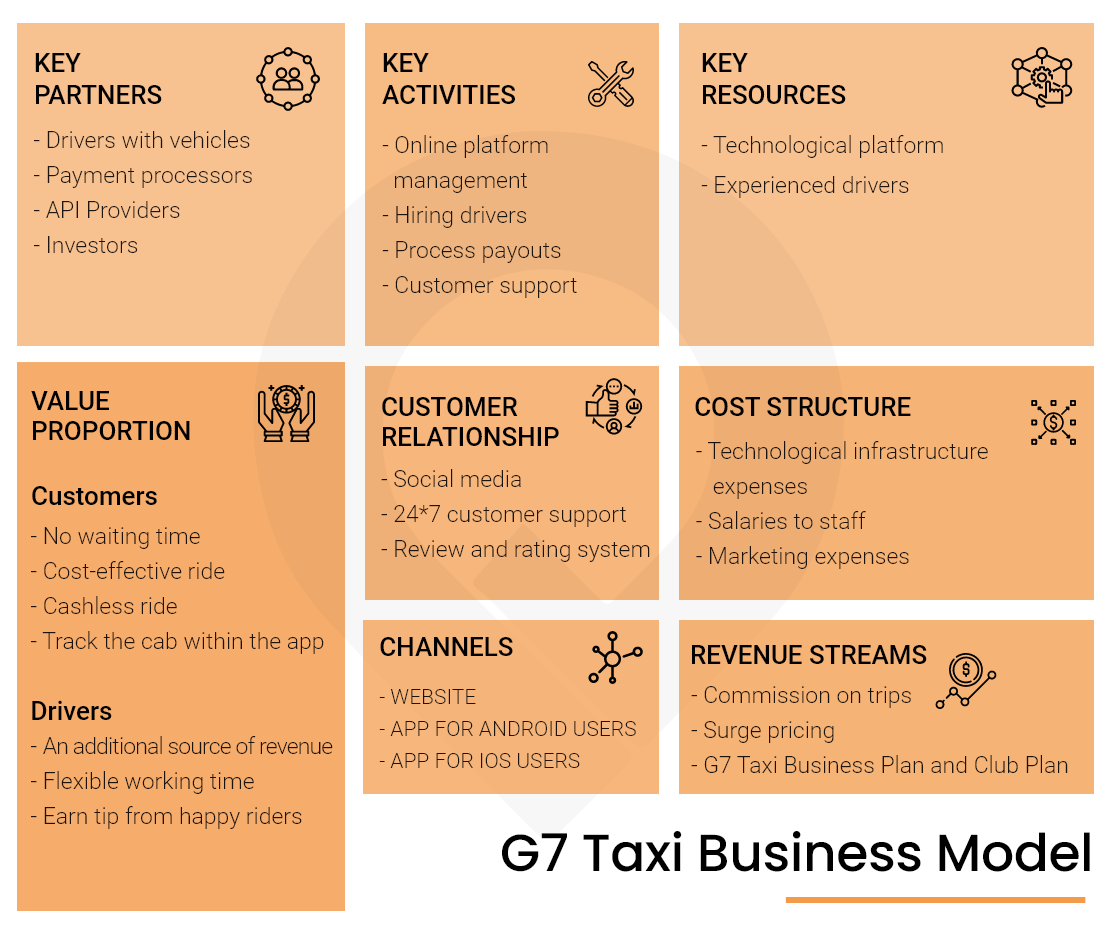 As of the company's inception, there was no other transportation company offering the services that the company does today. Irrespective of your industry, if you provide consumer-oriented services, you'll succeed. Here are the ways G7 Taxis stays competitive and thriving worldwide.
From this business model, you can learn more about G7 Taxis's business plan and its goals, its value proposition, its intent, revenue stream, as well as other elements.
Key Customers
Users and drivers are two main segments of the G7 Taxis business model. Customers are people without cars, don't enjoy driving, or want a low-cost ride to their home or office. At the same time, drivers are partners with cars who want to make some money by rendering their driving services.
Value Proposition
Without having a solid customer base and driver, no transportation company enjoys success like G7 Taxis does. While doing so, the company creates value propositions for both drivers and riders, and it addresses the commute problem that people face every day.
Value Proposition for Riders
Custom ride: Passengers have numerous options to choose from. There is an extensive range of vehicles offered; riders can choose any based on their needs.
Schedule trip: Users can schedule the ride by entering a valid date and time
ETA: The app gives passengers an estimated pick-up and ETA of the ride
Cost-effectiveness: The company offers typically low prices than other booking companies
Convenience: Riders will get the Taxi in less than 4 minutes
Choice in terms of vehicle type
Drivers are equipped with smartphones and Map facility
Online payment transactions
Can leave ratings and reviews
Value Proposition for Drivers
Ridesharing companies can't survive without their drivers, and the business is not possible without them. Therefore, a business model that promotes driver trust is necessary. You can see how G7 Taxis contributes to a driver's life by reading the following.
Those who love driving in their free time
A flexible working model that enables drivers to work as per their time availability
Faster payment system
Can get tips from happy customers
G7 Taxis Revenue Model – Explore Various Income Streams
Once we examine the company's revenue streams, we will be able to answer the question of how it makes money. Well, there are diverse ways G7 Taxis makes huge money, among these are:
Commission on Trips
Typically, revenue is derived from the riding or booking cost charged to the rider. This is the primary source of revenue. A driver receives the rest of the fare paid by the rider, and G7 Taxis keeps a certain amount percentage. Approximately some amount of money has to be paid in taxes, and the rest is revenue for the company.
Surge Pricing
When demand in a particular area is high, G7 Taxis implements surge pricing. In addition to heat maps showing the most in-demand areas and times, the company encourages drivers. Therefore, it could earn more revenue by taking on more rides.
Premium Taxi Services
G7 Taxis has come up with two plans, called Business Pass G7 and Club G7; riders and corporates choose any of these plans and enjoy the best ride experience along with certain perks.
Why Are Entrepreneurs Finding Exciting to Invest in G7 Taxis Clone?
Nowadays, it is more comfortable than ever to get a cab right to your doorstep. Today, there are so many apps that enable riders to get a cab right at their doorstep without even having to leave their house or offices. The only thing you need to do is download one of the top ride-hailing apps, choose a vehicle, order, and make payment on your mobile device or via cash after the ride.
Customers today give importance to comfort and safety; online ride-booking apps benefit both consumers and vendors. Transportation businesses can take advantage of the development of taxi apps to boost sales.
Additionally, these apps can help sellers cut costs, improve their online presence, and satisfy customers. Besides, customer's spending capacity is also rising, and they want regular tasks to get done within their fingertips. Therefore, conventional taxi business owners want to have an advanced taxi platform that automates their business, fulfills the rising needs of customers, enables them to expand their services globally, and avail some exclusive benefits such as :
Revenue generation
Endless possibilities
The demand is high
Brand awareness
Business automation
Gain an edge over the competition
In the age of social distancing, customers are increasingly booking cabs online and getting them arrived at their doorsteps. Even after the pandemic, this trend will continue because it saves time, money and offers comfort.
There has been a sharp growth in the number of taxi booking apps, such as Uber, Bolt, Lyft, and so on. If you want to have an app like G7 Taxis for your venture, contact us, and we will deliver the best solution as per your need.
How Much Does It Cost to Develop an App Similar to G7 Taxis?
Worldwide, startups are keenly interested in the taxi booking market because statistics show that it will continue to thrive in the coming years. To grow your traditional business and build a brand, entrepreneurs are developing the G7 Taxis clone as it saves cost and digitizes their business in no time.
But how much does it cost? It is tough to accurately predict the cost of these solutions unless you contact an mobile app development company without telling your actual requirements, as the cost depends upon several factors.
Skills and expertise
Feature integration
Technology selected
Scope of the project
Geographic location
Here are the most significant factors that affect the cost of the overall project. However, you can go with readymade solutions to save on money, time, and resources.
Experience Growth With Tailor-made G7 Taxis Clone
The global ride-hailing market was hit hard by the COVID-19 pandemic, causing a lockdown and work from home patterns to stop virus spread. But safety is of utmost importance for riders, and an app like G7 Taxis offers the same.
To stay in business, taxi business owners had to seek out new opportunities. And the G7 Taxis clone has become that beam of light.