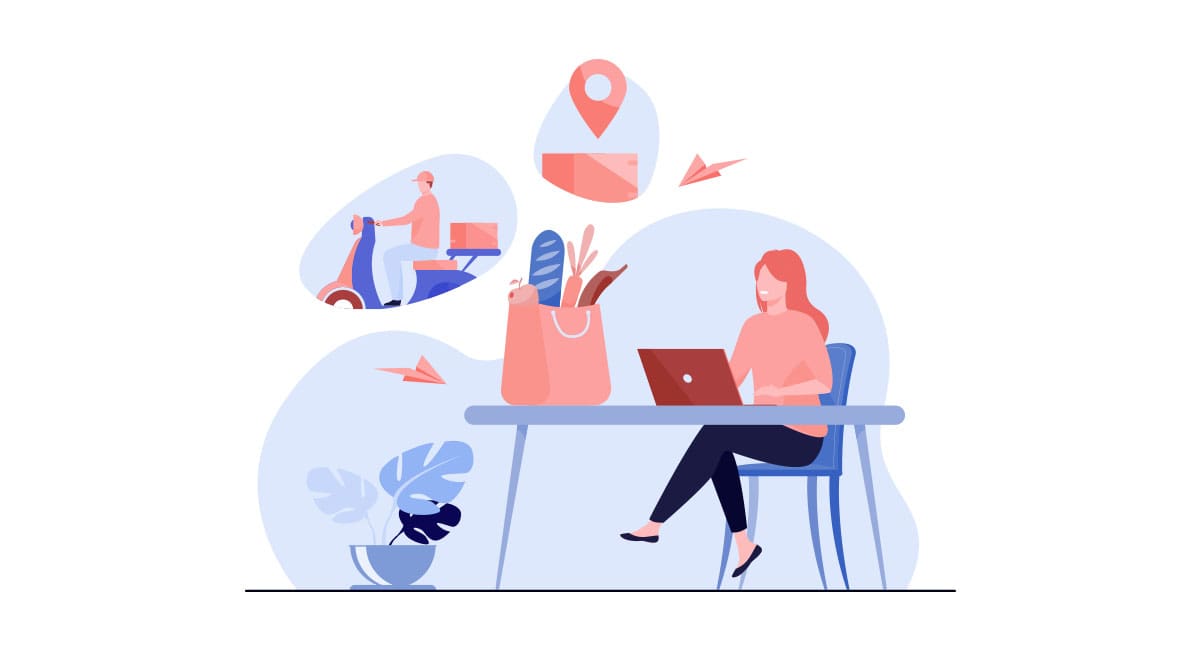 There are various niches present in the eCommerce sector, the grocery and vegetable delivery business is growing by leaps and bounds, and many startups are diving into the sea of opportunities and adopting solutions like the vegetable delivery app as it automates their business and fulfills rising needs of modern consumers. This particular sector's revenue has doubled in less than five years as it offers comfort and lets customers order fresh fruits and vegetables from nearby stores. Many questions could pop up before commencing the online vegetable delivery business. In this guide, we will get detailed insight into how to start an online vegetable delivery business and earn hygge revenue.
People these days are tremendously using the Internet and Smartphones in their daily lives, which is why the statistics for online grocery and vegetable delivery is progressing with each passing day. Hence, this is the right time for your business to deploy a vegetable delivery app and keep your business growing.
Earlier, fruits and vegetables were the things that mostly relied on physical stores or street shops. Now you no longer need to roam around busy streets to find fresh vegetables because the trend has been changed. People's inclination towards online vegetable buying is increasing, and this approach has forced retail shop owners to embrace digital solutions for their business.
Isn't it fascinating to get delivered fresh fruits and vegetables at cost-effective rates within a couple of clicks? Yes, the global grocery and vegetable market size reached $8,045 billion, and it is estimated to grow at a CAGR of 6.8% annually. The convenience and fast-paced lifestyle of urban people are two key drivers behind this immense growth.
The Rise of Online Grocery and Vegetable Industry: Exciting Figures to Know
According to eMarketer's, online research more than 31% of US people buy groceries and vegetables from Amazon; it is also reported that app downloads for Amazon Fresh have been increasing due to Corona Pandemic and keep expanding their services in US markets.
According to statistics, more than 54% of the grocery and vegetable retailers are adopting technology solutions to make their customer base solid and strong.
Instacart has experienced $2 billion in revenue and a valuation of $4.2 billion last year.
The UK will soon become the second-largest vegetable delivery market after China in 2020, and there is room for improvements in the country.
Instacart has experienced massive growth in its users over the last six months. At the end of 2020, it is estimated to have more than 750,000 shoppers and generate $35 billion in grocery and vegetable sales.
Today, Instacart operates in 5,500 cities, and per-user spend is approx. $512.
More than 500 million grocery, vegetables, and day-to-day products are listed on Instacart.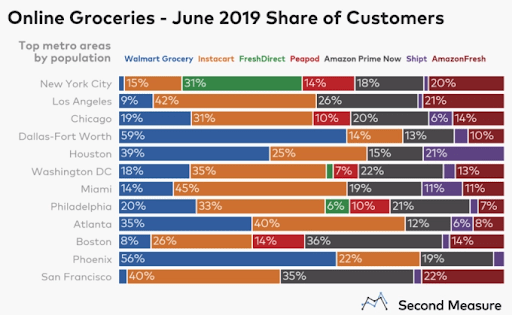 The above image is a snapshot of how various grocery and vegetable delivery apps' usage is increasing in the USA; Walmart and Instacart are dominant players, while FreshDirect received a surge of orders from New York. In response, the company has expanded its service to meet rising demand.
Well, the above statistics indicate that the vegetable delivery business will be profitable and does not require a huge investment. Go ahead and do cater to the rising needs of people and reap advantages as soon as possible. All you need to create a robust online vegetable delivery app and deliver fresh produce at home in the least possible time.
In this post, we are coming up with all the requirements for starting an online vegetable delivery business, so sit back, put on your entrepreneurial hat, and get started.
How to Start a Vegetable Delivery Business Online
Today, the online vegetable and grocery delivery market is exploding across the globe, and if you want to take advantage of this market, then this is the right time to hit the ball. Here we have explained in brief what it takes to launch an online vegetable delivery business, from target audience to business model to promote your business. Now, without creating a fuss, let's go ahead.
Identify Target Audience
This is the very first step to perform when you are about to start the vegetable delivery business. Your target market could be anyone who can afford time-saving services or for those who do not feel willing to go to the store or shop their own.
Choose your target audience according to your products and services because based on that, you can market and decide what types of customers you want to reach. Knowing your target audience increases the chances of business success.
For the vegetable delivery business, look at the area where your business will operate smoothly- are you surrounded by a residential area, restaurants, or corporate quarters? The demographics (age, preferences, country) of your audience will help you choose what business model you should opt for, what kind of marketing strategy you should perform, and much more.
Choose a Business Model
The online vegetable delivery model works on the formula of delivering fresh produce items from the vendor to the customer on time. Let's discuss the major vegetable delivery business models for launching an online vegetable and fruits delivery business.
Inventory Based Business Model
In this business model, you stock up fresh vegetables and fruits directly from various suppliers and deliver the products to consumers via an in-house or third-party delivery network. It means you are responsible for managing inventory, communicating with consumers, and ensuring on-time delivery without any hassle.
Example: Alibaba-backed BigBasket works on the inventory-based business model.
Multi-vendor Marketplace Model
This is the most popular business model, followed by many grocery and vegetable delivery platforms. Unlike the inventory-based business model, you don't have to manage inventory; this is why it is also known as the "Zero Inventory Business Model."
All you need to offer a digital medium in the form of a website or application from where consumers can place order requests, the app later transfers the order to a registered vegetable vendor. The delivery provider will collect vegetables and fruits and deliver them to customers at their preferred location.
Examples: Peapod, AmazonFresh, eBay, follow multi-vendor marketplace business model.
Hyper-local Vegetable Delivery Business Model
This is another popular delivery model when the delivery of vegetables of fruits is done within a stipulated geographical area. The delivery address and pickup location should lie within the same pin code. Many entrepreneurs are adopting this business model in order to,
Cater to the demand of customers within a limited area
Reduce delivery time
Empowering local vegetable vendors
Example: Instacart follows this business model and connects customers with nearby vegetable sellers.
Finalize Your Monetization Strategy
The ultimate motto of any business is to generate maximum revenue and increase a loyal customer base. There are several popular models you can opt for to make your vegetable delivery business profitable for your vendors and yourself too. Some major revenue sources are
Commission:
This is the primary revenue source where you can earn a commission from each order placed by customers.
Premium Membership:
A membership plan can be offered to the vendor who wants to list a number of products on your website or app. Based on the number of products listed, you can charge fees.
Advertisements:
You will get paid for vendor promotion on your app. This could be the ideal option for the new vegetable stores as they can increase online visibility while paying less. These methods include banner ads, sponsored listing, and much more.
Market Your Business
Without an effective marketing strategy, you can not attract eyeballs. You need to create a strong online presence for your vegetable delivery business. Build a website, app, and maintain a strong presence on social media as the face of your delivery business.
It will allow consumers to learn more about your delivery business. You can use Facebook, Twitter, Instagram, etc., to attract new customers and clients. If it's done well, you will daily get new customers, and that will eventually increase your daily orders.
Prominent Names in Vegetable Delivery Business
Since we understand what you need to start the vegetable delivery business, its business model, how to market it, now it is time to investigate the popular players in the market.
Instacart
Instacart is inarguably the most successful player in this industry. With their service extending over 55 states in the USA and Canada, Instacart enjoys a global presence and serves a high number of customers.
Amazon Fresh
Amazon Fresh is a well-known subsidiary of eCommerce giant Amazon that offers complete grocery and vegetable delivery solutions with the most convenient same-day delivery solutions. The company has more than 5000 products, including fresh fruits, vegetables, dairy products, and daily essential items. Launched in Seattle in 2007, Amazon Fresh has expanded its services in the USA, Germany, India, Munich, and Berlin.
Peapod
Peapod was established in 1989 in Chicago. From daily essential products to fresh vegetables, Peapod delivers orders within your requested time frame and operates in the UK and USA.
Why Should You Invest in Online Vegetable Delivery App
Starting a vegetable delivery business is an opportunity to impact your local community by supporting small vegetable vendors and offering digital mediums to customers to get fresh vegetables at their doorstep.
The world is facing a crisis; the global economy has been hit hard due to the pandemic. If you want to create an app similar to Instacart, it is ideal to steal the opportunity and reap benefits. Most people today are relying on digital solutions, and the online vegetable delivery business will fit perfectly in the current situation.
If you want to start an online vegetable delivery business, contact us, we will help you understand what essential things you need are and what success perspectives are.