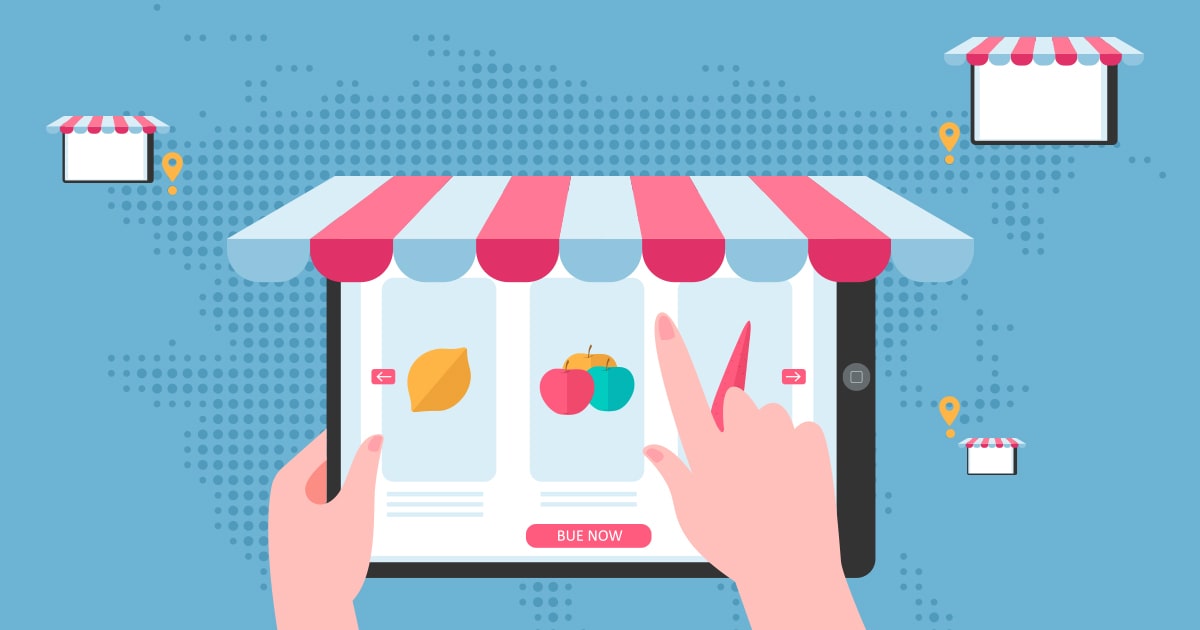 The E-commerce landscape in Southeast Asia is shifting continuously during the last few decades. Every region is experiencing significant growth due to technological advancement. With an internet-connected device, people can order anything from an online grocery store in Southeast Asia as per their daily needs. As of May 2020, Brunei possesses the highest internet penetration rate, especially when it comes to the Southeast Asian region, with more than 95.3%. It ranks just after South Korea with 95.1% in Asia, compared too, Timor-Leste had around 31.1% an internet penetration rate.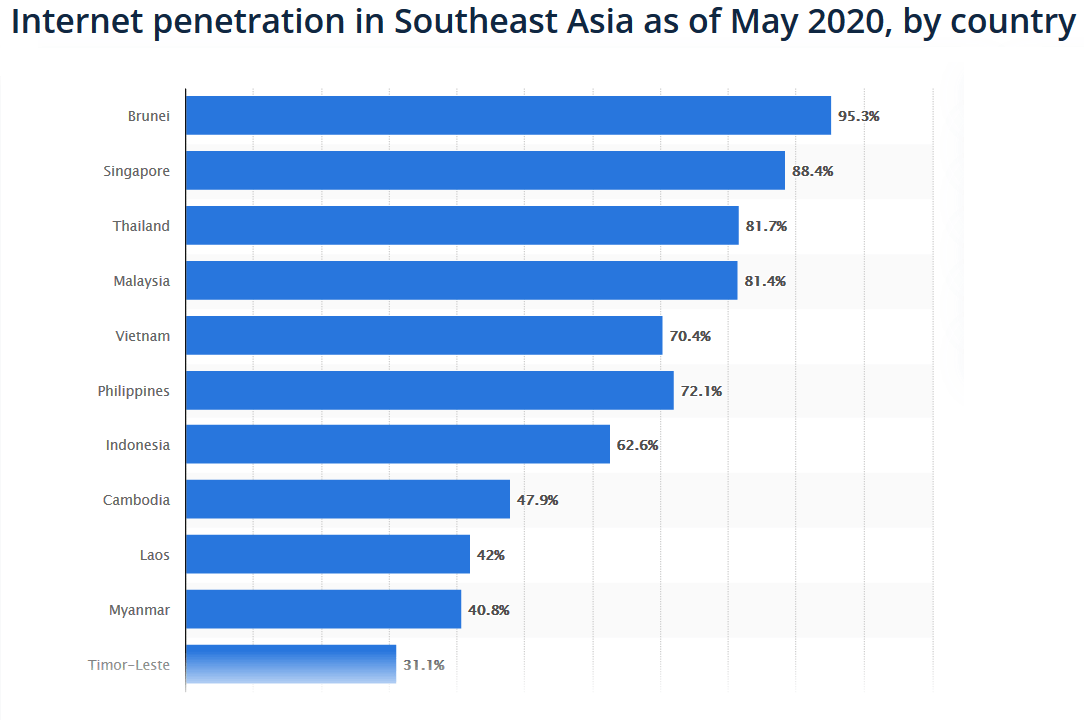 Southeast Asia, including Thailand, Indonesia, the Philippines, Singapore, Vietnam, and Malaysia, is home to more than 574 million people. From the figure, around 47% prefer online purchases while the rest 144 million make a purchase online. Southeast Asia is a magnet for online investment by ventures and retailers and stakes. It is estimated that online retail in Southeast Asia (SEA) will increase from $19 billion to $53 billion by 2023 and will measure around a 6.5% increase in retail store sales.
Online Grocery Sales in Southeast Asia to Skyrocket: Know Why?
Online grocery delivery service has increased drastically in Southeast Asia due to the spread of Covid-19. Most people are shifting to online grocery orders and deliveries due to the outbreak. The grocery market in Southeast Asia is forecasted to reach around US $309 billion by 2021. Food Industry Asia report shows that the online grocery business in Singapore alone is all set to grow triple between 2017 and 2020.
There are numerous grocery delivery business giants offering excellent service in different regions of Southeast Asia. It includes HappyFresh, RedMart, Dei, Lazada, GrabFresh, and many more, which provide online grocery ordering and delivery service to its customers. The online grocery market in Asia is developing rapidly; the market is set to grow from US$99bn to more than US$295bn by 2023.
Explore Everything About The Largest Southeast Asia Online Grocery Dealers
Southeast Asia exhibits enormous growth in recent times; the individual countries within the diverse are set to different economic stages. Consumer spending on the grocery retail spectrum is increasing as more and more customers are opting for digitalization. By 2023, online grocery sales across Southeast Asia's grocery markets are expected to grow US$295bn, a 198% increase resulting in a CAGR of 24.4%, compared to 62.% for the overall traditional market during the same period.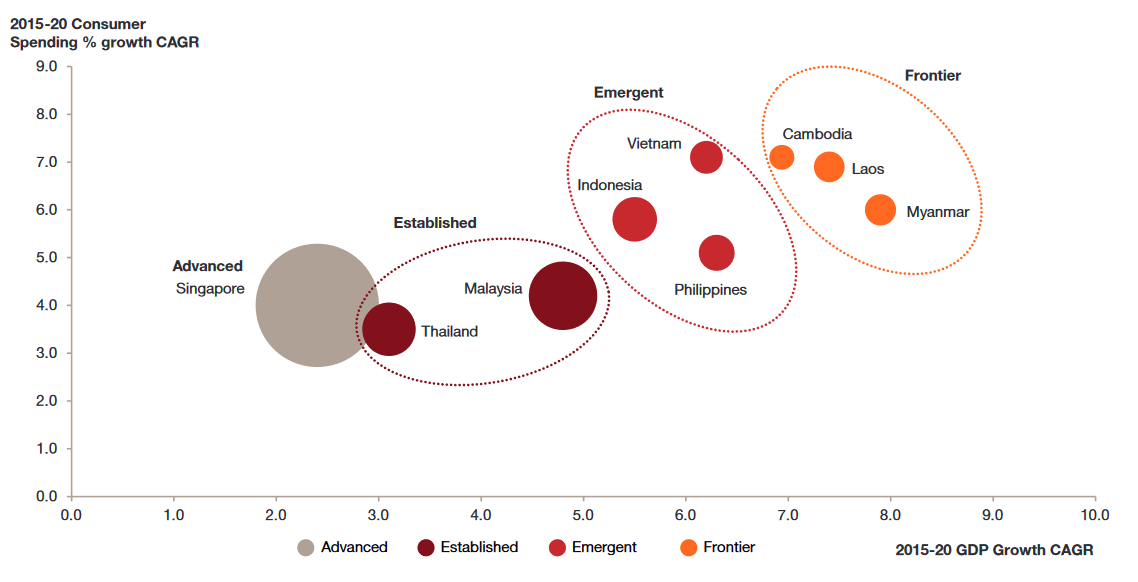 Growing mobile accessibility and broadband penetration is undoubtedly disrupting the traditional grocery business model. Now grocery deliveries are stepping ahead to give a digital touch to their business. They are opting for a tech stack, helping them offer a seamless experience to end-users and enabling their online grocery ordering and delivery service anytime and anywhere. Check the list of grocery dealers, which has created a buzz in different regions of Southeast Asia by offering the best service to customers on their demand.
1. HappyFresh
Jakarta-based HappyFresh was launched in 2015 to satisfy the growing grocery delivery demand of customers. It was the first online grocery delivery service launched in Southeast Asia. It was first launched in Kuala Lumpur and Jakarta and Kuala Lumpur, HappyFresh raised a $12 million to expand its online grocery delivery in Southeast Asia from Series A round.
The financing is led by a Dubai-based PE firm Samena Capital, with over $1 billion under management for the frontier markets in the Middle East, Africa, and Asia. On the operation front, HappyFresh has closed its delivery service in the Philippines and Taiwan. Instead, it will prefer to concentrate on different regions like Malaysia, Thailand, Indonesia, and many more.
2. GrabFresh
The success of HappyFresh in various regions of Southeast Asia inspired Grab to enter the online grocery delivery market. After satisfying customers with its ride-hailing service, Grab launched online grocery delivery in July 2018, popularly known as GrabFresh. GrabFresh recently launched an online grocery delivery service in Indonesia to grow its business in Southeast Asia.
The company utilizes its online service, GrabExpress, to provide customers with grocery deliveries with an hour of order request. The online grocery delivery service ensures to offer its customers qualitative products; they are allowed to decline the goods at customers' doorsteps to satisfy their demand. Presently the company is successfully operating in Indonesia, Malaysia, Thailand, and many more. The company is also planning to expand its delivery service to Southeast Asian regions, but they haven't said anything officially.
3. Honestbee
Honestbee was an online food and grocery delivery service in Singapore in July 2015. It also offers parcel delivery service to B2B customers. After achieving success in Singapore, the company started offering its service in Thailand, Hong Kong, Taiwan, Indonesia, Bangkok, Malaysia, Japan, and the Philippines. Honestbee also launched an offline and online grocery store in the Southeast Asia region known as Habitat in Singapore in 2018. The company joined the whopping $15 million series A funding round recently.
4. Lazada
Singapore's leading grocery delivery Lazada acquired RedMart's online shopping supermarket in 2016. The integration expands Lazada's offering and range of grocery shopping services guaranteeing to broaden its customer base in Southeast Asia. The company planned to launch its grocery delivery service in one or more cities in Southeast Asia.
5. Cold Storage Online Store
Established in 1903, Cold storage is a supermarket chain providing its best service in Singapore. Cold storage online store is owned by Dairy Farm International Holdings and operates mainly three brands in Malaysia and Singapore. It includes:
1. Cold Storage (in Malaysia and Singapore),
2. Market Place (in Singapore)
3. Giant Hypermarket (in Brunei, Singapore, Indonesia, Malaysia, Vietnam, and UAE).
Cold Storage is the very first supermarket in Singapore which offers its merchandise online. The number of regular customers is rapidly growing; it had grown from 6,000 in 1998 to 15,000 in 2012. The company very well recognizes the importance of freshness; hence it started Fresh Food Distribution Centre in 1999 in Singapore. The company owns multiple temperature warehouses for frozen and food to the customers on their demand.
6. Giant Online
Founded by Kuala Lumpur in 1944, Giant is a retailer chain and hypermarket in Brunei, Malaysia, Cambodia, formerly Vietnam, Singapore, Indonesia, and many more. In 2016 the company was considered the largest supermarket chain in Malaysia. Today, the company successfully operates as a subsidiary of Dairy Farm International Holdings Limited.
7. NTUC Fairprice
NTUC FairPrice was founded on 22 July 1973 in Toa Payoh; it is a supermarket chain and largest grocery dealer in Singapore. The company has more than 100 supermarkets on the island, with approximately 50 outlets of Cheers convenience stores island-wide. The company has collaborated with ExxonMobil to run numerous stations with FairPrice branding. The supermarket is operating with the slogan "Singapore's very own".
8. RedMart
Redmart was Founded by Roger Egan III, Vikram Rupani, and Rajesh Lingappa in August 2011. The company is undoubtedly one of the biggest online supermarts; it has reportedly sold around 100,000 products to date. In 2015, RedMart expanded meal delivery after investing a penny on delivery app, ensuring the best service to customers seven days and a week all year round.
The company launched its service in stealth mode in 2015, shipping for more than 700 meal kits for three months. The company launched its platform publicly in April in the same year when more than 1,000 meals were delivered to approximately 800 Singaporean families in just two weeks. Each meal ranged from S$15 to S$30, with a delivery charge of S$30. In November, the company launched 'RedMart Relay', to deliver goods to their customers.
9. MyGroser
Malaysian based MyGroser lets customers order groceries online and get it delivered right at their doorsteps without any hassle. MyGroser expects faster growth in the online grocery business and opens investment for expansion across various regions of southeast Asia. The company offers fresh products, goods, food, essential items, and seamless grocery delivery to customers in Malaysia's USD20 billion supermarket and grocery space.
10. Organic4U
Malaysia based organic online store, Organic4U is an online grocery delivery service to customers. Customers can order organic vegetables, organic fruits, products, or any other thing from the platform to get it delivered right at your doorsteps. The fantastic service offering of the platform has helped them build a unique and robust presence in customers' hearts quickly.
Make Smart Choices to Shop Online with the Best Southeast Asia's Best Online Grocery Store!
It has become essential for every individual to have access to have quick access to groceries as it is an integral part of life. There is numerous online grocery store in the Southeast Asia market these days which helps us leverage on-time grocery delivery right at our place. If you are dealing in the grocery delivery market, it becomes vital for you to opt for changing to ensure your business's survival in the market.
You should try to vary your grocery delivery app script from competitors in the market to get the spotlight and stay on top of customers' minds. Understand how you can offer an online delivery service to your customers and how it will benefit your business before moving to further decisions. Offer online delivery at your customer's doorsteps as customers consider it the best way. Online grocery delivery platforms not only provide advantages to your business but also benefits users to a great extent.