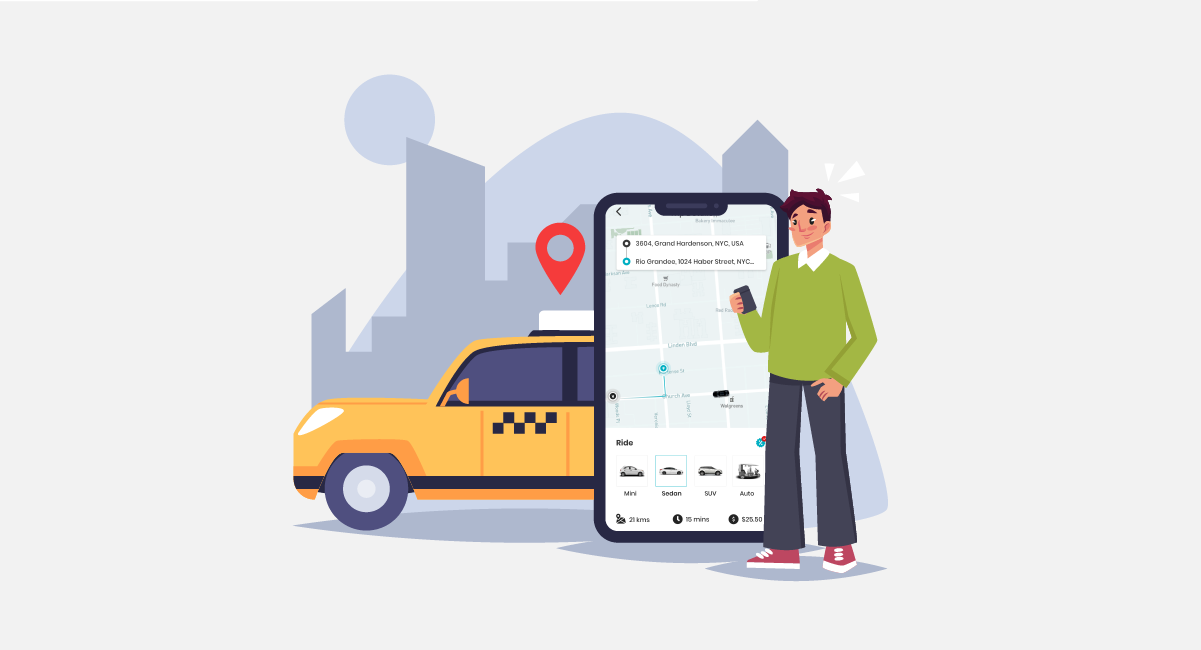 Recently, Elluminati Inc has integrated some incredible new features into its ride-hailing platform Eber – Uber taxi clone marking changes in respective modules. These cutting-edge features are user-friendly and business-centric, allowing a business to improvise their services within the competitive taxi industry around the globe. Here is the explanation for each of them about its working and how it helps users for better experiences and for businesses to enhance their services.
Receive New Trip Before End
Explanation:
On the verge of completing the current trip, drivers can accept a new trip which they can choose to accept or reject the trip. After completing the current ride, drivers will be headed to the next ride., which they have already accepted. Distance before which the driver gets a new request before destination will be decided by the admin panel.
Benefit:
It eliminates the wait time for the drivers and riders and therefore making the services efficient. A taxi-sharing business could take advantage of this feature for service enhancements and instant reachability between their prospects.
Driver Going Home
Explanation:
Drivers can get the rides only those which are their way home. Drivers just have to enable that feature that says "Way to home," and they will get the rides in that direction. They can mark it within the app while going home. Drivers will be allowed to add their home addresses within the app. To update the address for any reason in the future, they have to inform to admin to do so.
Benefit:
This feature enables a driver to get an extra ride when they have to travel home. It will utilize their time, can get an extra ride, and therefore earn.
Multiple Stops with Waiting Time
Explanation:
Riders can make multiple stops throughout the ride. They can choose to enter the multiple stops in addition to their pick-up and drop-off location. The driver will stop the ride at all allocated locations. For stopping the ride, the admin can set a wait time charge, keeping a minimum amount of time as free if they want, which customers will be paying with the ride fare.
Benefit:
It is a convenient service for the rider when they can book a taxi and can make multiple stops in between as and when required. A business offering these services can engage and retain more users. They can even get an extra income from the wait time.
Ridesharing
Explanation:
Riders can choose to have a ride-sharing option with other riders while booking the ride. On the way to the rider's destinations, if they get another riding request, the driver can accept and drop them off at the respective addresses.
Benefit:
Riders have to pay less for the ride in ride-sharing services. And a business could serve multiple riders at a time, thus increasing the user base.
Split Payment With Friend
Explanation:
For the entire ride payment, riders can divide the payment between any number of friends, say, "X" number. This X is decided by the admin, above which the payment cant be divided. All the friends can pay through their desired payment method. Payment sharing can only be done to registered users and also only when the ride is ongoing.
Benefits:
The app can calculate the fare for multiple riders and split them equally between them so that users don't have to swap cash or any other payment source to split payment. Admin would get an extra fee for allowing this service of splitting payments within the app.
Elluminati Inc always looks forward to improving all its products by integrating new features, functionalities, and designs based on the current market trends and technology. All the modules are customizable and thus can always be ready to work better. Here are Eber's all features mentioned, which make the ride-hailing business flow much more streamlined. Yet, they are always scalable to add new ones.
If you are looking to invest in such a platform, choose one of the favorable pricing packages of Eber Taxi as offered by us, and start heading to newer and higher business standards.
Implement the Most Refined Platform for Your Ride-hailing Business
Contact us to know more about the platform and get a fully customizable platform.