Online Grocery Delivery Statistics – Interesting Facts You Need To Know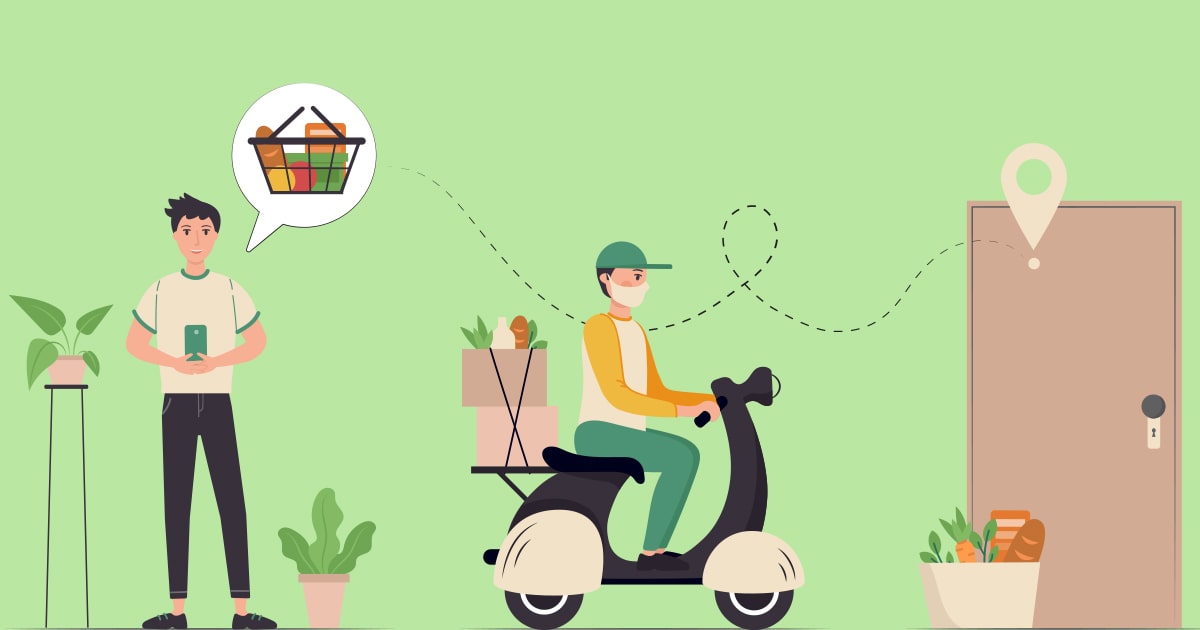 Let's admit it- going to the local grocery shop or mall is a major time drain and tedious task to do. These days, people's inclination toward online ordering increases, whether about food, grocery, or electronic products. Here we are going to reveal some eye-opening grocery delivery statistics that will bolster your mind and compel you right now to start an online grocery delivery business. As a retail store owner, have you ever thought about how apps like Instacart and Grofers made huge revenues within a short time? The emergence of technology has made the lives of retailers easy and offers comfort to the consumers as now they no longer need to stand in a long queue while check-out.
According to U.S.eCommerce sales, there is a rise of 2.8% in online grocery sales than the previous year. Ordering groceries online could be a tremendous help in this fast-paced lifestyle. It can spare your money, time, and efforts as well.
Like any e-commerce business, online grocery stores also have an extensive range of products. Here we have presented vital statistics and an overview of the online grocery market.
Dive Insight!!!
The Rise Of Online Grocery Shopping
As we become more entrenched in the digital and technology era, it is no wonder that online grocery shopping is rising with each passing day. The penetration of smart devices and the internet has changed consumer shopping habits and mindset. Today, they prefer convenience anything else, and online grocery shopping offers the same.
Using a dedicated app solution, users can buy products and get it delivered at their doorsteps in no time. There are many other reasons why shoppers prefer online grocery shopping.
For instance, online grocery shopping saves time; they can choose and filter products based on their requirement. Moreover, shoppers can also choose suitable delivery timing for them. What else do they need? These are the major reasons why online grocery is on up and contributing its major stack to the economy.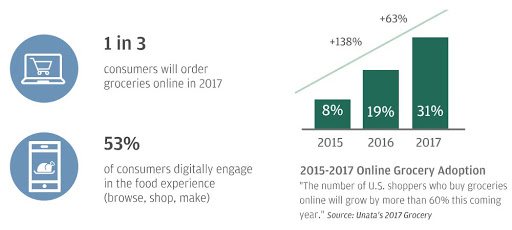 As per the study conducted by JP Morgan, 1 in 3 consumers ordering groceries digitally will grow by more than 60% in the coming years. More than 65% of online shoppers say that they find online grocery shopping easy and exciting because they don't need to carry heavy packages. It will also save money to spend on petrol/travel.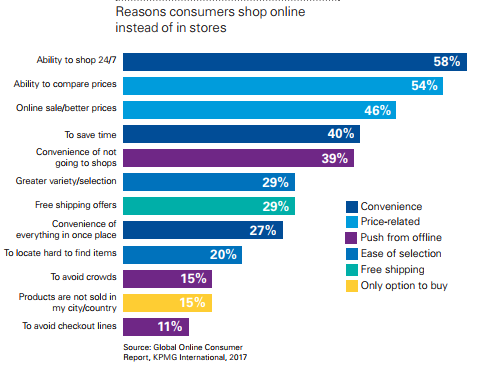 The above chart shows that "convenience" is the major reason for driving growth in online grocery shopping. There are many other reasons, such as free shipping, attractive deals, and price comparison, that encourage consumers to order groceries online.
1. Extensive range of options
2. Save time
3. Easy returns
4. Price comparison
5. Deals and offers
Above are the prominent reasons that encourage people to order groceries online. If this trend continues, it would not be wrong to say that adopting the E-Delivery solution is no longer optional for grocery retailers; it will become mandatory.
Mind-Blowing Online Grocery Delivery Statistics
With 2.7 million active smartphone users worldwide, it won't be shocking to admit that on-demand grocery delivery app are flooding in the market.
The evolution of online grocery stores is a real boon for shoppers. Isn't it fascinating that a variety of fruits, vegetables, and other grocery products will be delivered at your doorstep with a couple of clicks on your smartphone.?
Yes, it is quite impressive and relaxing for shoppers in this highly digitized era. And this is the reason why retail store owners are deciding to move online from conventional stores. If you are new to the online grocery industry, let's have a peek at some statistics.
10% of US consumers regularly order groceries online.
In the year 2018, the size of the overall grocery market was $631 billion.
By 2022, almost 10% of all grocery sales will likely be made online through smartphones.
Well-known e-commerce giant Amazon led the field as a grocery shopping, and more than 65% of the consumers said that they buy groceries online. From Amazon in the previous year.
5% of consumers prefer purchasing groceries online once or twice a month.
Some third-party providers, such as Instacart and Grofers, are currently offering delivery options and have reduced commission feed for their retailers.
More than 66% of customers have said that a free or low-cost delivery service is important to them when ordering groceries online.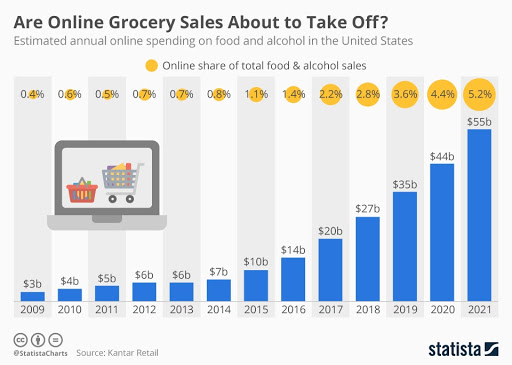 As you can see, there has been a considerable increase in the number of digital grocery shoppers over the years. It is all set to hit $55B by 2021. As shoppers have already moved online for essential products.
How Digital Transformation Reshaping The Grocery Industry
Digital transformation is the new norm across the grocery industry. By adopting digital solutions, grocery store owners can expand their business without any boundaries. Moreover, retailers can deploy Ready-made or custom delivery solutions to catch consumers' attention, even when they are not shopping.
Moreover, the grocery application allows retailers to engage with their customers through social media and other channels. They can access your products and services while they are on the go. It means if you move to the digital landscape, it will offer you a plethora of benefits- it boosts sales and enhances the overall customer experience.
Furthermore, once you transform your retail grocery store to digital, you can market and promote your products to consumers without having to spend a thousand bucks on advertising. With an online grocery app, retailers can easily manage business operations and simplify overall customers' overall processes.
How Pandemic Lifts Online Grocery Sales
Consumer grocery shopping habits across the globe have changed since the coronavirus pandemic has begun. By the end of April 2020, the grocery market's e-commerce share was 12.4% across France, China, and Spain. Since the pandemic started, new shoppers have boosted online grocery buyers by 25% globally.
It means more and more retailers are now offering digital delivery options to their customers as it boosts sales and makes their customer base strong. This is why it is projected that online grocery sales will hit $18B by 2020.
Ending Note
To wrap it up, shoppers are more willing to buy groceries online, and this trend will continue to grow. The above facts and figures indicate that the future of online grocery ordering is bright because the working person's life is getting hard with the time, and they don't have enough time to visit local shops.
Moreover, home deliveries are shopping from any corner of the world, and most importantly, those attractive deals make online grocery shopping more popular and preferable.
If you are in the dilemma of launching your own online grocery business or revamping an existing one, developing a grocery app is the phenomenal decision you can ever take to make your online business fruitful. If you are one of those aspirant business owners who want to dive into the online grocery store business but clueless about where to start, contact us now, and we will resolve your queries with a modern approach.