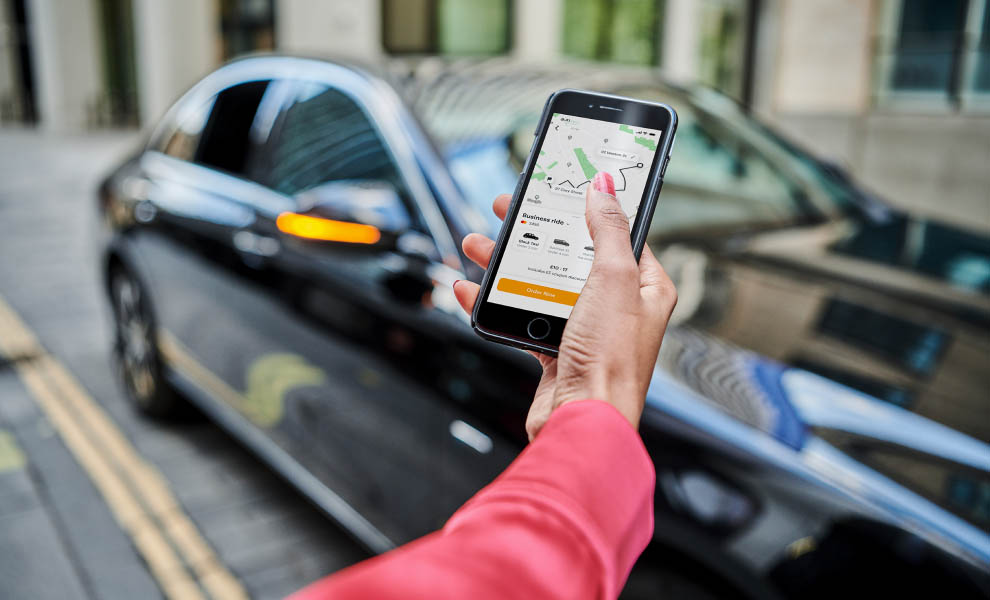 The mobility revolution has covered all corners of the world in the taxi industry. After the Covid-19, the taxi-hailing industry witnessed a quick boom where users were only concerned about leveraging safety leading them to go for online taxi booking services, which were quick and cost-effective to travel from one place to another.
The mobility revolution of location-based taxi services refers to the rapid growth and transformation of transportation services offered through mobile applications. With these new technologies, passengers can easily book a ride with just a few clicks on their smartphones. The location of the cab, the driver's information, and the estimated arrival time are all provided in real-time.
At first, taxi booking was not that common to roam around the town when there was no invention of mobility services. Back then, people had to struggle a lot to find a cab and by wasting a lot of energy only to reach cab stands. All thanks to the mobility revolution that enabled users to receive transportation easily at their fingertips.
Mobility platforms have made taxi hailing more efficient, convenient, and accessible for both drivers and passengers and have opened up new possibilities for transportation that were not possible before. As per the Statista reports, the ride-hailing market and taxi segment is expected to achieve USD 379 billion in revenue by 2027 worldwide, whereas the 2023 review segment stands for $330.80 billion.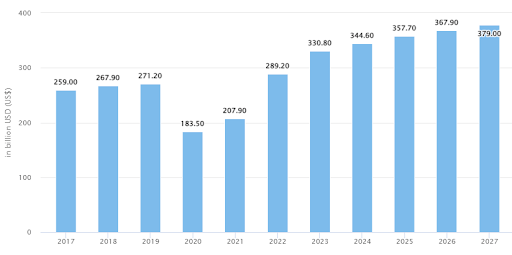 Some taxi industry giants like Uber, Lyft, and Grab have revolutionized in a most appropriate way that encourages people to move around cities more easily and conveniently by accessing transportation services on the go. For all the entrepreneurs who are on the way to launching their own taxi-booking platform, here is a guide to explore various competitors who are doing quite well in what they aiming for.
Comparison of the Top Location-Based Taxi Services
The list shows a quick comparison of varied location-based taxi services that have come up a long way to establish their status in the industry.
1. Uber
We all know that Uber is the world's largest company ruling the taxi industry. Uber's journey started back in 2009 and was established in San Fransisco, California. Uber was founded by Garett Camp, who came up with the idea of serving the local people with hassle-free and cheaper direct transportation.
If we look at Uber's business model, then we get to know that Uber performs as a mediator to connect drivers and riders to fulfill the transportation demand. Its sales channel usually relies on commissions from users and drivers and a huge amount from advertising and promotion strategies.
Uber benefits riders in several ways. If someone is looking for comfort or luxury ride services, then Uber provides all the services with proper safety and security concerns. On the other hand, drivers can earn money on their flexible hours by riding for uber.
2. Lyft
Most of us might have heard of Lyft, which is the taxi-hailing giant founded back in 2012 in San Francisco, California. It is the second largest industry giant in the US market after Uber, which covers 644 cities in the United States and 12 cities around California.
Lyft's revenue model explains that it generates a huge amount of money by charging commissions from drivers and users. It also started to generate revenue from subscription plans back in 2018. Some additional revenue sources include its subsidiaries Lyft Plus, Lyft Premium, Lyft Line, etc.
Lyft offers a multimodal strategy that allows users to book scooters, bikes, public transportation, and self-driving facilities. If we count disadvantages, then users and drivers both have to face breakdowns due to surge pricing. Where drivers may face inconvenient income flow due to various reasons.
3. Grab
Here is another taxi giant that has earned its first place in Southeast Asia by beating Uber. Grab first started to provide taxi-booking services in Malesia in 2012. At present, it expanded its services and comes under the Super App category by providing food delivery, grocery, parcel services, transportation, online payment, and much more.
Grab's revenue channel relies majority on a commission-based strategy where it earns enormous money by charging commissions from each service like food, grocery, parcel delivery, ride-hailing, and financial payments. Advertising strategies and other subsidiary channels also have their share in the revenue stream.
Since Grab is a super app, it greatly benefits its users, like consumers don't have to scroll through variable apps to shop for everyday stuff. They can get the majority of services just by installing one app - Grab. If we have a glance over negative factors, then we got to know that grab taxi drivers have to rely on tips heavily. It also threatens users' privacy since the app allows the drivers to check on users' location even before they accept the request.
4. Ola
The list of top location-based taxi services includes the Indian taxi giant – Ola. It was founded in 2010 by Bhavish Aggarwal, and its headquarter is held in Bengaluru, India. Ola operates across four countries – India, Australia, the UK, and New Zealand. Ola offers several vehicle options for users to choose from based on their comfort.
Ola's business model includes a wide spectrum of services, such as renting a cab, round-trip services, out-spot traveling, and more. Ola's pricing strategy relies on travel timing in minutes. Its revenue stream includes the fixed commission from trips. Cab leasing program, surge pricing, ola prime, ola select, ola credit card, ola dash, and ola electric has their share in profit.
Consumers can get variable advantages by engaging with ola, such as flexible online bookings, multiple payment gateways, entertainment tools during ongoing rides, and so on. In contrast, there are some drawbacks, such as too much dependency on the internet, weak customer support, and a lack of control over drivers.
5. Hailo
Here is UK based taxi-service platform Hailo which was founded in 2011 in London. Hailo works to connect people who are in need of transportation services with those who are ready to drive.
Like the other taxi services, Hailo makes money on each earned trip and charges a specific amount of money to users and drivers, where the charges vary from location to be served and especially during peak hours.
Hailo utilizes GPS technologies that let users connect with their nearby taxi drivers quickly for ride-hailing purposes. Users can easily connect with their assigned driver via the app for any queries or communication. Unfortunately, it only made it to cover some of the areas over; MyTaxi currently acquires Hailo.
Future of Location-Based Taxi Services
The taxi service market has a lot of opportunities to achieve, plus soo many challenges to come over. In the near future, we will witness a huge contest in the taxi market because, as per the rising demands of online ride-hailing services, entrepreneurs are more focused and dedicated to launching taxi booking services with the right and unique strategy. The huge competition means there will going to be the price wars that somehow can benefit users.
As per the CNBC reports 2023, South Korean giant SK Telecom expects to launch a flying taxi service in 2025. Where last year, they established a partnership with US firm Joby Aviation in order to start the production of air taxis. So yes, many market scenarios from all over the world point to air taxis. Apart from air taxis, there are some fresh concepts of robotic taxis, water taxicabs, self-drive, or autonomous taxi services that can be introduced in the future to attract users.
The drawbacks of the taxi booking business much look into, including the huge matter of finding drivers. If there is huge competition in the market, then, of course, each company will adopt unique strategies to approach more and more drivers to work for them, which can lead to a breakdown. On the other hand, government or political interference can also negatively impact taxi services.
To come over this, organizations have to pay more attention to improving their services. Where they can launch new customer loyalty programs to attract more consumers. Moreover, they can develop new launches of services such as meal delivery, parcel delivery, financial services, digital payments, etc., so that users will be more interested in utilizing their platform.
Conclusion
The market has noticed an emergence of electric vehicles, and the increasing focus on sustainability has further contributed to the mobility revolution in the taxi-hailing industry. Consequently, some taxi companies now offer electric vehicles as part of their services. These efforts are aimed at reducing carbon emissions and making transportation more eco-friendly. Thanks to the mobility revolution that made us our every day or someday transportation phase a way easier.
From the above comparison, we can conclude that Uber is giving truly tough competition in the market to hold its first place worldwide. Besides, some new brands are also doing their best to compete with Uber. The comparison also shows that each platform has its pros and cons that entrepreneurs should consider in order to avoid making the same mistakes they are dealing with.
Want to get your own taxi-hailing platform like Uber? Elluminati is here to offer a robust and feature-rich Uber Clone Script that can help entrepreneurs to launch their taxi-booking app that derives assured success in such a competitive market.