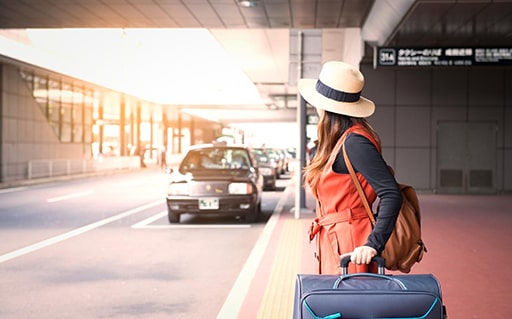 Taxi aggregator Uber is a giant success that has powered innumerable startups to forge a business model with similar aspects. It has created a new standard for consumer convenience all in the year it has emerged. The tech colossus, Uber, was spread in the many corners of the world soon after its advent. The Uber business model makes entrepreneurs aspire for similar strategies and revenue resources.
Uber is one of the largest transportation companies that showed a quick surge in the market value. It also has higher brand recognition in many countries, available in 69 countries and over 900 cities. Uber's
global net revenues
from 2013 to 2020 are shown in the below graph. The upcoming years are also predicted with the diversification in the business and its huge contribution to the market.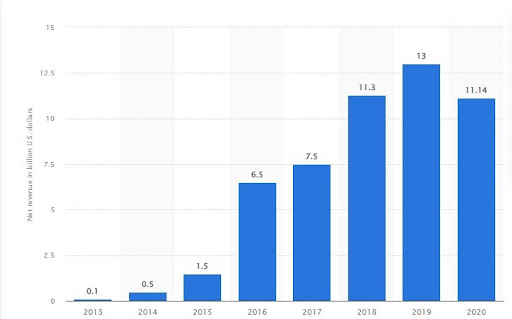 Source: Statista
Here we will learn every characteristic of the Uber business model that will help entrepreneurs in their on-demand startups. We will be starting by knowing the basics of Uber.
What is Uber?
Uber is a ride-hailing aggregator operated on smartphones to book a taxi for transportation from one place to another. It was launched in 2009 in San Francisco, California, U.S. Uber Technologies Inc; its parent company is an American conglomerate that pioneered and developed the most comprehensive business model.
It began with "Ubercab" in 2009, with its first of a kind online ride-hailing service, and soon this phenomenon spread like wildfire, and a new economy named "on-demand economy" was born. It had launched several services subsequently like electric bikes, motorized scooters, etc.
Besides, Uber's parent company has numerous other territories like food delivery, package delivery, courier, and freight transport. To provide these services, it has acquired firms like Careem,Drizzly, Postmates. However, they also sold its operations like UberEats Indian to Zomato. Or also partnered with the Cornershop for the Uber grocery delivery service in Latin America, Canada, and a few more places.
Uber's Facts, Figures And Fundings
Launch Year: March 2009
Founders: Garrett Camp Travis Kalanick
Parent Company: Uber Technologies, Inc.
Headquarter: San Francisco, California, U.S.
Industry: Mobility as a Service
Funding Amount: $25.2B
Funding Stages: 33
IPO Launch: May 9, 2019
IPO Amount: $82.4B
Acquisitions: 13
Customer Base: 93M (2021)
(Sources : Crunchbase, Statista)
How Does Uber Work? And Generate Revenue
Uber works as a mediator performing ride-sharing business through a digital platform between riders and drivers. It has determined apps for both riders and drivers following an 'X' algorithm to connect both of them. Uber doesn't own any vehicles; instead, it charges 25%commision from each booking. It also has a dynamic pricing structure based on the supply and demand during bookings.
Basically, riders place a ride request from their dedicated app, and drivers are supposed to acknowledge it and fulfil it using their dedicated app. Uber has become a pioneer and the model for various industries being Uber for X business platform.
Uber Business Model: A Brief Descriptions of its Factors
Uber is much more than just a taxi-hailing business. Uber's business model is flexible, and its elements could be adopted by any business segment, no matter the dimension. Let us make it simple by breaking down the Uber business model into key factors.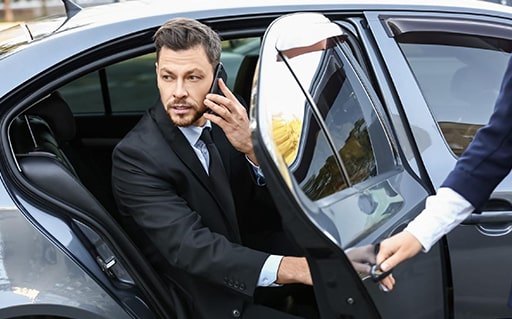 Key Stakeholders
In this business model, you can keep your key stakeholders fully integrated into the process. Key stakeholders for this business model are:
Riders are the consumers that will book their rides through your app.
Drivers will use your technologies to reach more riders and earn more.
Technical service providers that will provide you with digital tools
Service providers will be your ally in ride service management.
Central management will be you at the centre of your business
Investors are the critical resources for financial and decision-making support.
Key Activities
Key activities include the creation of a digital platform for all your taxi ride bookings that your consumers can book through your app and web portals. Further, other important activities are:
Creation of a technical structure through the technology stack.
Partnership with drivers for the fulfilment of ride requests.
Manage and provide ride requests through digital tools.
Convenient and smooth transaction through payment gateways.
Consumer engagement through social media and other forms of marketing.
Key Resources
Resources are those reservoirs of support and expertise that help your business stay afloat. So, the critical resources of your Uber business model are:
Technical platforms like apps and web portals across operating systems.
Digitally equipped drivers with the latest smartphones.
Well-organized partners with web portals.
Value Propositions
Riders
Riders/users of your digital service are stakeholders of a business model, and they benefit from it in the following ways:
Riders are allotted the nearest drivers with the shortest routes.
Fare estimation before the ride-booking and free cancellation.
Convenient and preferable services are offered through apps.
The benefit of competitive pricing and cheaper rides
Multiple payment options like e-wallets, debit/credit cards, etc.
Live tracking facilities for an ongoing ride.
Drivers
Drivers are the backbone of your business model, and the more they achieve from it, the more you will have the taste of success. Drivers can achieve many benefits like:
Drivers can earn more through more rides than usual.
Convenient registration and easy validation.
Ease of choosing their work timings.
Drivers can choose a convenient option for payment.
Customer Relationships
Prolonged relationship with customers ensures sure shot at the business for a long period, and this business model helps you with the same by:
Social media and website promotion.
Increasing the brand impact through marketing.
Constant customer support.
Fully functional review and feedback system.
Customer Segments
This business model targets specific users through innovative technologies and helps customers and drivers.
Customers
Riders without private cars
Riders are unable to drive by themselves.
Riders are looking for cheaper ride options.
Riders who seek convenient and luxurious services.
Drivers
As we already discussed, drivers remain the driving force behind the success of an online taxi-booking or ride-hailing business. It is important to know what type of drivers to partner with.
Drivers that look forward to earning more through their car.
Drivers that want to work for flexible hours.
People are looking to earn a living with status and security.
Channels
With technical structure based on the Uber business model, digital tools that can support the business needs of your taxi-booking business are achieved, and they are:
Dedicated apps for riders and drivers on the Android and iOS platforms.
Central admin dashboard for overall management.
Web portals for drivers and riders.
Portals for partners for better ride management.
Uber's Revenue Sources
It is now apparent that Uber's primary income source is commission on each ride, as you have gone through the several titles mentioned above. Besides, it also has several other revenue-generating channels, as listed in this section.
Rides Commission
Customers will be shown the estimated price while using the platform for booking a ride. Uber will take 25% of this price as its commission, and the rest are divided amongst the partners and other expenses. The commission is between 15-30%, averaging all the country's models.
Surge Prices
In peak hours, the customers have to be a bit higher, following an algorithm of dynamic pricing structure. This is how drivers and Uber earn a bit extra on each side of those hours; in return, customers get instant rides.
Ride Cancellation Charges
Uber has a ride cancellation policy for the riders who cancel the rides within a time interval. The charge is kept higher when the ride is canceled at the last moment.
Premium Rides
Uber allows its consumers to get luxury rides in top-notch branded taxis. In return, they have to pay extra. Uber receives higher profits in these kinds of rides. Intuitive platform design has offered many sponsored content to showcase and ultimately a massive source of income for Uber.
Advertising and Promotions
As of now, Uber has generated vast brand recognition; Uber has figured out a huge source of income which is advertising brands on its platform.
Learn Something From Orchestrated Business Model of Uber
As we discussed the Uber business model, you must have now been able to grasp the structural framework of an on-demand transportation business. It is a revolutionary model that made the advent and widespread online business structure globally. Its business structure is flexible, and its components could be adopted with any of the dimensions and sectors.
Entrepreneurs can enter the e-startup scenario by developing an Uber clone app that proved the ultimate model for businesses. Several other services like grocery, handyman, laundry, healthcare, flowers, liquor, etc., could aspire with the model and start their online business. Now, before you dive into the ocean of e-commerce and online business, take a breath, do your research, develop an on-demand business model and then diversify!