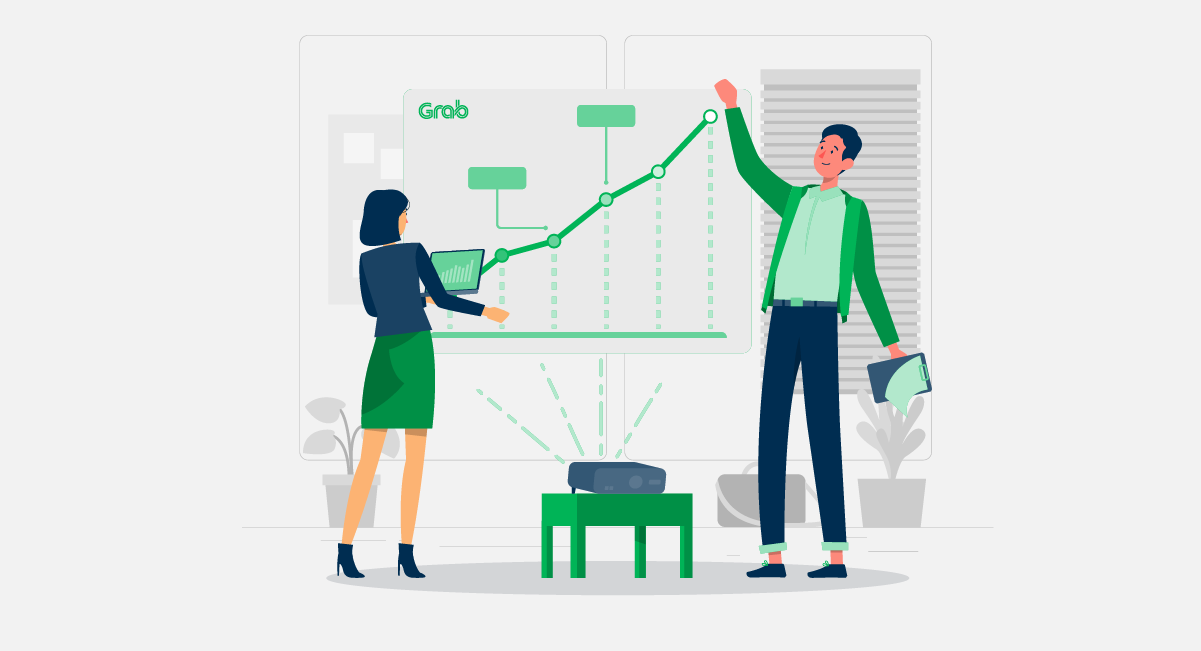 Grab is one of the giant startups that began as a taxi-hailing company named GrabTaxi in Southeast Asia and is now a lot more than that. And today, they have launched food, monetary benefits, and many more things. We will be driving toward the Grab business model, revenue resources, and how Grab works in this blog. But before we commence to get to the heart of the story, we need some context. Why are we learning about Grab? Because you will be launching an app similar to it. Why that also? Because it's a space where you can make a business of a billion dollars and more.
Slowly but steadily, the on-demand apps have changed consumer behaviors. Entrepreneurs are venturing into the on-demand economy to satisfy the customer's needs. And this sector is driving the world economy, persuading a huge contribution from worldwide. And in the upcoming years, it has been forecasted to rise with a huge difference from now.
Grab is one such giant company that has contributed to this sector. It started as a taxi company which is now a multi-service business. Let us move on to know more about Grab.
What is Grab?
Grab is a super app in Southeast Asia offering taxi-hailing, meals, grocery, and package delivery, cashless payment assistance, insurance, hotel room booking, and many more. The firm is serving in around 7 countries and more than 400 cities, offering distinct 8 favors, all within a mobile application.
Grab was established in 2012 in Malaysia by two of its creators, Anthony Tan and Tan Hooi Ling; it first was called MyTeksi and was just serving taxis. It then extended to several countries like Singapore, the Philippines, Thailand, and many others in SEA. It was then used as a testing service GrabBike in Ho Chi Minh City, Vietnam. Followed by the new service proposed GrabExpress, GrabCar, and many more. It grew to meal delivery assistance and the fintech industry.
More About Grab App
128 million!
That is how many users will count on Grab in 2021. And amongst that, 24 million users were transacting monthly. Here is a bit more about the history.
Below is a list of Grab's unique users from 2017 to 2019:
2017 – 36 million
2018 – 68 million
2019 – 122 million
Important Facts About Grab
Launch Year
2012
Founders
Anthony Tan, Tan Hooi Ling
Headquarters
Singapore
Jakarta, Indonesia
Operated In
400+ cities, 8 countries
Funding Amount
$15.5 Billion
Funding Rounds
35
IPO Launch
Dec 2, 2021
Industry
Technology, Transportation, Food Delivery, Grocery Delivery, Parcel Delivery, E-Commerce, Online Payment, Financial Payment
How does Grab Work?
Grab is a digital aggregator that connects users and service providers. Grab was first founded as an on-demand cab business. The app connects the drivers and passengers within an app. As the users will spend, Grab will obtain their percentage of the profit besides the expenditure of the trip and driver's fees. In the food segment also, Grab permits customers to find restaurants nearby their location, order, and with the desired method.
Here is an explanation of every benefit Grab is offering:
GrabRides is a taxi booking app that lets consumers reserve trips through the app. Afterward, it started offering bikes, rental cars, and personal trips, for their families, with the preference to travel with pets and many other segments.
GrabFood is an on-demand service for restaurants. It serves customers delivery benefits for their online orders through delivery providers.
GrabExpress is for the courier delivery services as appointed by the clients to transfer a parcel from one place to another.
GrabMart is a grocery delivery service offering customers to order groceries from their desired stores.
GrabPay is an online payment service allowing consumers to make payments in the real world.
GrabInsurance took care of insurance for day-to-day needs and seized at the fingertips.
GrabFinance gives company loans to Grab merchant partners. Also, it offers tools and templates to operate the business.
GrabRewards aims to offer customers rewards for using e-wallets so as to promote the use of online payments.
GrabGifts is an evolution in gifting methods, offering all kinds of giftings like corporations and occasions.
GrabAds is for businesses uniting with millions of patrons – both online and offline covering Southeast Asia.
Grab Business Model : Explained Important Aspects
Grab is one of the finest business models leveraging multiple services within an app. It aims to drive Southeast Asia ahead toward sustainable economic empowerment for everyone in the province. Working towards that mission, Grab has leveraged its users in various countries and cities with numerous valuable services. As it is a multi-service organization, its business model seems to be quite complex, though it is not so complex as they aim for the betterment. We will look at some important aspects of the Grab business model.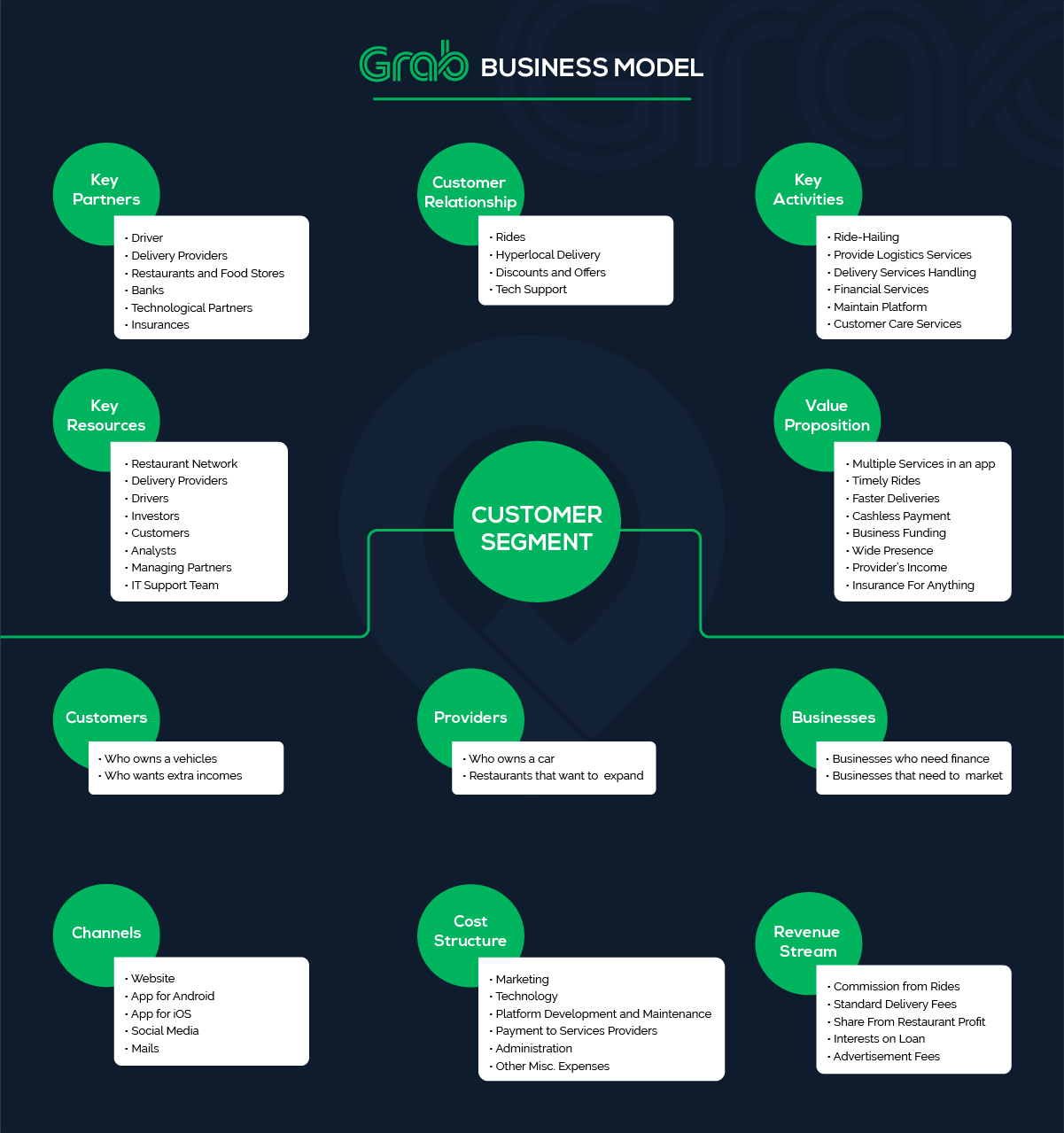 Key Partners
Grab has managed to engage consumers in multiple ways, and simultaneously it has also worked for the higher employment opportunities in the SEA.
Key partners of Grab are
Customers: who keep up with the demand side, seeking multiple services.
Drivers: who are engaged in fulfilling the needs of the customer like trips, delivery services, etc.
Restaurants: connect to reach higher audiences and offer convenience to their customers.
Banks: who allow the finances for the investment to the corporations.
Investors: who invest in the corporation for the betterment and wider reach.
Customer Segments
Grab works for the betterment of the individuals in SEA in terms of improving sustainable economic empowerment.
Customers
For users who don't have enough storage on the phone to get multiple services in an app. Grab resolves their issue by offering all the services within a single platform.
For customers who prefer smarter choices to get served, Grab is one of them; offering services that save time, and is convenient.
Customers who want payments that are secure, reliable, real, and cashless through their apps.
Service Providers
Drivers with the vehicle and are in search to make fruitful output out of it in terms of extra output.
Restaurants who offer want to expand and give convenient services to their customers.
Businesses
Businesses who want financial services like loans, insurances, etc.
Businesses are in the hunt to engage with more customers using online and offline marketing methods.
Value Proposition
Every business has a motto. In other terms, it is said that every business is meant to offer value to their clients and to their companions in one or multiple terms. Grab has its way out there.
Grab aims to challenge customers' economic challenges by aiming for Everyday Everything App for the people in SEA.
It offers rides conducted on time and booked online without any hassle.
Deliveries for parcels, food, and daily grocery needs are all done at the customer's preferred time intervals.
Secure and reliable financial services for customers and businesses like loans within an app, online transfers using e-wallets, insurances, etc.
Allowing and also offering to allow other customers exciting perks in the form of rewards and gifts.
Service providers like drivers and delivery men will be provided with the extra income from the share of their rides and delivery service, respectively.
Grab Revenue Channels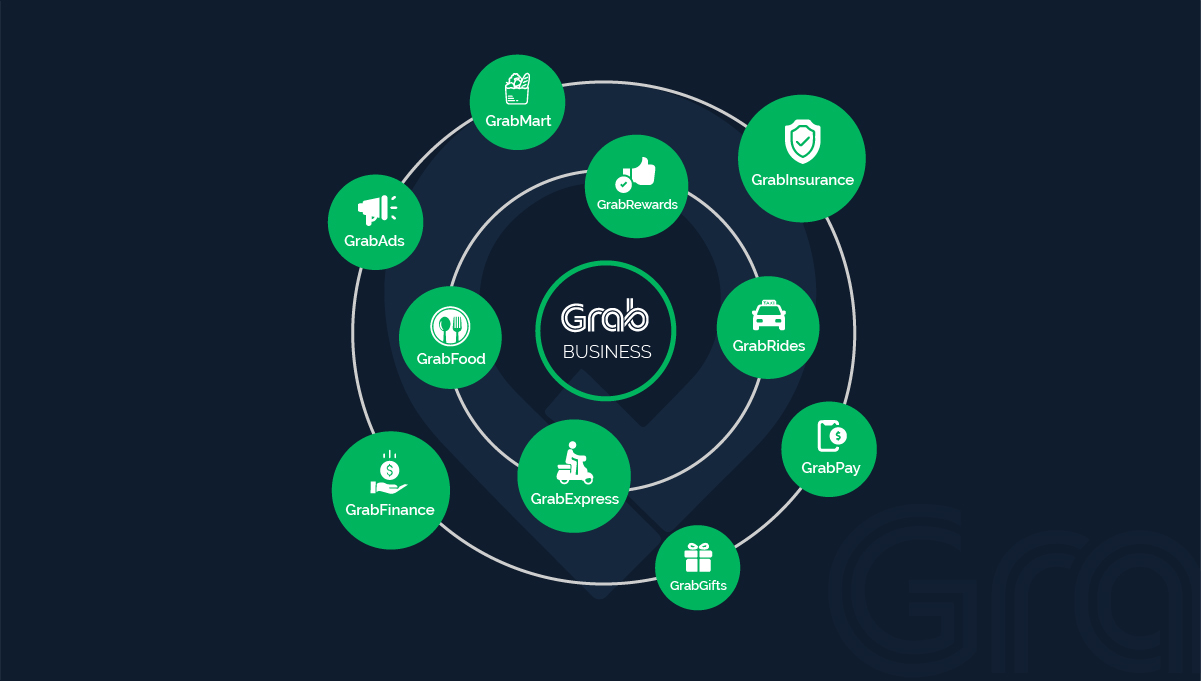 Grab has numerous revenue resources as they are a multiple-benefits app and engage patrons in multiple services. YoY revenue of Grab is increasing; in Quarter 1 2022 Grab's revenues have seen a 6% increase in remunerations in comparison to Quarter 1 2021. And yet it has a long way to go. When seen from a broader view, it is initiated as a commission model, where Grab seeks a charge from each of its transfer benefits. As it further elevated to multiple services, it also has managed to find myriad channels for revenue.
Commissions
Commission on rides
Grab has its commission on trips, delivery services for meals, conveyances, and courier transport. Besides, it is also offering a number of trips like GrabBike, GrabHitch, GrabFamily, GrabBike, and GrabPet, all of which have various different shares and profits.
Commission on meal delivery
In meal delivery, consumers disburse an extra amount for delivery services to their home, which is about 20-30% of the total order amount. It has also initiated its cloud kitchen and runs in affiliation with profound restaurateurs.
Commission on grocery shopping
In the grocery section, GrabMart is assessing a higher process for all of its items, and therefore, it manages to get a higher commission on each order.
Commission From Payment Services
When customers use GrabPay, they are charged around 1% of the total charge. For Grab, it is one significant and huge source of their revenue.
It also has collaborated with MasterCard so as to venture their debit cards to pay directly with them. In exchange for that, customers have to pay a fee. And Mastercard will also have its share in that.
Installment payments are also one the Grab's assistants which charge users a penalty of 4% in case they don't repay.
Advertisement Fees
As Grab is offering online and offline advertising services for the company, they also charge hefty amounts to them. They have data for users' habits, choices, and locations, which they can use in the most profitable ways.
They also have a wider presence in SEA., and that leads them to earn through a Cost-Per-Click marketing method within their work.
Offline marketing is also one of the revenue generators. They do it by advertising on the cars, or taxis, where they charge from the opposite party a compensation fee for ads and that too for a limited time duration.
GrabInsurance Charges
Grab has abundant data about past trips, which are likely used to predict the passages and any accidental situations. And causing it a revenue resource, Grab combined with insurance companies, and they charge passengers and motorists insurance fees for both accident retrieval and untraveled trips. The percentage is divided between the insurance company and Grab.
GrabRewards and GrabGifts
Grab offers rewards to their customers, which keeps them shopping from the platform and seeking discounts on various items. This is one of the best ways to retain users and keep them active, giving them discounts and rewards on making their next purchases in the other or same categories. Also, program partners are speculated to pay Grab for bringing more customers to them.
GrabGifts are sent in for the discounts, offers, and rewards to their family or friends that engage both of them to the platform and seek services.
Wrapping Up!
The time ahead is all about the on-demand methods and businesses. People have changed their habits in coordination with the convenience they seek through online methods in every way, whether it is shopping, rides, or expenditures, all of which we have discussed in the Grab business model and allows broader revenue channels. The way Grab works are incredible, which fulfills its aims to offer economical values to its shoppers and manages to retain hefty profits for itself. A win-win situation.
It is an aspiring business model in which entrepreneurs should definitely plan to start something similar. It is not easy, as it is said, but a start is never a wrong decision. Get access to Grab clone app development with the right technology and right team, which give a good start to your business.