Lyft
is an emerging business giant in the ride-hailing industry which offers its fantastic service in more than 644 cities in the United States and around 12 cities in Canada. If you are eager to know how Lyft works and generates money, read the whole article to decode the Lyft business model and its overall working strategy. With around 30 million monthly active riders, Lyft is developing itself into a ride-hailing behemoth. While taxi giant Uber dominates the ride-hailing market, Lyft is fighting to build its business presence in North America.
Statista report shows
that Uber covers 74% of the market share in 2017 in the U.S., the number falls to 71% in 2020 as Lyft covers 29% of the market share in the same year.
It's an on-demand transportation stage that enables riders to hire a taxi with few single tabs on their smart device. Lyft follows impressive business to ensure the seamless experience offering to end-users on their demanded service. Lyft is considered an alternative option for Uber. It's value reached at $7.5 billion after raising around $500 million round, Lyft is undoubtedly giving tough competition to taxi-hailing giant Uber. It's forecasted that it will become royalty in the on-demand ride-hailing industry in upcoming years.
What is Lyft and How It Works?
Lyft is an on-demand taxi booking platform that is growing at a fast pace. Lanced in 2012, Lyft is considered one of the quickest developing companies in the USA. In 2013, the company completed around 3 million rides, and today it serves more than one million riders in a single day. The San Francisco-based ride-sharing service in 2018 completed about 619.4 million rides; this number shows an increase of 375.6 million in the previous year.
Lyft working around US and covers more than 40% of the aggregate market in all major cities, including Austin and San Francisco and Austin. Lyft is giving tough competition to ride-hailing businesses, and trying its service continues to make itself BIG in the taxi industry. The company revenue generation is forecasted to reach $3.268B in 2020; it estimates a 12.77% increase with each passing year.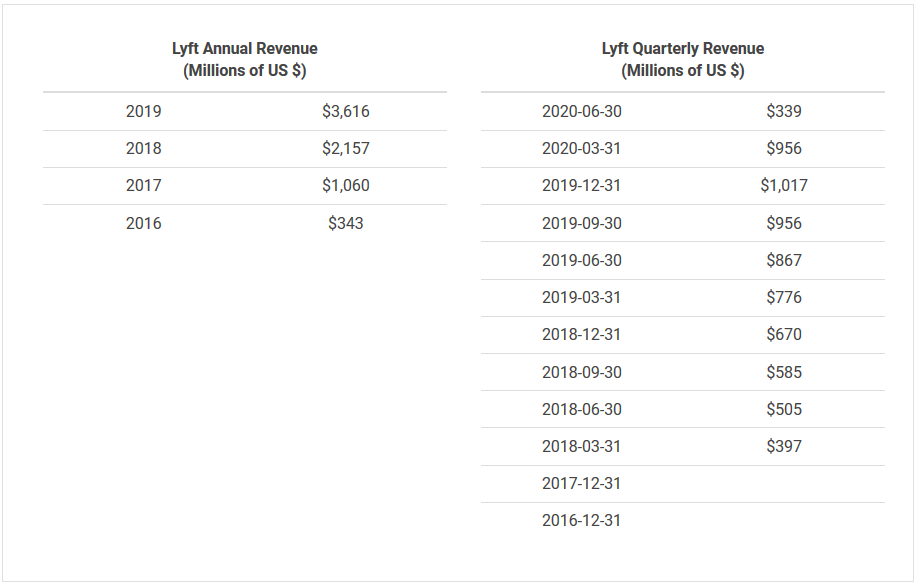 Success History of Lyft
Lyft offers vehicles for hire to end-users, making it easier for them to reach their destination without any hassle. Based in San Francisco, Lyft is considered the second-largest ride-sharing giant in the U.S. after Uber. The legality of ride-sharing companies varies by jurisdiction, it's services have been banned in some areas and is considered an illegal ride-hailing operator.
Lyft was launched by computer programmers John Zimmer and Logan Green as a service of Zimride, the long-distance intercity carpooling company founded in 2007. Later in 2013, the company decided to change its name from Zimride to Lyft; the change resulted in a hackathon.
Lyft introduced a small plastic dashboard mustache in 2015; it was called a "glowstache". It was introduced as one of the best alternatives to the large fuzzy mustaches to overcome riders' resistance to arrive at destinations. The company hired two lobbying firms in 2014 named Jochum Shore & Trossevin and TwinLogic Strategies, to address the regulatory barriers. During the same year, Lyft also introduced a shared ride concept at cheaper fares.
Lyft will power the "Minnie Van" service of the Walt Disney World Resort. The company partnered with Allscripts in 2018 to develop an emerging platform that enables healthcare providers to arrange rides for patients.
Lyft launched a fleet of electric scooters during 2018 in Denver and other scooter fleets in Virginia, Texas, Atlanta, Los Angeles, Austin, Tennessee, Nashville, Washington D.C., San Diego, Santa Monica, California, and many more. The company became the first ride sharing to raise $2.34 to IPO, the company valuation during 2019 was around $24.3 billion.
Lyft launched real-time subway info and public transport for New York City in July 2019, amidst battles with the city. Recently the company laid off more than 982 employees and furloughed a further 288 to adjust cash flows and reduce operating expenses due to the COVID 19 pandemic in the U.S.
Some Amazing Facts and Figures About Lyft Workflow
Founders: Matt Van Horn, John Zimmer, Marcus Cohn, and Logan Green
Headquarters: San Francisco, California, USA
Founded: in 2007 as Zimride and Renamed as Lyft in 2012
Lyft Valuation: $7.5 Billion
Lyft Funding: 600 Million
Rides of the company: 1 billion
Market share of Lyft: 35%
Total Lyft driver earnings were around $3.6 billion in 2017, reaching $10 billion during 2018.
Lyft's total user base increased to 29 million by 2018, each of users enjoys an average of 19 rides each year. The number shows a significant jump from the previous year as it was measured around 16.3 and 13.6 during 2017 and 2016, respectively.

Lyft Business Model: Explore How It Ensure to Offer Seamless Service Experience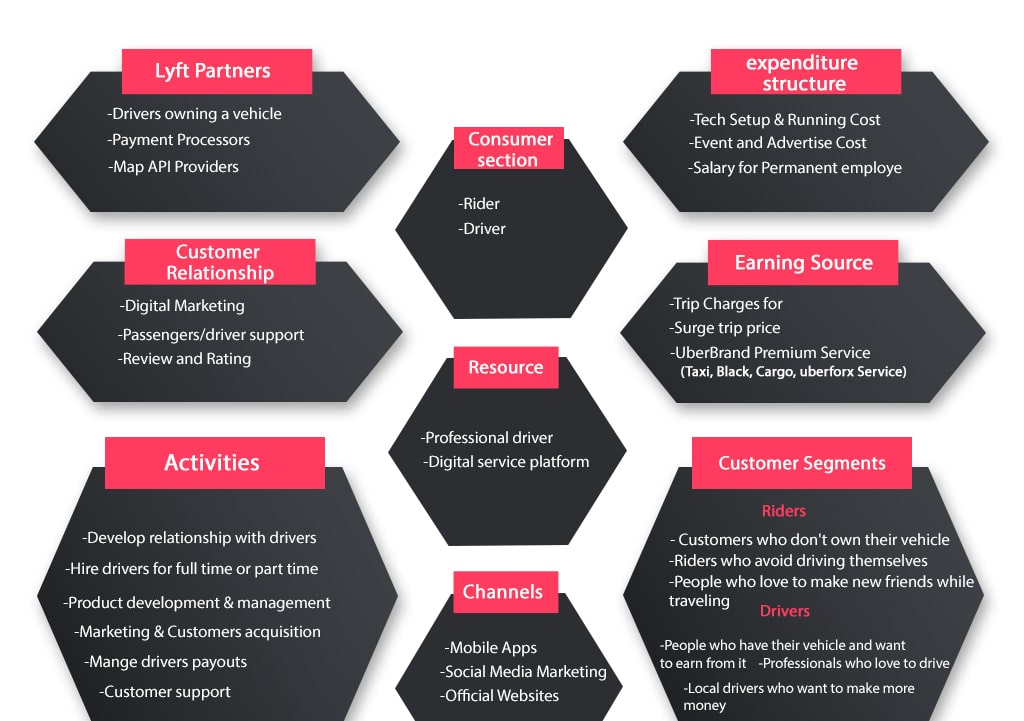 Lyft has plenty of room to grow; Statista report shows that only 41% of respondents agreed that they are familiar with the service provider platform, while 25% are entirely familiar with the ride-sharing platform. The remaining 34% are 'not at all familiar' and have never leveraged the service.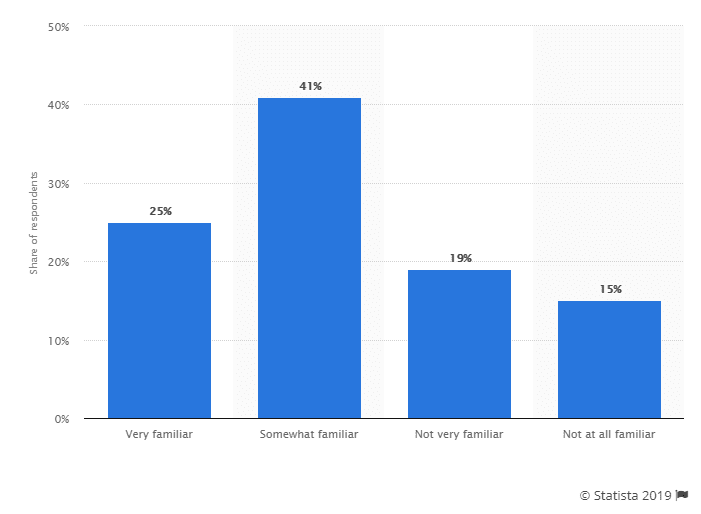 Lyft is considered a successful ride-hailing giant today because it offered impressive services to the users. The user-oriented courtesy of Lyft helped the platform grasp massive popularity among a vast customer base in the US, Canada, and other countries and cities. Explore the business model of Lyft to have insight into its operational strategy.
Value Propositions
Every business can achieve success in today's competitive market by addressing the problems of stakeholders. And the primary stakeholders of Lyft are riders and drivers. Thus Lyft's business model emphasizes solving all the stakeholders' issues to ensure the seamless experience offering to them.
How it Benefits Riders?
Riders now don't have to wait for taxi-hailing; Lyft enables them to find the best service from their place.
The company offers special discounts and free rides on certain occasions.
Lyft provides a friendly environment to the riders, making them feel more special and engaged.
The price of Lyft services is comparatively lower than taxi fares.
The tagline of the company is "Driving you happy".
How it Benefits Drivers?
It acts as an income source for drivers willing to earn extra money.
Drivers can leverage a flexible working schedule.
Lyft pays approximately 20% of its total ride to the drivers.
People who love to drive and make friends can register themself on the platform to earn more penny.
4 Step Model of Lyft: Have Quick Glance Over its Working
Have a quick look over the below-listed steps to know how Lyft functions.
Step 1: Riders request for a ride
Step 2: Nearby drivers are notified about the service request.
Step 3: Driver reach the location to provide service
Step 4: Rider makes the payment and rates the driver and service as per experience gained.
How Lyft Works For Raises Money: Have Quick Glance Over the Financial Analysis
Lyft mainly generates revenue from the drivers; it is mostly in the form of the commissions paid and service fees for using the ride-sharing marketplace connecting riders with drivers successfully. The company started generating revenue from subscription fees from 2018; it also raises revenue from single-use ride fees paid by riders for accessing the shared scooters and bikes network.
Lyft's revenue forecasted to reach around $2.16 billion in 2018; the number is double compared to 2017. Lyft is undoubtedly moving towards profitability with each passing day. Have more in-depth insight into analyzing and source of revenue of Lyft to know everything about the ride-sharing giant. Learn the revenue model of Lyft to understand how it makes money.
Revenue Per Ride
The company raises revenue each time a rider requests a ride-sharing service through the app. However, most remuneration offering goes to the driver; the company gets about 20% to 30% per ride in net revenues. The average net revenue of Lyft per ride is estimated to reach $3.56, while drivers take 75 to 80%. (Source)

Price Surge Technique
Just like Uber, Lyft also poses a heat map to identify the areas with high demand. The company increases its price when the need for a ride increases in a specific locality. It is considered an enormous revenue source for the company; heat maps are mostly time and location-specific.
Additional Sources of Revenue
During the initial level, Lyft has fewer options to offer customization to the users. It also offers a wide range of services to the customers on demand; it acts as the additional revenue source for Lyft. Check the below list to know which other services are offered by Lyft to generate more penny:
Lyft: Simplest version service of the company with four travelers.
Lyft Plus: It carries at least six travelers simultaneously, but it costs more than standard service.
Lyft Premier: Riders can request for a car like an Audi, Mercedes, and many more. It's considered as a most costly alternative.
Lyft Line: In this service type, riders will be paired with Line drive, traveling in the same way.
MultiModal Strategy
Lyft is expanding its service to end the number of transportation modes. It is a one-stop multimodal app that offers service in a couple of U.S. cities; besides cars, the company also offers services like bike and scooter sharing. Besides the multimodal framework of Lyft, there are other transportation modes and platform that users can leverage; this includes:
Bikes and Scooters
Public Transit
Ridesharing Marketplace
Autonomous Vehicles
How Lyft Business Model Differs from Uber
Those businesses who are thinking of investing in ride-hailing solutions come across the question like what is the primary difference between Lyft and Uber business model, which one is best to choose for their starting a successful ride-sharing business. However, its core, Lyft and Uber operate on the same model of matching customers with nearby drivers, but the main difference lies in their functioning.
Beginning from the company's branding to strategic implementation, the business models of Uber and Lyft differ from each other. Uber has a professional feel when it comes to branding; it started offering Black car services. On the other side, Lyft jumped into the market with the carpooling concept and provided a more friendly and casual feel to the users.
According to the report,74.5% of transportation-sharing users in the United States prefer to choose Uber service, compared to that 54.0% like to go for Lyft. Over the next few years, Lyft will grow its share of transportation-sharing users than those of Uber. By the end of the year 2023, Lyft's share of transportation-sharing users is estimated to reach around 59.0%, while less than 13% points behind Uber.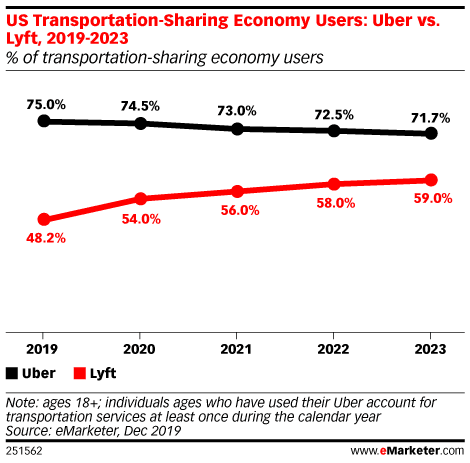 Let's have a quick look over the difference to understand how Uber and Lyft differ from each other:
Uber
Uber offers its service in around 70 countries at the Global level.
It has an extensive range of services, including food, grocery, and other delivery services.
Uber has partnered with many companies to offer autonomous rides. And also have a future proof plan of launching Flying taxis known as "Uber Elevate"
The company's real value includes providing multiple-choice, aligning customers' needs, expanding access, delivering reliability, etc.
Lyft
Works functions of lyft successfully processed in Canada and the USA and mainly targets the domestic market.
The company's primary focus is on on-demand carpooling and taxi services. It also initiated its self-driving services for travel.
Lyft has collaborated with autonomous vehicle providers to provide fantastic service to end-users
The company values include multimodal transportation, brand authenticity, and many others.
How Lyft's Business Model Works More Sustainable?
The problem with the ride-hailing industry is low barriers to starting the business. It can prove problematic for Lyft, Uber, and other ride-hailing companies in the ride-sharing sector. They have to follow the business model of Lyft to start offering excellent service to users on demand.
Taxi-hailing businesses can build an app, offer a commission to the driver, and set low fare to engage more riders. Get in touch with a company providing lyft like app development to ensure your business growth for the long term in today's competitive market.