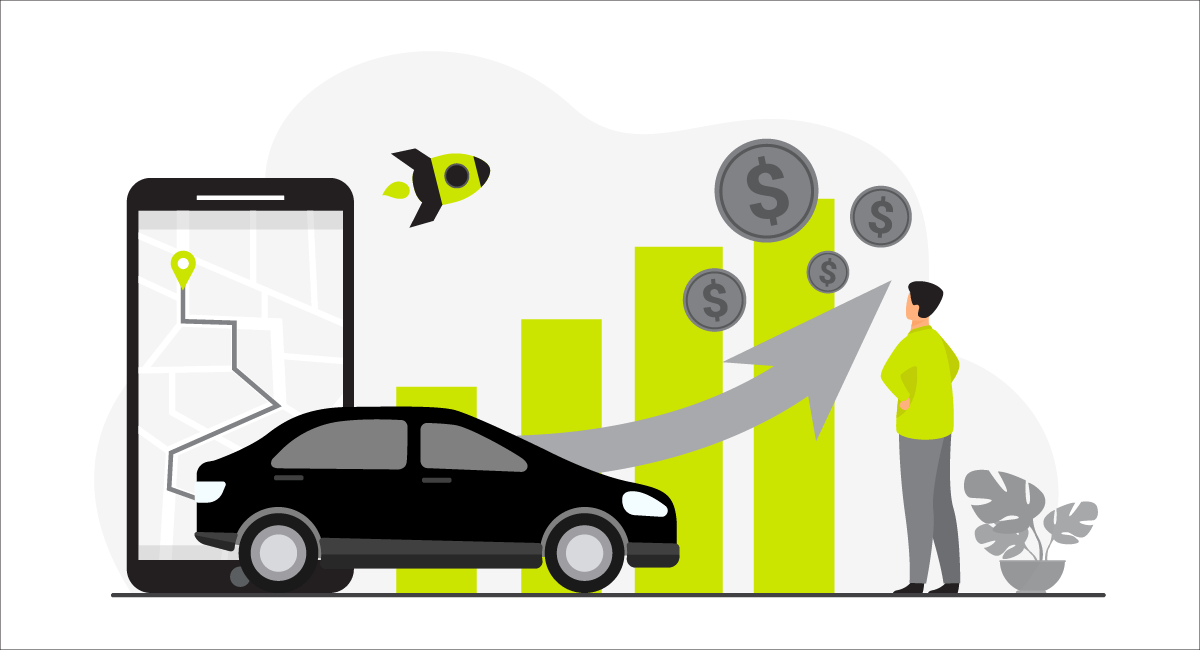 Ola is a taxi aggregator with a fleet of motorcars that initially aimed to offer rides for holiday trips. The business then pictured and practiced penetrating into the cab aggregation model, which had a huge scope. With such actions, the Ola business model is a versatile model that incorporates various aligned segments and some entirely separate spaces. We will unwind business strategies, how Ola works, Ola revenue insights one by one in this blog.
For information – Ola has grabbed over 1.5 million drivers in over 250 cities in 4 different countries, thriving in the most competitive market. In the fiscal year 2021, Ola had a profit of Rs.90 crores amidst pandemic. Ola has moved to the financial service sector, launching a credit card other than offering trips. It then launched a new segment as a food aggregator. One of the recent business approaches was entering the grocery delivery industry, as Ola Dash.
What is Ola?
Ola is a mobility platform offering on-demand rides with a wide spectrum of conveyances across cars, auto-rickshaw, bikes, metered taxis. The firm aims to offer transparency and comfort in the rides embarking on several schemes in that respect. It is the largest taxi aggregator in India and one of the largest in the world. Ola has formed a taxi booking platform which now has a lot more than that, adding services like credit cards, micro-insurance, and food delivery services.
Ola was launched in 2010 by two of its co-founders, Bhavesh Agrawal and Ankit Bhati. The business strived to build mobility for a billion people, starting with a phone call service to a mobile app. It assembled its technology to scale and acquire huge consumers in numerous cities and countries.
The idea behind Ola is an outcome of the helpless personal experience of Bhavish Aggrawal, one of the co-founders. Once in the journey from Bandipur to Bangalore, he was abandoned by the driver midway for forbidding him to revise the already talked payment. It compelled him to solve the problem he faced. With co-founder Ankit Bhati, in December 2010, Ola arrived into practice with a vision to give beneficial and satisfying rides to a billion individuals. They named the company after the Spanish word 'Hola', which means 'Hello' from which the founders depict their services as leisurely and generous.
Ola's Funding, Figures, and Facts
Launch Year: December 2010
Founders: Bhavesh Agrawal, Ankit Bhati
Parent Company: ANI Technologies.
Headquarter: Banglore, Karnataka, India
Industry: Transportation
Funding Stages: 28
Funding Amount: $4.9B
Acquisitions: 7
Customer Base: 1BN/Year
Ola is aiming to launch an IPO in early 2022. It aims to raise $1.5-2 billion with a valuation of $12-15 billion, looking forward to becoming a part of the liquidity-driven market rally.
How Does Ola Work?
Ola unites travelers and drivers in a single platform for instant or scheduled rides on-demand, where the requests are placed through an app. It is a two-channel business model fulfilling transportation needs. Commuters from the app can book a convenient vehicle from a car, bike, auto-rickshaw, and a few others. Drivers would receive the requests and complete them in exchange for rides fees.
Ola Business Model – Understand Business Strategies for Your Taxi Business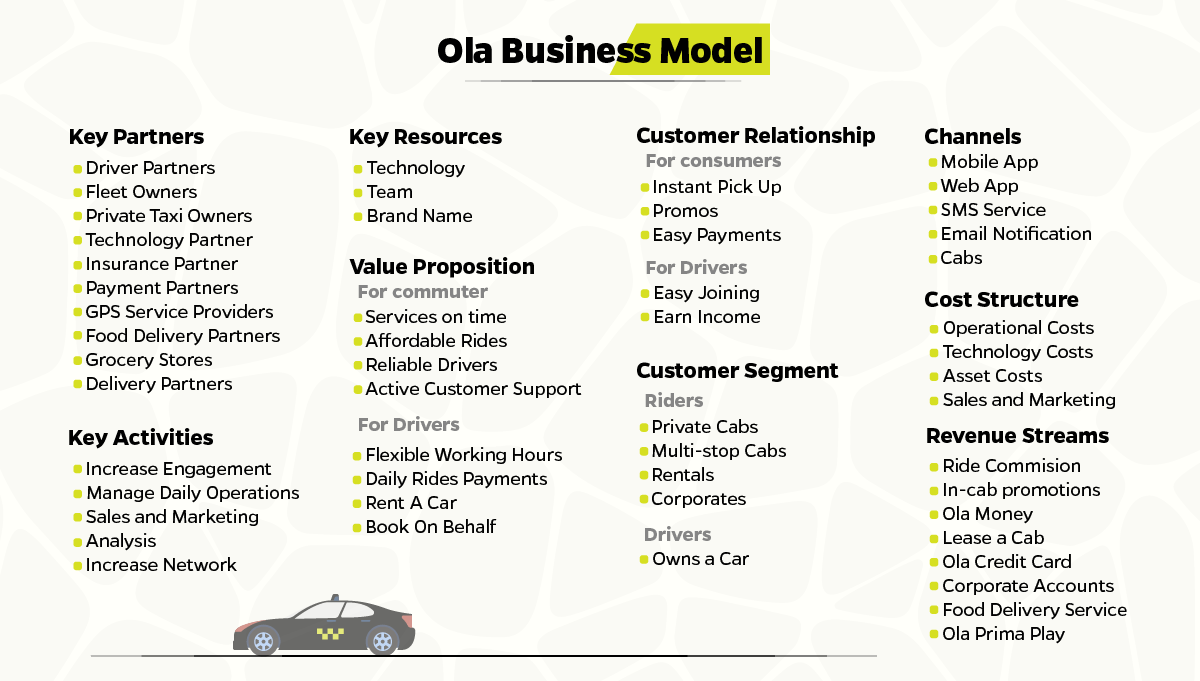 The Ola business model incorporates a wide range of services for transportation like getting a ride within the city, renting a car, outstation round trips, and a lot more. These will be discussed later on this blog. We first will focus on the business model.
Key Partners of Ola
As a cab aggregator model, Ola has some common partners like drivers, car owners, motorcar manufacturers, etc.; besides as their business model is not limited to just rides, some other key partners are:
Technology Partner
Insurance Partner
Payment Partners
GPS Service Providers
Bank
Cloud Kitchens
Food Delivery Providers
Grocery Stores
Delivery Partners
Key Activities of Ola
Ola's key actions are to expand its business to higher levels and acquire more consumers. Ola's major activities are:
Technical platform management regularly by upholding and revising the app.
Manage day-to-day operations by hiring, assuring safe rides, common legalities, and others to manage the business.
Marketing and sales for improving brand recognition both online and offline.
Business analysis about the daily rides, sales, returns, etc. that can be used for scaling.
Key Resources
A digital platform to manage rides and business
Team of drivers, sales, marketing, support
Analytical Data
Ola has gained a remarkable brand name which itself is equity.
Fundraisers and equity holders.
Value Proposition
– For Commuters
On-demand rides at their fingertips.
Rides are inexpensive and flexible to book.
In-ride amenities like entertainment, WiFi, and other tools.
Drivers are steadfast as they have passed all necessary procedures before the acquisitions.
The operational customer support approach
Least or no wait time for the commuters
Multiple stops structure during the ride.
Desired payment ways, including going cashless.
– For Drivers
Flexible hours for the rides
Earnings from rides
Cars on lease
Helpline facility 24/7
Book on behalf of commuters
Customer Relationship
Seeking out the prolonged customer relationship is hard to drive for business in the long term that too in the most flourishing industry. So the Ola business model serves different channels to engage consumers, giving them adequate experiences.
– Fully Mechanized App
The services are booked online through an app with all-time customer support.
– Discounts and Offers
Riders get numerous advantages of discounts and offers through the app. In addition, they get credit points as referrals.
– Other Services
Ola gives the consumers other benefits, like panic button facility for emergencies, entertainment, multiple stops, etc.
Customer Segment
– Ola Users
To Travel in the City
Consumers who don't own a taxi want to avoid driving can get an Ola taxi to drive from the desired place within the city.
Outspot Travel
For reserving a cab to travel outside the city as a solo trip or group vacation.
Rent a Car
Getting a cab for 1 to 12 hours who wants to drive a car by themselves.
Ola for Corporates
Employees or managers can get Ola for corporate with perks like a low price, insurance, expenses, etc.
– Ola Drivers
Drivers who own a car, bike, or auto-rickshaw are eligible for driving and taxi services.
Ola Revenue Insights – How Ola Makes Money?
The Ola revenue insights have created a vast segment that is favorable to drivers, commuters, and the company.
Fixed Share from Ola Trip
From each trip, Ola charges in percentage as their commission. As it offers various ranges of trips, it points to several earnings.
Price Per Distance
Besides the base price, Ola takes prices per distance if it exceeds the base distance. This share, though, differs in the various geographical locations.
Price for Time Traveled
The total ride fees also rely on the time taken for the pickup and drop; the charges would be counted on the minutes taken in all.
Surge Pricing
Ola charges an additional amount per Km in the rush hours and places. Several ranges are decided based on the time of booking, vehicle selected, area to be traveled, etc.
Besides, Ola takes charges for advance booking, access bookings, waiting for time, convenience price, airport price, etc. the distribution of the price in the entire is like customers will pay for the ride. Then Admin reduces the service tax, again subtracting its commission, and transfers the rest amount in the driver's wallet within two working days.
Ola Cab Leasing Program
Ola buys the fleets for the drivers for leasing who cannot afford to buy it. Rentals have to pay a fixed price for a cab and a refundable assurance for renting a car. The revenue from each trip goes to the drivers by subtracting a commission of Ola. In this way, Ola manages to earn commission and leasing price from the drives as one of its earning channels.
Ola Corporate Tie-Ups
Ola shook hands with the corporates to convince the employers to use the Ola cars at reduced rates. On increased demands, they are charged for the higher amount. This strategy would get Ola mass sales as of higher demands.
Ola Prime
For the commuter who likes entertainment on their way, Ola primes offer an entertaining medium within the cab. For this purpose, it has partnered with Apple Music, Sony Liv, etc., to get the consumers convenience. This would charge a bit higher from the riders, as an income generator for Ola.
Ola Select
In Ola select, regular riders can take membership subscriptions, which have the perks like no surge pricing, free WiFi, priority bookings, etc.
Ola Credit Card
Ola has launched one of its revenue models as a credit card in linkage with SBI and VISA. The credit card offers many benefits and rewards to its consumers, like getting up to 7% rewards on Ola trips and zero annual fees for 1st year.
Ola Food Delivery
Ola acquired Foodpanda India in Dec 2017, launching its model based on the food delivery sector. After the 18th month of the acquisition, it sold down Foodpanda, trimming the employees. Instead, Ola wants to focus on in-house brands or cloud kitchens majorly. The fixed share in each successful delivery is one of the major revenue channels in that segment.
Future Plans of Ola
Ola announced its entirely electric vehicles as Ola Electric Mobility Pvt. Ltd. back in 2017. Their mission is to eliminate petrol bikes entirely by 2025. The firm is also expecting it to be one of the highest revenue resources through the projected markets of batteries and electric fleets. Additionally, Ola plans to produce kick scooters, drones, and even flying cars under its future mobility schemes.
Ola Dash aims "Store to Door in 10 mins" for the consumers who can order groceries through the Ola app. With the fast and friendly deliveries of daily needs, Ola aims to acquire a huge consumer base.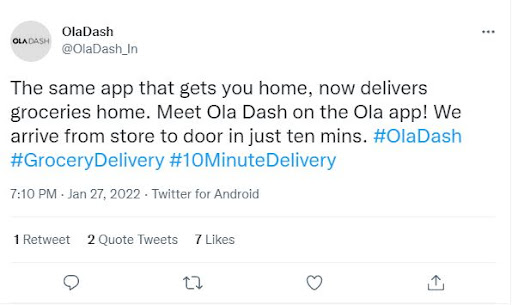 Source: Twitter
Since then, Ola has turned their business from offline to online with an intuitive platform that efficiently conducts the business and aids the commuters with the best experience. Take most advantage of the business model of Ola developing an Ola clone app that shoots up your business and derives optimal revenue streams.