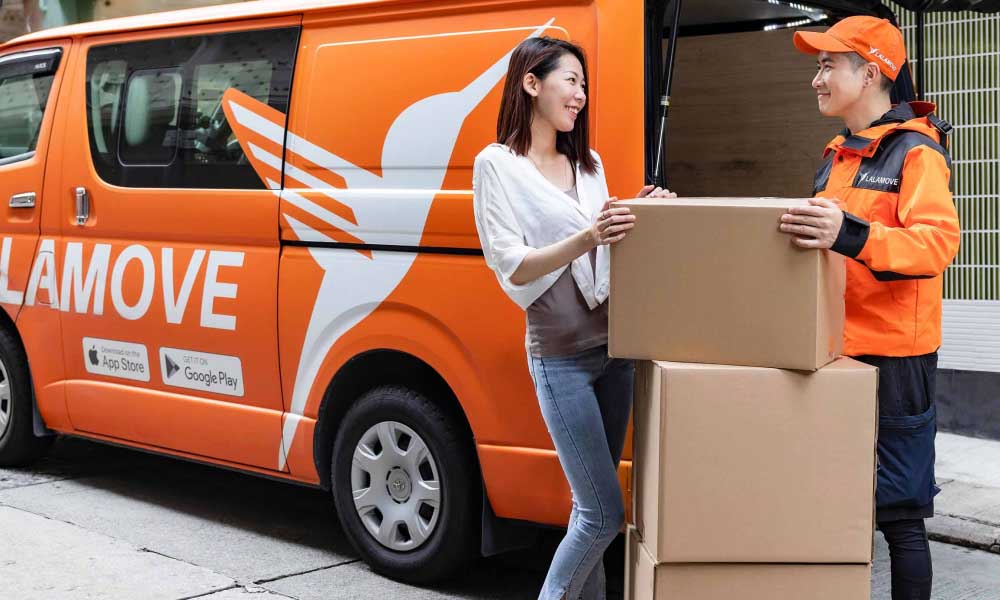 Since modern technology solutions have shown us how to upscale business and build new unicorns, we have experienced a significant rise in technology-based startups that have reached unfathomable heights in no time. From couriers to medicine to food to transport to the retail sector, everyone is trying to keep pace with modern technology solutions in order to stay afloat. Similarly, the Lalamove app has changed the logistics and courier delivery industry. Based in Hong Kong, Lalamove has established its firm identity in the courier delivery business across Asia and Latin America. In this piece of content, we will shadow some lights on what Lalamove is, how it works, and how the Lalamove clone app gives the needed push to your traditional delivery business with minimum effort.
In recent years, people's preferences have been changing as they prefer doorstep delivery for almost anything. On the other hand, business owners are also trying to adjust to this new demand to increase sales, revenue, and their customer base.
The online delivery market has been soaring, from manufacturing to medicine to retail to eCommerce. And to cope up with evolving demand, businesses across the globe are implementing modern tech solutions.
Logistics is a very important segment of every business so, businesses have focused on the development of more secure and modern solutions that can help them to gain market share and expand business reach.
What is Lalamove Clone?
Lalamove clone is an online delivery platform that allows your users to order food and other essential products online. It will turn out to be a fabulous solution for entrepreneurs wishing to jump-start multi-vertical delivery businesses. Panels and applications for stores, admins, customers, and delivery providers make it easy to run the delivery business smoothly.
History, Facts, and Funding Details of Lalamove
Lalamove is a popular delivery application that allows users to deliver anything from one place to another. Be it food, couriers, groceries, furniture, construction material, or large goods.
Lalamove's motto is, " Whatever you want, wherever you are, whenever you place a request, we will deliver it for you." The Lalamove app fills the gap between customers, businesses, and drivers and offers the perfect way to deliver goods quickly and safely.
Industry type: Private
Industry: Transportation, Technology, Logistics
Founded in: December 2013
Founder Name: Chow Shing-yuk
Headquarter: Hong-kong
Area Served: 21 cities
Drivers: Over 2 million
Number of employees: 1400
Earlier, Chow established a company named "EasyVan" in December 2013 later it was renamed "Lalamove". The startup became the unicorn in Hong Kong and got an amazing response in neighboring cities including Thailand, Taiwan, Latin America, Mexico, and other cities.
Lalamove's name is derived from the Chinese word "Lala" which means " to deliver".
Founded in 2013, Lalamove has been growing continually. Mainland China's 352 cities, Lalamove also operates in Hong Kong, Vietnam, Indonesia, Singapore, Philippines, and Thailand.
In 2019, Lalamove expanded its operation in the United States for the first time and rightnow claims about 480,000 drivers and 7.2 monthly active users.
According to recent data from Crunchbase, Lalamove has raised $976.5 million from various investors with a Series D funding.
Due to the pandemic, in November 2020, the Government of India banned over 50 Chinese apps including Lalamove citing security concerns.
How does Lalamove Work?
The Lalamove delivery app follows a simple workflow, all you need to register or sign in with Facebook and Google, once you get registered you can access various services. The whole delivery process takes four to five steps. Let's understand how the app functions and makes it easy for customers to get deliveries swiftly and safely.
Using a dedicated app, users need to enter a live location and courier delivery location to request a delivery.
Later users need to choose the vehicle type based on their requirements. For instance, if users want to move furniture, they can choose a cargo van.
Enter pick-up and drop-off locations
Make a payment from the options given (either cash or online)
Track your delivery in real-time and rate the service after its completion.
Lalamove Business Model: What Does it Make a Premium Delivery Service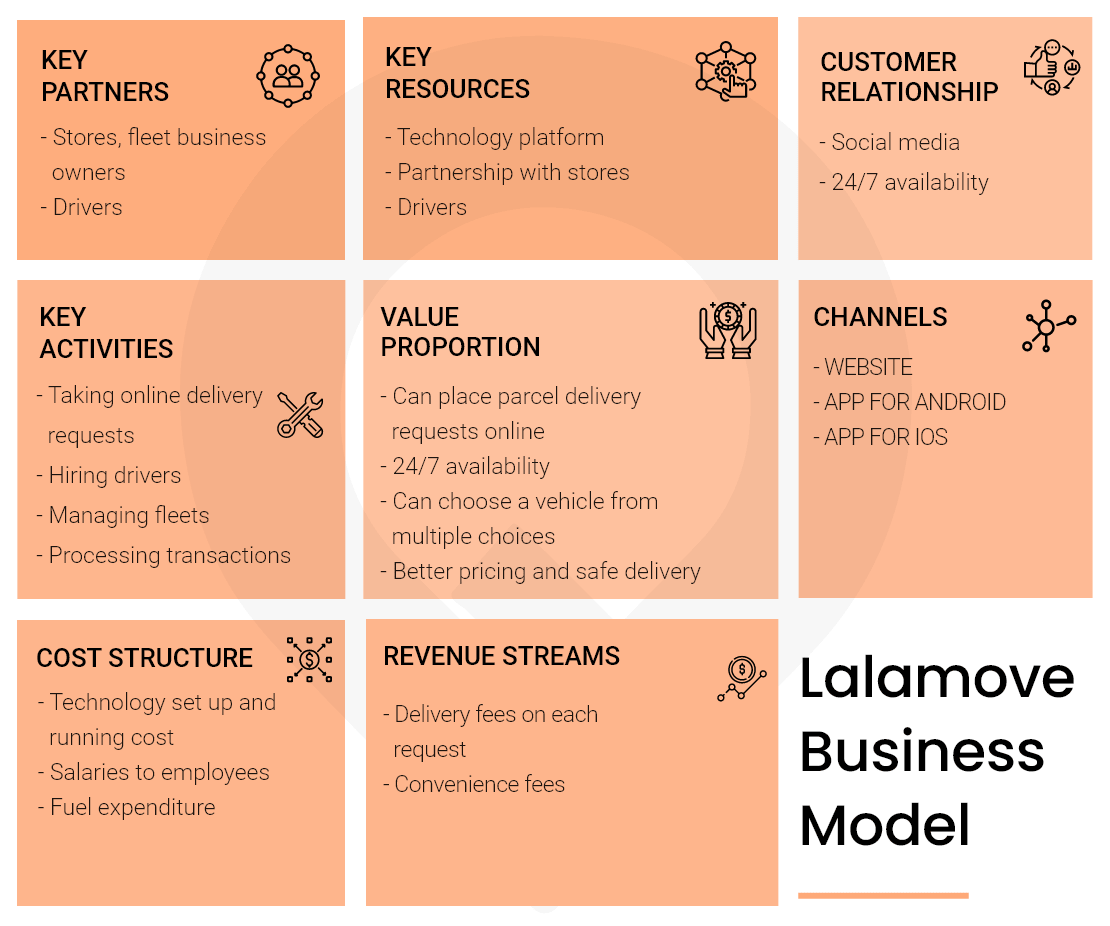 Lalamove is an online courier delivery application that follows a cutting-edge technology-based business model. It offers an online platform for those individuals, SMEs, and corporate businesses who are looking for delivery providers and connecting them with the right people willing to access their services.
Using the dedicated app, users need to choose the vehicle type they want and fill up pick-up and drop locations. The nearby driver will receive the delivery request to accomplish the task. Let's check out how Lalamove works for businesses, customers, and drivers and what this business model has to offer.
Value Proposition For Customers
Extensive range of vehicles

Wide range of services

Multiple payment options

Advance booking of parcels

Track delivery in real-time
Value Proposition For Corporates and SMEs
Which don't have delivery providers

Which don't have their own delivery fleets
Value Proposition For Drivers
Extended customer base

Get an online platform to serve their customers

Multiple payment options

Receive tips from happy customers

Work flexibility
Lalamove Revenue Model: How Does Lalamove Make Money?
Lalamove's annual revenue is $146.6 million, now you must be wondering how it is possible to deliver goods? Let's take a closer look into how Lalamove has become Asia's go-to- delivery app.
Delivery fees
Based on the vehicle type, parcel weight, and distance between locations, users need to pay the delivery fee. This is the major and primary revenue source of Lalamove.
Convenience fees
The users need to pay a convenience charge on every delivery they request.
How Does Lalamove Clone App Ensure Enhancement in Business To a Great Extent
Innovations in technology are empowering entrepreneurs to deliver experiences that are engaging and convenient. On the other hand, the online courier delivery market is growing and forcing conventional business owners to want to upscale their business by embracing a Lalamove clone app that allows users to place a delivery request with ease.
On the other side, traditional store businesses can automate their business with the Lalamove clone app. It has the ability to optimize processes, increase profits and build an enhanced marketing strategy. An app similar to Lalamove is useful for customers as they no longer need to deal with issues such as vehicle availability, parcel missing, etc.
Bringing all the store owners, transportation companies, and drivers on a single platform, the Lalamove clone app can give you huge success. With a huge number of fleets and drivers registered with your app, there is no doubt that users will get an instant solution at an economical rate for transporting goods.
Let us tell you the major benefits of having an app like Lalamove for your business,
Grow your bookings

Uplift your brand

Enhanced customer engagement

Transparent pricing system

Users will get a variety of vehicles
When you deploy advanced courier tracking software or develop an app like Lalamove, you are not only making it easy for customers but offering businesses an excellent way to deliver goods from one place to another. Moreover, you can also provide transport companies to exploit a digital platform and make their business thrive.
How Much Does It Cost To Develop an App Like Lalamove?
Courier delivery is highly popular these days as it gives you the comfort of delivering goods in a hassle-free manner. An app like Lalamove also offers huge cash backs and deals on your delivery orders. It saves your travel time and fuel cost. Millions of people, especially from urban areas are using an app similar to Lalamove for their delivery tasks.
Now you must be wondering how much does it cost to develop the Lalamove clone app? There are a number of factors that together add to the estimation of Lalamove clone app development cost such as
App size

App design

Platform

Features you want to integrate

App development team's location
If you want to revamp your existing business by deploying an app like Lalamove but lack technical expertise, contact us, we will help you build amazing solutions without compromising with the quality.
Giving Yourself An Opportunity To Grow Quickly With Lalamove Clone Script
The doorstep delivery market is getting bigger day by day because people are leaning towards comfortable services. Embracing the Lalamove clone script gradually upscales your business and leads you to achieve superlative profitability.