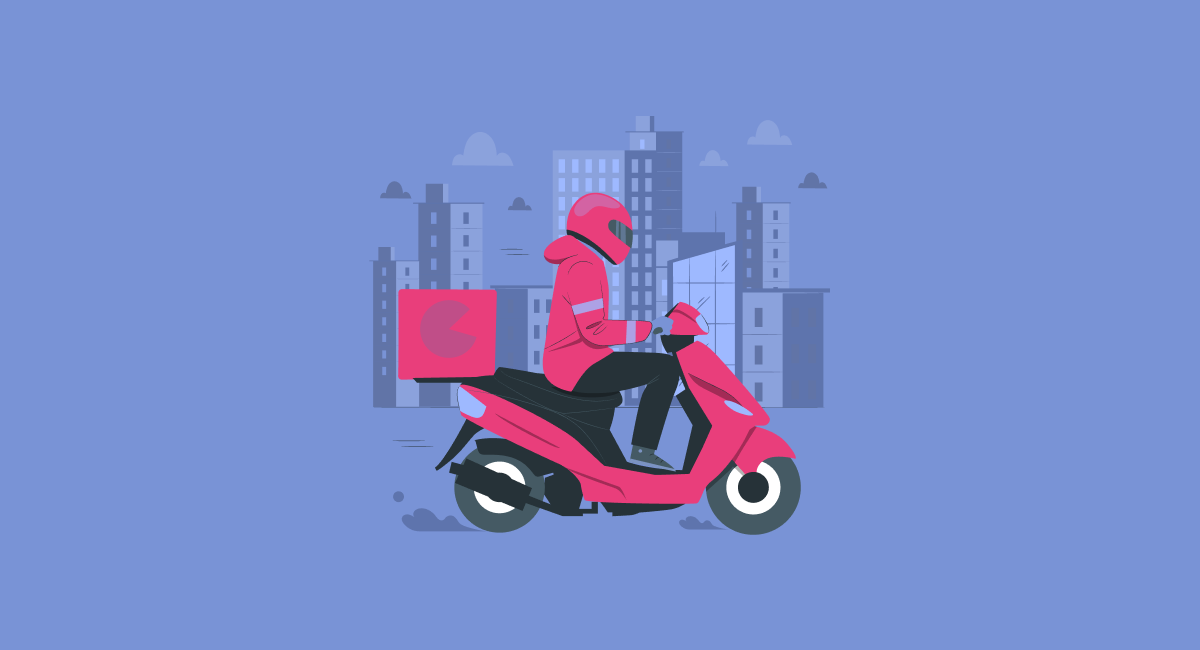 Wondering how to start a pizza delivery business? Here you can get all the answers to launch your business. Well, most people prefer to order pizzas when it comes to fast food. Apart from being a delicious food, pizza is surely one of the comfort food for all people around the globe. We even celebrate national pizza day on the 9th of February.
So now we all can agree upon one statement that pizza is one of the best culinary inventions to date. If you prefer to cook one-of-a-kind dishes and love to show your culinary art, then operating a pizza delivery business can be a profitable venture. But one must have to understand all the aspects of the business first.
This article will give you an in-depth understanding of how to start a pizza delivery business.
A Brief Intro to Pizza Delivery Business
Pizza delivery is a widespread and thriving segment in the food industry that involves delivering pizzas directly to the user's doorway. Home delivery is a convenient and time-saving service that caters to user's desires who love eating pizza without leaving their comfort zone.
By offering convenient and delicious dining options, the pizza delivery business plays a significant role in satisfying the consumer's food cravings and also meets the demand for the food delivery service at doorsteps.
The pizza delivery business has evolved over time, and various delivery models exist, ranging from independent local pizzerias to large chain suppliers that operate nationally or internationally. In today's era, where people prefer to receive delivery at their doorstep, venturing into pizza delivery can surely be a great investment.
However, success in this industry depends on factors such as product quality, efficient delivery, exceptional customer service, and adapting to modern trends and preferences.
If we take a sneak peek at the global fast food market size, it was valued at $529.5 billion in 2020. It is forecasted to rise with a CAGR of 4.6% from 2021 to 2028.
The global sector of the pizza market is forecasted to hit the number of $192.4 billion by the end of 2028.
Talking about the pizza business statistics, there are 78,301 pizza restaurant businesses available alone in the US as of 2023.
Step-by-step Guidance on How to Start a Pizza Delivery Business
Step 1:Write the Plan First
Step 2:Pick Your Business Model
Step 3:Determine What to Offer
Step 4:Budget and Funding
Step 5:Take Legal Consideration
Step 6:Find a Location For Your Pizzeria
Step 7:Delivery Logistics
Step 8:Manpower and Equipment
Step 9:Develop Your Online Presence
Step 10:Implement Marketing Strategies
Launching a pizza delivery business is surely one of the trending ventures in the on-demand economy. However, it is not that easy to jump into the market; it requires careful planning and execution. Here are the key steps involved in how to start a pizza delivery business.
1. Write the Plan First
To start a pizza delivery business, the first ever step will be to write a comprehensive business plan for your pizza delivery business. Creating a business plan at first will not only be helpful as a guideline but will work as a primary tool to represent your business structure in front of the partners and investors.
While forming the business plan, you have to outline your business vision, financial structure, operating strategies, competition, market analysis, business insurance, and all the essential things that directly or indirectly influence the business.
Conduct a market analysis to assess the demand for pizza delivery in your area. Apart from this, it is essential to find out which consumers you wish to target and understand consumer preferences thoroughly. A well-written business plan will help you stay focused on your goals and allows you to stay organized.
2. Pick Your Business Model
There are diverse business models available in the food market to start the pizza business. Examples of pizza delivery business models include – Full-service pizzerias, Takeaway pizzerias, Pizza delivery, Food truck pizzeria, Mobile eateries, chain restaurants, the franchise business model of Domino's, and more can be taken into account while selecting the business model.
The cloud kitchen (ghost kitchen) concept is getting popular at present, so you can even adapt such concepts as per your requirements. So you have to select your preferred business model first to get started.
3. Determine What to Offer
To operate a pizza delivery business, you are required to consider what kinds of pizzas and additional kinds of stuff you wish to sell. While selecting the menu, be assured that you have incorporated a decent selection of diverse tastes of pizzas as well as multiple toppings selection. Work with adequate restaurant menu optimization to draw the attention of more and more pizza lovers. Experiment with pizza toppings and crusts to present something new and flavorful to the audience.
4. Budget and Funding
When opening a pizza delivery business, it's essential to form a solid financial plan in the first place so that you can set up the budget spending goals. Whenever you are about to buy or lease the space for a pizzeria, make sure it aligns with your budget and operational requirements. Determine how much capital you will require to start your business and explore financing options.
There are various funding options available for startups, such as bank loans, investors, or you can borrow funds from family or friends. For sure, as a small startup, you might not require a high budget, though considering all the pros and cons of funding options before making a choice so that you can refrain from future risks.
5. Take Legal Consideration
As an entrepreneur, you are required to register your business by considering your city or country's law to obtain a business license. Determine your business structure first, whether it will be a partnership, LLC, or proprietorship, and register accordingly. Your business has to go through a food and health inspection to ascertain the quality of food.
So that you can obtain certification and a license for food quality. Thus it's important to research the necessary licenses and permits needed to operate your business. You can also reach out to an attorney to be assured that your business is registered under all rules and regulations.
6. Find a Location For Your Pizzeria
When you are about to operate your food outlets, then the prime factor will be to determine the perfect location for your business. If you are operating from home or adopted the ghost kitchen concept, then location doesn't matter that much. But when you offer dine-in assistance, location plays an important role in achieving success.
You can select the area for your pizza restaurant around cinema halls, shopping centers, college and office areas, or busy streets, which are the most preferable locations for pizzerias. In short, you have to make the selection by keeping in mind your base clients. Consequently, you even have to check whether the demand for pizza delivery is high in the particular location or not.
7. Delivery Logistics
Develop efficient delivery routes to minimize delivery time and costs. Implement a reliable tracking system to ensure timely deliveries and provide updates to customers. Consider offering multiple delivery options such as in-house delivery, third-party delivery partnerships, or a combination of these both tactics.
Implement a reliable tracking system to ensure timely deliveries and provide updates to customers. Streamline your delivery process to ensure timely and accurate deliveries.
8. Manpower and Equipment
Opening a pizza delivery business will require a decent amount of manpower. So you have to focus on building a strong team of dedicated employees who are passionate about delivering excellent service.
You have to hire culinary experts who can handle the kitchen and prepare the food. Along with that, you also have to hire staff for the delivery process. With the right team in place, you can provide great service to your customers and build a successful pizza delivery business.
To start a pizzeria, entrepreneurs are required to invest in equipment like ovens, refrigerators, tables, dough makers, serving utensils, pizza boxes, other cutlery, and, foremost vehicles for delivery purposes.
9. Develop Your Online Presence
Establish an online presence with a user-friendly mobile app that showcases your menu, prices, and ordering options. Embrace modern technology to enhance your pizza delivery process. Develop a user-friendly mobile app where customers can easily place an order for their choice.
By getting a mobile application, entrepreneurs can implement a robust online ordering system to handle order processing efficiently. Provide accurate and timely delivery updates to enhance the customer experience and build trust.
10. Implement Marketing Strategies
Once you are done with the basic steps concerned with how to start a pizza delivery business, afterward, you can move forward with an essential step to promote your business. Work hard on the business promotional tactics to generate your brand awareness; this way, you can attract more and more buyers.
Utilize local seo for restaurants that work to promote your business online to attract more and more customers.
Apart from digital marketing, it is also fair to try offline marketing strategies such as billboards and posters to promote your business.
Manage the databases of your customers and keep them updated with your fresh deals and offers via email or SMS.
Offer discounts, loyalty programs, and special deals to encourage repeat buyers.
Collect customer feedback and testimonials to build credibility and improve your offerings.
To generate awareness and attract customers, invest in a comprehensive marketing strategy. Utilize both online and offline channels to advertise your pizza delivery service.
How Elluminati Can Help in Launching Your Pizza Delivery Business?
Elluminati can be the best technology partner to help you launch your pizza delivery business online. Our professional team of developers works to provide tech-savvy Pizza delivery app solution that will help you streamline your business operations
By building a mobile app to launch your business online, your customers can easily order their favorite pizza right from their smartphone. With a mobile app, customers can browse through the menu, select their desired toppings, and even customize their order as per their liking. Mobile apps can be truly beneficial for entrepreneurs to keep track of orders and ensure accuracy.
Overall, a mobile app can be a game-changer for a pizza delivery business; the online platform makes it easier to attract and retain customers, streamline operations, and ultimately boost sales.
We have witnessed huge growth in the delivery business during covid 19. So now people prefer to shop for every little thing online. Consequently, there are a lot of opportunities for entrepreneurs to grow their pizza delivery business in this digital world.
In conclusion, make sure to follow all the steps mentioned in this guide on how to start a delivery business to launch your business successfully. With perseverance, a passion for great pizza, and a dedication to satisfying customer needs, your pizza delivery business has a great chance to become a go-to choice for pizza lovers.