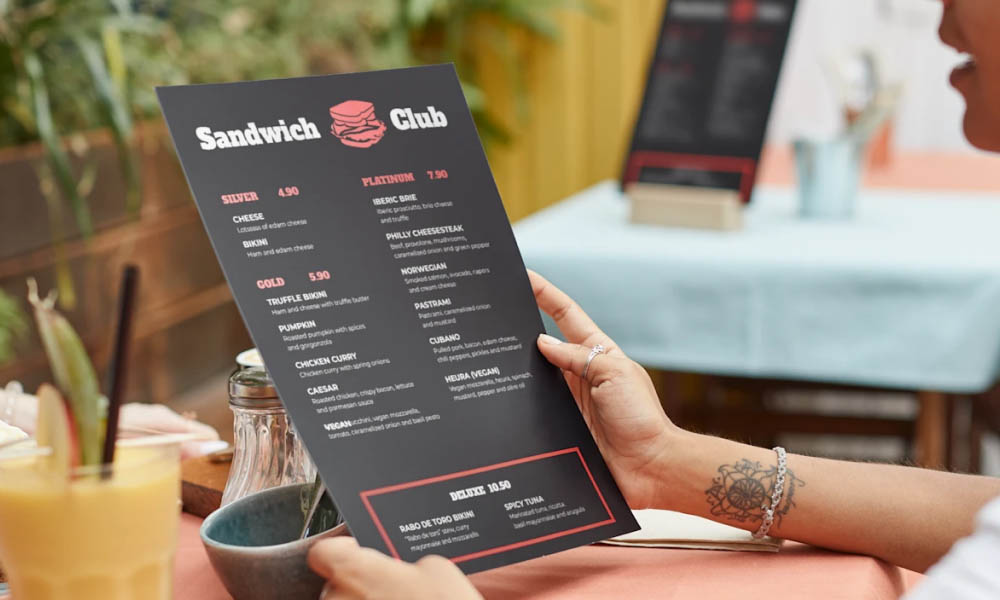 Your menu is probably your most viewed piece of marketing tool, but have designed and optimized it properly? As restaurant business owners have you spent enough time on your menu just like you would give to food quality and other important things? If you have not yet, then you should. In this blog post, we have described what is restaurant menu optimization and why it is necessary to increase profitability of your restaurant.
Restaurant menu optimization plays an important role; it not only drives financial success but delivers a seamless user experience. As per the Gallop poll's research, the average customer spends only 107 seconds analyzing the menu. During that time, they check prices, scene menu, read the description, and view images before placing orders.
If you want to make most of it from your menu, your restaurant's menu should be concise, well-organized, and presented in a structured way. Most importantly, each dish and cocktails featured needs to be profitable.
Did you know that by merely having an appealing menu, you can increase restaurant profit by up to 5%? If you want to upscale the profitability of your restaurant business, menu optimization is important. According to a report, menu optimization has the potential to increase profit by 10-12%.
However, this process takes time, but when it is executed properly, it can give you the desired outcomes.
What is Restaurant Menu Optimization
Restaurant menu optimization defines the work done on all facets of your menu -from starters selection to popular dishes to graphic design – in an effort to boost sales and revenue.
For restaurants, there are plenty of advantages to restaurant menu optimization over other promotional activities. It includes the following components:
The menu item should be more descriptive
Marking a meal, cocktail, drink as "featured" because you want people to order it more.
Mention prices with proper sign
Use eye-catchy fonts and images
Proper execution of the above components will increase the restaurant's profitability by 10-12% on an ongoing basis. However, your menu should match with the vibes of your restaurant and reflects your brand. A Well-optimized menu will grab the attention of people and help you stay ahead in the competition. Menu optimization will give you a detailed insight into the dishes you sell and where you can increase your profit margins pertaining to an individual dish.
Why Your Restaurant Needs It
By creating a menu that is optimized and well-structured, you can directly improve your bottom line with the highest profit margins. It will enhance the customer experience and attract more customers. Therefore, restaurant menu optimization is important; all you need to leverage advanced techniques in place. Once you have it, then it will become a cakewalk for you to optimize the menu.
Restaurant menu optimization is an important tool that should be done on a regular basis by every restaurant business owner to maximize profitability. It offers certain advantages such as,
Increased profits
Help you stand out from competitor
It makes a fantastic impression
Builds trust and credibility
Builds brand and tells a story
It appeals to customer emotions
Customers usually spend under two minutes looking at your menu before placing an order; hence you have to impress within those two minutes. Menu optimization encourages diners to choose dishes that are high in profitability and popularity in a short time.
How to Optimize Menu and Increase Revenue
Restaurant owners, managers, can leverage menu optimization to grow the restaurant's profit margin. It will not only trace how dishes on your menu contribute to your overall profit but also help you analyze what modifications can improve overall profitability. Once you know which item you want to sell more, you will be able to optimize your bottom line.
No doubt, menu optimization is quite a time-consuming process; it can be broken down into five broad steps. Let's have a look at each of them in detail.
Also Read : Restaurant and Food Store Website Design Tips
Identify Your Profit Drivers
First of all, if you are optimizing the menu the first time, you need to identify profit drivers. This step will help you break down your food and drink items into four major categories.
Stars- Menu items that are high in popularity and profitability.
Work Horses- Items that are popular but with low profitability
Puzzles- Items that are less popular but high-profit margin
Dogs- Items that are low in both popularity and profitability
Your Star dishes are your major profit drivers; you don't need to touch them whereas you can work on Puzzle items to increase their popularity.
Cost Your Menu
Costing a menu is a concept that plays a crucial role in the success of any restaurant. It is the simple process of breaking down each item on your list to its ingredients and deciding how much it will cost to make the particular dish. You also need to consider the tax amount and how much a guest needs to pay for a particular item. From raw material to serving the particular dish, there are several costs you need to consider.
You can follow the below formula,
Cost of each ingredient + cost of purchasing Applicable taxes = item food cost
The more specifically you use the above formula, it would be easy for you to decide the cost of each dish, crafting a fair pricing menu for the customers that also leave remarkable profits.
Add Vivid Images Of Your Dishes
Posting some images along with your food items, has the potential to increase restaurant sales by 20-30%. As per the research conducted by Iowa State University, it was discovered that posting a picture along with the food item instigate users to order that particular dish, and more than 70% of users do the same.
If you are not a professional image editor, you can also use a tool like Canva that helps you create high-quality images that grab the user's attention.
Take It Online
Today, more and more people order a meal online, and this is why restaurant owners have started developing food delivery app that let consumers place an order online, view the menu, make payment and track it in real-time.
Make sure you also have posted your restaurant menu on websites like Yelp and Tripadvisor. Moreover, food delivery apps such as GrubHub, Postmates, Zomato, Swiggy, etc. have also gained immense popularity in the last couple of years, so post your optimized on those sites and create a strong customer base.
Analyze Your New Menu's Success
You have followed all the important steps to optimize your menu; now, it is time to measure success. You have brainstormed a lot to optimize your menu; now, it is time to see how well you have performed the task of menu optimization.
Have you noticed any changes?
Did you sell more of your puzzle and star items?
Did your profit increase?
Was your food cost decreased?
Find answers to the above questions and keep experimenting with the new formula. The best about restaurant menu optimization is that there is always room for improvement.
Restaurant Menu Optimization: Not as Difficult as it Seems
Restaurant menu optimization seems like a monumental task, but if you follow the steps mentioned above correctly, it will improve your bottom line and increase sales in the future. Restaurant menu optimization is crucial because it lets the restaurant business owner decide which item on the menu will impact the bottom line and what steps should be taken to improve the profit margin.