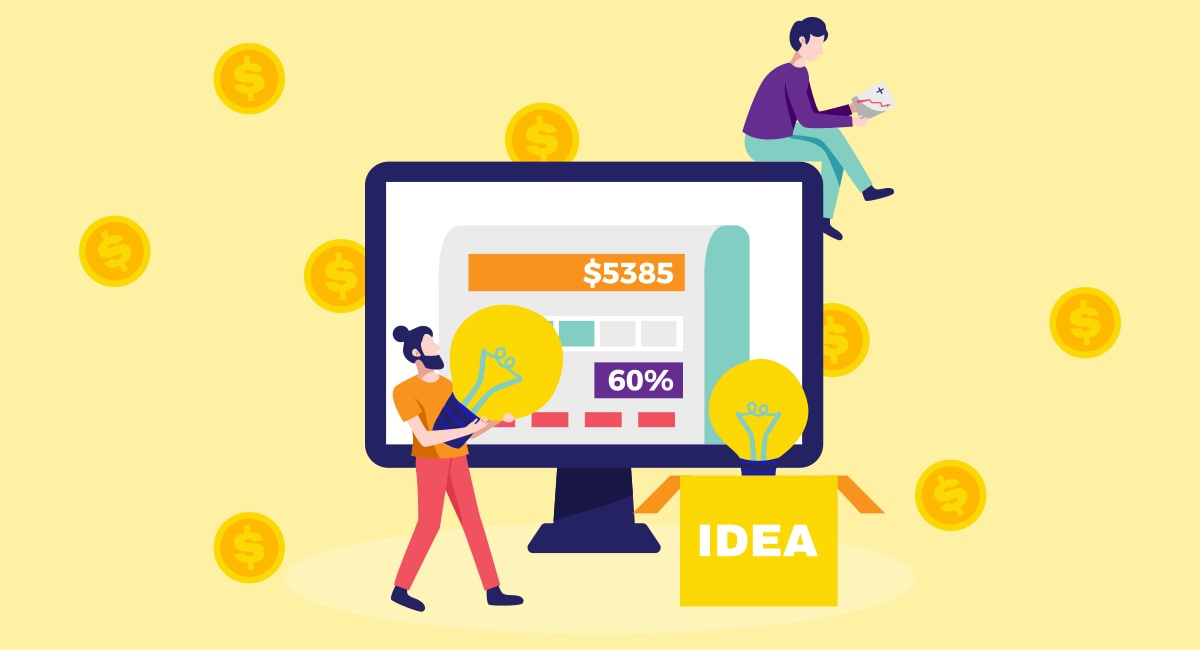 Raising funds can be the most challenging obstacle an entrepreneur has to overcome. A revolutionary idea can only come into action when you have adequate funding. And finding a fundraiser is harder when you have to find one for the startups in the sector that has enormous competitors – I meant mobile apps-oriented startup. We are here to concentrate on how to get funding for mobile app-based startups.
There are already innumerable apps developed and struggling to do business. And in that, your business idea for an app surely needs something unique. It may be a unique idea, stunning app designs, and features, or ecstatic marketing. But also, with that, the business becomes expensive, and you need concrete funding for your tech startup.
A startup has to gain certain authority to accumulate capital to grow the business. But first, let us understand the crucial stages of funding that a mobile app startup can gather.
Stages Where Mobile App or Tech startups are Funded
Pre-seed Stage
The pre-seed stage of a business is the earliest one where the company is yet in the idea execution process. At this stage, company founders are themselves the fundraisers. Most certainly! They are taking the foremost steps off the grounds themselves.
Seed Stage
Seed stage funding is official funding for the business in exchange for equity. It helps the business for product development team recruitment, rents, and research about the market. The sum is modest as most probably that a business would require at this stage.
Series A
In the series A stage, a business would require a third-party investor, which is a phase of the business where it has an income channel(s), gains consumers, and has a robust business model. This stage of funding aims to enhance the offerings and capture a higher customer base.
Series B
The post-development stage is finding where a business needs to expand its reach in several new markets. At this stage, it is already viable, which now wants to turn into an enterprise. The amount is relatively higher as it would need to take larger steps for the expansion.
Series C
This is the stage when a business has reached quite remarkable success. The funding is required at this stage to acquire other firms or launch new products or services, or expand globally, which would require a lump sum.
IPO
Initial public offerings are the rearmost stage for a business, where the private company publicizes its shares. It gathers a tremendous amount of money for the company to reach a new market level and brings transparency about the company.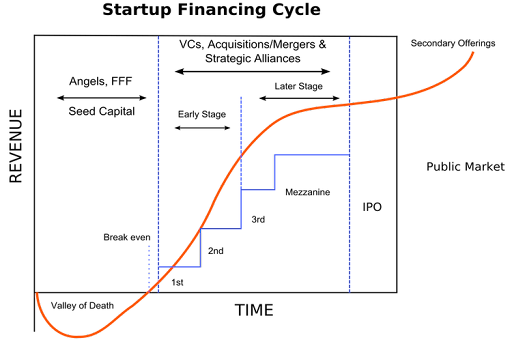 Source
Also, let's understand the types of funding startups could have.
What are the Funding Options Available for Startups with App?
Crowdfunding
Crowdfunding is the source where a company can gather funds for a service or product before it serves them. The platforms like GoFundMe, IndieGoGo, or Kickstarter allow creative business ideas to raise funds for their apps projects. It is the best method to raise app funding for the startup.
Bootstrapping or Self Funding
Bootstrapping is funding where entrepreneurs rely on funding other than outside investments. Personal savings, or the amount used to start the business, comes in the concept. For any startup, bootstrapping is the reasonable funding that eliminates dependencies, has no limits to fund amount, and most importantly, your profits will be just yours.
Bank Loans
The name suggests acquiring loans from banks or any financial institutions to raise the business funds. It is fundraised for the short term and needs to be repaid on time with the respective interest rates.
Venture Capitals
For mobile app startups, venture capital is the funding method where an organization or group of organizations entrust the liabilities and future growth of the firm, raising funds for them. There is a representative that controls the funds investing company in reliable projects. It preferably selects the startups generating profits with a reliable team and a robust future business plan.
Angel Investors
Justifying the name, angel investors invest in many startups, even with the high risks. They decide to invest in the business based on the presentation, a complete proof plan, and knowing company liabilities.
ICO and IEO
It is the fundraising based on the blockchain for the startups. Blockchain for business is revolutionizing several methods and bringing transparency into it. ICO, Initial coin offerings, deals directly to the investors, while IEO, Initial Exchange Offering, has a middle man that regulates the funds and ensures transparency with specific rules and standards.
How to Get Funds for Your Startups with an App?
Now, as you know, when and from where you can get funding for your tech startups, a solid business plan hoists the funding. The most imperative thing for investors is that a business should have a colossal ROI. And you are supposed to make a persuasive plan when you both are in the field. Refer to the below points that you must prepare before you communicate for funds.
Consolidate your app idea and purpose
Whatever your idea is to develop an app, you must ensure that your app solves a problem. It needs to empathize with a group of people or even many. Because that is what makes your business idea the most of it, and then it will lessen your efforts to convince investors. When your app idea cracks a problem, it convinces people to invest in the project. That idea has a lot higher chances to sustain in the market.
Have business plans
Followed by an idea for your app, you must prepare a business plan. If you have any experience with the same, then it would be helpful to create an impression in front of the investors. However, if you are all new in the field, it is not that easy. You must have all terms planned already from development, hiring a team, market research, funding, marketing, and the rest all.
Estimate the functioning of your app
When you have a solid purpose and plans, you must need specialists or expertise to develop your app that interacts and impresses the users. There are options also, whether to hire a team that works as freelancers or deploy an app with the help of an expert. which is reliable, remarkable, and has experience of working with similar projects. Further, ensure that your app functions the way you want with a prototype before finalizing and launching the app.
Evaluate your profit and set future goals
All of the above points – an idea, business plan for a near time, the development team will convince investors well enough. Nonetheless, you must have future goals set already and profit sources which will entrust your plan. Investors will be more convinced with the app idea with complete proofed plans even for the farthest point in the future.
Take Feedback
After all, this takes the feedback from your mentors, experienced investors, or any relatives who belong to this field or are aware of the idea. Or the best way to foresee its use is to talk with the users that are going to use the app, which will get you a good business.
Summing Up
Tech startups have a lot of competition; many startups could not reach their expectations sometimes because of a lack of funding. If you have an app idea, you should estimate the app development cost and how much you will get funding. The whole process is mind-numbing. Regardless, you are all new to the field; Elluminati Inc is there to discuss and get an app developed, stable, and exact app that helps.