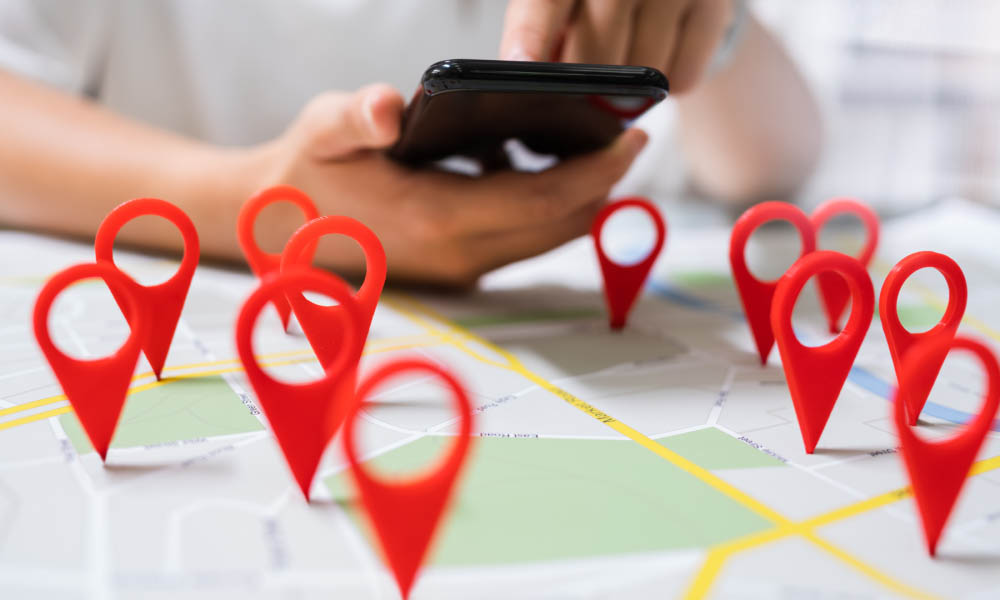 We are living in a digital era; if you are a 21st-century business owner, you should know the importance of having a strong online presence. You have built a website or app, right?
But how sure are you that your site or application is visible to your potential customers?
Here SEO comes to mind. You can not be certain of this unless your website is optimized for search engines like Google, Yahoo, Bing, etc. Today, there are more than three billion searches performed each day on Google. It means people spending more time on the Internet and people searching for your brand online.
Digital marketing practices are taking over the industry today, and the restaurant business is no exception. However, social media is not the only important thing; there are many aspects, including Local SEO, that contributes to it. Since restaurants can only target local customers, Local SEO will be very useful to boost sales and get new customers to your restaurants.
When anyone searches on Google "Restaurants near me" or any similar keyword, Local SEO will show exact results on Google SERP with a link to your website or app and also display other relevant information such as an address, contact details, reviews, etc. This is how Local SEO is important for restaurants.
This blog post will help you improve Local SEO practices for the restaurant business and make your restaurant more visible online.
What is Local SEO
Local SEO, the name itself, refers to the process of "optimizing" your web presence to attract local customers from relevant sources. It helps your restaurant to promote their product and service to local consumers at the right time with the right information.
The restaurant industry is dynamic, and one of the profitable sectors as people love to enjoy new cuisines each day. However, if you are running a new restaurant, then survival is quite challenging in this competitive world.
You need to invest time and effort for the desired results. You have to use modern and digital techniques to acquire new customers as well as to rank your restaurant on Google. There are certain things you require to set up a strong online presence for your restaurant business.
You can do social media, can create a profile on Google My Business, local directories, and run paid ad campaigns to increase conversion ratio.
But what are the benefits local SEO brings to the restaurant business and why it is necessary? Here we have elaborated more that will give you a proper understanding of it.
Why the Restaurant Industry Needs SEO
Usage of mobile phones and tablets has been increasing, and SEO is also becoming very critical because people search for restaurants and services through mobile apps and browsers. Today, people find it easier and convenient to search on Google rather than asking anyone for reviews of new restaurants.
Thus, it is inevitable to have a strong presence on Google because it helps your potential customers to visit you again and again. But if you think Google randomly lists the search results, you are wrong. There are multiple algorithms, and proper local SEO is what plays a vital role in search rankings.
In simple words, when you search for the best restaurants, you get a list of restaurants with names, addresses, reviews, maps, website info, and contact details. If your restaurant's online presence is strong, it will help you get new customers and maximize profitability.
Along with that, Local SEO for restaurants offers multiple benefits such as:
Highest return on investments
More than 95% of people read and trust online reviews for the restaurant business
Increase invisibility
Ratings and reviews
Gaining new customers
Build a business reputation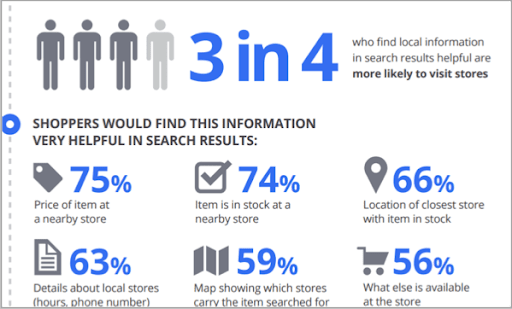 Now you must be clear about the benefits of Local SEO to your restaurant business.
The above infographic shows that 3 out of 4 people are more likely to visit the place after finding them on local search engine results. As search queries related to "near me" have grown 150% times more than previous years and more than 75% of people who are looking for the best restaurants in their vicinity visit the restaurant on the same day.
The Interesting Local SEO States Every Restaurant Business Owner Should Know
In today's over competitive market, there are a plethora of restaurants available but what to do exactly that helps you gain more customers and build a strong online presence. The best part of having a strong presence of your restaurant on a local search engine is that the customer is just one click away from getting information about your restaurant.
Here we have presented several stats that you should know before starting practising a Local SEO strategy for your restaurant business.
"Where to go" + "near me" mobile search queries have risen by 200% in the past couple of years.
More than 45% of all Google searches are local.
More than 50% of "near me" search queries result in an actual restaurant visit.
More than 86% of consumers read online reviews and ratings before visiting a restaurant. Moreover, 91% of them trust online reviews and recommendations.( BrightLocal's survey)
18% of local searches about a restaurant lead to sales and gain new customers.
Approx. 60% of Americans use their smartphones or tablets for searching about restaurants near to their area.
More than 50% of local searches are performed for finding addresses and contact info of local restaurants.
Thus you can not underestimate local SEO practices for your restaurant business when it comes to boosting your online presence. Here we have outlined five local SEO strategies that help your restaurant business to stand tall in the crowded market.
# Posting Engaging Content
Fresh and unique content helps improve restaurant SEO. Content marketing is a key factor that can improve search engine rankings if it is done properly. It can also increase brand awareness and foster loyalty among customers. You don't need to bombard content daily, only post high-quality and engaging pieces of content that add value to your business and drive more traffic to your restaurant website.
Instead of regular posting, only post when you have something interesting to share with. For the restaurant business, this can be an important aspect as you can share content related to:
New recipes
Promotional offers
Cooking guides and supplies
Local food event (can be in a video format)
A weekly or bi-monthly blog post with the trending whereabouts of your restaurant increases website visitors and offers better exposure to your business.
# Create Google My Business Profile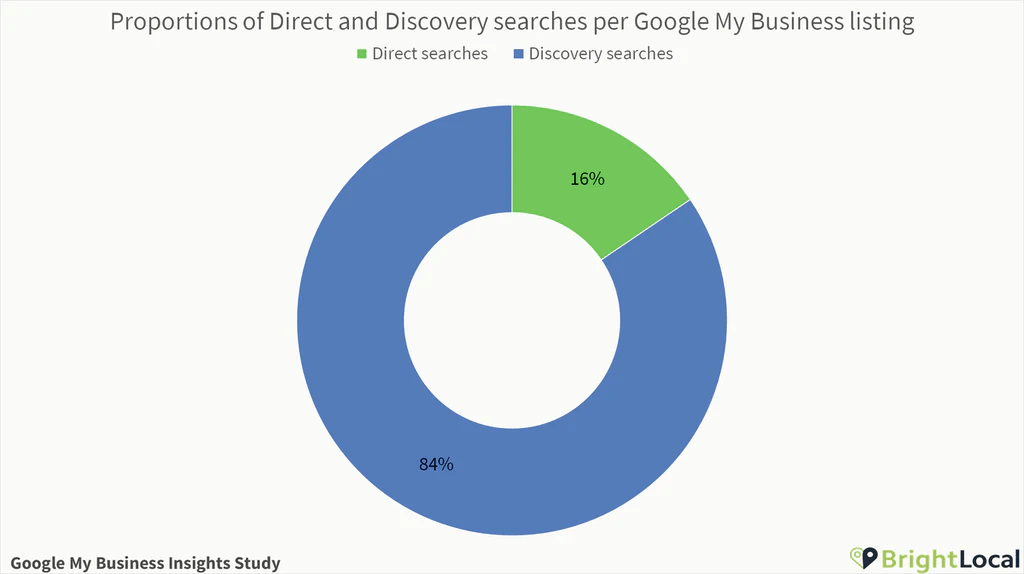 You can see in the above image, more than 84% of searches are discovery, and half of them are related to the hotel and restaurant industry.
Being associated with local SEO, you must have information about Google My Business. You need to create a profile for your restaurant and manage listings in order to ensure proper local SEO. Google My Business will make your restaurant more visible in the local search engine and drive more traffic to your website.
How to claim your restaurant Google My Business listing:
Click on "get started".
Fill out all the important and relevant information about your restaurant, such as name, address, website link, open-close hours, contact details, etc.
Review it before submitting.
Once your restaurant profile will be verified by Google, keep it updated with new posts and info.
# Maximise Social Media Presence
Around three billion people are using Facebook, and this makes Facebook one of the largest social media platforms. You can leverage it for your restaurant business as traffic comes from social media will navigate to your website, and it directly improves your local SEO rankings by spending time liking and sharing content on other sites.
Billions of people using social media these days, users share exciting stuff with a single click. All you need to create a Facebook profile for your restaurant business, add relevant information such as website links, contact numbers, addresses, and much more. You can list your restaurant as a local business, and this will help consumers to find your restaurant more often on social media platforms.
# Optimize for Mobile Device
Your restaurant website should be mobile optimized because more than 50% of Internet traffic comes through smartphones these days. It means if you have a mobile-optimized website, there is an over 50% chance; they will visit your website.
Smartphone users are growing day by day; it is imperative for business owners to meet user's expectations and offer them a seamless mobile experience.
# Positive Reviews Helps in Gaining New Customers
As mentioned earlier, more than 75% of people read online reviews before visiting restaurants. Customer reviews and testimonials are equally important for local SEO for the restaurant business. Positive reviews improve online visibility, and people find it trustworthy.
Is Local Seo Worth It For Your Restaurant Business?
Local SEO is important when it comes to promoting your restaurant business. Local SEO is an effective practice to grow sales of your restaurant. Follow the techniques mentioned above, and we are certain you will experience a noticeable hike in sales and customer base.