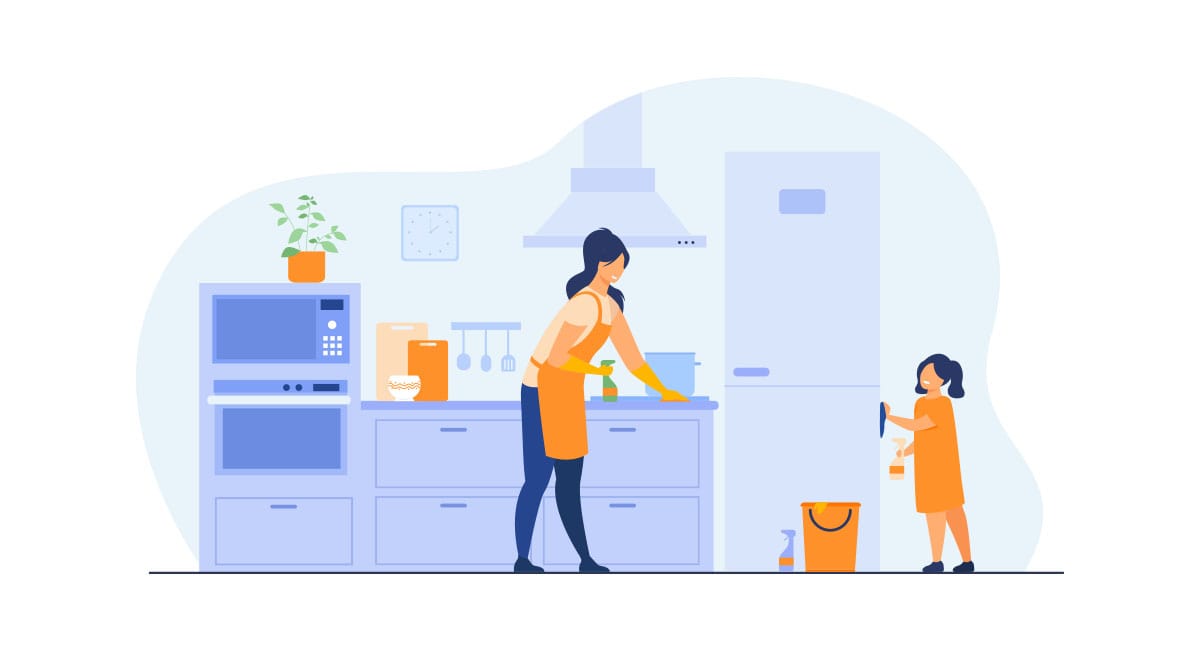 Imagine, after a hectic weekdays schedule, you go out for your weekend night dinner with your friends or family. You expect there to be a peaceful, beautiful, and high degree of hospitality amongst the restaurant and its staff. Well, the first impression would be last. If your staff or dining tables or anything is not in a presentable condition, the diner will run towards the door, and it will hurt your overall restaurant business, So what to do? What are the solutions? Here food and kitchen hygiene tips come to the rescue and help you elevate the customer experience.
The importance of quality food and a clean kitchen in restaurants should never be overlooked. All cooks and restaurant staff should be aware of food and kitchen hygiene rules; it is their responsibility to follow best practices to meet hygiene standards.
For a restaurant, regular maintenance is quite crucial for profitability and sustaining customers long enough. From the checklist, hygiene maintenance is the prior task to focus on during the virus pandemic. Having a clean and tidy dining room, kitchen, and all the vessels are one of the most important things to consider when patrons choose a place for dinner or a party. You have to perform some important jobs twice a day while job-related cleaning heavy equipment should be performed weekly or fortnight.
Here we have come up with handy food and kitchen hygiene tips to ensure your restaurant is tidy and following all safety practices.
Quick Guide to Food Hygiene Tips for Restaurants
The word "food hygiene" and "fresh food" are often used by restaurant owners and consumers as it is highly important. In simple terms, maintaining food hygiene means storing, handling, and serving the food in ways that promote good health and are prepared by following standards in order to prevent the spread of bacteria and foodborne illness.
If you are new to the restaurant industry, then you must be unaware of the 4Cs of food safety that every restaurateur following that are
Clean
Cook
Chill
And avoid Cross-contamination
However, there are many other food hygiene safety standards followed by restaurant business owners, but these are critical to maintaining to keep your business healthy and thriving. As per the report from Center for Disease Control, more than 48 million Americans experience food poisoning every year, and 3000 deaths occur annually.
To prevent this, here we have presented effective food hygiene tips for your restaurant. Let's dive in.
Storage
When it comes to maintaining food hygiene, it all starts with storage. Of course, you are running a restaurant, and there are many items available in your kitchen that require proper storage space and atmosphere. Food items need to be stored as per the instructions mentioned on their packages. You are advised to follow instructions written on the labels.
High-quality food items that you purchase are expensive. Hence, you need to store it according to its nature so that it can be used later to the optimum and does not go waste. Safe food storage contains:
First In, First Out
Label everything
Store meat products on the lowest shelves
Use air-tight containers for certain products.
Cold storage
Store food out of the "Danger Zone."
Store raw and ready-to-eat products separate
However, detailed food storage requirements may vary between countries and your restaurant type, but above are the general principles of food storage.
Always Watch Temperatures
This is another important thing to consider while making a food hygiene checklist. Storing, preparing, and serving food at safe temperatures are the basic requirements for restaurant owners. It will result in fresh and tasty food that prevents many germs from growing. Especially for the seafood and meat, you need to check the temperature frequently, and these tasks should be performed every day.
It is critical for sensitive food such as meat, poultry, eggs, and seafood to keep the internal temperature below the danger zone. If you fail to do so, germs will grow and spread quickly.
Chilling
It does not take long for food items to spoil. Prepare food thoroughly so that it kills all the germs inside the food. In the case of meat or seafood, you are advised to defrost the food before cooking. Also, wash fruits and vegetables properly. Moreover, don't serve the food immediately when you take it out from the freeze. If you have cooked food in advance, set the optimum chilling temperature. It will long last and taste good.
Restaurant Kitchen Hygiene Tips
Keeping the kitchen of a restaurant tidy and clean is of utmost importance for multiple reasons. Irrespective of the restaurant size and dishes they offer, the kitchen should be clean and follow all the hygiene protocols because it offers a safe and clean working environment to your employees.
In the Corona pandemic times, it is imperative to follow safety standards all over the world and in every business sector. Therefore, while reopening the restaurants, owners have to prepare a checklist for hygiene standards. And that is why it is important to focus on kitchen cleanliness and protection practices to instill and win trust among the customers.
Let's have a look at our restaurant kitchen checklist; you will get a better idea of which tools and equipment need to be cleaned daily, weekly, and monthly.
Daily Cleaning Checklist
Daily cleaning includes the regularly used items such as plates, glasses, containers, and much more. Daily kitchen cleaning checklist includes:
Brush the grill
Wipe down the line and cooking areas
Switch cutting boards
Change cleaning water and rags
Empty trash bins
Run hood filters through the dishwasher
Mop your kitchen floors and
Wash if there are any stains on the floor
Whether you are a well-established restaurant or opening a new one, you can not overlook the above daily kitchen cleaning things.
Weekly Cleaning Checklist
No doubt, regular items and cutlery should be cleaned daily, but several areas and tools require less maintenance because they are not used as often as other items. Let's see which items and tools require weekly cleaning.
Microwaves
Coffee machine
Griller machine
Sharpen knives
Drains
Deep fryers
Clean and sanitize all walk-ins
Monthly Cleaning Checklist
Usually, when you follow the daily and weekly cleaning checklist properly, it would be easy for you to perform monthly tasks for your restaurant kitchen. Let's explore what jobs should be performed by your employees at the end of the month.
Clean vent hoods
Wash ice cream machines
Repaint the kitchen wall if required
Check fire suppression system
Clean storage and freeze areas
Clean and Safe Restaurant Will Build Your Reputation Intact
Overall, dirty and cheap quality food can cause lots of problems, from poor quality to unhappy customers to increased risk of foodborne illness. By adhering to your restaurant's safety principles and regulations, you can prevent many issues before they occur.
Food and restaurant kitchen hygiene seem a daunting task, but it's always worth it when you see the faces of your happy and satisfied customers and increased profit margins. However, regular cleaning in a restaurant can be a tough job to perform, but if you have skilled staff and a handy checklist, you can do it with ease.
Moreover, restaurant owners are adopting the ghost kitchens business model today and developed a food delivery app that lets consumers place orders online, but these tips will also help them make their kitchens clean and serve good quality food.
Don't overlook these food and kitchen hygiene tips, take it seriously, and you will be able to produce quality food and have happy customers with cash overflow.