JioMart Clone – Overview of How Jiomart Works and JioMart Business Model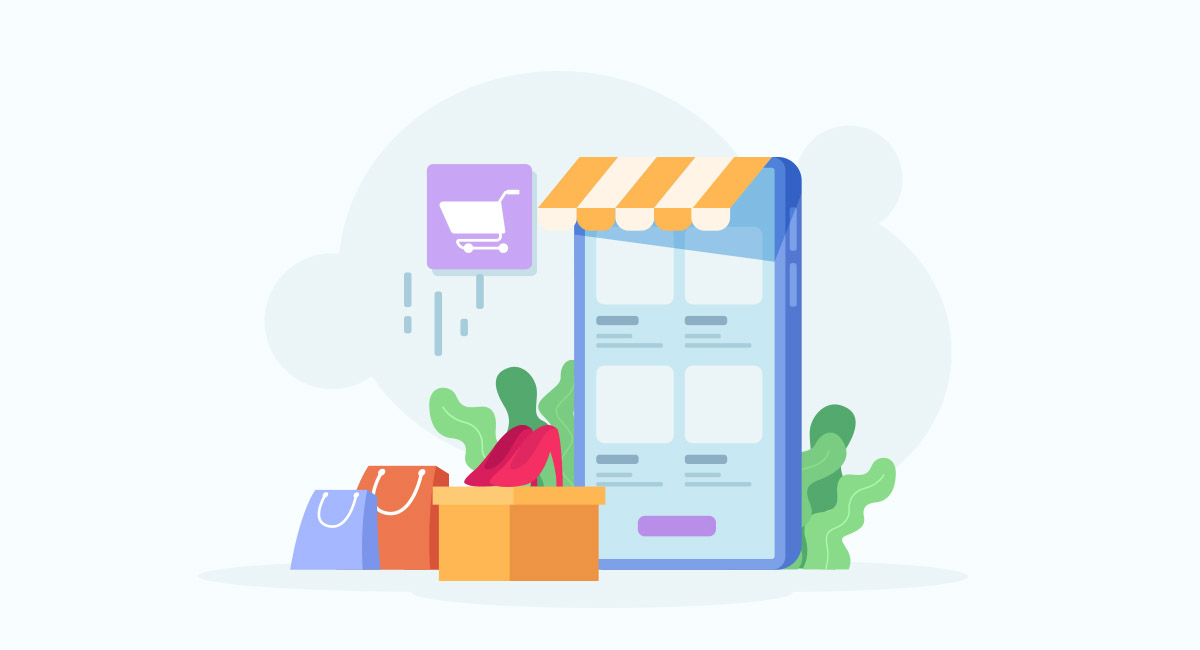 Ordering groceries and essentials have become a long way to visit nearby grocery shops to now select from digital menus; retail grocery shop owners are all set to embrace this new change. The online grocery delivery business is exploding, and India is not left behind. There are many grocery delivery apps available in the market, but of course, JioMart, perhaps one of the biggest names around today. For all curious souls, in this post, we will discuss what JioMart and detailed insight on its business and revenue model are. And what actually attracts entrepreneurs to have a JioMart clone app to expand their business.
Today, people's affinity towards online ordering is increasing, and many reasons are responsible for this logic. From time-saving to deals and discounts to safety and whatnot. On the other hand, entrepreneurs continue trying to revamp their existing business with digital solutions as it keeps their business afloat and reaches a wider audience.
Witnessing the growth of the Indian online grocery delivery business, more and more entrepreneurs are digitizing their operations as it fulfills customer's rising demand and allows them to achieve fruitful yields in the long run.
Reliance earlier only associated with the gas and telecommunication sector but is now embarking on its journey to enter the retail sector through the JioMart digital grocery delivery platform. Curious to know how it works and what has made it so popular in a short time? Here we go.
What is the JioMart Clone? Establish Online Presence with Adequate Solution?
JioMart clone is a readymade platform that enables entrepreneurs to accept and manage online groceries and vegetable orders without any friction. The solution comes with advanced modules and panels that ensure business scalability and deliver an exceptional user experience. Manage multiple stores, customers, delivery providers, and much more with a powerful admin dashboard and cater to customers' needs without any hurdles.
Factsheet of JioMart Company Details
Under the parent organization, Reliance Industries, JioMart is a digital delivery platform that allows customers to place orders from different registered Kirana stores and get them delivered to their location at minimum delivery fees.
Basically popular for grocery delivery, JioMart has later expanded its product line beyond groceries to include fashion, personal care, home care, and consumer electronic product lines.
Brand Name: JioMart
Parent organization: Reliance Retail
Type of business: eCommerce
Key People: Mukesh Ambani
Founded in: December 2019
Headquarter: Navi Mumbai
Area served: 200+ cities across India
Employees: 10,000
Slogan: "Desh Ki Nayi Dukaan"
Facebook bought WhatsApp, and JioMart collaborates with them to make the grocery delivery service more smooth, it means people can place orders using WhatsApp, which will be very beneficial for users who find it difficult to place orders through the app.
Earlier, JioMart only accepted online orders through its website, but the company has launched the Beta version of the Android and iOS Application and crossed 1 crore+ downloads on Play Store.
JioMart's Recent Acquisitions
Reliance Industries Limited continues to expand its business with well-known brands across the country. Reliance Retail recently invested in several companies and acquired them to supercharge its capabilities in the delivery business and product lines. Here's a detailed list of a few that are purchased by RIL or having a large stack in the particular company.
| | |
| --- | --- |
| NetMeds | 620cr |
| Hamleys | 620cr |
| Urban Ladder | 182.12 |
| Zivame | Acquired a 15% stake |
| Future Group | 24,713cr |
| Just Dial | 5,710cr |
| FYND | 295cr |
JioMart is one of the popular apps across India that consists of more than 50,000+ grocery and essential products at affordable prices and ensures express doorstep deliveries of goods to its customers. Basically, it follows an on-demand business model and connects customers with nearby Kirana stores.
JioMart is operating the service across 200 metropolitan cities and towns in India, including Delhi, Chennai, Mumbai, Hyderabad, Kolkata, and Ahmedabad.
JioMart has served more than 1 million customers, and the chairman of the company, Mukesh Ambani, said that JioMart now accepts more than 5 lacs+ orders daily and got the third position in the top-rated grocery apps on the Play Store.
How does JioMart Work?
As mentioned earlier, JioMart follows a demand and service business model where the company avoids storage and warehouse systems but partners with local grocery stores instead to deliver goods quickly. So let's see how customers place orders and enjoy express delivery of grocery products at their homes.
Using a dedicated website or app, customers need to register with their mobile numbers.
Users need to select a city and enter a pin code to get doorstep delivery.
Now customers can browse products, add them to the cart and make payment from the options given. However, they can also choose the COD option.
An order request will be sent to a particular Kirana store, the delivery provider collects the order, and items will be delivered to the customer's doorstep at zero delivery charges.
Customers can rate the service and submit feedback.
Online-to-offline JioMart Business Model- How Does It Lead to Smooth Experience for Everyone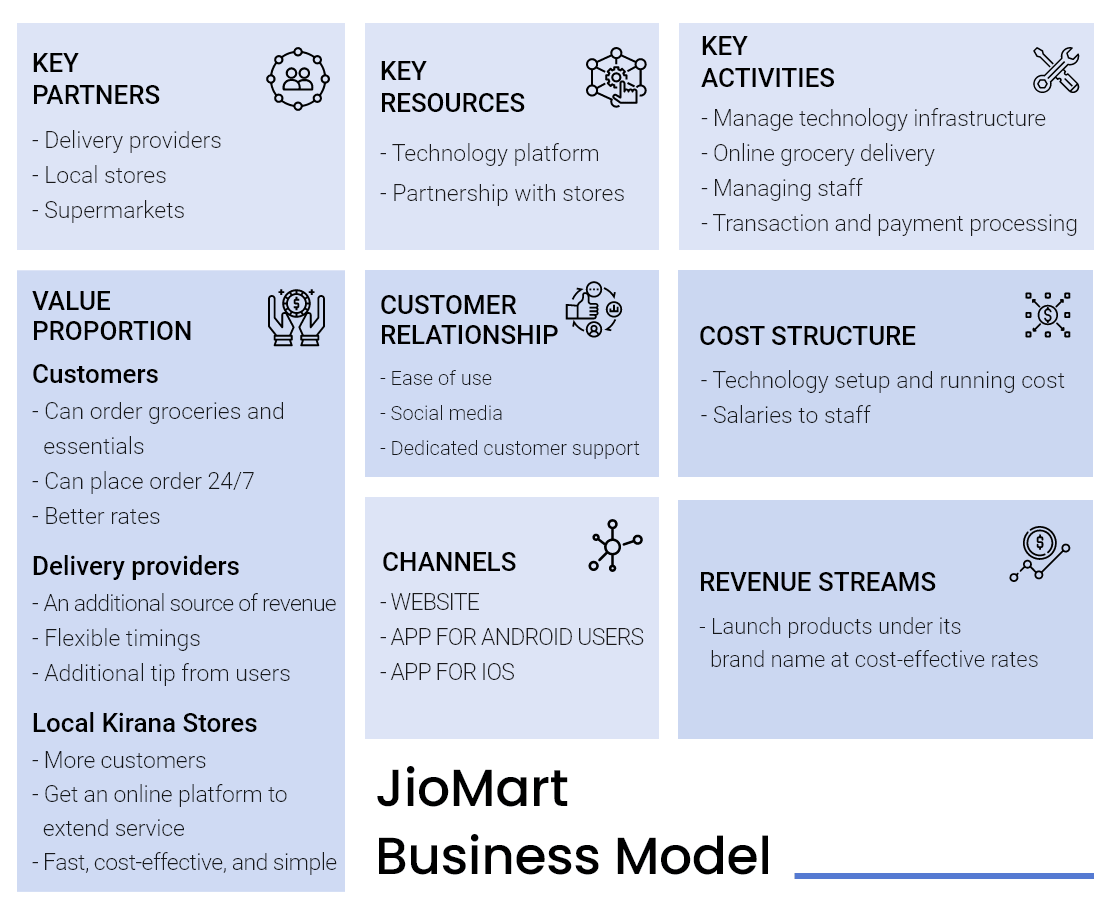 JioMart operates on an online to an offline business model.
If you are one of those entrepreneurs who want to step into the grocery delivery business, then you will find this section more interesting. Here's the JioMart business model to make you understand small points of how this retail giant delivers groceries and all its moving gears.
Currently, JioMart is working on a hybrid business model whereby it partners with local Kirana stores and hires delivery providers for the fulfillment of the order quickly.
Basically, JioMart focuses on all three sides of the grocery delivery business model and tries to establish a smooth connection between stores, delivery providers, and customers. So let's check out how JioMart works for local grocery stores, delivery providers, and customers and what value proposition this system has to offer.
Value Proposition for Customers
JioMart's app and website are built in such a way where users can buy anything easily. Here is the top value proposition that JioMart offers to its customers.
Amazing user experience
Affordable prices
No minimum order quantity required
Wide range of products and services
Contactless delivery and payment amid corona outbreak
Value Proposition for Local Kirana Stores
It is no secret that JioMart is pushing all the boundaries and making the digital acceleration process faster. It allows sellers to sell and promote their products on their platform and boost revenue. Let's see what value proposition it offers to local stores,
Get better exposure
Strong user base
Better traction for their business
Empowering small grocery stores
Adds value to their existing business
Value Proposition for Delivery Providers
Delivery providers are considered an important pillar of JioMart's business model. The company understands it well and offers some unique value propositions to delivery providers.
A source of additional revenue generation
Receive tips from happy customers
Delivery providers are free to choose their delivery hours
Revenue Model of JioMart- How Does It Make Money?
Why do people launch a new business? Obviously, for money. Every entrepreneur wants to make more money, and it can only be done if you are having a business model like JioMart. Let's see how it makes huge revenue?
Jio Brand Home Products
This is the only major revenue source of JioMart. As JioMart has partnered up with many local Kirana stores and promoted them to boost their sales.
Just like Grofers launched their brand " HAPPY HOME," JioMart also captures all nearby stores across India and gains a strong user base. Besides, local stores trust the brand Reliance and allow them to launch products with its brand name.
JioMart first promotes all the stores and then launches their brands at affordable prices with the strategy of Indian Products. ( You might have heard the slogan: Made In India).
What Triggers Entrepreneurs to Invest in More and More In-App Like JioMart?
Today, more and more customers are finding ways to save their time, money, and resources. Accomplishing multiple household chores could be stressful, but modern technology solutions are here to please customers.
People enjoy online delivery apps as they can simply browse thousands of products on their palms, track delivery providers, make payments from multiple options, and get products at their doorstep without even standing on the couch. Isn't it amazing? Yes, this is the major reason why folks prefer doorstep delivery of groceries and essential products.
According to Business Insider, over 10% of US customers shop groceries online every day, and this ratio will keep increasing in the near future. Well, this figure entices entrepreneurs, and now they want to transform their existing retail business by embracing an app like JioMart as it allows them to reach a wider audience and guarantee business success in no time.
If you want to step into the emerging grocery delivery business but facing confusion from where to start and how it works, check the demo here, you will come to know what features, functionalities, and technology stack is being used to develop a top-notch product.
Development Cost of an JioMart Clone App
Basically, entrepreneurs are offered two choices, whether they can go with readymade solutions or they can opt for custom solutions. Based on your time and budget, you can choose the solution. The approx cost of JioMart clone app depends on multiple factors such as,
How many features do you want to integrate
What technology do you want to use
The size and location of the development team
Application design
So here we would suggest that if you want to hit the market earliest, you rather go for a ready-made solution instead of developing the app from scratch. If you want to get a detailed quote for an app like JioMart, contact us, our enthusiastic team will get in touch with you with the best development offer.
Prosper Your Conventional Business with Jio Mart Clone Script Solutions
With passing time, the number of online shoppers is increasing. If you still behave skeptically and do not implement digital solutions, you might miss a huge chunk of revenue and customer base. Therefore, revamp your business with Jio Mart Clone Script and invite new golden business opportunities to your door.