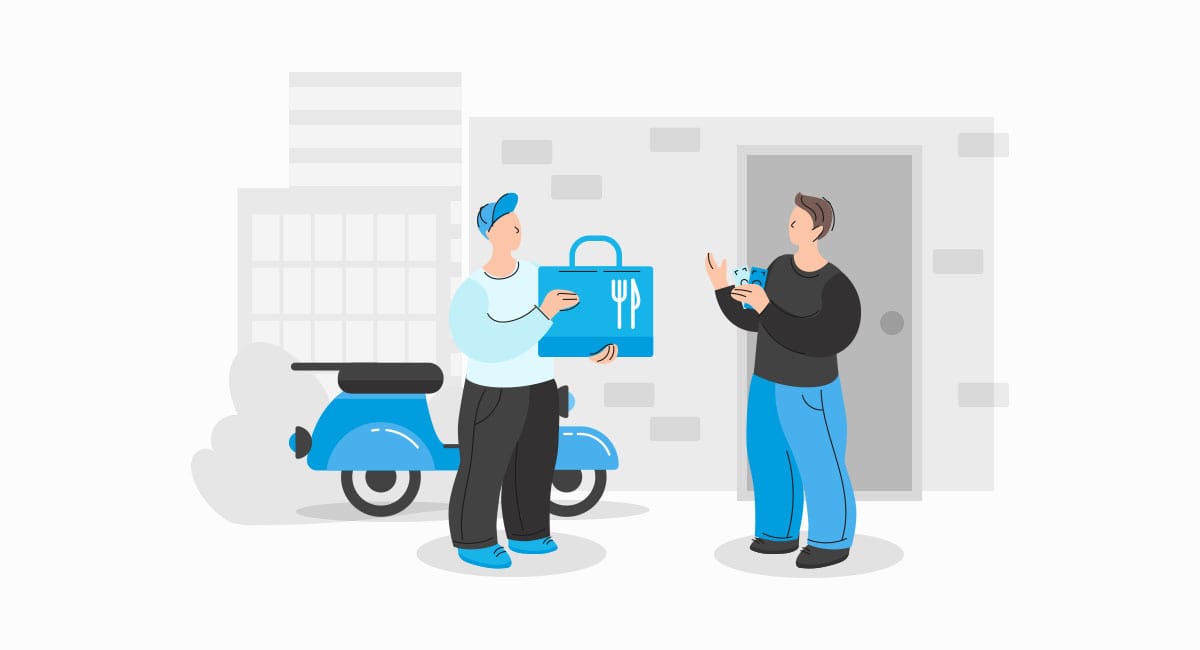 Constant innovations and digitalization have forced business owners to adopt online solutions to maximize their profitability. The online food delivery market has gained attention from the last decade as it saves people time and money and allows them to enjoy lip-smacking food at their homes. Well, Greece is not behind in this race as its eFood online delivery app works on the same concept. Now you must be curious to know why entrepreneurs taking a keen interest and want to have an eFood clone for their food delivery business. Without any ado, let's understand how eFood works and how does it make money. .
eFood is a delivery platform that bridges the gap between customers and restaurants and store owners across Greece. The business model of eFood is beneficial to restaurants, store owners, and consumers because it includes all three segments in each transaction.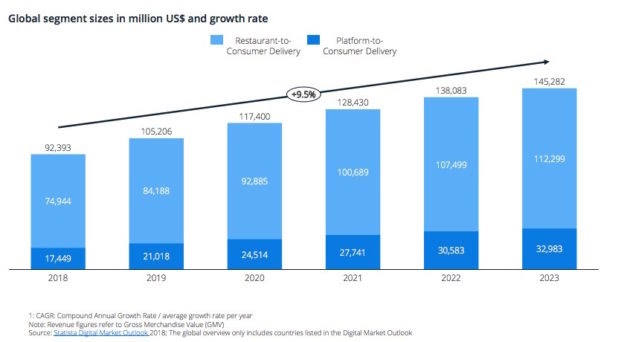 In the above image, we can see that the online food delivery market has generated $12 billion in revenue in Europe alone, and it's continuously growing. Moreover, the wide scope of the Internet and smartphone usage has paved the way for food delivery companies, and it's increasing by leaps and bounds. (source)
In this blog piece, we are going to discuss the business model and revenue model of Greece's popular food delivery company, eFood, and the story behind it.
What is an eFood Clone?
eFood clone is a ready-made food ordering and delivery solution that enables restaurants to upscale their business, the solution also comes with end-to-end personalized features that can be customized based on your business requirements. eFood Clone lets you launch your food delivery business instantly while saving money and resources.
Facts And Funding Timelines Of eFood
Before jumping into the business model of eFood or understanding how it works, we should know what eFood exactly is?
eFood is one of the most popular online food delivery companies based in Greece that enables consumers to order food, grocery, wine, and fresh meat from restaurants and stores in close proximity to them. Customers can order products through their website or a mobile app that is available on Android and iOS.
eFood does not cook anything or provide a dine-in facility, but they partner up with restaurants, store owners, wine retailers, and butchers in the cities they operate in. Users can place orders online and get them delivered in no time.
Year of Establishment: 2011
Founders: Constantinos Kyrkinis
Headquarter: Attiki, Greece
Industries: online delivery service
Type of Business: Private
Acquisition: Acquired by Delivery Hero in 2015
How Does eFood Work
Like eFood, many online food delivery apps in the market follow the same business model and make huge revenue. Online food delivery business is trending these days; there are many entrepreneurs that are looking to launch a business by deploying apps like eFood to maximize its revenue.
eFood is a simple application for all users who want to obtain food and other products at their home. Here are simple steps to follow,
Step-1 Browse Products and Select
This is the first step that makes it feasible for users to browse and choose products from the app. Users can select any product from the given options that they want to be delivered.
Step-2 Make Payment
Once the products have been added, users have to make a payment from the given options.
Step-3 Order Tracking
The prepared package is picked from restaurants or stores by the delivery provider, and users can track this whole process along with the expected delivery time.
Step-4 Delivery
Once delivery providers reach the consumer's location, they can deliver the same package to them. Customers can share feedback and give ratings based on the services.
eFood Business Model: Everything You Should Know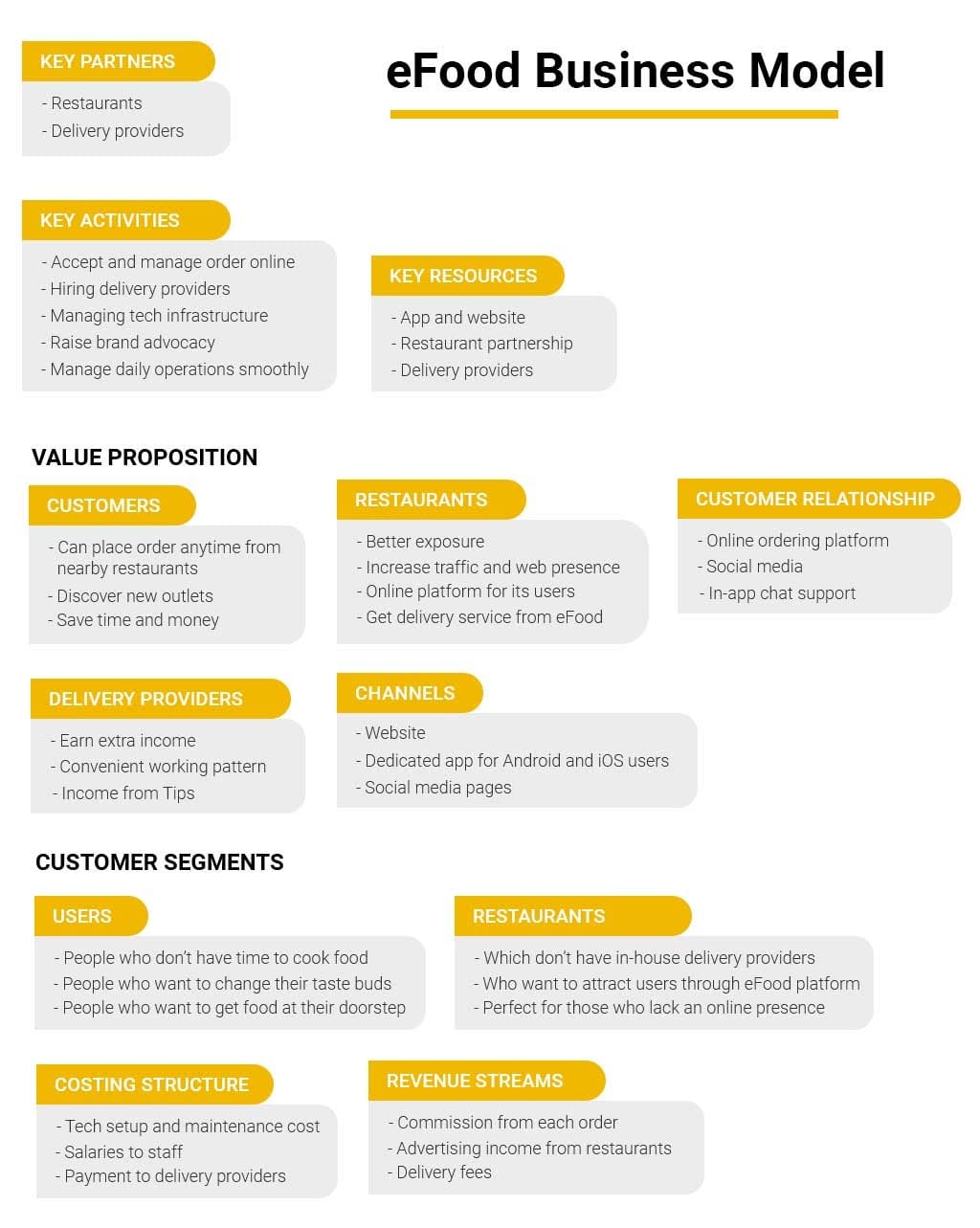 eFood delivery app focuses on the three major segments of the business while keeping all three on the same line.
The users
The restaurants and store owners
The delivery providers
Here is how eFood benefits its segments.
For Users
Users can place an order for food, grocery, wine from the extensive range of products.
Users can track their orders and contact delivery providers
Easy and quick solution for doorstep delivery.
For Restaurants and Store Owners
Strong customer base
A cost-effective way of marketing
No extra cost to pay for delivery as this business model providers its own providers.
Great way to build brand reputation
For Delivery Providers
Flexible working hours
A passive income option
Earn through tips also
Revenue Model On Which eFood Works
We have understood eFood's business model and its working principles. Now you might have a blurry idea of how this online delivery app makes money. Here we are going to reveal its revenue sources. Let's get started.
Commission
eFood usually gets commission from the restaurants and store owners chosen by the customers. eFood gets a certain amount of commission income from each order.
Advertisement
Another important source of income for the app like eFood includes advertisements. If you are new to the online delivery market and want to promote your restaurant or store, this is a great place. Restaurants or stores get a chance to place on the top for a limited period of time.
Delivery Fee
certain amount of fees is charged based on delivery location. Rates can be decided based on distance.
bove are the primary revenue sources for eFood that have helped them to achieve business goals and expand
Why Should Restaurants Invest in App Like eFood?
The online food delivery market is booming and there will be no downturn in near future due to the ongoing pandemic situation and people's inclination towards comfort. Besides, restaurants also want to embrace technology solutions that make it easy for them to oversee multiple operations at the same time.
Keeping in mind people's increasing inclination towards online ordering, more and more restaurant owners want to have an app similar to eFood that allows customers to place, manage and track online orders at their fingertips. Moreover, restaurants also can digitize their business and drive more revenue.
eFood clone app helps to make restaurant owner's lives easier, and so they are taking advantage of it. Along with that, they will also avail some kinds of premium benefits,
Reduce the cost of commission
Increase customer engagement
Personalized channel for your business
Build brand awareness
Gives an edge over the competition
There are many applications running in the market but if you want to develop your own custom app like eFood, contact us, we will help your business grow rapidly.
How Much Does It Cost To Develop An eFood Clone Script
Online food delivery service is gaining a lot of popularity across the globe as it enables restaurants to expand their business reach. Multiple factors come into the picture while calculating the app development cost, such as:
Platform selection
Think of features
App designing
Functionalities, etc.
To help you implement your online food delivery app – eFood clone, Elluminati will launch your business online and give your users ease and convenience. If you are looking for a customizable solution, it will take considerable time to develop, design, test, and launch.
Key Takeaway
Nowadays, online food delivery apps are booming in the market as it is beneficial for both customers and restaurant owners. In order to develop an app like eFood, contact us today, our modern solutions definitely reap you many business benefits.