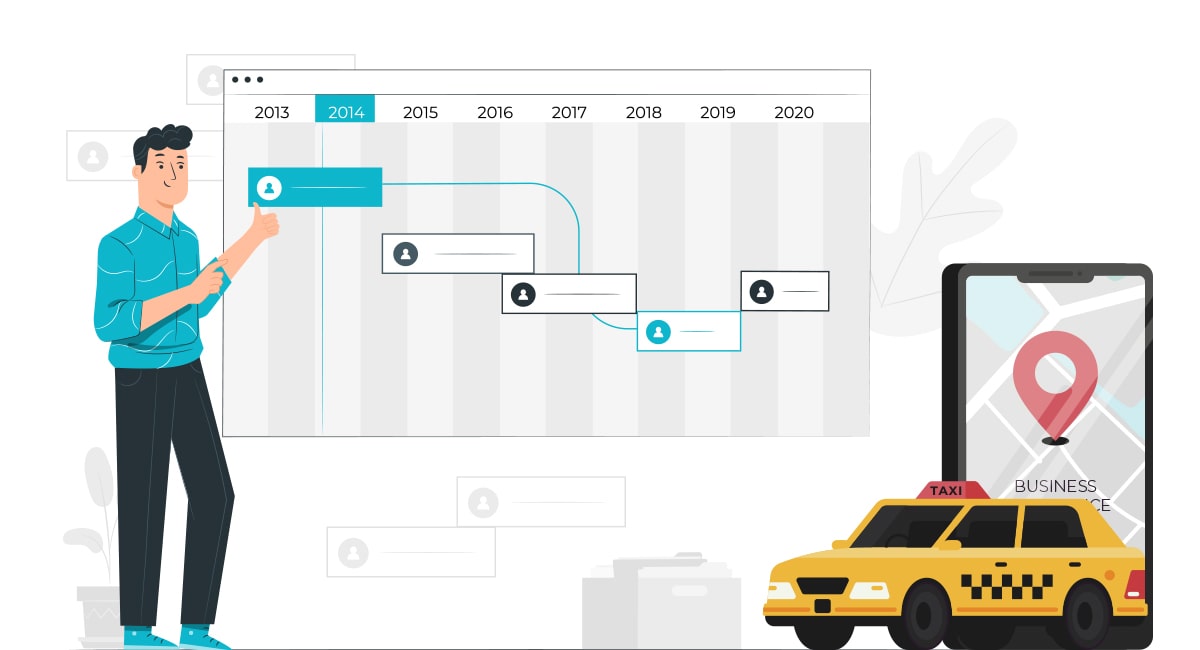 How uber started? What it went through and what will he be doing in coming days?
What's next: Uber continues to struggle with legal battles but it remains the highest-valued startup in the world ($70bn). It continues to expand in other parts of the world, developing driverless cars, raising billions, and inspiring other entrepreneurs to have a taxi application for their business to improve standards.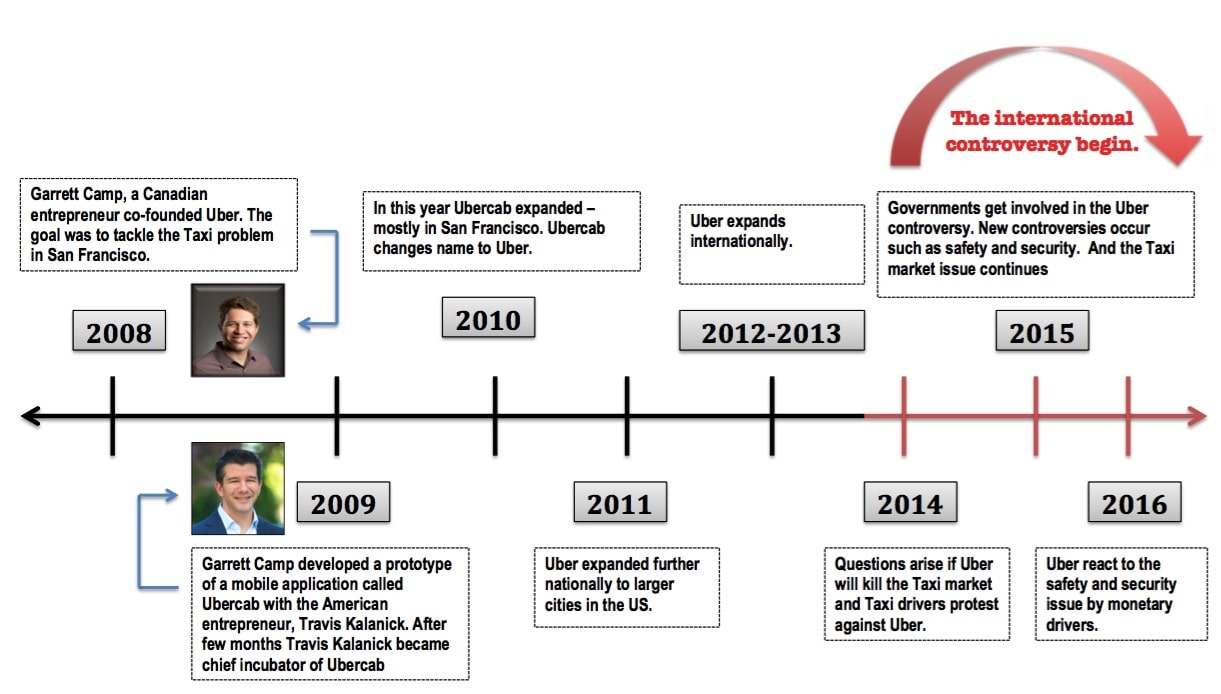 June 1998: Travis Kalanick joined search-engine startup Scour which got its first investment.
October 2000: After being sued by many entertainment companies for copyright infringement, Scour filed bankruptcy.
2001: Travis started RedSwoosh for revenge with 33 litigants.
April 2007: Travis sold RedSwoosh to Akamai for $23mn & became millionaire.
December 2008: At LeWeb technology conference, Travis first heard idea for Uber and appreciate it as way-to-lower-cost-of-black-car-service-using-phone.
March 2009: UberCab, black-car service, was founded by Garrett Camp, Oscar Salazar & Conrad Whelan where Travis was chief adviser.
June 2010: Travis tweeted for need of entrepreneurial product using location based service to which Ryan Graves responded. Uber launched in SF. It was costly but people could request car by sending SMS and became popular soon.
October 2010: Uber closed $1.25mn first seed funding.
December 2010: Ryan Graves, CEO, stepped down in favor of Travis & Graves became GM again.
February 2011: Uber closed $11mn funding after which company was valued $60mn.
May 2011: Uber launched in NY.
December 2011: Uber expanded internationally, starting with Paris & closed $32mn funding.
July 2012: Uber launched low-cost "Uber X" project where services were 35 less expensive than original black cars.
August 2012: Lyft, Uber's main competitor, launched in SF.
August 2013: Uber moved into India & Africa & closed $258mn funding from Google Ventures which valued Uber at $3.76bn.
April 2014: Uber started UberRUSH service, which brought bicycle delivery in Manhattan.
July 2014: Uber entered China after $1.2bn funding (17bn valuation). Today 5 out of Uber's 10 largest cities are in China.
August 2014: Uber started UberPOOL service, which is ride sharing concept.
December 2014: Uber raised $600mn from Baidu. Baidu's mobile-search & maps apps began to integrate with Uber.
January 2015: Uber launched UberCARGO in Hong Kong, service to include all delivery needs, stepping to become logistics company.
March 2015: Uber acquired mapping startup deCarta to decrease its dependency on Google Maps.
April 2015: Uber launched UberEATS, The service starts in 4 pilot cities. Now, it's available in 23 markets in the U.S.
May 2015: Uber hired 40+ employees for robotics-research facility to build self-driving cars.
June 2015:In France, violent protests erupted. After SF driver filed a claim against Uber, the California Labor Commission ruled that Uber drivers are employees, not contractors. This questioned Uber's underlying business model and now they are working on it.
September 2015: Uber's raised $1.2bn for its fight in China market. Uber's biggest competitor, Didi Kuaidi, responded by raising $3bn.
October 2015: Uber launched UberRUSH program.
January 2016: Uber raised another $2bn in private equity funding for international expansion plans.
February 2016: Uber got $200mn investment from Russian Mikhail Fridman & agreed to pay $28.5mn to 25mn riders to settle class-action lawsuit surrounding its advertisements.
May 2016: Uber and Lyft both exited Austin, as city wanted fingerprint checks for drivers. Uber and Toyota signed MoU to explore how two companies could work together.
June 2016: Uber raised $3.5bn from the Saudi Arabia Public Investment Fund. Travis said that Uber was profitable in many cities globally, but that money was reinvested in its fight against Chinese player Didi.
July 2016: Uber got another $1.15bn as leveraged loan with low interest rates. Uber was forced to pull out of the Hungary followed by months of protests by taxi drivers. Uber announced that it completed 2bn trip, just 6 months after reaching 1bn rides. A federal judge ruled that Uber engaged in criminal conduct as it used investigative firm to conduct background check on plaintiff in lawsuit. The Chinese government legalized ride-hailing, letting Uber and Didi to continue their battle.
Aug 2016: Uber got merged with Didi, his Chinese rival for which he was losing $1bn each year in fight.
Sep 2016: Uber launched self-driving car on Pittsburgh as pilot project.
What's next: Uber continues to struggle with legal battles but it remains the highest-valued startup in the world ($70bn). It continues to expand in other part of world & develop driverless car, & raise billions.
If you want to jump into the taxi industry, the robust taxi-hailing platform is all set to strengthen your business, developed by Elluminati.