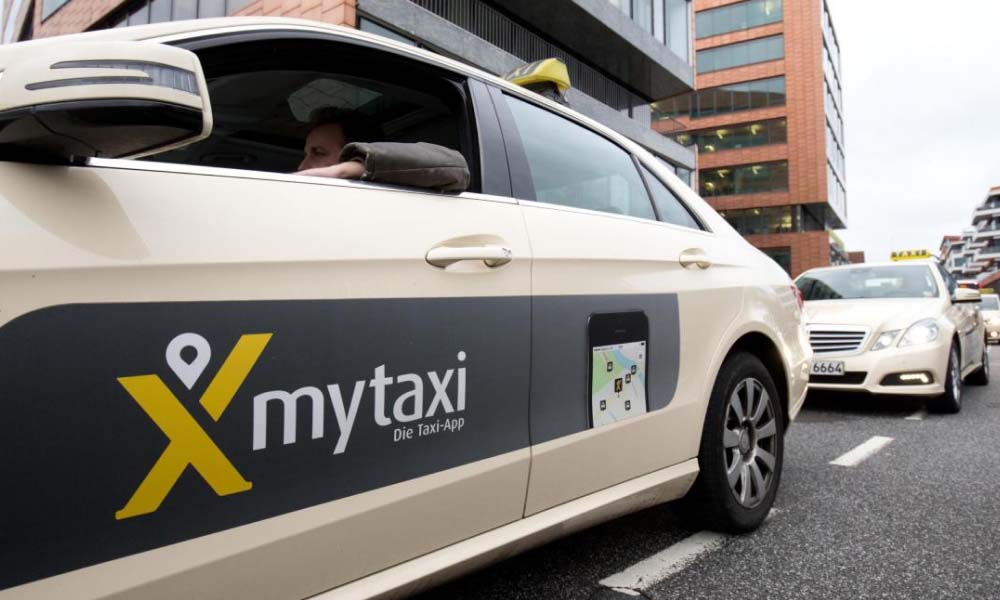 Modern technology solutions have given us opportunities to revamp and transform our existing business models. Earlier, it wasn't easy to get a taxi on time, but online taxi booking apps have made it easy for passengers to roam around the city at their convenience. The on-demand taxi booking market is proliferating across the globe, and the European taxi market is not behind in the race. After witnessing the major success of apps like My Taxi, Uber. etc., many aspiring entrepreneurs want to have an advanced My Taxi clone app solution for their business. But what is My Taxi, how my taxi works, and what kind of business and revenue model it follows that made it successful in the European market. Let's discuss this in detail.
With a constantly changing business environment and customer demands, it is imperative for transportation business owners to revamp their existing business models and what kind of strategies help them attract modern customers.
Moreover, conventional taxi business owners can boost revenue by renting their taxis and expanding business operations. My Taxi has been one of the fastest-growing online taxi companies in Germany. It has captured more than 35% of the total market in the UK to date. So let's dig in detail what business model My Taxi follows and what sort of advantages My Taxi clone brings to your transitional taxi business.
What is My Taxi?
Located in Hamburg, Germany, My Taxi is an online ride-hailing app (now known as FREE NOW) that allows customers to book taxi, pay-in app quickly and complete trip safely with real-time tracking.
My Taxi Founders, Funding and Facts
Founders: Niclaus Mewes and Sven Kulper
Established In: 2009
Headquarter: Hamburg, Germany
Area covered: Germany. UK, Ireland, Spain, Poland, Sweden, Austria
Service: Vehicle for hire
Owner: BMW Group and Daimler AG
Number of Employees: more than 700
Number of drivers: 14000
Started and operated in Germany for the first two years, the app was launched in 2011 in Vienna. Later, they expanded its market, and in the year 2014, My Taxi partnered with Daimler Mobility Service, one of the popular car manufacturers across the globe.

Hailo is another popular ride-hailing app in the UK, and My Taxi merged its operations in 2016 with them. This merger leads to major success for both companies. Today, My Taxi operates across Europe in more than 100 cities, and 1,00,000 drivers are associated with it.

In July 2019, My Taxi was renamed FREE NOW and operates in more than 100 European cities, including Dublin, Paris, Milan, and London.

Currently, in 2021, FREE NOW (formerly known as My Taxi) received €6 million funds from B-type investors, and now, walking on the path of Tesla, yes, they are trying to switch to electric vehicles.
How Does My Taxi Work?
My Taxi follows a simple workflow and enables passengers to book rides in less than five minutes. Before we get technical and discuss its business and revenue model, let's have a brief look at how it works.
Customers need to follow five simple steps, so let's examine how an app like My Taxi works,
After login or signup, passengers need to enter a destination. Based on distance and vehicle type, users can observe the total trip fare.
Confirm the pickup and drop location, data, and book a cab near you.
The driver will receive a notification about the new trip with the customer's location and contact details. However, they can accept or reject requests based on their availability.
Customers are asked to make payments. They can either pay with cash or online once the ride gets complete.
Based on overall service and driver's behavior, users and drivers can rate the service and submit feedback.
Business Model of My Taxi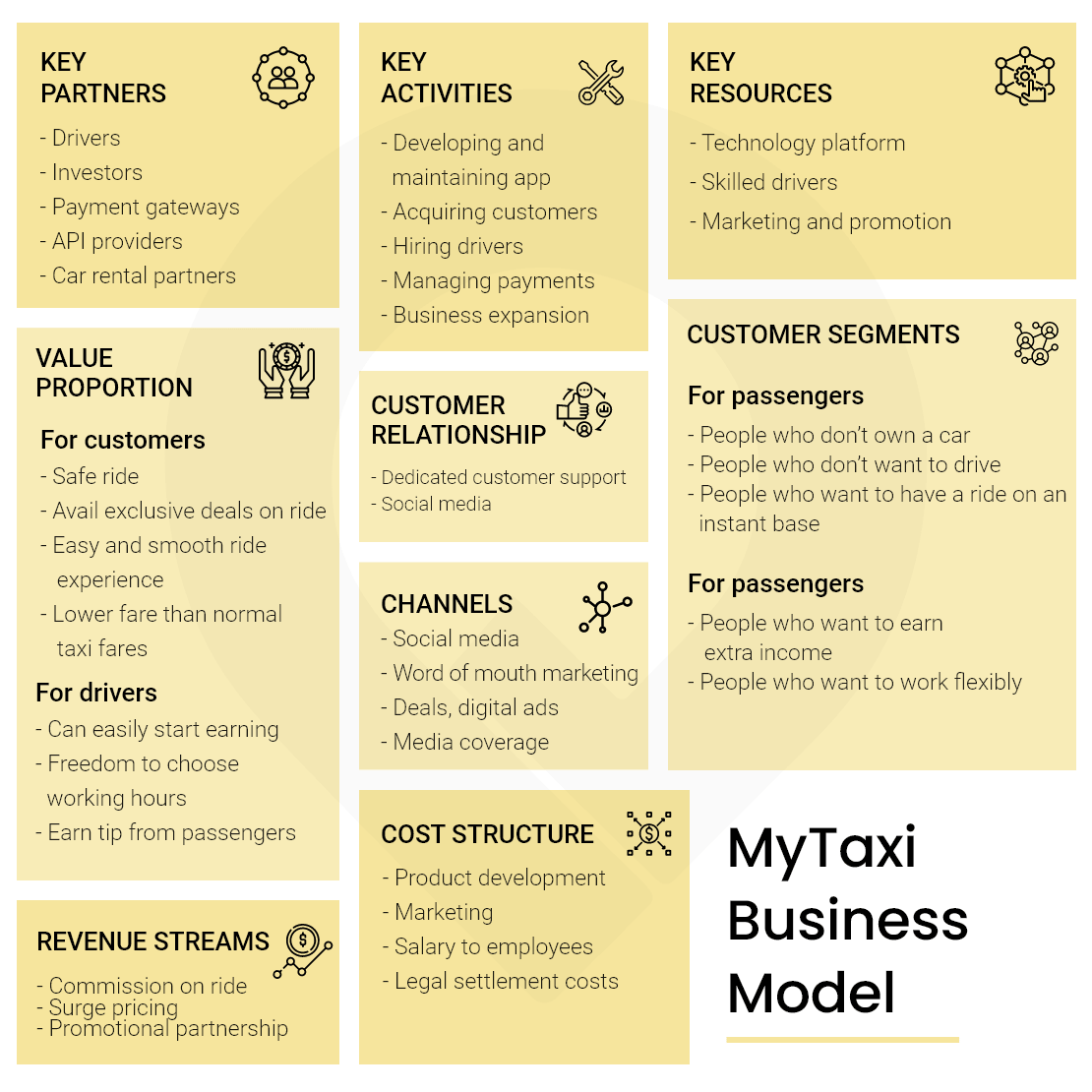 My Taxi has a two-sided marketplace business model. There are two basic sides of My Taxi business model. Drivers and passengers. The company allows its drivers to work flexibly. All they need to upload the necessary documents to start the service.
And second is passengers. My Taxi allows users to book a taxi at their convenience; all they need to enter location details to avail its service. The app also provides the estimated fair details to users, and they can also track the driver's status in real-time.
Value Proposition
My Taxi offers attractive value to drivers and passengers.
For Passengers:
Customers no longer need to wait for a taxi; the app connects nearby drivers to customers.

Customers can avail of exclusive deals on rides.

Customers can also share rides with other passengers who want to travel on the same route.

The estimated fare is less than traditional taxi fares.
For Drivers:
Drivers can earn extra income.

Flexible working hours. Drivers can go idle anytime and come online as per their wish.

Simple payment process. My Taxi pays a certain percentage of commission to drivers.
How Does My Taxi Make Money?
My Taxi is a basically taxi aggregator company that connects passengers who need a ride with nearby drivers who want to offer their service. My Taxi's major revenue source is commission earned from the ride. Let's go deeper and analyze its major sources of revenue.
Commission: This is the major revenue source, each time when a user books a ride, around 70% of income goes to the driver while the company keeps 20 to 30% of revenue per ride.
Surge Pricing: Companies can increase the rides amid rush hours. This helps brands to generate additional income and make better profits on special occasions.
Cancellation Fees: If any passenger cancels the ride after booking it due to some reason, they need to pay cancellation fees.
Brand Partnership and Advertising: Since My Taxi enjoys a large customer base within the UK, it helps other businesses to advertise their products and services. The company charges them and enables them to generate additional income.
How App Similar To FreeNow Help You Become Ace In The European Market
Waiting for a cab on a public road has become an obsolete norm because online taxi apps have indeed changed the way we commute. Today, customers use online taxi apps to find the nearest taxi and book with a few clicks. It offers the utmost convenience to passengers as they can track the driver's status and make payments online or offline. Increasing penetration of smartphones in daily lives forcing entrepreneurs to have mobility solutions for their business.
If you are running a traditional taxi business and looking for growth opportunities, you should consider investing in the Eber solution as it offers several benefits and allows you to become an integral part of the digital business landscape.
Enhance visibility

Engage more customers

Build brand awareness

Edge over competition

Higher profits
In order to establish a firm identity in this highly volatile business market, you need to adopt modern technology solutions as it will not only automate your business but allow you to operate your business more efficiently. An app like FREE NOW provides your transportation business many benefits as it fulfills the rising needs of modern customers. So if you have not embraced digital technology solutions to your taxi business, you are losing a huge chunk of revenue and customer base.
Know The Cost Of Developing My Taxi Clone App
More business owners now want to automate their business by developing My Taxi clone and harnessing the power of modern technology solutions. Now you must be wondering about the cost of development. The cost of building an app like My Taxi depends on the features and functionalities you want to integrate into the app. If you want to add more features, the cost will rise according to that. Moreover, it also depends on the location of the development firm.
You can either go with custom app development or invest in readymade solutions, choose the best that fulfills your business requirements.
If you want to know the accurate cost of development, get in touch with an experienced and skilled on-demand app development company that can help you build the next big thing with smart solutions.
FreeNow Clone Can Give Your Taxi Business a Greater Exposure
It is imperative to implement modern technology solutions in your transportation business. Well-known apps like Uber, Ola, Lyft, Gett, etc., have made their name in the online taxi market. If you really want to thrive your business operations and survive in this highly saturated market, get started with the My Taxi clone app and take the first step towards success.
If you are new to the online transportation industry and have no clue about technological aspects, drop us a line, and we won't think twice to assist you.