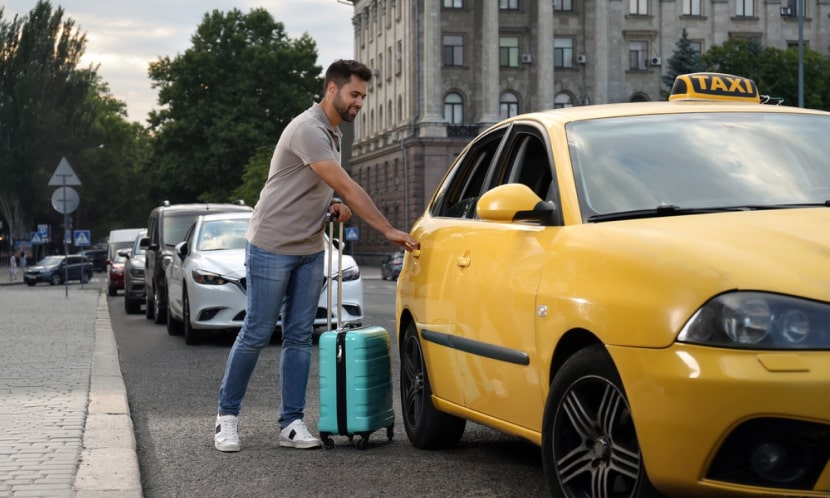 If you belong to a metropolitan city, you probably have some form of online taxi booking service within your local area or neighborhood. Further, technological innovations and people's busy lifestyles have been pushing this sector further, and now the online taxi business market is thriving across the globe. Whether we talk about Asian countries or western countries such as the USA and Europe, the online ride-hailing market is blooming. In this article, we will reveal the ins and outs of one of the prominent and successful ride-hailing apps, Bolt. We will also discuss the business structure of Bolt and how it is inspiring other entrepreneurs to invest in the bolt app clone for taxi business as it enables them to stand strong in this irresistible and competitive business world.
Digitization has compelled entrepreneurs to transform their existing business as it is the key to earning handsome profits and survival in a saturated business world. Uber and Lyft's success in their respective region has rooted the seeds for industry, and now it is forecasted to surpass the market size of $218 billion by 2025.
Therefore, more and more fleet business owners are walking on the same path and embracing Bolt clone script with custom features that automate business and enable entrepreneurs to get attractive yields on their investments. Now before discussing the perks of having a Bolt clone app, let's discuss what makes Bolt an industry giant in the European market.
What is Bolt Clone
Bolt clone is a mobile app solution that comes with all the advanced features of the popular Bolt taxi app. An app like Bolt clone allows enterprises to digitize their business quickly at a cost-effective price. Bolt has proved its business success in the European market with its innovative business model.
What is Bolt?
Bolt is an Estonian mobility platform that connects riders and drivers easily and allows them to search and book taxi services in Europe, Africa, Asia, South and North America. From tracking drivers in real-time to secure payment options to access different vehicles, a brand makes it easy for passengers to book a ride at their fingertips.
The Beginning, Funding, and Much More
Bolt is an Estonian mobility platform that connects riders and drivers easily and allows them to search and book taxi services in Europe, Africa, Asia, South, and North America. From tracking drivers in real-time to secure payment options to access different vehicles, a brand makes it easy for passengers to book a ride at their fingertips.
Brand Name: Bolt Technology OU
Formerly Known as: mTakso, Taxify
Industry: Transportation Network Company
Founder: Markus Villing, Martin Villing, Oliver Leisalu
Founded In: 1st, August 2013
Headquarter: Tallinn, Estonia
Operates In: 40 countries across Europe, Africa, Latin America, Asia, and the Middle East
Revenue: €150 million (2019)
Company Timeline
At the time of its inception, Bolt was known as mTakso. The company was founded in 2013 but started its operation in 2014.
In 2017, Taxify started its service in London and later in Paris and Lisbon.
In 2018, the company had gained enough profit, announced its expansion into dockless electric scooters, and started its service in Paris under its brand name. This service has become quite popular where riders can hire vehicles, but this service has faced several roadblocks in Germany and Spain.
Due to its immense growth and strategic planning, the company was ranked third fastest-growing company in Europe, according to the Financial Times.
Recently in 2021, they launched a car-sharing service called Bolt Drive.
Funding History
Before declaring the partnership with Didi Chuxing, Bolt raised €2 million in investment capital from local angel investors residing in Estonia.

In 2018, the brand received another huge funding of a whopping amount of $175 million from Dailmer, Didi, and other angel investors.

In 2020, Bolt received another funding of €150 million from venture capital funds.

In March 2021, Bolt raised €20 million from IFC, a World Bank Group member, and right now, the company's valuation is on an average €2 billion after this funding round.
Achieved Milestones
Since its launch, the company has continually attracted customers due to its unique service and features.

This is the first ride-hailing app that allows customers to pay for their rides via mobile carrier billing.

Perhaps, Bolt is larger than Uber in Africa.

In 2018, it reached 10 million active customers.

Recently, they launched a car-sharing service called Bolt Drive.
How Does Bolt Work?
Modern feature integration and the app's user-friendly interface have made it easy for passengers to search and book a ride within a couple of clicks. Here we will go through how the Bolt app works from the passenger's point of view.
Using the dedicated app or website, customers can set the current destination

From the extensive range of vehicles, riders can choose the car type, enter pax and request a car to pick up

After booking the ride, customers can track the driver's real-time location and coordinate with them if necessary.

The driver will pick up riders from the destination and drop them at the entered location.

Customers are asked to make payments and rate the service based on their overall experience.
Disclaimer: The company always prioritizes customer's safety, and hence before hiring the drivers, Bolt has always undergone a criminal background check and driving training. Drivers should be 21 years old and have a legal license of at least three years. The company also has launched a zero-tolerance policy against drug and alcohol consumption.
Business Model of Bolt- Ins- Outs of Its Impressive Revenue Model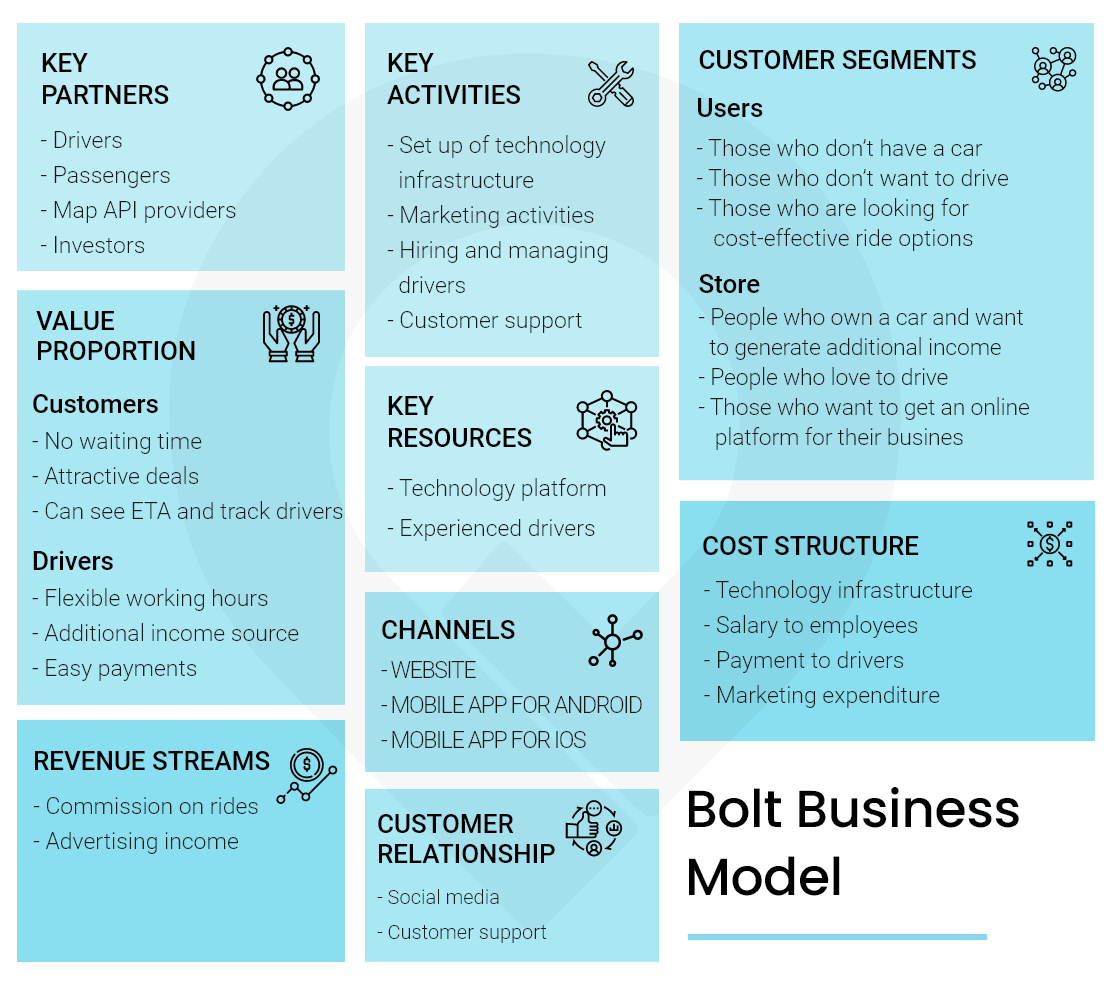 Bolt is a unicorn in the European market because of its exceptional service that no other ride-hailing company offers. So let's see how it keeps connected users and drivers and what value proposition it offers to both of them for seamless service.
Value Proposition for Users
Performing a couple of steps and a cab on your doorsteps.

Customers can also avail free rides and attractive deals on special occasions.

Customers can also share the ride with other passengers

Cab charges are affordable and the best alternative for people who lack private vehicles.
Value Proposition for Drivers
Flexible working time and attractive pay scale

Drivers also receive money in the form of a tip from happy customers.

Fleet business owners who have cars but lack an online platform, partnering with Bolt ensures business growth and profitability.

Strong customer base
Bolt Revenue Generation Model – How Does It Make Money
If you are new to the online taxi booking business and want to know how Bolt makes money? Here are a few insights.
Commission: For each ride-booking made by customers on this platform, the company charges a commission from drivers. This is the major revenue source of the company. However, the commission rate differs from nation to nation.
Advertising Income: Due to its immense popularity in the European market, the company has a substantial user base; hence it earns huge money from advertising too.
How Does Bolt Clone App Offer Unmatched Benefits to Your Fleet Business
Increased usage of smartphones and technological advancements have pushed all the boundaries and forced entrepreneurs to automate their business as soon as possible. Moreover, ride-hailing standards also keep evolving due to the pandemic; these days, they prefer quick and safe solutions to their everyday tasks, and booking a taxi at their fingertips is one of the most important tasks.
Traffic conjugation and scarcity of timing are other strong reasons that encourage a person to book a taxi instead of waiting for the same on public spots. Hence, more and more entrepreneurs are dreaming of creating a name in the taxi market, and for that, they invest in a Bolt clone script that will quickly change the traditional taxi business and solve the burning issues of modern customers.
It is really fascinating to watch how smartphones are changing the lifestyle of people, business owners across the globe taking advantage of this mindset and changing their business standards to obtain the below-mentioned benefits,
An easier way to book a cab

Bring automation in business

Give an edge over the competition

Better ROI on investments

Brand recognition

Improve service
Leveraging the above benefits won't cost you much, contact us right now, and we will bless your business idea with a custom app like Bolt.
How Much Does It Cost to Build an App Similar To Bolt?
We all know that online taxi booking apps such as Bolt rides have established their reputation in the market. If you are one of those entrepreneurs who want to sail on the same boat by having an app similar to Bolt, they must wonder how much it costs. Is it a costlier affair or cost-effective?
Well, the cost of building an app like Bolt depends on diverse factors such as
App features

App designing

App platform

And development firm location
If you want to integrate all modern features that satisfy your business requirement, development costs will increase. If you are new to online business and looking for the best solution, contact an experienced on-demand app development company that understands your requirement and offers solutions that help you gain some spotlight in the emerging online market.
Achieve Taxi Business Growth Amid Stiff Competition With Bolt Clone Script
The future of online taxi booking apps is quite promising because people are looking for options that offer the utmost comfort. Embrace the Bolt clone script and get yourself separated from the competition.