Rise of Super Apps: What is It and Importance of It In Modern Technology World
In today's era, smartphones are filled with so many apps. As per the report, every smartphone user uses more than thirty apps monthly to fulfill their tasks. These apps include utility apps to entertainment apps to shopping to traveling to social media and whatnot. To get rid of this, tech companies are influenced by the concept of super apps as it improves user experience and offers all digital services under one roof.
There are billions of people using smartphones, and all are using apps based on their interests and requirements. Moreover, brands are developing mobile apps in order to stay connected with their users. Mobile apps are being used on smartphones; it can be accessed on tablets tool means your business can target billions of users through a single app.
As we have stated earlier, there are millions of different apps.
If you want to book a hotel- open the travel app
Want to order food?- open food delivery app
Want to transfer money?- open finance app
Want to buy clothes?- open an online shopping app
It means you need multiple apps to fulfill your needs. To get rid of this issue, a model came into the market that centralizes all these services in a single app that is called Super Apps.
What is Super Apps
The term "super app" was introduced by BlackBerry founder Mike Lazaridis in the year 2010.
Super apps combine multiple apps and bring them onto one platform. Users can chat, order food, book tickets, transfer money, do shopping, order groceries, and pay the electricity bill without installing a separate app for each task. The user could perform all these tasks in a single app that is a Super app.
No doubt, super apps are beneficial to users and make life much simpler and easier. This is why business owners are bringing multiple services together under one app for the digital ecosystem, as it offers multiple benefits to users and brands in the long run.
Super Apps: Covering all Services Under One Roof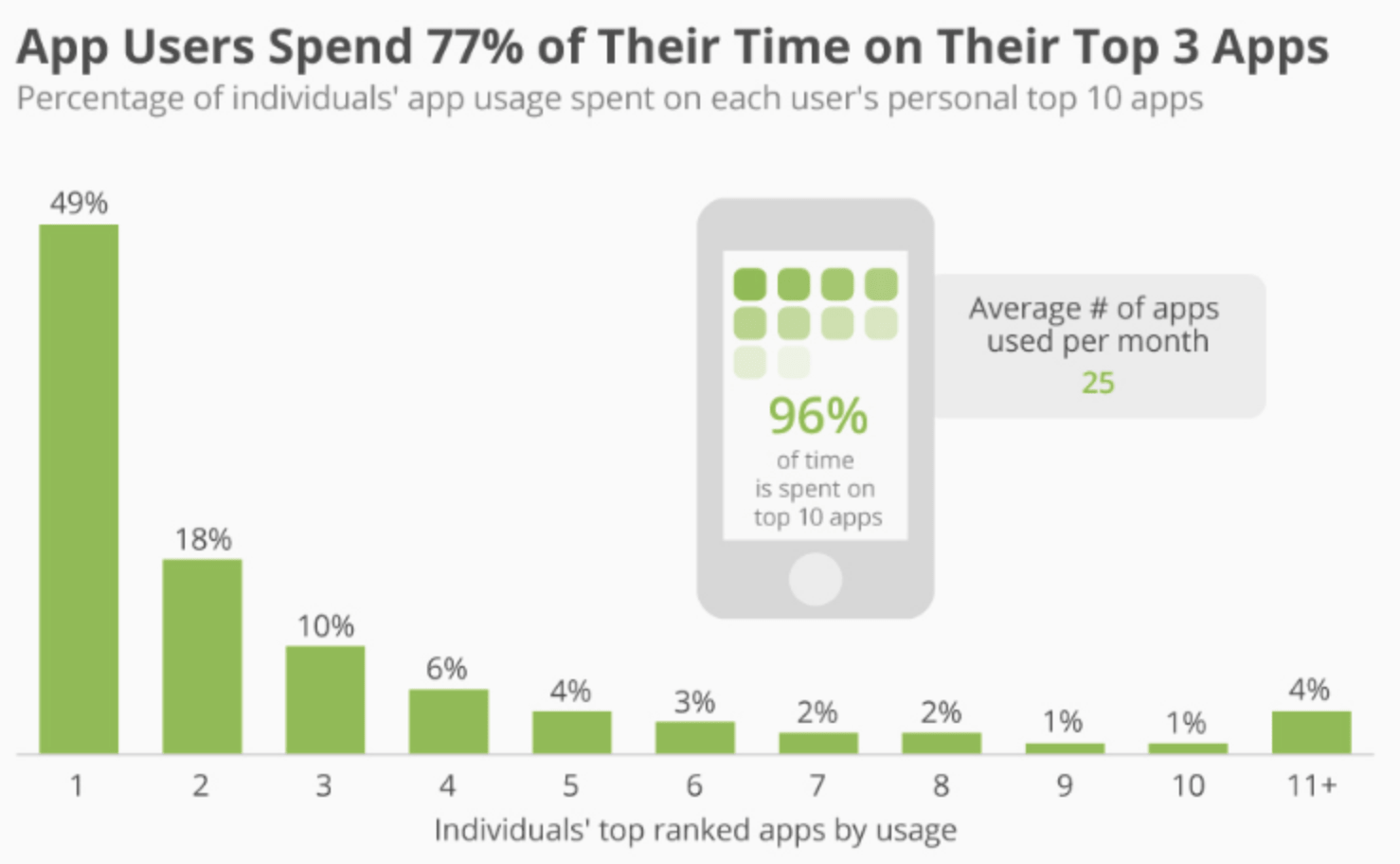 The above image gives us a clear view of how super apps are becoming an integral part of our daily lives. Users don't want to download a separate app for each task. They demand a single app that fulfills multiple tasks in a single click. (source)
The super app concept is now new, especially in Southeast Asian countries; supers apps typically include all kinds of services such as food and grocery delivery, baking services, entertainment, travel-related services, and much more.
In ASEAN countries, super apps such as WeChat, Grab, and GoJek provide multiple services and become part of consumers' daily mobile interactions. In June 2020, Splyt raised more than $19.5 million from Softbank to develop a super app.
With each new service or product, super apps make their way into our regular life and get more attention as users don't need to switch apps to fulfill certain tasks. One of the advantages that super apps offer is that a wide range of services are offered under a single roof, and people find it comfortable that all the services are covered in a single app.
Furthermore, if you are a business owner and want to add service to your existing app, you don't need to spend huge money on marketing. When you add a new utility to your app, you also don't need to spend time on promotional activities. All you need to push an update over the air as you already have a strong customer base.
Apart from this, super apps offer plenty of advantages to users such as
Convenience
It offers an extensive range of services
Seamless user experience
It saves phone memory and data storage
Retailers can easily acquire users and get access to the market.
The main motto behind introducing super apps is to deliver an experience that fosters a strong relationship with consumers while enabling a great digital shift. Moreover, super apps help you save phone space without having a lot of other apps; users will be very loyal to a user-friendly app, offer good service, and allow them to fulfill multiple tasks.
WeChat and Grab are becoming important parts of life where we can chat with friends, order food, transfer money, book tickets all in one place.
Rise Of Super Apps: Shaping the Future of Finance
Earlier, banks and financial institutions were the only way to make payments and deposits. But with the introduction of the term "FinTech," things have been changed drastically as now users can transfer and deposit money from anywhere. Users have multiple apps to make payments on their smartphones.
Advanced technology and digitalization factors also play a pivotal role as these are the reasons behind multiple facts of a modern user's lifestyle. Users' social, retail, and financial services are now seamlessly merged into a single app, and they are now demanding.
"Single digital utility platform" from chatting to social media to eCommerce to transportation.
Follow the Simple Technology Strategy
Ant Financial (earlier known as Alipay), a well-known super app from China now valued at $150 billion. They have admitted that their success is built on five advanced technologies such as:
Blockchain
Artificial Intelligence
Machine Learning
IoT
Cloud computing
Embracing the above technologies into the banking and financial sector, Ant Financial now can offer multiple services to its users such as business loans, wealth management services, credit score, insurance services, balance services, and biometric ID services.
What is the best part of it? Well, users don't need to switch apps and visit several websites to accomplish certain tasks. On the other hand, blockchain technology has also emerged as the winning card that banking and technology companies are using as blockchain technology promises that the technology could radically lower the operational cost and manage huge volumes of data securely.
In short, the super app is a concept that is unique from traditional banking services and redefines the user experience. Whenever the user wants to use a new baking service, they no longer need to search for a separate app. In the super app, all the banking related services are covered that reduce the phone memory and organize the services in the same interface and deliver a seamless user experience.
Best 5 Super Apps Which Stunned The Digital World
A recent KPMG report stated that one of the major driving forces for the growing popularity of super apps is consumers' shifted behavior and preferences. Consumers are now looking for instant solutions that save their time and money.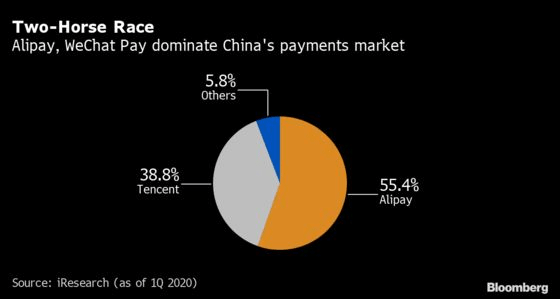 The above pie chart shows how Alipay and WeChat are competing with each other. No doubt, Western countries are still at the infant level, but ASEAN countries such as China, India, Japan have developed super apps that have set milestones across the globe. Here we will discuss several popular super apps that have reshaped the modern world and enable a multifaceted experience for the users. (source)
WeChat
WeChat was introduced in 2011 as a messaging app like any other. But within a decade, it has gained immersive popularity by offering multiple services to its users. Today, it hosts around 1 million mini-programs that enable users to do many activities such as booking a cab, ordering food, making payments, and much more. The best part is that all those transactions are performed within the one app.
Today, it is one of China's popular apps, and people coming from China can't survive without this app. The monthly active users of WeChat increased by 8.2% in the first quarter of 2020.
Such diversity is still uncommon in the western market, which is why WeChat is becoming popular across the globe.
Alipay
Once a small department of Taobao (Alibaba's eCommerce platform), Alipay is now popular and one of the widely-used payment applications in China. Alipay is WeChat's closest competitor; they are also known as Digital Twins of the Chinese market.
Alipay also offers multiple services and boasts over 1.3 billion users as of March 2020. From offering payment services to book movie tickets to book a cab and order online food, Alipay is the largest online platform globally.
Gojek
Formerly the ride-hailing app, which was established in Indonesia, now offers multiple services and operates in more than 23 countries. Various sorts of online services, such as online food ordering, grocery ordering, ride-hailing, housekeeping services, and many more. Many entrepreneurs get inspired by the Gojek business model and integrate multiple services into their existing ordering system. Currently, entrepreneurs can look forward to developing an app like Gojek, a revelation for initiating the multiple services business anywhere in the world. A jaw-dropping fact about Gojek is that it is currently valued at about $5 billion as it has expanded its market and services across all the regions. This could be the future of any of the businesses that initiate now with similar aspects.
Amazon
Amazon is not behind in the race and showed its ambition to launch a super app. Being a well-known eCommerce giant, Amazon now offers multiple services such as Amazon Pay, Amazon Pantry, Amazon Prime (entertainment services), and more. Amazon is all set to unite all services in one app.
Grab
Grab is one of the popular ride-hailing companies, founded in Malaysia. It allows users to book a cab as per their preferences. Along with the transport service, Grab's super app also offers an extensive range of services such as groceries, digital payment services, delivery services, video streaming, and many more. With 2.8 million drivers, Grab has made its way into the ASEAN market as it offers everything to its users without any hassle.
Why Your Conventional Business Needs Super App
From the above discussion, we can admit that conventional businesses can leverage super apps as it offers multiple services to users. It is evident that super app development makes sense in today's digital world, especially for entrepreneurs that already have a strong customer base and want to expand their services.
Here you can also consider the example of a well-known food delivery company, Zomato, that has quickly adapted the grocery delivery model amid the Corona pandemic.
Right now, the major question for the enterprises is how to move quickly enough to meet consumers' needs before someone else does.