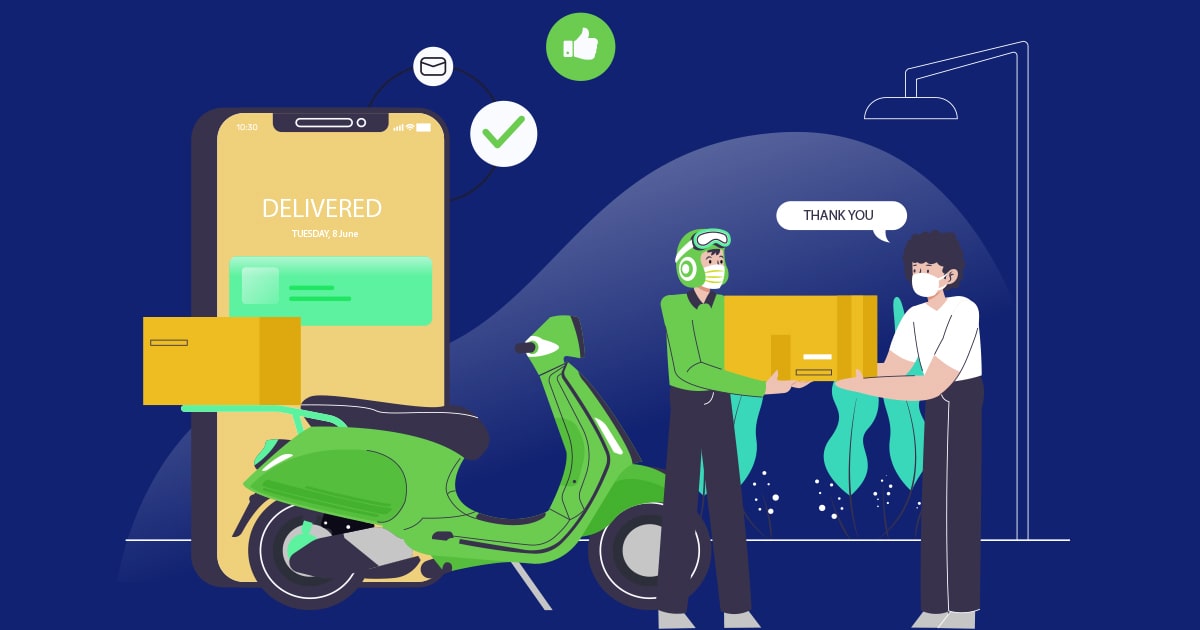 Today, the online food delivery business is trending across the globe, and the UK is no exception. Online food ordering has been soaring all across the UK. Due to a hectic lifestyle, more and more people prefer to order food online as it ensures comfort and allows them to enjoy a delicious meal at their doorstep. Here we will give you detailed insights into popular food delivery apps in the UK, explore all to make the perfect choice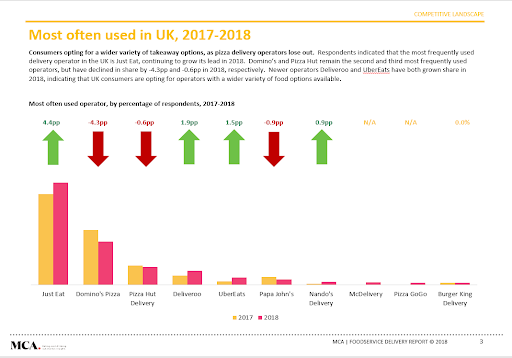 According to the recent report from Statista, the UK online food delivery market has generated $ 4869 million in 2019, and it will continue to rise at a rate of 8% by the year 2023. These days, mobile apps are essential in the growth of online food delivery business. A recent survey has stated that 25% of people have at least one food delivery app on their smartphone.
UK Food Delivery Market – An Overview
The online food delivery market is transforming the face of the local food market in the UK, more and more meal companies and restaurant owners are going online to boost sales. It is said that during the pandemic, the popular food delivery app, JustEat, has experienced massive growth in app installs, and it has the most active users in Great Britain.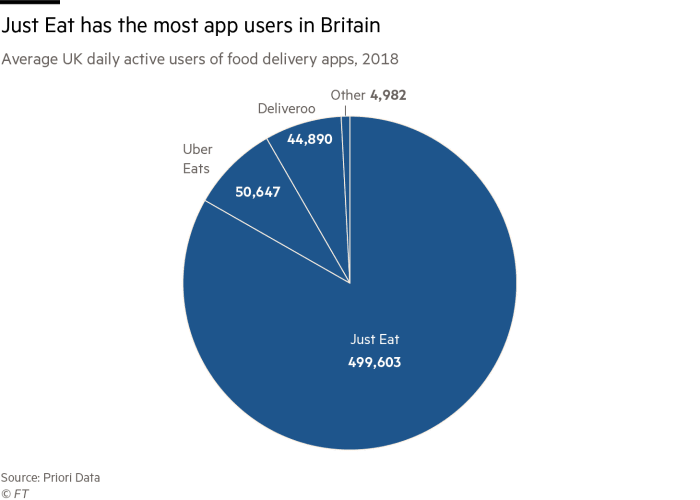 Nowadays, takeaway and doorstep delivery food sales have become a significant revenue stream for the UK food market. Credit goes to advance technology that enables users to order food online without stepping out of their homes.
In the previous year, the UK has made 7.5 billion food deliveries. The figure itself indicates that people's inclination towards online food ordering has been increasing. As per the study conducted by EPOS company, 28% of consumers in the UK ordered more meal delivery, and more than 50% of the orders were placed via online channels.
Moreover, apps like UberEats and Deliveroo have gained huge attention and become common across the UK. The shifted focus of consumers towards online ordering offers restaurant owners similar opportunities as now they can increase sales without any geolocation barrier.
Check The List Of Best 10 Food Delivery Apps In UK With Details
Ordering through mobile apps makes the process easy and offers numerous benefits to customers and restaurant owners. As we said earlier, UberEats is one of the popular online food delivery apps in the UK, but we have witnessed a number of other players in the market.
Many enthusiastic business owners are thinking of entering the online food business and developing an app like JustEat that accelerates sales and increases the customer base. This post covers the ten best and free online food ordering apps in the UK that are popular and surely deserve your attention.
JustEat
JustEat is an online food delivery platform located in London, UK, which acts as a mediator between restaurants and customers. Today, JustEat has a strong presence in 13 countries, including Brazil, Canada, Denmark, France, Italy, Mexico, Spain, and the United Kingdom.
JustEat lets users search for local restaurants to place orders online; users can choose either the pick-up or delivery options as per their requirements. In July 2020, JustEat also started its service in South and Latin America.
Between 2013-2018, JustEat has experienced an enormous peak in revenue as it generated $385.60 million in 2018. Recently, JustEat has announced that it will merge with Takeaway.com to create one of the biggest online food delivery channels.
Deliveroo
Over the last six years, the Deliveroo food delivery app has been gaining attention across the UK. It is the most successful and profitable startup unicorn. More than 10,000 UK restaurants and cafes are working with Deliveroo.
If customers want food quickly, this app is enough to fulfill your requirements. Along with the UK, it works in countries like Spain, Germany. France, Ireland, Dubai, and many more. It is constantly working on expanding its range of outlets so that users can easily place an order within the app.
Moreover, Deliveroo also used machine learning algorithms to find smart routes to deliver meals that reduce time and increase productivity. More than 45000 UK-based people use Deliveroo daily, and its revenue reached £476 million in 2018.
Hungry House
Hungry House is a British food delivery app that has been owned by JustEat in 2017. The network of more than 10,000 restaurants is quite impressive, and Hungry House delivers order through couriers by charging minimum fees. No doubt, Hungry House is relatively smaller than JustEat, but its reputation and prompt service have made a prominent place in the UK food delivery market.
Food Hub
Food Hub to be the best food delivery platform in the UK as it covers an extensive range of cuisines. It offers doorstep delivery and takeaways. You must be a wonder to know that, but Food Hub doesn't charge any commission yet offers the best deals and discounts to both customers and restaurants. It means restaurants can thrive in their business as they don't need to pay any fees like other food delivery apps.
Quiqup
If you are roaming around London and looking for the best food delivery app, then you should consider Quiqup first. It delivers food from not only restaurants but also various items from retail outlets alike. Quiqup is a popular food delivery app in the UK, but it is trying to expand its reach on the international level.
Available – Android
Talabat
Talabat is one of the popular food delivery apps in the UK. It was founded in Kuwait and works with other gulf countries such as Bahrain, Jordan, Qatar, and Saudi Arabia. Talabat has partnered with more than 5000 restaurants and coffee houses. Due to its rapid service, Talabat is still winning the hearts of the UK people.
Talabat app has gained immense popularity in London, and if you want to have a quick bite, this is the perfect app you can go for. In January 2020, the food delivery company Carriage was owned by Delivery Hero, but later it was absorbed by Talabat.
Eat Clean Me
Eat Clean Me is one of the best healthiest food delivery apps, located in Dubai, that allows users to place orders online and get it delivered at their location. If you are on a diet and looking for traditional food options, this app is perfectly designed for you. You will find an extensive range of nutritious and gluten-free food products.
It also offers healthy programs to users who want to lose weight.
Takeaway.com
Takeaway.com is a Dutch-based food delivery app that connects customers and nearby restaurants across European countries such as Austria, Belgium, France, Luxembourg, and many more. It will list restaurants and allow users to browse the menu and place orders. After placing the order, users can track it until it reaches their doorstep.
UberEats
UberEats, it is an offspring venture of the on-demand taxi service business Uber. After earning huge revenue in the taxi business, UberEats was launched with the aim to become the best food delivery app. It follows the same infrastructure just like Uber. Users can place an order online, and an Uber driver delivers it to you.
In January 2020, it was reported that UberEtas no longer worked with McDonald's in the United Kingdom and had partnered with British based delivery company, JustEat. During the pandemic, UberEats experienced a 30% hike in app downloads and new customers.
Zomato
Zomato is a popular food and beverage delivery company located in India served with more than 13 countries worldwide, including the UK. Moreover, Zomato is one of London's most popular food delivery apps as it has launched the Zomato Gold Program that offers special discounts and offers to consumers to boost sales.
Today, Zomato operated in four big countries: India, UK, UAE, and Sri Lanka.
Available – Android/ iOS
Want to Accelerate your Food Delivery Business In the UK – Opt Best App Solution Today!
These days, there are thousands of UK food delivery apps for both platforms, and with different features available in the market. Above, we have covered the top 10 food delivery apps in the UK.
Today, no business survives without online solutions. Suppose you are one of those aspirant entrepreneurs who want to launch an online delivery platform but don't have any clue. In that case, we as a leading mobile app development company will help you out with the best answers and solutions.
If you want to upscale your local food business with an advanced and scalable food delivery app, get in touch with us today and we will feel glad to become a part of your startup journey.