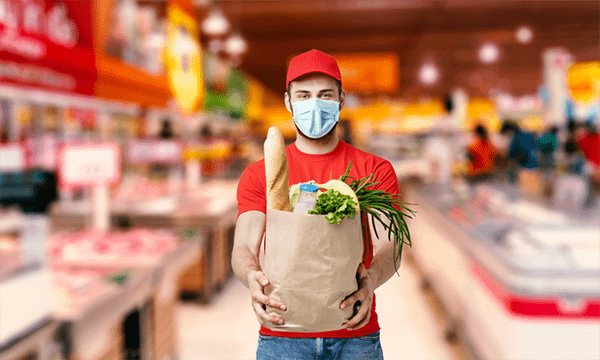 Keeping in mind the current scenario, the bubble of the on-demand business model will not burst soon. Today, there is hardly anyone in the world who does not know about Uber's prevalent business model and its success story. Similarly, Zomato is one of the successful on-demand food delivery platforms that helps users discover food places and get it delivered at their doorstep. Now you must be wondering why Zomato earns huge profits only by delivering food. Let's dig into details of how zomato works and how it has gained huge momentum in recent years.
More and more business owners are jumping into the online food delivery system bandwagon as it saves the user's time and effort. You must be shocked to know that, but the online food delivery market is growing at an annual growth rate of 15.4 % by the year-end 2025.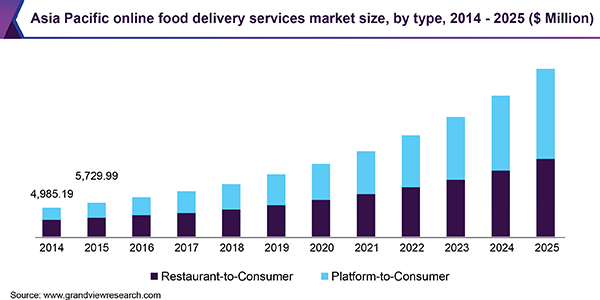 Furthermore, attractive cashback offers, multiple payment options, fast and smooth doorstep delivery, etc. are the key drivers that make an app for business more successful in the competitive market. Now you must be curious to know how it earns huge revenue and grows by leaps and bounds each day.
What is Zomato?
Zomato is one of the most comprehensive and user-friendly apps where people can search for nearby restaurants and cafés, order food online, and get it delivered at their doorstep in no time. Moreover, you can also get accurate information about restaurants as it provides menus, reviews, and ratings. Based on that, users can place orders and enjoy lip-smacking food at their homes.
Zomato Foundation: Success Story Behind The Idea
Zomato was founded by Deepinder Goyal and Pankaj Chaddah, two Delhi IIT, in 2008. Till November 2010, Zomato was known as "Foodiebay." Once they saw their colleagues who were seeking menus of different restaurants to order food. That's when the idea took birth, and they thought of converting these manual menus into a digital format. In the year 2012, Zomato had spread its wings across the globe and started to list out the number of restaurants in the market. Before UrbanSpoon took entry into the market, Zomato has made its feet strong and is now present in 22 countries with more than one million restaurants globally and receives 1.25 million orders daily. Zomato is also having an enthusiastic team of food soldiers who visit each restaurant and assure them that their data is secured. Users can share reviews, give their opinions, and enable users to create stories based on their food experience. This initiative makes Zomato more social. Zomato's user-friendly app is one of the reasons why people prefer to order food online. More than 1 million users across 22 countries, including Australia and New Zealand. Now using their mobile device to order food, Zomato enables them to get a meal at their location without any trouble.


Interesting Facts About Zomato's Funding History
Zomato received a total number of 909.6 million from different investors. Their recent funding was from Private Equity in 2020. Info Edge is a leading investor of Zomato. Other than that, Ant Financial, Delivery Hero, Shunwei Capital, Vy Capital, and many others are the investors of Zomato who have contributed their major stack to make Zomato popular worldwide. Now let's have a look at some interesting figures about Zomato's funding history.
1. November 2013 – Raised $37 million from Sequoia Capital and Info Edge India.
2. November 2014- Raised $600 million from Vy Capital, Info Edge, and Sequoia Capital.
3. September 2015- Raised $60 million from Temasek and Vy Capital.
4. October 2018- Raised $250 million from Chinese Company Alibaba.
5. 2018- Additional funds around $150 million raised from Ant Financial Explore Zomato's Operations Employees: more than 5000 with different pay scale Users: 80 million monthly users Available In Language: English, Turkish, Spanish, Czech, Slovak, Italian, Vietnamese Country Served: 24 Zomato adds a restaurant every 30 seconds.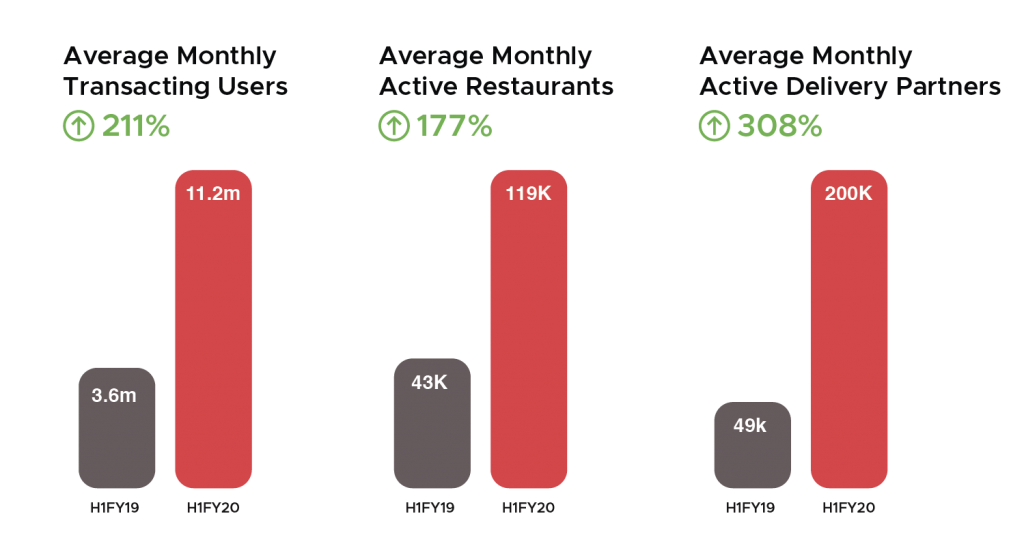 Zomato's active monthly users are increasing between 2019 and 2020. There is a surge of 177% in restaurant listing. Active delivery providers are the backbone of their smooth operations, and 200K+ delivery partners are feeling proud to work with Zomato.
< Zomato's revenue is consistently increasing in the financial year 2019 as compared to 2018; its revenue is around $206 million- three times than in 2018.
How Does Zomato Work?
Zomato has been rapidly growing since 2008 and one of the successful startups in India. Even well-established business owners and entrepreneurs are excited to know how it works and how it generates huge profits even after offering attractive discounts. The main work of Zomato is to suggest local and nearby restaurants to users and receive orders from them. Users can place orders from their favorite restaurant based on ratings and reviews shared by previous customers. Perhaps this is why more and more startup owners are interested in developing an app similar to Zomato. It offers comfort to the users and helps business owners reach their local food business to new heights. Zomato's working flow is simple; let see how, within a few minutes, consumers can enjoy a delicious meal?
Step 1: From the desiccated app solution or website, users can explore various restaurants and order meals.
Step 2: Particular restaurant owners receive an order request and start preparing a meal.
Step 3: Once the food is ready to dispatch, it will be handed over to delivery providers.
Step 4: Delivery providers deliver the meal to the customer's preferred location.
Step 5: From the given payment options, customers can make payments and share reviews based on their experience. This simplicity encourages food lovers to order food online. If you are already engaged in the food business and want to expand its reach, investing in Zomato like an app will give you a promising return in the long run.
Zomato Business Model Canvas – Explained In Depth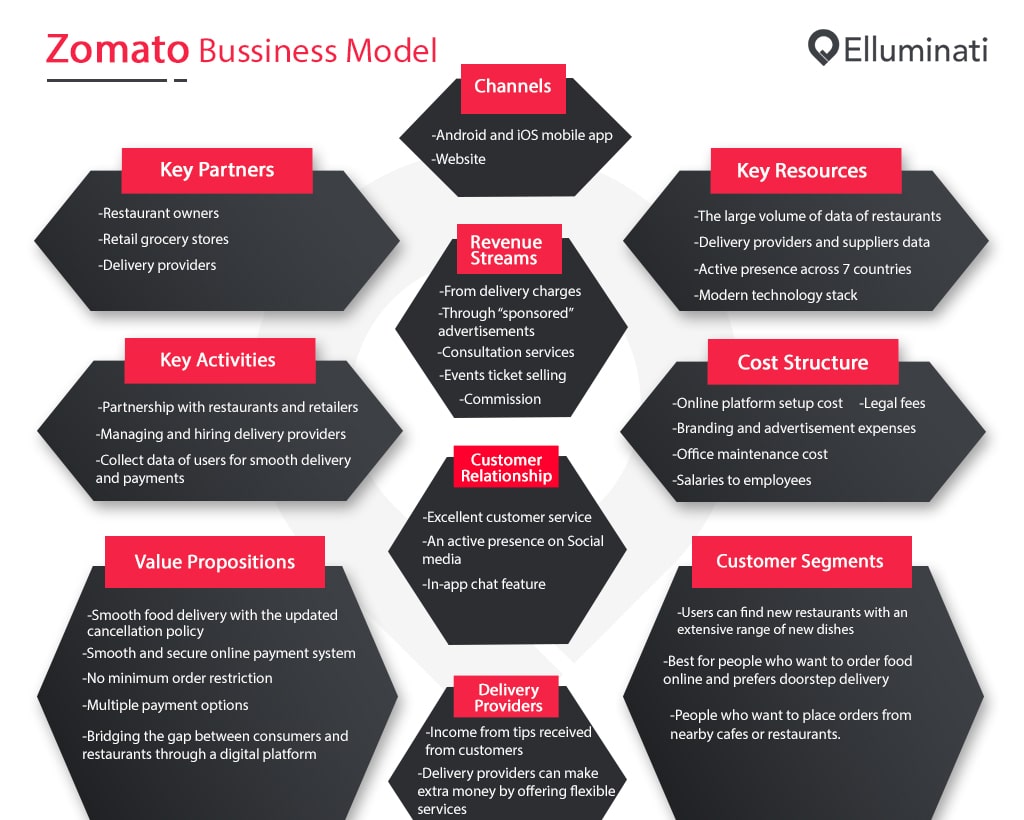 Zomato ensures prompt doorstep delivery that makes food lovers delight. Now, customers no longer need to wait for hours at restaurants. Right now, Zomato is one of the leading online food delivery platforms, which is used in almost 22 countries across the globe. On the other hand, restaurant owners also increase their online visibility by listing themselves on the Zomato app. Let's discuss in detail how the zomato works.
Customer Segments
Basically, Zomato has three customer segments that contain:
Users: An online platform designed for users to find nearby restaurants and perfect for those people who prefer doorstep delivery.
Local Restaurants: Zomato platform is significant for restaurant owners who want to promote their business in order to grab the target user's attention.
Delivery Providers: By offering part-time/ full-time services, they can generate a decent revenue source income.
Value Proposition
Zomato is an ultimate online platform that enables users to order food online from an extensive range of options nearby their vicinity. Moreover, if you are new to the food market and want to make an online presence strong, Zomato allows them to promote your food business. Hence, we can say that Zomato fills the gap between restaurant owners and consumers. Once the order gets placed, users can track their orders in real-time with an estimated arrival time. With advanced search and filter options, customers can place orders without any hassle. Additionally, Zomato also provides Gold Membership to build a strong customer base and foster loyalty. Zomato's Gold service comes with additional perks like customers can enjoy heavy discounts on food and beverage orders. You won't believe it, but the Zomato Gold service alone has generated $49 million in 2019.
Key Partners
Uber Taxi
Zomato has tied up with an Uber taxi if any customer wants to book a ride to the restaurant to dine out.
It means users no longer need to access two apps; they can book a cab and find nearby restaurants altogether.
Other Business Partners: Built an alliance with electronic payment companies like Visa and PayPal.
Key Activities
Zomato's business model is incomplete without having a look at its core activities. Although, its primary goal is to make restaurant searching easy and has various key activities such as:1. Managing multiple networks 2. Manage advertising and sponsored content 3. Enhance customer service 4. Increase brand image
Elevate Your Restaurant Business to the Next Level
Consult Our Experts Today
How Does Zomato Make Money? Take A Look At Its Revenue Streams
Zomato has strengthened its presence in the food market at a global level since its inception. Zomato has generated lots of income sources, and certain are listed below, which helps you understand in detail how Zomato earns huge profit through its business model and diversification.
Zomato Advertisements
Advertisements are one of the trusted and main sources of income for Zomato as it offers advertising policy to restaurants who want to maximize its profits and customer base. It generates more than 70% of its revenue through this channel. It allows restaurant owners to put their banners on their sites to increase visibility.
Zomato Subscription
With the help of advanced tools and software, Zomato can predict users' behavior like what they are searching for, what they are not searching for, which dish is trending, which food is in more demand, etc. Restaurant owners need to pay a certain amount to Zomato in exchange for this information. Based on that, they can improve their services and meet customers' expectations.
Zomato Food Delivery Services
Zomato charges a 20-25% commission from the particular restaurant for each order placed. In some regions, the commission rate may vary from 5-7%.
Zomato Event Organization
In collaboration with certain restaurants, Zomato hosts multiple events such as Christmas Eve, New Year's Eve, or any other event to boost sales. People have to purchase tickets who want to attend these events.
Zomato Kitchens
This is a kitchen infrastructure service offered by Zomato, where they will work with certain restaurant owners who want to expand their business to more locations with minimum cost. It means entrepreneurs can easily establish their restaurant at the right location with minimum fixed and operating costs.
Wrapping It Up
Zomato's success story is inspiring to every other entrepreneur who is still new to the food delivery market. The workflow of Zomato and its business model is perfect for those who want to capture the market in its early stage. It saves the user's time and offers comfort at each level-from online ordering to payment to doorstep delivery. For your business idea, our mobile app development services are therewith to leverage the best results integrating all your requirements.