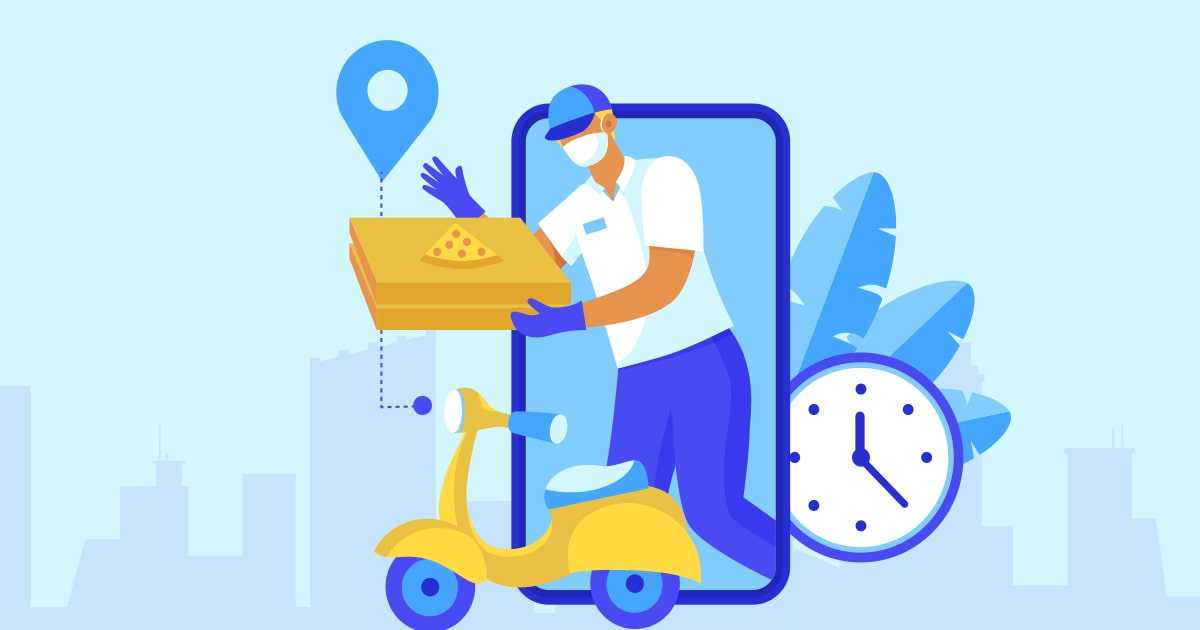 JustEat follows a matchmaking business model; the delivery and ordering platform connects local restaurants with food lovers helping them to get their food delivered right at their doorsteps. Explore JustEat business model to know how the tech stack operates to offer a seamless delivery experience to customers. Also, check all about the company's funding history and revenue model to have a quick glimpse of it.
JustEat acts as a primary part of the restaurant to the online food ordering and delivery market's consumer delivery segment. Consumers use the JustEat platform to browse for restaurants offering takeout services. Food lovers can order mouth-watering dishes from nearby restaurants listed on the JustEat platform; the restaurant fulfills the request ordered by using their resources.
Like any other food ordering and delivery platform, the delivery of prepared food is carried out by the restaurants itself. Justeat acts as an aggregator between consumers and restaurants; the delivery platform has partnered with more than 105 thousand restaurant partners, which has about 26,3 million active users.
What is JustEat?
Just Eat is an on-demand platform offering food ordering and delivery service to users whenever they demand. British online food order and delivery service act as an intermediary between customers and independent takeaway food outlets.
The company headquarters is in London, England, and it operates in more than 13 countries, including Asia, Oceania, Europe, and the Americas. Founded in Kolding, Denmark, JustEat enables customers to browse for local takeaway restaurants, place an order, choose a pick-up or delivery option, and may online without any hassle.
The food service platform was listed on the London Stock Exchange until Takeaway acquired the platform in 2020. Both the companies merged with the JustEat parent company, replacing JustEat's listing on the London Stock Exchange. The online ordering platform has made a strong presence in the market. It's considered one of the most valuable global food tech companies in Europe and other countries.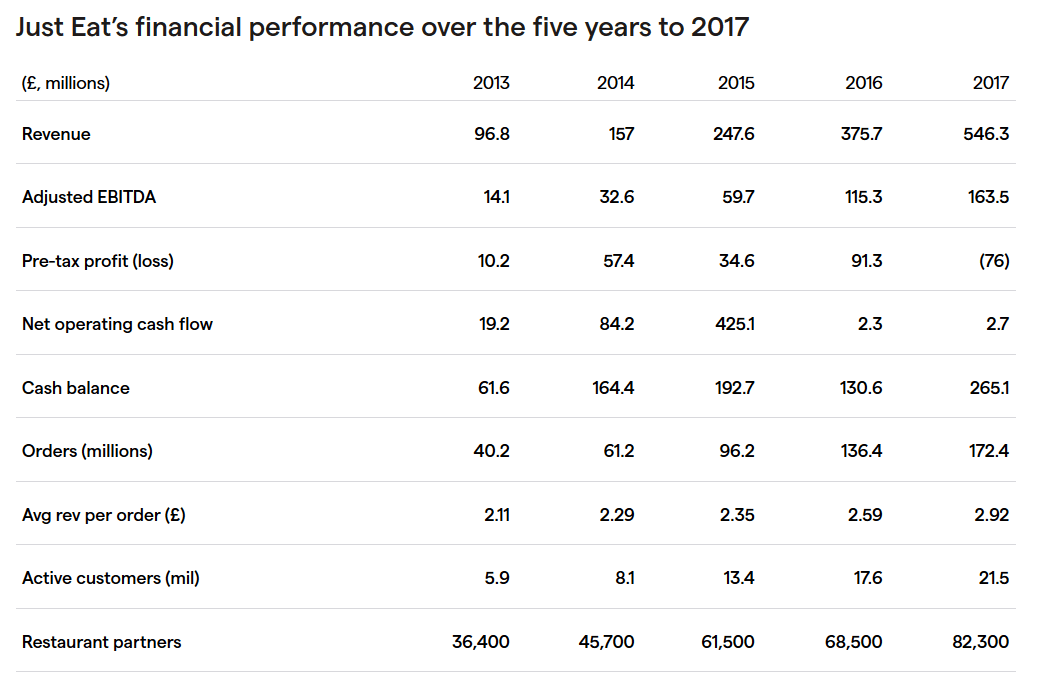 JustEat has the biggest market in the UK, with more than 122 million orders processed alone in 2018. Canada is considered a second established market for JustEat; the company operates under the subsidiary brand 'Skip the Dishes', representing 22.8% of the company's revenues in 2018.
The brand has also established its business presence in other European markets, including Norway, Denmark, Switzerland, Ireland, Spain, France, and Italy, where it had partnered with more than 8,000 restaurant partners in 2017. Just Eat also bought platform Menulog in New Zealand and Australia, which contributed about 47 million British pounds in revenue.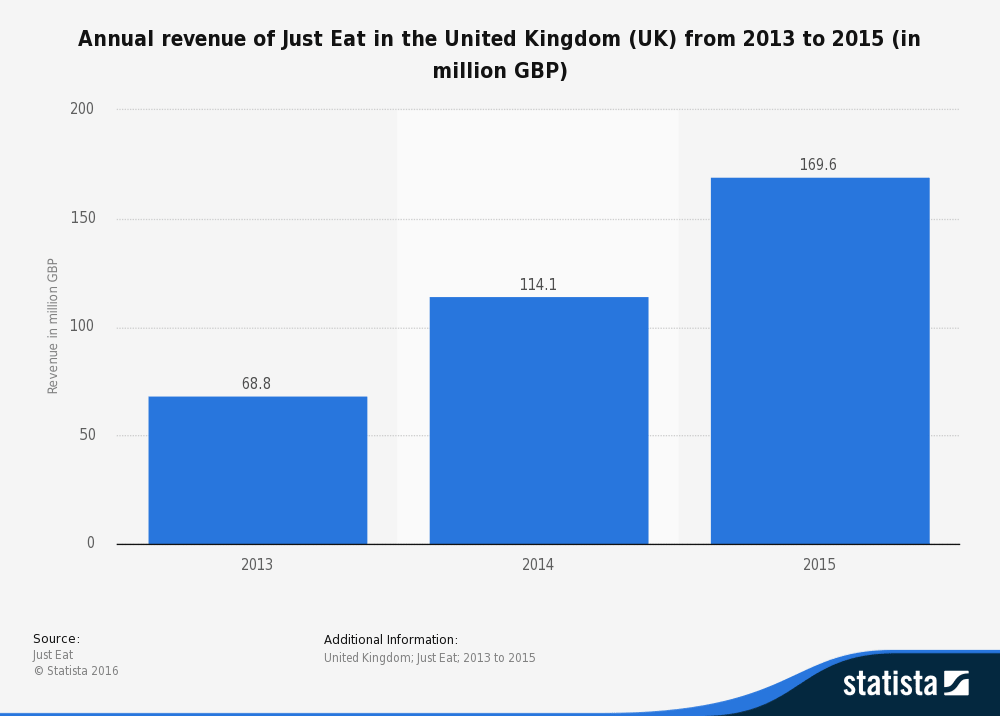 Fantastic Facts and Figures to Explore About JustEat
Founders: Jesper Buch, Per Meldgaard, Henrik Østergaard
Company Headquarters: London, England, UK
JustEat Revenue: £779.5 million
Operating income: £110.3 million
Net income: £79.9 million
Number of employees: 3,600
Parent: Just Eat Takeaway
Subsidiaries: Menulog, SkipTheDishes, iFood, City Pantry
Company Valuation:5.5 bn+
Number of Users: 26.3 million
An average number of daily orders of JustEat: About 221.2 million orders
The customer service page of the company shows that it has expanded its payment methods. It has started using Google Pay, Apple Pay, and Bitcoin; users of the JustEat app can pay using any payment gateways as per their preference.
Success History of JustEat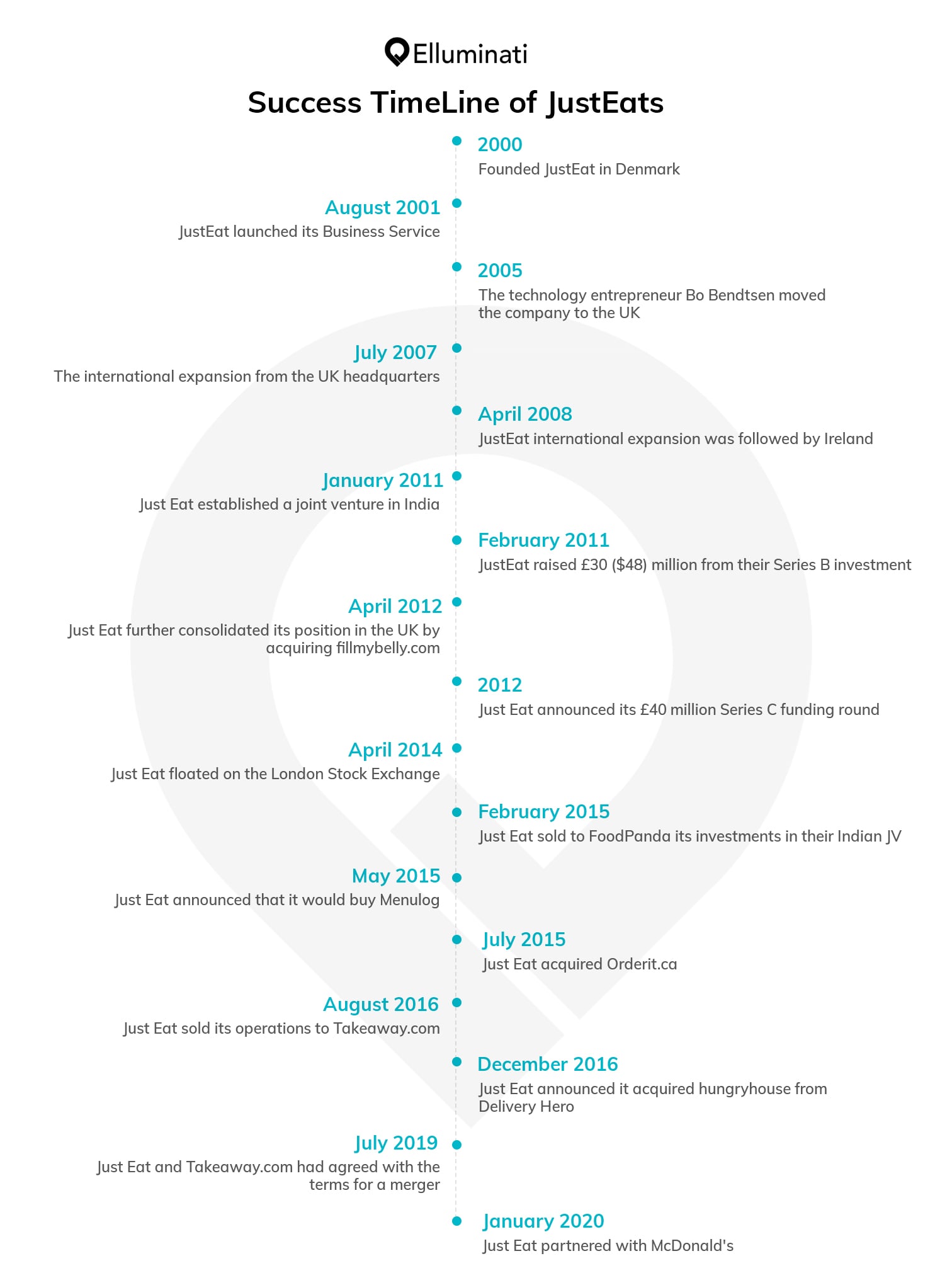 Following the success of JustEat, many food ordering and delivery businesses are thinking of developing an app similar to JustEat. The feature-rich app solution helps them to manage and complete all the orders efficiently. It helps them to provide outstanding delivery experience to customers on their demand.
It helps them to provide an outstanding delivery experience to customers on their demand.
The platform consists of all essential modules and features, ensuring food delivery business growth in a short duration of time. Check the platform's overall working, request a free demo> to know which essential modules and features it holds for your business.
Funding History of JustEat to Explore
JUST EAT plc Annual Report & Accounts clearly shows everything about the food ordering and delivery platform. It indicates that JustEat raised its first series A investment funding in 2009 from Venrex Capital and Index Ventures, which invested around £10.5 million into Just Eat Holdings Ltd.
The new investment capital enabled the company to expand its food service business across other markets ensuring further development quickly. In March 2011, food startup JustEat in the second round of investment raised £30 million as saw two leading US venture capitalists, including Redpoint Ventures and Greylock Partners, invested in the company. Greylock Partners have previously invested in Wonga, Facebook, and LinkedIn.
During the third round of investment in 2012, the company saw Vitruvian Partners and Redpoint Ventures investing around £64 million in Just Eat Holdings Ltd. Later in 2019, the company bought Flyt, feature-rich and impressive software for restaurants and food suppliers. The company's acquisition cost during the time interval was around £22 million.
JustEat Business Model: How it Ensures Seamless Experience Offering
Undoubtedly food tech expansion in Germany and across other parts of the globe is appreciating. JustEat has made its presence in the market quickly due to its fantastic business model and operational strategy. The company operates on a success-based business model that ensures excellent cash flow, creates value for restaurants, shareholders, and restaurants. Explore its overall business model to know how it operates to provide fantastic service to platform users.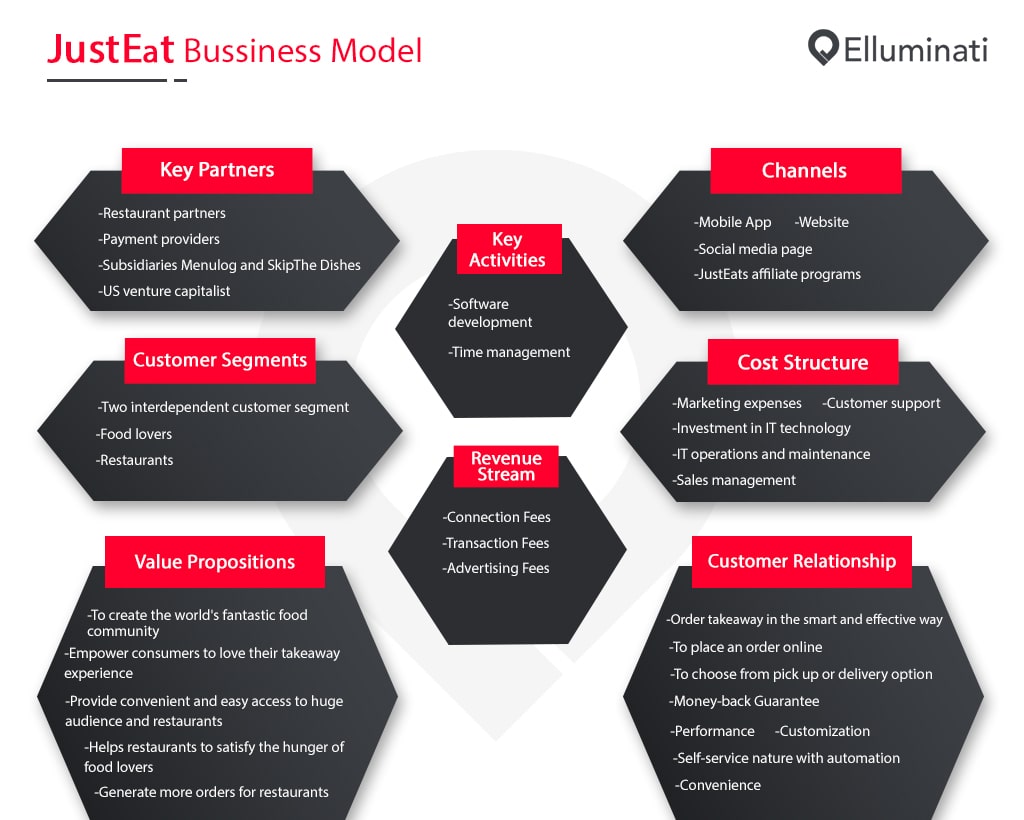 Customer Segments
JustEat operates on a multi-sided business model, with two primary interdependent customer segments required to run the business.
Consumers:
Individuals who want to order takeout from local restaurants.
Food lovers who love to taste delicious meals
Individuals who don't have enough time to cook food
Restaurants:
Ventures offering takeout on demand.
Food stores that want to expand their customer volume beyond traditional channels.
Customer Relationships
JustEat's customer relationship is primarily of a self-service nature. Customers are allowed to utilize the service through the leading platform while having limited employee interaction. There are personal assistance components in the email support and form of the phone.
The company's relationship with food ventures is primarily of a dedicated personal assistance nature. They are assigned a specific local team member that can visit the venue if required. Additionally, the platform enables restaurants to answer all the queries through email, phones, etc.
Key Activities
The business model entails maintaining a scalable platform mainly between two parties, which are restaurants and consumers. The platform includes a mobile app and website that connects food lovers with nearby food ventures to get their favorite meal delivered at their place.
Key Partners
JustEat joint ventures with similar services in countries to expand their business reach. The company has partnered with Eat.ch, a Swiss food ordering service, to expand its business to reach worldwide.
Key Resources
The leading resource for JustEat is its proprietary platform, which serves more than 13.4 million active users. The company rolls out more than 320 updates of the platform in 2015, quite more than 2014. It depends on its human resources and technology employees to improve the platform, sales staff to acquire new customers. As a startup, JustEat entirely relies on investors' funding, raising around $583.6 million from about 30 companies in 2015.
JustEat Revenue Model: Learn to Know How to Generate Money
JustEat operates on a value-driven structure to provide a premium proposition. It focuses on offering frequent product enhancements and significant personal services. The company's biggest cost driver is its marketing and other expenses, while it has a fantastic revenue model helping the brand make sure profit. You can also get all in one delivery service platform to generate colossal money just like JustEat; explore JustEat revenue model to know how it makes money.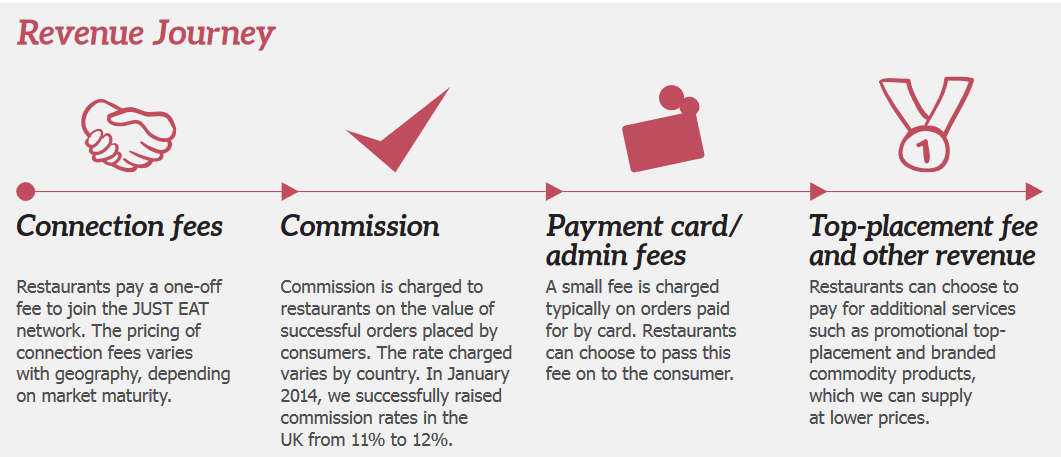 JustEat mainly has four revenue streams helping the brand generate huge money, ensuring its business expansion and survival in today's competitive market. Explore the JustEat revenue model to know everything about how the food ordering and delivery platform makes money.
Connection Fees
The platform charges connection fees from the restaurants. If any food ventures want to join the platform, they have to pay some amount. The connection fees depend on the particular market level of maturity.
Commission Fees
JustEat charges some % as a commission from food ventures. The commission rates are agreed with ventures in the contractual terms and vary by country. In January, the company raised commission rates in the UK between 11% to 12%, with very few restaurants partnering with the platform.
Transaction Fees
Negligible charges are taken on the card or any other online transactions; restaurants can choose to pass the transaction fees to customers.
Advertising Fees
If a food venture wants to keep their business on the top, they can advertise on JustEat's platform by paying advertising fees in exchange. It helps businesses get higher placement in search results enabling them to grasp the spotlight quickly.
Success-Based Business Model of JustEat Ensures Business Expansion: Know How?
JustEat has achieved massive success in the food ordering and delivery market, and if you want to achieve the same, you must understand its business and revenue model. Hope the above-listed information and facts prove to be worth it for you, but if you have any further query about the platform development, get in touch with us.