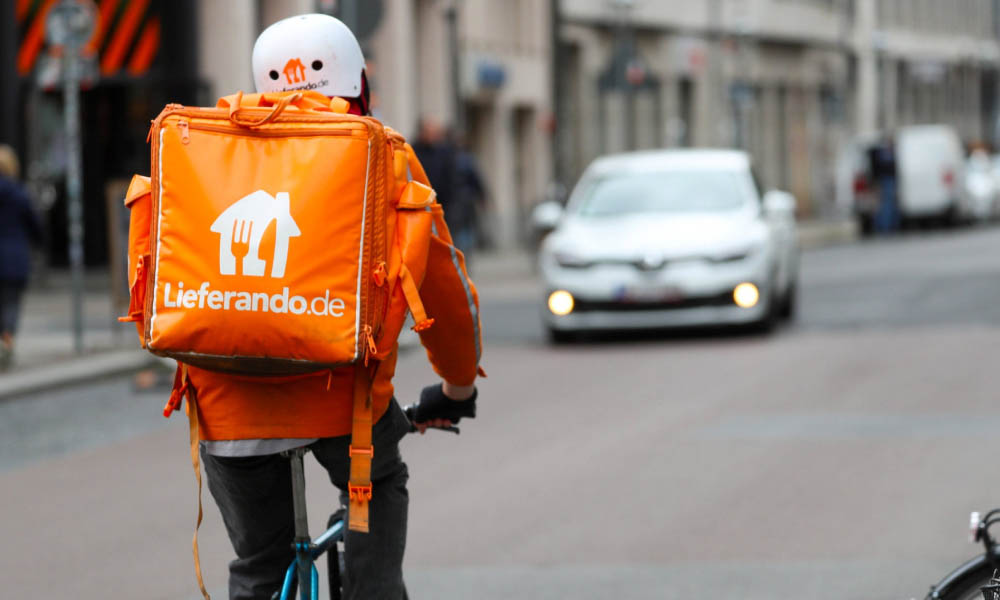 Online business operations are ruling over traditional business approaches. It lets you control and manage services across the world with dedicated tech solutions. Many food delivery solutions are achieving significant progress and audience support today.
During the COVID-19 pandemic, the food deliveries remained the ones to run uninterruptedly, and they will continue doing the same as these services produce excelled outcomes. Lieferando clone and other such food delivery apps are becoming popular in the market for all businesses who are idealizing them for potential business growth.
How Online Deliveries Contribute to Making Businesses Stronger?
Online food deliveries are increasing at a high pace, and the downloads for these apps are also top. During the Corona pandemic, online food delivery solutions made the most out of the situation by promising reliable deliveries with a secure and hygienic approach.
If you have not switched your business online, you have to consider the possibility of running the operations online that can help you automate some tasks. According to reports, 72%of outsourcing tasks get assigned to the I.T. industry. It proves the impact of technical excellence in running a business profitably. Moreover, an online presence can also provide many benefits other than the automation and organization of tasks.
Increased Business Reach
Almost 50% of the global population uses the internet actively in any way. The internet and smartphones have made it convenient for users to find suitable services online. Hence, if you are not allowing customers to see you, you may get left behind in the race to achieve exponential growth. And getting your services online promises a better reach to customers and dedicates support for your growing organization's needs.
Provide Tracking Facility
The feature of tracking the service status in real-time is one of the significant benefits that concerns your customer. Hence, when you offer your service online, you can put a specific feature dedicated to tracking their services, and it helps you to keep an eye on business operations till the end.
Cashless Payment Support
While customers have to come to you physically to ask for your services and book one, the online payment methods remain limited. However, if you have a dedicated solution for customers using which they can order online, you can enable many types of online payment, including digital wallets, scratch cards, and more. It helps give your business a rise among all other companies that operate traditionally.
Analytics & Earnings
You can enable live analytics and earning tracking features as well. It helps you monitor your business profits and make changes in the strategies that can incur growth for you as well. You can consider the increased benefits and introduce changes in your system as well. The earning tracking and service analytics helps you keep up with changing trends and shift to a better option without wasting much time.
Among all types of businesses that run their operations online, the delivery businesses benefit the most from the features mentioned above. It allows them to produce customer satisfaction and expand their delivery services to reach across different countries worldwide. But why? Read further.
What is Lieferando Clone Script?
Lieferando clone script is the best solution to commence an online delivery business. It is the feature-packed platform for food ordering and delivery services that comes with alluring features and helps uplift the restaurant business.
Most Popular Delivery Trend Across the World: Food Deliveries with Lieferando Clone and Others
As online operations are taking over and becoming popular among a wide variety of audiences and businesses, growth in online delivery businesses has already passed the beginner level and has entered a professional mode now. Many online deliverers and entrepreneurs have earned the benefit of being early birds. With time, newcomers in this industry have their fair share in increasing overall industry-based revenues.
According to Statista, online food deliveries produce the annual revenue of U.S. $136,431 million across the world. And this number is reaching new heights with each passing year. Among all types of delivery businesses, food deliveries have always stolen the spotlight and gathered attention from users.
Because of this, many apps are competing in the market actively to earn as many benefits as they can. Even though the competition in this market is cutthroat, an increasing number of entrepreneurs are entering it with high expectations and excellent services only to achieve growth in revenues.
Hence, if you are also wondering whether you should enter the food delivery market as an established organization or a startup, you should first research the market surrounding you, take into consideration the recent food delivery market scenario, and later take the decision. To support these businesses, a Lieferando like app gets launched and promoted to start the company without any hurdles.
These apps are completely customizable and fit the needs of an organization like a glove. These apps adjust as per the user criteria and choices that a purchaser wants to reflect in their solution. It includes all required modules that many successful food delivery apps do and adds their charm with certain customizable features.
If you also want to start your food delivery business online, Lieferando like app can save your day by helping you minimize the development costs and launch the solution quickly. As only brand-specific customization of the purchased solution does not take a long time to get completed, you can choose to launch the app without making any changes to its original code.
If you are wondering whether you can achieve success with an app like Lieferando or not, you can consider choosing an alternative business approach. But the business model followed by this app is pretty simple and easy to implement as well.
Lieferando's Success and Business Expansion: Significant Functions to Include in Lieferando Like App
Many entrepreneurs take their inspiration from huge app successes and get their apps working just like them. However, if you are not able to add your twist to it, you can not impress more customers than a few.
But before you make any decisions, specific questions must have been lingering around in your mind. Here are some of the significant queries that a business always passes through when they are about to select or launch a food delivery business online.
How Much Does It Cost to Develop a Lieferando Like App?
App development is a crucial task when you are considering switching your operations online. According to a survey, there are around 7000 mobile app development companies in the USA. If we believe developers across the world, the numbers will inevitably reach a new peak. Hence, before you assign your development tasks to others, it is better to research and find a sure way to get your solution working according to the requirements.
What's Wrong with Traditional App Development Approaches?
Based on the resources, programming languages, and many other characteristics, an app development approach is derived differently. Native, hybrid and cross-platform app development are popular approaches that many companies follow and push their clients to believe in. However, traditional app development will inevitably cost more than a ready-made app, and you will have to wait for long before you get your solution on hand.
How to Create a Lieferando Clone Without App Development Support?
When there is a will, there is away. As many ready-made apps are available in the market that provides excellent support, you can pick any from them that fits your business. White label apps help you get everything inside a single pack.
It enables you to serve users dedicatedly and monitor the operations remotely as well. Lieferando clone app is a white label app offered by Elluminati that includes every required feature to run your food deliveries effortlessly online. It consists of a dedicated user, delivery provider, restaurant, and admin dedicated modules to help manage the business efficiently.
How Lieferando Similar App Works?
The app follows a straightforward process to generate the required outcomes. Registered restaurants and food stores can upload their menu and available items online with dedicated solutions. While admin remains the authority that controls every operation that occurs within the system, the admin dashboard handles every monitoring and control operations.
A user places an order from their preferred restaurant and pays online for the order.

The store receives and prepares the order. They put up the delivery request that nearby delivery providers receive.

A delivery provider accepts the request and receives complete delivery location details and picks up the order from the store.

Users can track the service status in real-time from the dedicated solution and get the request as the delivery provider reaches their location.
Admin monitors the entire process from the dashboard and can view the complete payment and earning details. They can make profits from users as convenience and delivery fees and commissions from stores. Additionally, Elluminati's E-Delivery perfect Lieferando clone provides in-app advertising support for extended commission earnings.
Conclusion
In short, the time is ripe for entrepreneurs and well-established businesses to convert to online food deliveries if they wish to. The market is overflowing with so many app solutions and companies that it will gradually become tough to create your name in the market and set the bar right.
Hence, if you want the leverage, it is advisable to start now and launch a solution in the market. Elluminati serves you with a dedicated Lieferando clone that can help you launch a food delivery business with all the necessary features. Visit to learn more.
---
Having More than three years of experience, Nirav is an outreach expert at Elluminati. Having a keen interest in communication, content, and digital marketing, he has worked with many brands and helped entrepreneurs to establish an online presence that drives their business forward.
---
You Might Also Like