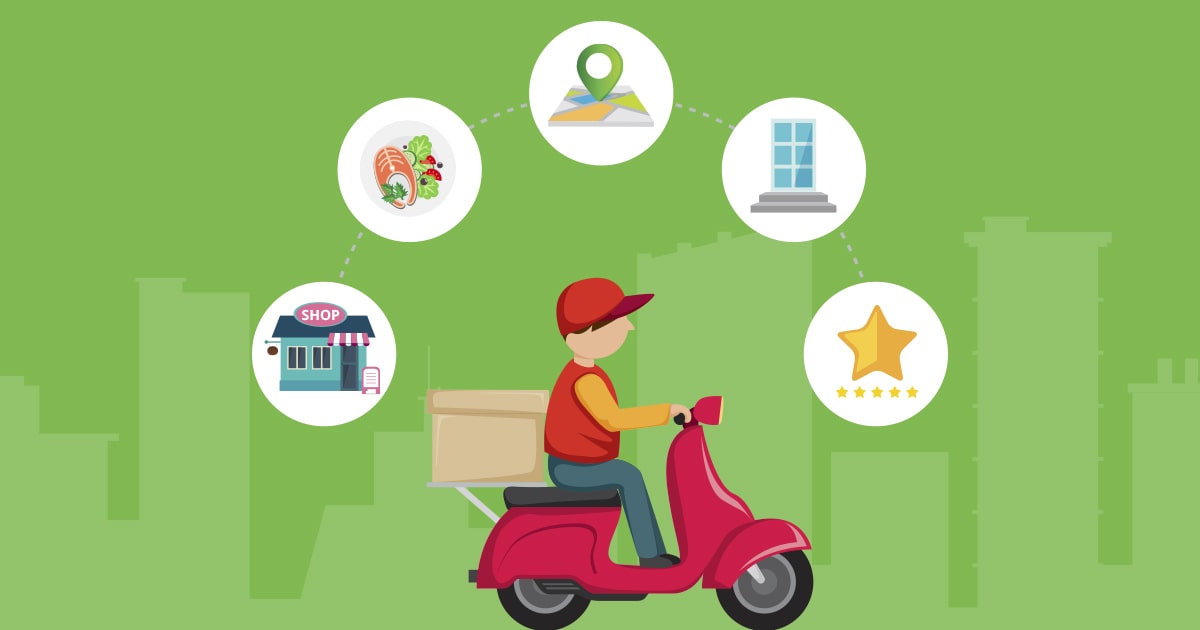 The trend for online food delivery is high these days. As we know, the usage of smartphones and Internet devices has been increasing by leaps and bounds. In this hectic and fast life, people enjoy online food delivery as compared to dining out. The number of online food delivery increases, and here we will share a snapshot of statistics that might shock you.
Keeping in mind the current situation, all we can say is food delivery apps are the future of the food industry. According to Adroit Market Research, the global online food delivery market will reach $161.74 billion by 2023. It means if you are engaged with the food business, this is the perfect time to tap into the online food industry.
From UberEats, Grubhub, Zomato, Postmates, and more- earning a massive amount of profits and disrupting traditional dining experience across the globe. Looking at this delivery boom, what should you do as an entrepreneur?
Here we have presented interesting online food delivery statistics and facts that will blow your mind and better understand online food ordering.
Global Food Delivery Business and Its Prosperity
The digital ordering craze is shaping conventional restaurant establishments. These days, restaurant owners are also focusing on developing an efficient delivery system instead of spending huge money on rent and other administrative expenses. They are setting up "scalable delivery solutions" that enable consumers to place orders online to expedite the delivery process.
Restaurants and other small food business owners find it interesting to handle digital ordering as it increases sales and online visibility at the same time. Some restaurants are developing their own delivery solutions, while others use third-party platforms like UberEats, Zomato, and Grubhub.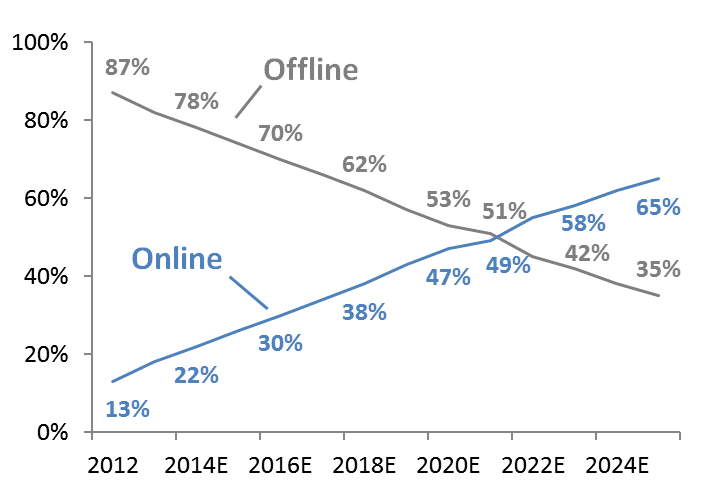 As per the data collected by Cowen and Company, we can clearly see that online orders are expected to surpass offline orders within a couple of years. The rise of digital technology has transformed the food market. Instead of visiting crowded restaurants, consumers now place orders online via restaurant apps and websites.
What Age Groups Are Ordering Food Online
As we know already, Gen Z is a big fan of online ordering because it offers them comfort. Over the paper menus, they prefer digital menus.
As per the recent study conducted by e-marketer, more than 55% of the consumers belong from the age group between 18-25 in the previous year.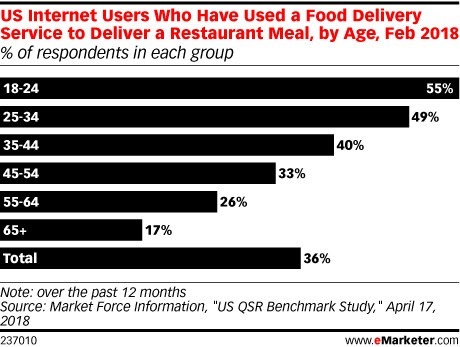 Every 7 from 10 Gen Z takeout eaters watch TV while eating their food.
The above chart clearly shows that this figure goes down with an increase in age. It means only 25% of the users are above 55 age and ordering food online. This also increases the viewership of online streaming sites such as Amazon and Netflix.
Moreover, in the USA and UK, more than 65% of mothers are working women, they don't get enough time for meals. This is where they prefer food delivery apps and feed themselves.
These days, consumers want to enjoy a meal while watching TV as they believe that it makes their leisure time more memorable.
Key Takeaway – Global Food Delivery Statistics
While placing online orders, patrons prefer third-party websites and apps as compared to the restaurant's website.
According to a Sesame token survey, the global food ordering sector stands at $95.65 billion and will continue to grow in the coming years.
In 2017, Grubhub's total sales were nearly $4 billion, while UbeEats' customer base grew by 230%, with its average customer spending $220 yearly.
Moreover, the growth rate for online food ordering and delivery has been increasing and will reach $220 billion by 2025. This will directly increase the sales of restaurants.
The major key drivers include working women and high-income households. More than 75% of online orders are placed by 21-37 age groups. More than 47% of restaurants worldwide offer digital ordering services, and more than 35% now accepting mobile payments.
The alone US food delivery market is expected to rise by 79% in the next decade.
The top five food delivery players, including Grubhub, UberEats, DoorDash, Postmates, and JustEat, have a combined $11.52 billion valuation.
As per the Spoon study, $5.3B was invested in the food delivery sector in 2018.
As per the Forbes market analysis, the food delivery market will hit $365B by 2030 and will grow 300% faster than in-dining spend.
According to Gloria Food's research, 26 % of customers place orders at least once in a week.
From the figures and facts, it is no secret that the online ordering phenomenon is growing rapidly and helping restaurants drive sales. Furthermore, the growth of online ordering may be attributed to the digital age culture. Customer preferences have been changing, and this has forced restaurants to embrace E-Delivery solutions to meet growing demand of consumers.
As more people jump into the bandwagon of online delivery, the market size continues to increase. Even food business owners have realized this and modified their business model according to the market trend—consequently, more entrepreneurs enter the online food market to bring new ideas.
Why More and More People Prefer Online Food Delivery
People like doorstep food delivery because they find the ease of convenience in that. Today, technology saves time and the vitality of humans. Here are the key reasons why people love online food delivery:
1. The menu is visible within the app
2. Extensive range of options
3. Food delivery apps offer different modes of payment and attractive discounts.
4. Consumers can track their delivery in real-time within the app.
5. Last but not least, people admire online food delivery because of its simplicity and transparency.
The reasons are pretty clear; consumers love ordering food online because it is instant and eliminates your waitress time at crowded restaurants. Not just that, people are also getting more influenced by marketing tactics more easily. So it's a win-win situation for food stores as they get to sell and advertise through mobile.
Wrap Up
Digital ordering is probably the hottest trend prevailing right now in the food industry. In this digital world, people are looking for instant and easy access; thus, they choose online delivery apps to see the restaurant's details or menu.
Along with technology transformations, the food delivery market has surged massive growth in recent years. By embracing this kind of business model, restaurant owners can experience an increase in sales and profit.
If you are new to the food delivery market and planning to build a food delivery application, contact us and discuss your ideas and business requirements with our expert team. We will surely help you launch a successful online food delivery venture.