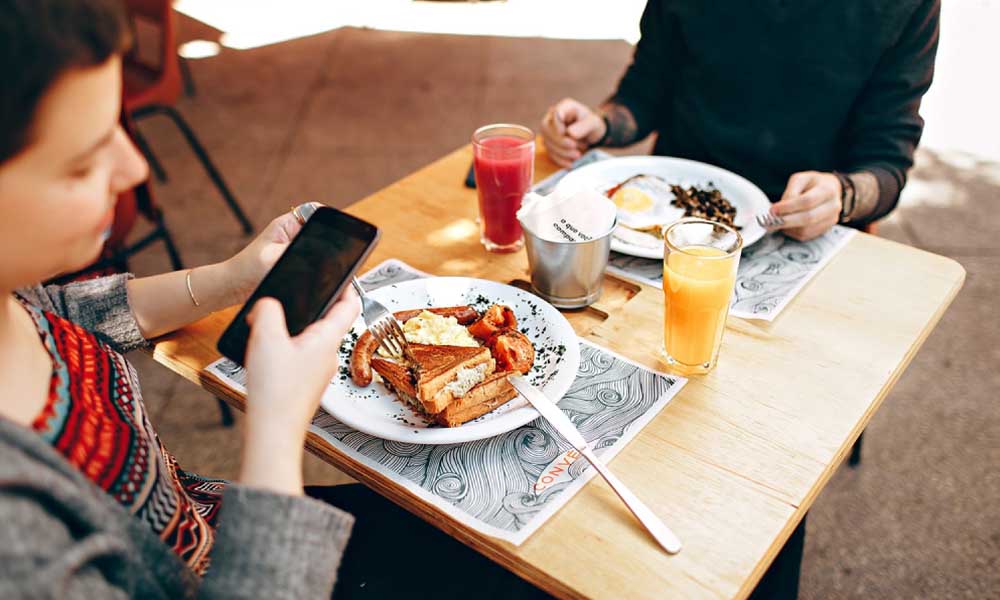 Marketing with each passing day has gained massive popularity in the online space. Food lovers in search of food tend to use their smartphones to browse for nearby restaurants in the area. Restaurants are one of the most-searched industries by people through their smartphones. Hence it becomes vital for establishments to plan and implement the right mobile marketing techniques that help them to transfer their searches into food clients. Dive into the article to know why mobile marketing for restaurants is very crucial, also learn how it ensures business expansion for your restaurant quickly.
The survey which was conducted on more than 1,497 consumers owning a smartphone, found that 81% of shoppers have browsed for establishments on a mobile app. Whereas 92% through a web browser in the past months. Outperforming other searched industries, including hotels, personal services, entertainment, retail outlets, etc. Additionally, 75% agree that the restaurant dines at based on those search results.
Your mobile marketing game must be smart enough to grab the attention of maximum food lovers. If you want to make your customers familiar with your eatery, then it becomes vital for you to implement the right mobile marketing strategy.
Consider using smart payment methods such as Paypal, Stripe, etc., in your online system to drive and deliver more orders online. There are many mobile marketing tracks which you can consider to market your business in today's competitive business market. Stay hooked to find which is the best one for your restaurant and helps you to drive more sales and traffic in no time.
What is Mobile Marketing?
Mobile marketing is an effective strategy ensuring to target your customers preferring to use tablets, smartphones, and other mobile devices. You can use various mobile marketing channels, such as text, social media, email, and other apps. Many people consider that mobile marketing and social media marketing is quite similar, but they need to understand that it's not the same.
Social media is the primary part of mobile marketing, but mobile marketing doesn't end by creating a Facebook page for your establishment. There are other essential tactics that you have to consider to market your restaurant helping you to convert searches into leads. Study shows that 80% of local searches on mobile phones convert; therefore, restaurants need to focus on implementing effective mobile marketing to leverage fruitful results.
Mobile Marketing for Restaurants in 2023: Why You Need to Pay attention to it!
Mobile internet has increased by 504% in daily media consumption. Studies show that customers research various restaurants in their nearby area online before deciding to go to eat outside. Hence it provides customers with considerable opportunities to reach an interested audience via mobile platforms. There are numerous tactics that you can consider to find your customers and drive more people towards your business.

Image: (qz.com)
There are numerous tactics that you can implement for your restaurant to reach mobile customers. You can consider optimizing your social media accounts, advertising on Google, or other search engines. But, if you want to leverage the worth result, then it becomes vital for you to find and implement the right marketing tactic for your restaurant.
Top Mobile Marketing Strategies for Restaurant Growth
The restaurant industry offers great potential to generate revenue. Some of the ways such as coupons, cross-promotions, freebies, etc., have played a significant part in increasing sales, establishments must opt for digital methods to market their business to a more extensive customer base.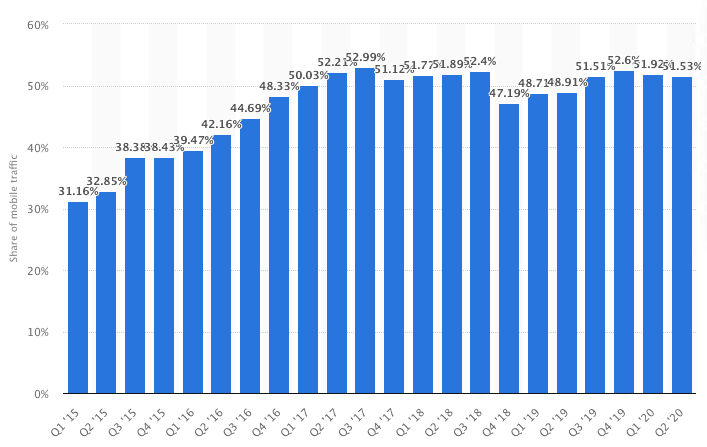 Image: (Smart Insights)
A study found that more than half of the web traffic is mobile. Interestingly, the mobile trend is going to continue in the upcoming years. It is predicted that more than a growth of 25% will be measured in mobile traffic by 2025. Most of the traffic comes from mobile streaming and videos.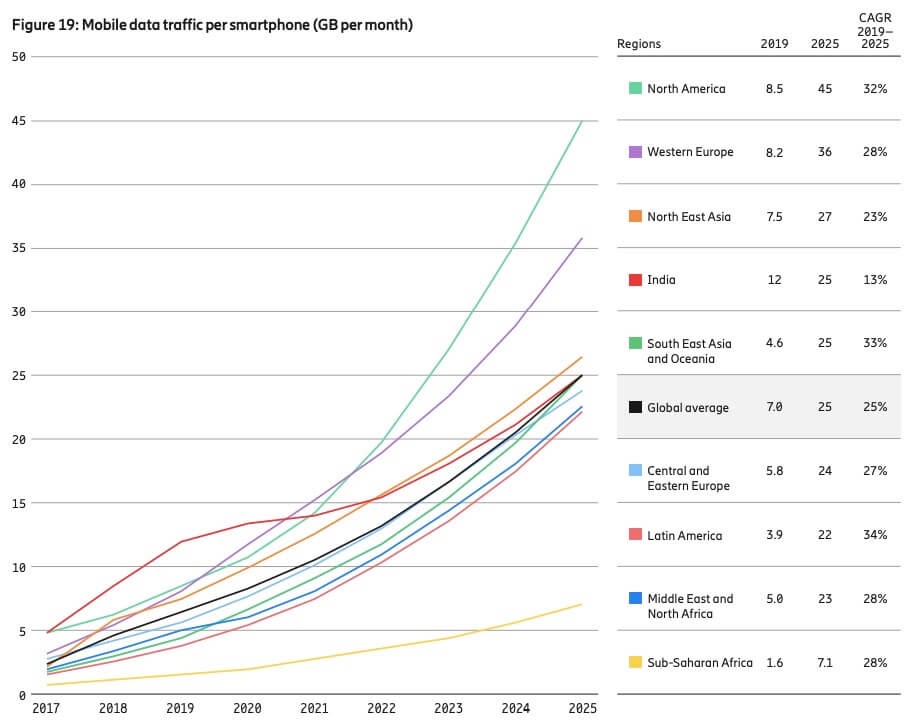 Chatter Matters reportshows that younger age people are 99% more likely to lean on recommendations from their family and friends than older generations, especially when it comes to choosing a restaurant. The changing behaviour of customers is impacting advertising; around 33% of Gen Z agrees that ads cause them to try new things. Therefore mobile marketing is no more a luxury option. It has evident the necessity for restaurants, explores different mobile marketing tips to leverage fruitful results for your restaurant.
Craft Responsive Platform
You need to craft and launch a responsive app for your establishment. It will add tremendous value to your marketing as more than 50% of web traffic comes from mobile phones. Hence make sure to craft a responsive solution helping you to communicate effectively with your target audience.
Invest in food delivery app development after analyzing the market effectively. Know your customers and competitors to launch an effective solution ensuring to enhance your business sales and customer base to a great extent. Crafting feature-rich and effective solutions is the foremost step and an initial step that you need to take for your business.
Get Listed on Search
If you don't want to miss the chance to find local customers, then it becomes essential for you to get listed on social media platforms that incorporate the "nearby" search. There are various platforms where you can list your restaurant to leverage significant result; these platforms include:
Yelp

Google Maps

Google Business

Facebook

UrbanSpoon

Foursquare
There are numerous options which you can consider to list your restaurant locally. All listing platforms incorporate geographic proximity into the search results. If you are not listed on the platform, then you can miss out on various opportunities, especially when it comes to mobile searches. Visit the sites and enter all the essential details such as store address, contact number, working hours, etc.
Ask your customers to leave their thoughts as reviews on social media platforms, ensuring to increase your ratings. Be careful with your thoughts as one negative review can spoil your image online. Make sure to respond positively as the reviews can directly impact the ability to expand your restaurant.
Text Messaging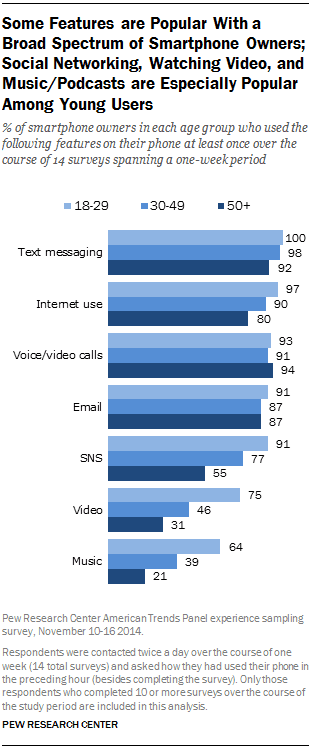 Image: (PEW Research)
More than 98% of smartphone users use their phones for texting. Hence it can be said that SMS marketing is a useful idea to expand your restaurant business, it helps to contact customers initially without any problem. MobileSquared report shows that text messaging has excellent rates. Around 90% of people read text messages they received within three minutes.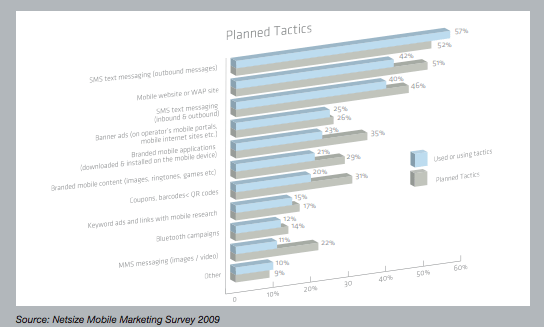 Image: (Mobiles Quared)
There is a great response rate; you can't duplicate with social media and email. Listed below are some of the useful tips which you can follow while crafting text messaging, these includes:
Create a loyalty program

Build a text club

Send special offers, promos, or coupons.

Advertise your upcoming events.

Involve more people with online contests.
Text messaging is a useful option for you as it helps you to win your customers trust. It allows you to make your customers understand how much they are valuable for your restaurant.
Email Marketing
Email marketing is still an effective way of marketing your business. Reach your ideal customers by sending them emails each month. You can send a newsletter to your customers once a month with various tips and tricks. You can send a targeted email, including a weekly special to your customers. Make sure to analyze the analytics to finalize which level of email marketing works best for your business.
Use Mobile to Collect Payments
Modern technology has made it easier for customers to order their favourite meals with a few simple taps on the platform. Hence to offer them with more convenience allow them to pay online using multiple payment options such as Stripe, Paypal, etc. It can result in saving huge customers time as well as helps them to settle the bill effectively without any hassle. But don't forget that many customers prefer to pay using traditional methods, hence keep mobile payment optional.
Leverage Social Media
Social media account is undoubtedly a fantastic tool helping you to reach more customers in a short duration of time. Hence consider developing a strong social media presence with engaging and mouth-watering images, set copy of the menu, share crucial information, etc., with customers to engage them with the platform. Encourage your customers to post their reviews and recommend your business service to others, including their friends and family.
Leverage the Power of Mobile Marketing for Your Restaurant to Flourish in 2023
The power of mobile marketing is just incredible; it will not bring overnight success for your business. But it will help you reach more customers in a short time. Build a strong business presence online, get in touch with our team to craft fantastic mobility solutions to enhance your business presence online. Also, consider focusing on various mobile marketing tactics to menace your business presence online.