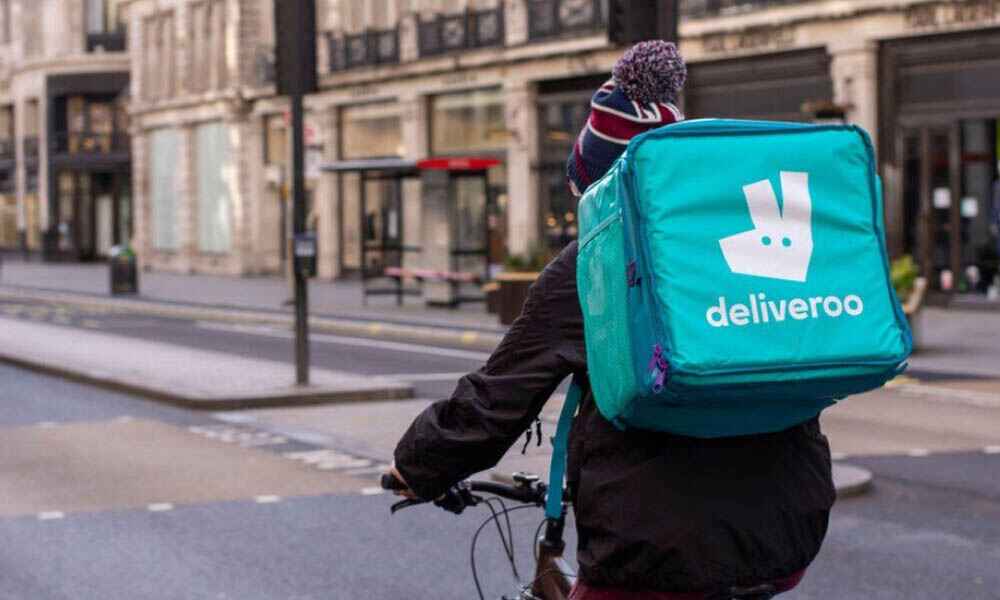 The on-demand economy flourished with the enormous contribution of the online food business providing delivery service. Upcoming years will show massive growth in that segment. Needless to say, any piece of content that is related to this subject has a similar opening line. As it is a fact, that is globally accepted and looked upon as its consequences. Numerous remarkable businesses have transformed or initiated digital methods and transcended the markets. And the same name that comes to our mind is Deliveroo. Know how Deliveroo works and which business model it has been following that helping them to achieve top position in the food delivery market.
As such, Deliveroo is one of the major players in the food delivery market. The food delivery business's global market value in 2020 is $115.07 billion, which is expected to rise with an 11% CAGR in 2025, summing up the value of $192.16 billion. One major cause of the growth is an increase in smartphone users, which reflects online food shopping.
Refer to its comprehensive business model if you are looking to develop an app like Deliveroo offering conveniences to the customers and huge [profits to the business.
What is Deliveroo?
Deliveroo is a technology firm partnering with eateries to provide meals delivery services to consumers. In other words, it works as an intermediary between food buyers and eateries. The firm aims to provide delivery in 32 mins from the order requested. Nearby deliveryman provides delivery services operated on-demand and as appointed by the restaurants. It makes the revenues cut from delivery costs, sign-up fees, and a few more.
Deliveroo was launched by Will Shu, Greg Orlowski in 2013 in London, United Kingdom. The firm is conducted in France, the Netherlands, UAE, Australia, Kuwait, Singapore, Italy, Ireland, the United Kingdom, Hong Kong, and Belgium, with almost 20 locations. The organizations' primary ambition was to provide quality meals that were easily accessible. It minimizes delivery duration and maximizes the benefits of the deliveryman and diners.
The mediator permits the buyers to order meals through its apps (Android and iOS) or website and seek delivery advantages they have to spend a minimal amount. Also, it registers restaurants on the platform in return for a subscription fee from them. Besides restaurant's food, Ghost Kitchens and Deliveroo Editions, "rapid" grocery deliveries are some of its post-launch services introduced in several cities in April 2017 and September 2021, respectively.
Facts and Figures About Deliveroo
Launch Year: 2013
Founders: Will Shu, Greg Orlowski
Headquarters: London, United Kingdom
Operated In: Over 800 Cities ( in 2020)
Funding Amount: $1.7B
Funding Rounds: 13
IPO Launch: 31st March 2021
Formerly Known: Roofoods Ltd.
No of Employees: Around 2,300 ( in 2020)
Industry: Online Food Ordering, Food Delivery
Active Customers: 7.1 million (in 2021)
Number Restaurant Partners: 140,000 (in 2020)
Deliveroo's Funding Rounds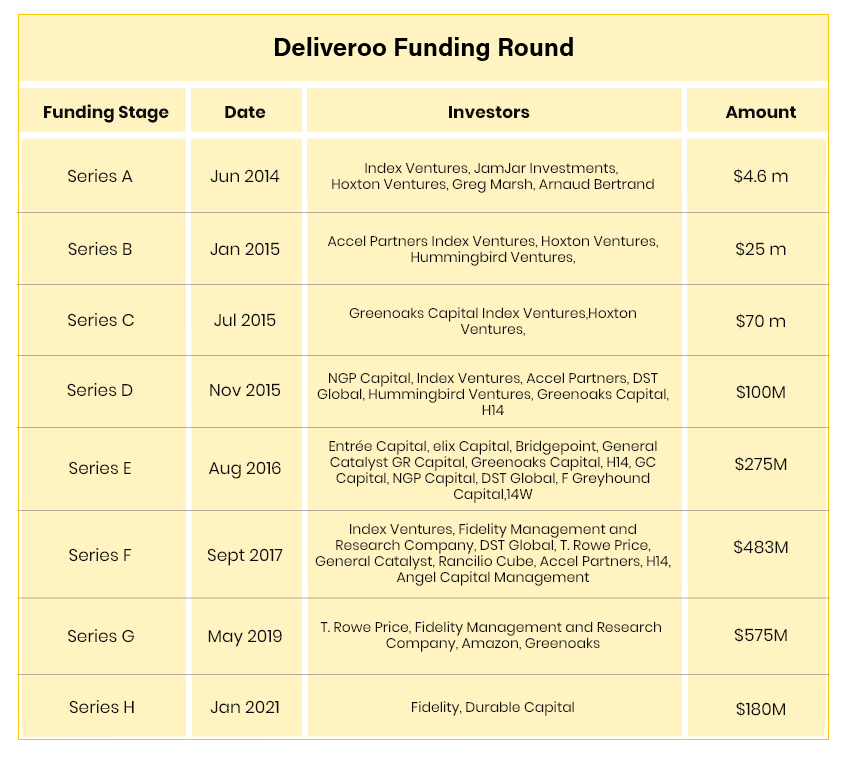 Short Story of Deliveroo
There comes the idea of "Deliveroo." After pursuing MBA at Northwestern University, founder William Shu, a Chinese-born American, was working as an Associate Manager. He wanted to resolve the worldwide crisis of lagging in restaurant delivery benefits. Partnered with his best friend, Greg Orlowski, appointed as the co-founder, the company plan got its legs with the initial service of 2 restaurants. Consecutively, receiving several series of funding, Deliveroo has expanded its services in several cities and countries.
Fun Fact: The initial permutation for Deliveroo was "Boozefood." The basic purpose was to supply grade meals late at night for those craving after the drinks.
Deliveroo Business Model: An Provocation for Entrepreneurs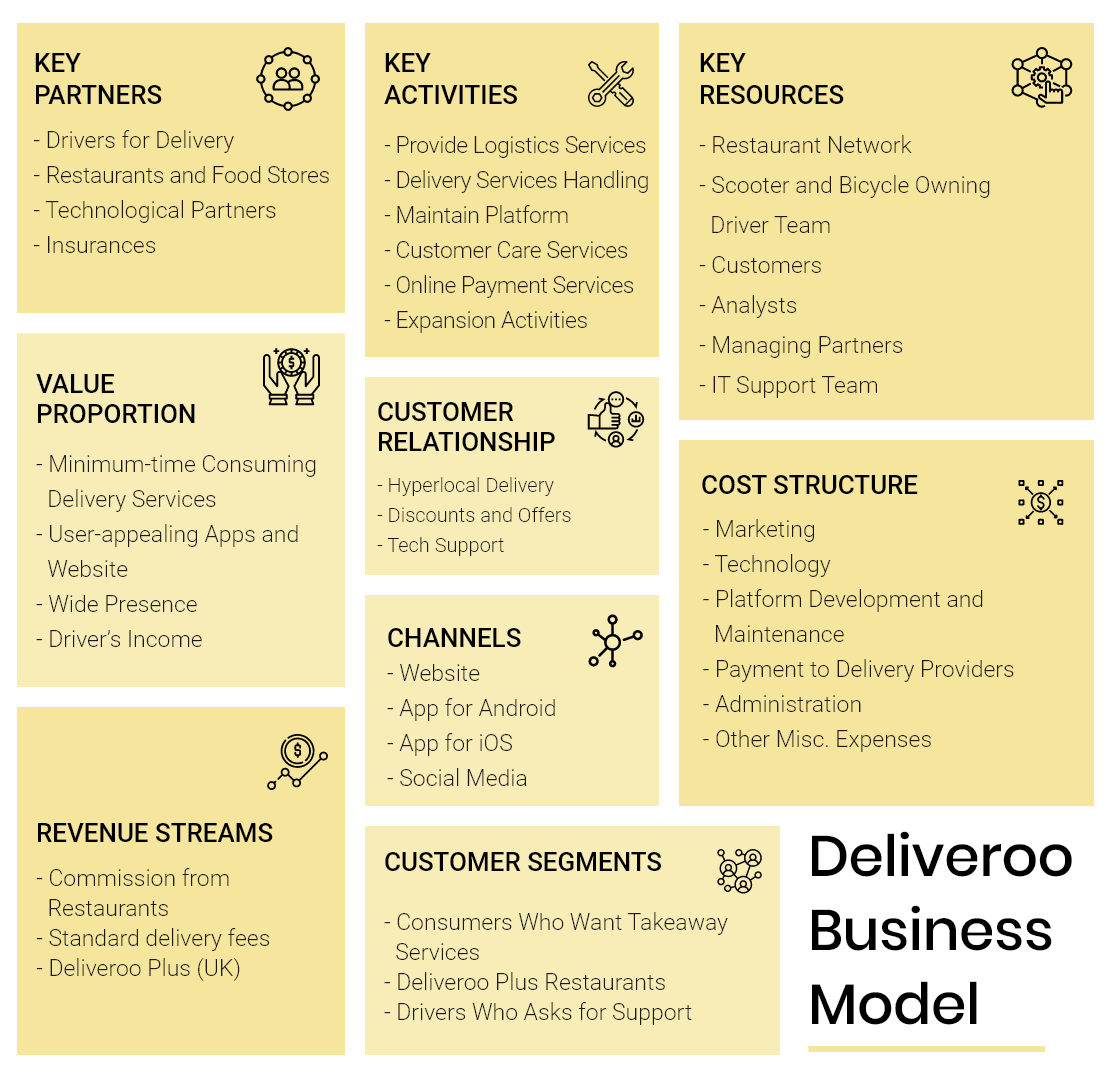 Starting with just partnering with two restaurants, the company is now operated in several countries, including over 800 locations. It has joined hands with the most remarkable restaurants and has contractual delivery drivers of around 110000.
How Deliveroo Works?
Deliveroo's business model is a platform-customer model. It makes a chain between consumers, delivery service providers, and restaurants a food aggregator. Deliveroo follows the workflow like
Customers order food from nearby eateries browsing through a mobile app or website and pay with the desired method.

Diners prepare food, assign delivery benefits to drivers, and perform store tasks online through a dedicated module.

Drivers will fulfill the delivery services using its determining app and receive their cut of the amount within its e-wallet.
Key Partners of Deliveroo
Deliveroo has acquired funding at several stages after its launch. Eventually, it had gathered enough funds to open out in several locations connecting with numerous restaurants. Starting with two restaurants in London, it has now joined hands with over140000 eateries broadly. Plus, delivery providers are also pivotal partners with the firms offering flexible delivery services.
Activities
The main activity of Deliveroo is to craft a platform that is easily operated for ordering food and getting delivery services. These are even managed from the platform by the shops and administrators. It also performs customer loyalty programs to engage more customers. Further, it launched business expansion activities. And a reliable online payment structure.
Expenditure Structures
The business was doing quite well from its starting years, carrying huge revenues. However, some significant expenses also cost high like:
Marketing

Technology

Platform Development and Maintenance

Payment to Delivery Providers

Administration

Other Misc. Expenses
Customers Benefits
Consumers will benefit in various ways:
Delivery services to the desired locations

Multiple online payments from the platform

Advantage of discounts and offers from apps and panel
Drivers Benefits
Delivery services are the main purpose of the firm and therefore create precious opportunities for delivery providers and hence providing strength to the firm. Providers will receive many benefits from being associated with the business.
Commission for delivery services

Flexibility in timing of delivery

Gets optimized routes to consumers' locations
Restaurants Benefits
Its founder initiated Deliveroo with the thought that restaurants have enough opportunities for revenues other than the dining facility. The platform serves restaurants with several benefits like
Acquire a higher customer base

Delivery services get extra earnings

Take advantage of the marketing strategies
Customer Relationship
The platform ensures multiple customer relationships mediums to seek long term benefits like:
Offering discounts and coupon codes to the buyers

Ordering through the app and home deliveries

Allows to give feedback for the service and food items
Revenue Sources of Deliveroo
Deliveroo is working with considerable revenue streamlets and is flexible enough to not depend on a single channel for its income. Since its launch, it has acquired certain remarkable positions in the UK's food delivery markets with a noteworthy business model. As of February 2021, the share of consumer spending amongst the top apps, Deliveroo, was 26%. And also its market share increased by 7%.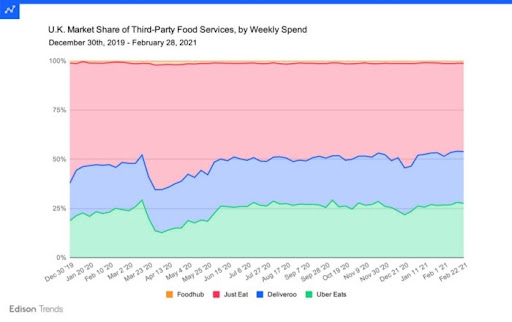 Source: (medium.com)
Commission on Orders
Deliveroo takes a commission on the restaurant's orders earnings of about 25-45% per order. It also depends on the agreement with the restaurants or the locations of the eateries to set fixed shares in that zone. Fees for the restaurant's on-boarding is also one revenue channel besides commission, of about $250-$300.
Subscriptions On Deliveroo Plus
Customers can subscribe to Deliveroo Plus and receive extra benefits from using the platform. The benefits are free delivery on above £10, special offers, all-time customer services, and a seven-day free trial.
Deliveroo For Corporates
Corporates or any business can compose food requests for their team in bulk. It also allows fixing food budgets and synchronizing food budgets. Even employees can order from the partnered eateries through the app. These order's benefits will be divided amongst the diners and Deliveroo.
Deliveroo Editions
Driving many eateries over multiple countries, Deliveroo has launched the new concept of Deliveroo Editions in its business, sometimes called dark kitchens. It prepares food on-demand and has no established premises for a dine-in facility. It either assigns kitchens or establishes its own and sets the earnings based on that. It has also launched the unique Helicopter Dining by Deliveroo, providing meals to the customers 1000 feet above in the air.
Summing it Up
Deliveroo's workflow and business model is flexible and can be beneficial to almost all delivery businesses. The future of the delivery business is noteworthy, and so is the business model of Deliveroo. The markets have boundless opportunities for online delivery startups even with the fierce competition between prominent businesses worldwide. The details about Deliveroo's business model are ready-to-refer to any business dimensions.