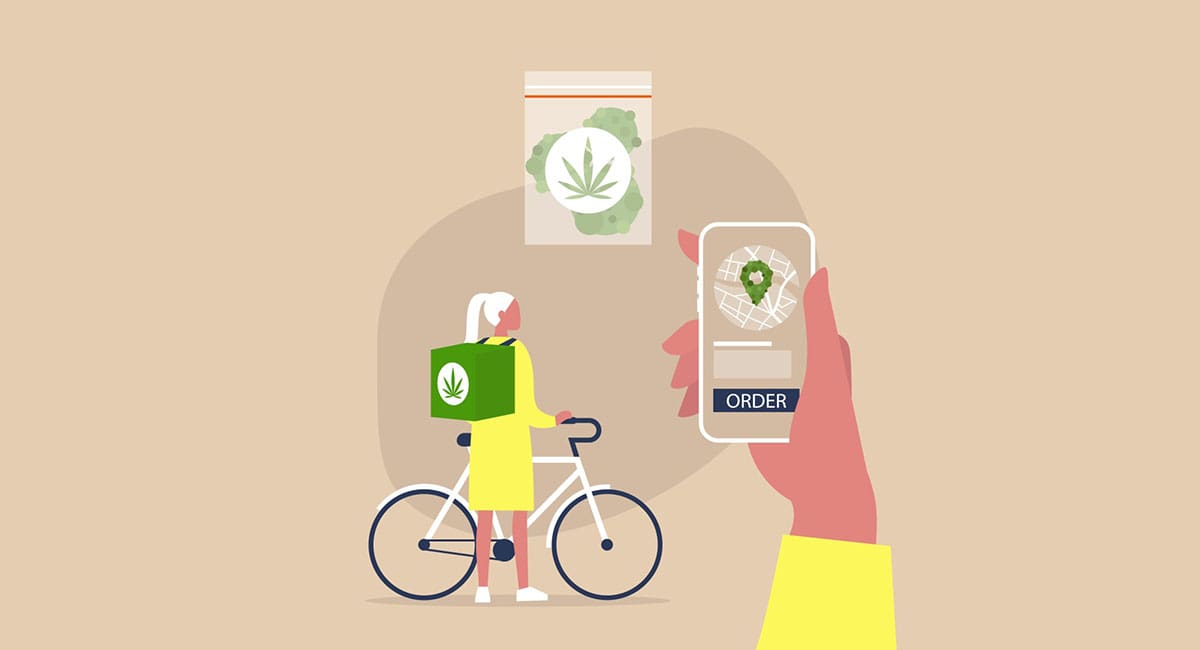 Due to the growing needs of recreational and medical activities, the cannabis market is now one of the fastest-growing industries across the world. Suddenly it has become so popular because of its medical benefits. Probably, this is the reason more and more people are using marijuana apps. Here we have addressed the best 15 Cannabis service apps that are popular across the globe.
Cannabis also is known as marijuana, and there are very limited apps available on the Internet that deliver quality products with accurate information. Some of the entrepreneurs taking advantage of this market situation want to enter the field of marijuana and cannabis industry by developing an online solution for easy access.
As per the recent report released by Huffington, the marijuana industry could be an emerging industry across the USA. In the next decade, total marijuana spending would reach $57 billion. In the US alone, medical cannabis sales are estimated to reach $5.1 billion by 2021. All these figures show that the online cannabis industry is growing and worth investing in.
Here in this blog post, we have listed the 15 Cannabis service apps dominating the market, but before jumping to the list, we would like to draw your attention to the cannabis market statistics.
The Statistics Of The Online Cannabis Service Market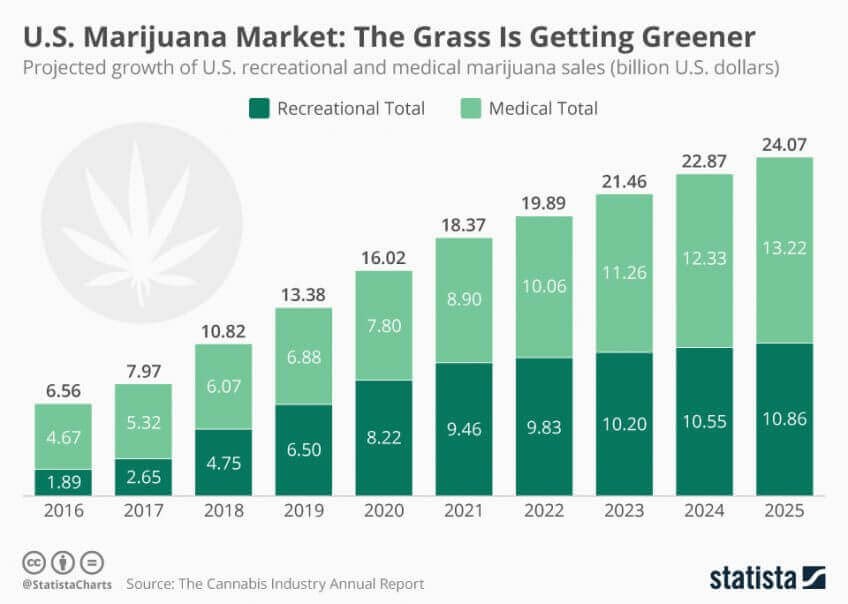 The above chart shows that usage of Cannabis across the world keeps increasing, especially in the USA; there is a significant rise in the sales of marijuana, and it is projected to reach $24.07 billion by 2025. The use of marijuana has been still illegal in some countries because of its effects, but many countries are on the way to legalize it as soon as possible. (source)
Marijuana is a popular plant that is exceptionally used in the healthcare industry. You might get shocked to know that the cannabis market has already become a $14.9 billion market and will surpass $42.5 billion by 2024.
American countries are using marijuana excessively, and if we talk about California, it has already generated $350 million. It means the Cannabis industry is going to be $22 billion by 2025. Thus, if you are engaged with a marijuana selling business and want to get an attractive yield, this is the right time to take a step.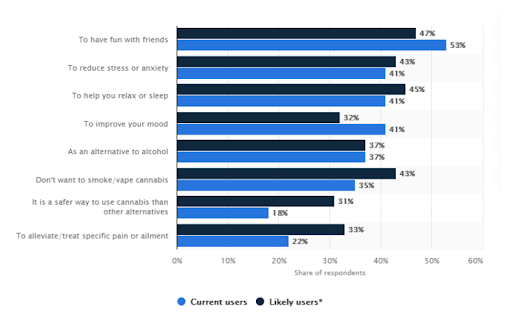 Moreover, some people believe the consumption of marijuana is hazardous to health, which is the major reason some countries put a ban on that. But the statistics mentioned above shows that, apart from the fun aspect, it can also be used to reduce stress and anxiety. Thus, we can say that a large number of medical institutes and patients benefit from the cannabis market. (source)
Moreover, another research revealed that, on average, a medical marijuana user spends around $136 every ten days. Hence, these statistics clearly show that the marijuana market is growing rapidly. Here we have listed some of the already existing best marijuana apps that are ruling the market.
The 15 Best Cannabis Service Apps To Install Now
There are around 147 million people who consume cannabis regularly. There are lots of cannabis delivery service apps available in the market but few of them are actually delivering quality products and offer accurate information about dosage. Want to know which apps? Check out 15 cannabis delivery service apps below that are used by current generation to avail different weed products.
Eaze
Eaze is one of the leading and well-known American company located in San Francisco. It was launched in 2014 that allows consumers to get legal marijuana delivered from local dispensaries. Now, Eaze operates in 100+ cities across California. Consumers whose age is above 21 can sign up; it also recommends products that suit their purposes.
Eaze app is available on Android and iOS.
PotBot
PotBot is another popular marijuana delivery app that simplifies the lives of patients. One of the best features of the PotBot app is that it suggests which strain will be best for you to consume. It has a unique cannabinoid algorithm that can be used to research what strains are available in the local area.
Using the PotBot marijuana app, you can easily personalize treatment as it offers a seamless suggestion process that helps you make an informed decision about your health.
PotBot app is available on Android and iOS.
simLeaf
The simLeaf app enables you to grow your weed in no time. This is more expensive and time-consuming than the real thing and also serves as great practice. If you are new to the cannabis cultivation profession, the seamless experience of nurturing a marijuana plant from seed to flower gives you exciting insight into this unique plant's process. This app comes with advanced features that make the whole process involving.
simLeaf is available on Android and iOS for $2.99.
MassRoots
MassRoots is a well-known app in the field of marijuana and CBD products. Along with cannabis delivery, it also educates the users through marijuana-related content while purchasing products. These expert reviews will help you purchase marijuana products. This is the best app in the field of the cannabis industry. This app already has millions of downloads; its finder app helps users find weed based on their needs and suggests a nearby legal dispensary store.
MassRoots is available on iOS, Android, and Amazon App Store for free.
WeedMaps
Weedmaps app is the best app for Cannabis lovers. It is used to know information about all the Cannabis. Users can also explore and discover new products and brands near their area. It also enables users to find nearby dispensaries, deliveries, and doctors. Moreover, to educate users, they continually update their app and website and post relevant content. It will help users to learn about different CBD products.
Extensive range of products like edibles, concentrated, strains, and more. You can gain knowledge about the usage and its types using this app.
WeedMaps is available on Androidand iOS for free.
Muncheez
Muncheez is another popular marijuana delivery app that helps users buy their favorite marijuana and weeds from trusted and reliable local dispensary stores. Any user who is 21 or above can sign up for this app to access their favorite weed brands. Once users install the app, they can also stay connected and gain knowledge about new weed products in this industry.
Muncheez is available on Android and iOS for free.
CannaBuzz
Social networking is important these days, whether it is for an individual's growth or for business. CannaBuzz app does the same; it is a cannabis social network app with lots of advanced features that enable users to get the latest stories and news about marijuana and cannabis products. One of this app's exciting features is it allows users to share photos and videos with their friends and colleagues. Moreover, you can chat with your friends within the app.
CannaBuzz is available on Android and iOS for free.
Leafly
Leafly is known as Wikipedia of Weed and marijuana. It contains a database of popular strains available across the USA dispensaries. It will also keep users updated about recent cannabis news. It also provides detailed information about each strain with reviews from other users. Along with that, you will also come to know the effects of each strain after consumption.
If you are looking for some weed products that will relax your mind, Leafly is a perfect app that helps you find the perfect strain for you based on your health. Based on past users, you can order strain for you from nearby dispensaries.
Leafly is available on Android and iOS for free.
WeedPro
WeedPro is the best cannabis guide app that enables users to avail of marijuana at their doorstep, along with free guidance. This app is easy to use that allows you to get in-depth information using a couple of clicks. It also contains some exciting features, but you can create personalized notes using Evernote. Later, you can use it to get information about side effects, its usage, etc.
It is the perfect app solution for those who are new to this field. Ensure you have consulted a doctor before using this app.
WeedPro is available on Android and iOS for free.
Duby
Duby is another weed networking app that allows users to share photos, videos of CBD products with their friends. You can also connect with strangers via private messages. It comes with new features where you will get updated content, brand news, deals, and other things based on your interest. You can also find nearby dispensaries and products to order marijuana online.
Duby is available on Android and iOS for free.
My Canary
My Canary is one of the best apps that has been developed and promoted by the cannabis activist group NORML. Users have to go through several tests. Tests like the ability to stand on one foot, memorize numbers, etc. Based on these results, you can make decisions such as which strain to consume for relaxation.
My Canary is unavailable on Android but available on iOS for $2.99.
HighThere
HighThere makes it easy for users to connect with people who share mutual interests. You can meet new people who are having the same interests. This app is perfectly designed for cannabis enthusiasts who want to expand their social network.
HighThere is available on Android and iOS for free.
Tokr
Tokr helps consumers find brands and weed products that can elevate their cannabis experience. This app provides accurate information on the right products for sleep, pain, exercise, and much more. This app only works with legal, trusted, and licensed brands that enable users to order online marijuana from nearby dispensaries.
Tokr is available on Android and iOS for free.
Greenery Map
The Greenery Map app allows users to easily search Cannabis and dispensaries within their local area. It is free and has an easy interface; you can search for exact cannabis products within the app based on your mood and medical needs. It also suggests to you how you can consume Cannabis according to your moods.
Greenery Map app is available on Android and iOS for free.
MOCannaHub
This is a cannabis and locator app that allows users to search, locate, and review strains from trusted medical marijuana dispensaries and doctors. By turning on GPS location, you can find reliable medical dispensaries, doctors, and much more.
MOCannaHub is available on Android and iOS for free.
Uplift Your Cannabis Business With Digital Solutions
The rising demand for digital solutions hints that people search for marijuana at their homes. This poses a vast opportunity for marijuana suppliers to grow and expand their business globally by approaching and responding to customers using marijuana app development as a key solution.
Based on your business model and requirement, you can integrate features that later help you build a strong reputation in the market. If you want to develop a custom marijuana delivery service app, there are multiple factors you need to consider, such as:
Development cost
Testing cost
UI/UX cost
And managerial cost.
If you want to grab the market opportunity, you can also opt for readymade cannabis delivery service app solutions. In a nutshell, the cost of a marijuana app depends on your project requirement, number of features, number of mobile platforms, and so on.
Turn Your Local Dispensary Digital With Canabis Service App
Here we have seen the best 15 Cannabis delivery apps and websites that have made their way in the eCommerce segment and encouraged startups to launch their own cannabis delivery service business. The above list is just a glimpse of the best apps. If you are thinking of developing a cannabis delivery app, you can contact us; we will come up with the best possible solutions.