Know How 7-Eleven Works – A Pathbreaking Success Story and Business Model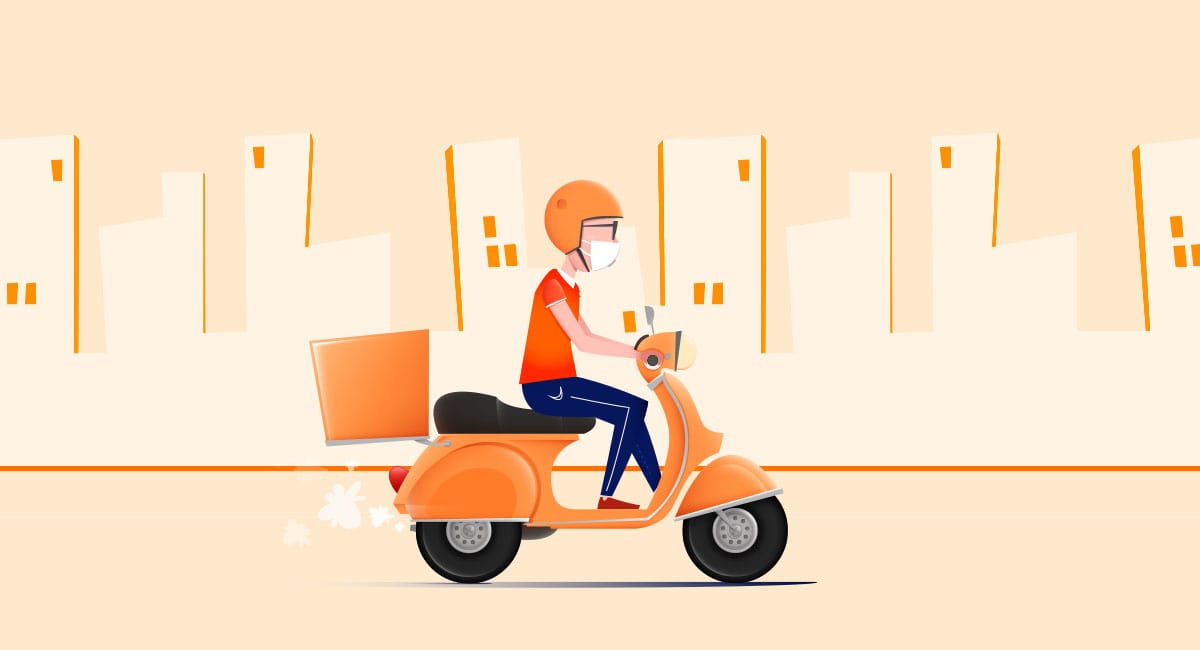 Have you ever felt hungry in the middle of the night? Are you in such a hurry that you don't have time to stand in a long queue at the store? These days, people live a busy and hectic life where they don't have enough time to buy groceries and other products at the store. then, Today, people want things done quickly with a snap of a finger. They give much importance to convenience over anything else. In this piece, we are going to discuss how a convenience store 7-Eleven works, why does it popular, and what business model it follows to achieve success.
When you walk along any street of a famous American city and notice a store with red and green symbols flashing in the distance. Yes, it is a well-known convenience store 7-Eleven's symbol that has gained huge success and operates in more than 16 countries globally.
7-Eleven is popular because its stores are opened 24/7 all year long. They sell an extensive range of snack products and adopted a business model that allows customers to get in and check out from the stores quickly. 7-Eleven is one of the best convenience stores that allow people to shop during non-traditional working hours.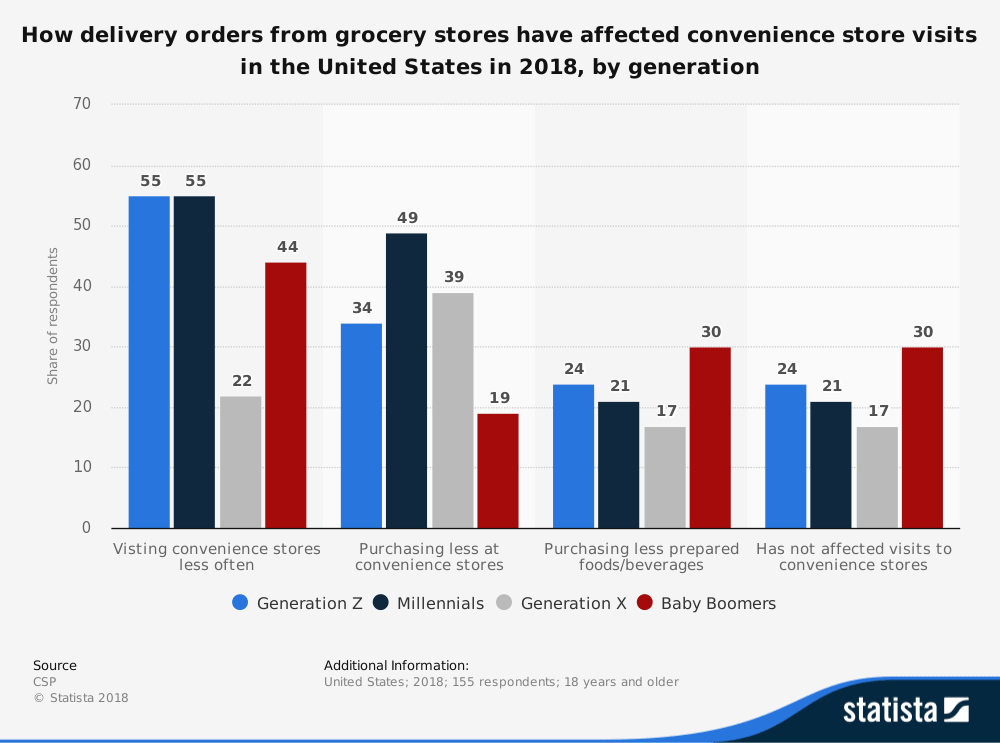 In the above image, you can see how the convenience stores industry is surging and setting new records, especially among millennials and GenZ, because these stores allow them to buy products at any time and located near people's homes so that they don't have to drive long distances. (source)
What is 7-Eleven
7 -Eleven aims to be the biggest and well-known operator of convenience store outlets across the globe. It offers convenience, efficiency, and accessibility to people and improves the everyday shopping experience.
7-Eleven follows a simple business model that serves customers who want instant gratification. People who want to buy food, beverages, snacks, medicine, etc. at the last minute or on the go. It opens round the clock that makes it more popular across the globe.
Quick Facts and Figures With Snapshot
Company Name: 7- Eleven, Inc
Founded In: 1927- present
Founder: Joe C. Thompson
Industry: Food and beverages
Headquarter: Dallas, United States
Company Type: Public
Website: https://www.7-eleven.com/
Number of Employees: 45000 +
Parent Company: Seven & I Holdings Co.
Operates In: Asia, Europe, UK, North America, Oceania
NAIC: 447110 gasoline stations with convenience stores
7-Eleven Success Story To Watch Out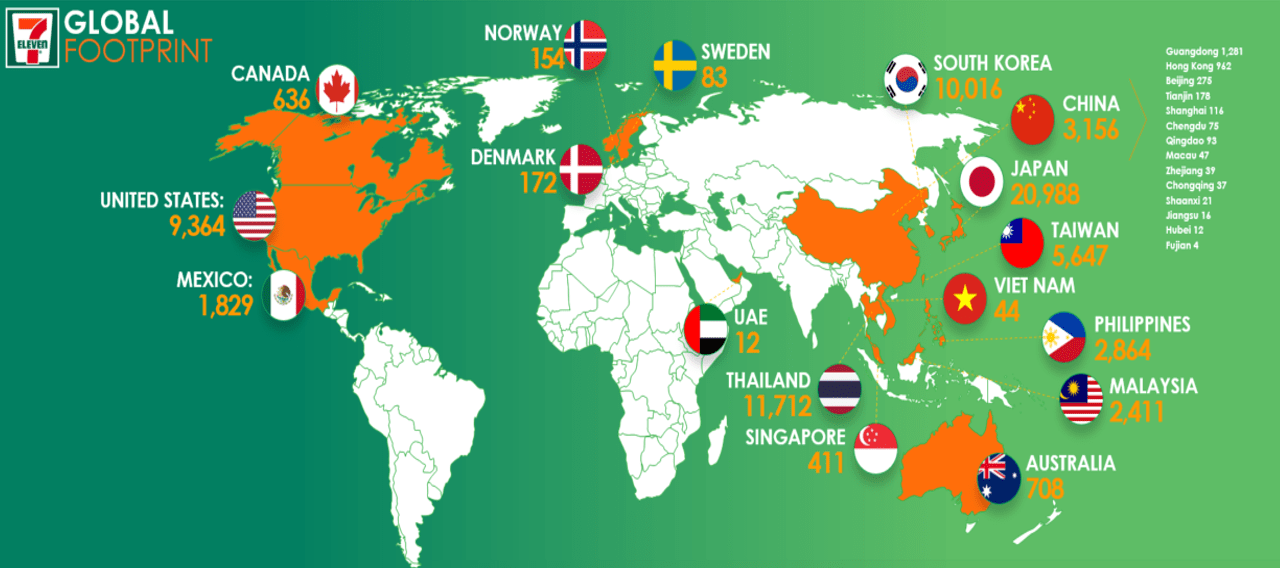 The convenience store market is quite competitive these days with both franchise and retail outlets. They are often battling for the title of "most convenient." When we talk about convenience stores, the very first name blink in mind is 7-Eleven. Yes, it is one of the well-known convenience stores located in Texas, USA and more than 70,000 stores operate across the world. (source)
Founded in 1927 as an ice and beverages stand in Dallas, 7-Eleven first launched its 24/7 store in 1960 and rapidly got success. Now its business model is copied by many competitors.
In the year 1980, the company had expanded its operations and opened stores in Sweden, Norway, Taiwan, and other popular countries. Sadly, 7-Eleven's parent company ran into financial loss in the same year due to the stock market crash.
But they did not lose hope, and in 1987, Japan's largest convenience store company bought them, and 7-Eleven re-established themselves as one of the American convenience store leaders and continues to grow to this day.
Today, 7-Eleven is one of the popular franchises with more than 45000 stores across the globe, and majority of its stores are located in high-traffic areas to drive more traffic.
Its success story is quite amazing and inspiring; from the great depression to bankruptcy, they faced off challenges and are still standing on the top.
Today, it is one of the renowned convenience stores worldwide, and it's Japan, and other units are the valuable assets of the 7-Eleven.
Business Model – What Has Made 7-Eleven Successful
7-Eleven's business model is fascinating; it is primarily serving customers across 17 countries globally, especially in Asia and the Americas. Its core business provides value to its consumers in certain ways:
How 7-Eleven Benefits to its Users?
Best store for people who are on the go and looking for one-stop shop to buy everyday products
People easily get morning breakfast, lunch, dinner from its 24 hours operational stores
It also offers financial and payment services in certain areas
Key Partners
7-Eleven works with different partners in the operation of its business in Japan and overseas. These partners fall into the below categories:
Supplier Partners
This comprises various food outlet companies and retailers that provide food and beverages that are sold at 7-Eleven's stores.
Franchise Partners
This includes various companies and entrepreneurs that operate 7-Eleven stores on behalf of them.
Branding Partners
Comprises of different marketing and branding companies that collaborate with 7-Eleven for business and marketing projects.
Key Resources
7-Eleven's major resources are its products and services, its suppliers, infrastructure, and retail locations.
It also depends on its IT infrastructure concerning its online store and mobile app.
Revenue Streams – How Does it Make Money
7-Eleven generates revenue through the sale of snacks, drinks, and other products to customers via its retail stores as well as sales made via its online store and delivery services.
It also generates income from franchising fees from various companies and business owners that operate stores worldwide.
Latest Innovations
As we have said earlier, 7-Eleven' nonstop innovations have made them one of the world's popular and largest brands. Let's have a look at a few of them.
7Reward App
Launched in 2012, 7Reward App is having millions of users as it offers users exclusive offers and allows them to find nearby stores to get home delivery. To get attractive deals and discounts, users can install the App Store and Play Store app.
Bill Pay App
The Bill Pay App allows users to pay local bills by scanning barcodes. Launched in 2011, USA customers use this app to make payment of various bills. Users can install it from the Play Store and App Store.
7-Eleven Now
This is the online app that allows users to obtain products at their doorstep. Consumers can order from an extensive range of options and make their delivery experience more convenient. Right now, this app only works in the USA.
Moreover, 7-Eleven also has partnered with Postmates in 2015 to make doorstep delivery easy and hassle-free.
How Much Does it Cost To Develop an App like 7-Eleven?
These days, the demand for eDelivery apps increasing because they enable entrepreneurs to handle regular operations with ease. Perhaps, this is why more and more business owners are developing an app like 7-Eleven to maximize their profitability.
The cost of developing an app comprises many factors. If you want to build a 7-Eleven app clone and know the precise cost, you should hire an app development company that has vast knowledge and domain expertise. Multiple factors such as
Business needs
Features
The development team and its location,
Number of platforms you want to target,
Design,
Testing, and so on.
The more modern features and functionalities you want to implement to your app, the more time and budget you need to build it. If you are launching a new business and looking for a cost-effective solution, you can opt for readymade solutions as it saves your money and time because the development team won't need to spend time writing long lines of code.
Whereas if you want to go with custom solutions and make a 7-Eleven app clone from scratch, app development costs will go higher.
How An App Similar To 7-Eleven Can Flourish Your Business
Today, the mobile application market is highly competitive. In order to stay strong in such a world, everyone is coming up with digital solutions that boost revenue and increase customer retention ratio. On the other hand, users are also highly appreciating app similar to 7-Eleven for their comfort, convenience, and affordable products.
If you are also one of those aspirant business owners who want to transform a traditional business or want to launch a new one, get in touch with us, and enjoy numerous business perks.