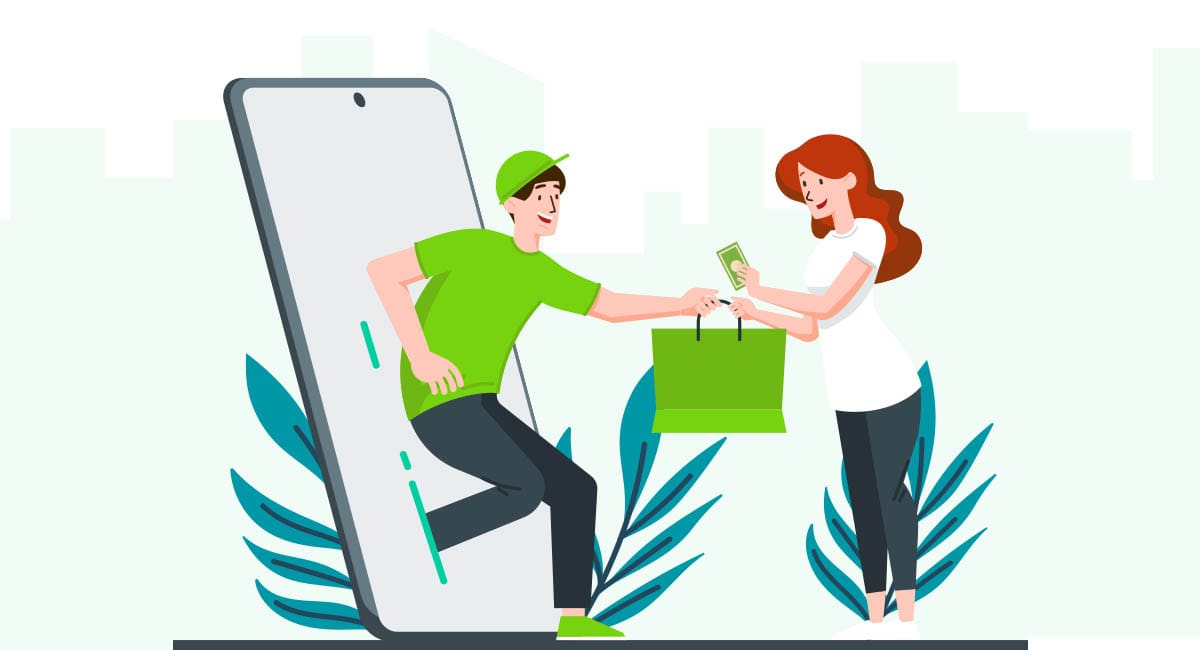 "Convenience" is the biggest factor that has skyrocketed the demand for doorstep delivery. Be it vegetables, essentials, food, grocery, or even meat products, people are directly looking for online solutions. The potential of online meat delivery businesses across the globe has seen different players implementing various business models to grab user attention. Among these different players in the Indian online meat delivery business, Fresh To Home has suddenly come into the limelight. It follows a farm to fork business model, which has become quite popular due to less capital requirements. Now you must be curious to know its success story. So let's have a look at some insights on what is Fresh To Home its business model and workflow.
Fresh To Home is a Bangalore-based online marketplace on which you can buy vegetables, fresh meat, and chicken. Seafood and much more. Gradually, it has become India's largest online meat delivery market where people can buy and place orders and get them delivered at their locations.
Due to Fresh to Home's sudden success, more and more investors and entrepreneurs are keen to know how it works, what business and revenue model it follows. According to Statista, the online meat delivery market is forecasted to reach $1.5 trillion by 2022. This is why the demand for the Fresh To Home clone app is increasing, as it can uplift your traditional business and streamline business operations.
Before heading to its business and revenue model, let's understand what is Fresh To Home and its inception details.
What is a Fresh-to-Home Clone? Fully Customizable Solution for Your Traditional Business
Fresh to Home Clone is the finest solution that empowers your local meat and vegetable business. Let customers order fresh vegetables and meat products online without standing in a queue. It will not only automate your business but ensure a huge scope of success and growth. The grocery business market has been growing since the pandemic and an app like Fresh-to-Home has the potential to upscale and automate your business with the lowest investment.
Facts, Figures, and Other Details About Fresh To Home
Fresh To Home is an online meat and vegetable delivery company that has surely changed the way customers buy chicken and meat. They offer an amazing platform that allows customers to order meat products online and deliver them at their doorsteps.
The extensive range of options, competitive prices, quality products, and other premium services makes Fresh To Home popular across India. Customers can also choose a delivery slot and pay through multiple options like debit/credit cards, cash, or net banking.
Brand Name: Fresh To Home
Founder: Shan Kadavil
Founded In: 2015
Headquarter: Bangalore, Karnataka
Number of employees: 8
Number of Investors: 23
Monthly processed orders: 1.5 million
Area served: Delhi, Mumbai, Pune, Bangalore, and Hyderabad
Funding Rounds
FreshToHome, an Indian online meat delivery company that sells fresh products and all kinds of meat products has raised $121million in a new financing round due to the coronavirus pandemic.
If we talk about C funding, the meat delivery startup has received huge funds from different investors, including the Corporation of Dubai.
In the B round, Iron Pillar has invested $19 million in the new financing round.
Overall, Fresh To Home keeps growing as it receives a huge amount of funding across the globe. It is a close competitor of another Indian-based startup, Licious, which has raised more than 94.5 million to date.
In a conversation with Economic Times, the CEO has reported that they are planning to expand its service to 56 countries in India within the next two years.
How Does Fresh To Home Work? Follow 5 Step Formula to Get Doorstep Delivery
Fresh To Home works on a simple formula. However, it follows a different business model for suppliers and vendors, but here we are going to understand from the customer's perspective. The app and website work simply like any other meat delivery platform that lists out categories and available products to choose from.
Using a dedicated app or website, customers need to pick a product and add it to the cart. The chosen product is shipped from the original place to the distribution hub, from where it is transported in boxes, pouches, and superior packaging through trucks.
Later, delivery providers reach the distribution center with order details and collect packages.
Customers can track this entire journey in real-time within the app.
Delivery providers reach the customer's location, collect a payment, and hand over packages to customers.
Later, customers can rate and review the service based on the quality of products and service.
Isn't it easy? This is how customers can enjoy delicious meat products whenever they want.
Fresh To Home, Detail Understanding of its Farm-to-Fork Business Model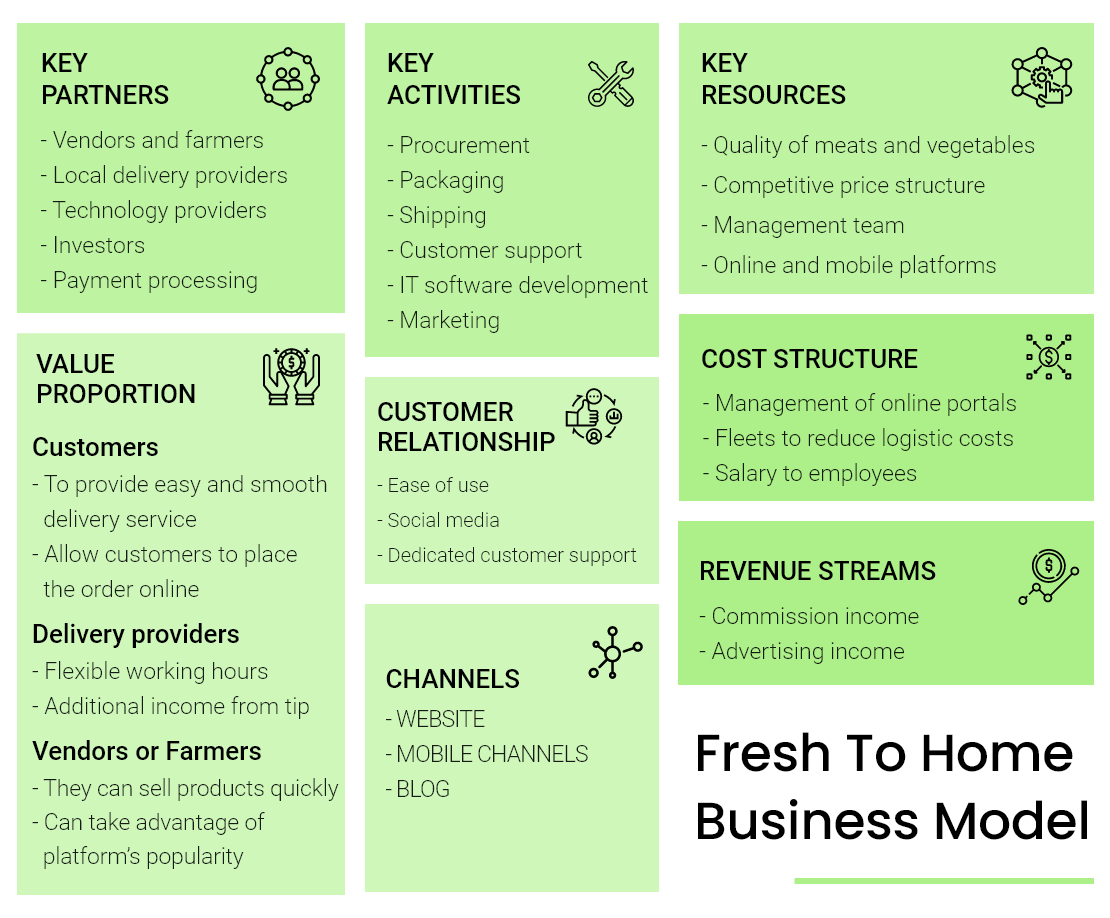 Fresh To Home follows a farm-to-fork business model as it produces fresh meat from farmers and vendors, processes it to make them chemical-free, and delivers to customers based on their requirements.
Starting from procurement to processing to cold storage to doorstep delivery, Fresh To Home delivers products within two hours of order placement. More than 15000 orders are processed a day, but it ensures product quality and maintains the freshness of each product delivered to customers. They have a website and application that performs well for vendors as well as customers.
Fresh To Home is working on a successful business model by offering services to three associated customer segments, customers, vendors, local suppliers (delivery providers).
Customers
Users can browse the extensive range of products within the website or app through which they can order vegetables and meat products from different stores.
Customers can make payments online.
Users can schedule their orders to get doorstep delivery within a specific time frame.
Delivery Providers
Local delivery suppliers receive a notification on their smartphones once the order gets placed.
Delivery providers are paid on the hourly basis
Delivery providers can work flexibly and earn additional income from tip
Vendors or Suppliers
Fresh To Home has a partnership with popular vendors and suppliers across all major citie
Vendors can take advantage of the platform's popularity and sell their products quickly
Local stores can increase order volume and online visibility
How Does Fresh To Home Make Money – Revenue Model
Fresh To Home's popularity and profitability are increasing day by day as it aims to earn 1500 crores revenue by the end of this year.
Well, they have various channels to generate income. They don't rely on a single revenue source that is earning from the commission but sources like an advertisement, order placement fees, delivery charges, collaborations, etc.
Delivery Charges
If the customer's location is far from the distributor's location, the platform charges additional delivery fees.
Commission
On each order delivery, the company receives a specific percentage of commission. They collect a commission from vendors on each order.
Advertisement
New meat delivery stores can take advantage of the platform's popularity in exchange for some money. After commission, this is the second main source of revenue.
Escalate Your Business Growth With Fresh To Home Clone App Solution
Today, people use their smartphones to do almost everything, and ordering meat online is not an exception as the online vegetable and grocery market is increasing. The hectic lifestyle of people is making them lazy and frustrating to visit supermarkets and malls. Moreover, increasing the level of income is another reason that demand for doorstep delivery is increasing.
Gradually, this attitude has turned into a habit. Now people are ordering fresh produce through the application as they can have an extensive range of products, attractive deals, and the ordering process is quite simple. An app like Fresh To Home works hand-in-hand in the meat delivery business.
Along with customers, developing an app similar to Fresh To Home allows business owners to expand their business reach. With every small business going mobile and reaching out to its audience, it is mandatory to have a Fresh To Home clone app to accelerate business growth.
Investing in a multi-feature Fresh To Home clone app is a great marketing strategy that can increase your customer base and help you retain them in the long run. Below are some major benefits that an app similar to Fresh To Home can give to your business.
Improved customer service
Streamlines order fulfillment
Better ROI
Grow business
Compete with big brands
If you want to automate your meat delivery business, instead of partnering with third-party apps, it would be beneficial to have your own app like Fresh To Home since it is customizable, ensure a modern technology stack and deliver a smooth customer experience. You can also refer to an online meat delivery business guide to take a plunge in this particular business.
How Much Does It Cost to Develop an App Like Fresh To Home?
Fresh To Home is an online meat and vegetable delivery service that helps customers to order meat and chicken online and get them delivered at their doorsteps. In any case, the cost to build an app like Fresh To Home relies upon various elements such as
Features and functionalities
UI/UX of the app
Platform choice
Development team size
If you are new to the online delivery business, you can opt for readymade solutions. For custom features and functionalities, you can contact us as our team of experts assist you with the features that your Fresh To Home clone app should include and a detailed quote with technical specifications.
Bring Comfort and Convenience with Fresh To Home Clone Script
When the whole world is heading towards digitization, there is still room for improvement. The Fresh To Home clone script solution can help in the growth of a traditional delivery business. An app like Fresh To Home provides modern features, an extensive range of choices to customers and contributes to the growth of the entire meat delivery business, and simplifies the ordering and delivery process.