goPuff Clon e: Enlarge Your Snack Delivery Business with Robust Solutions?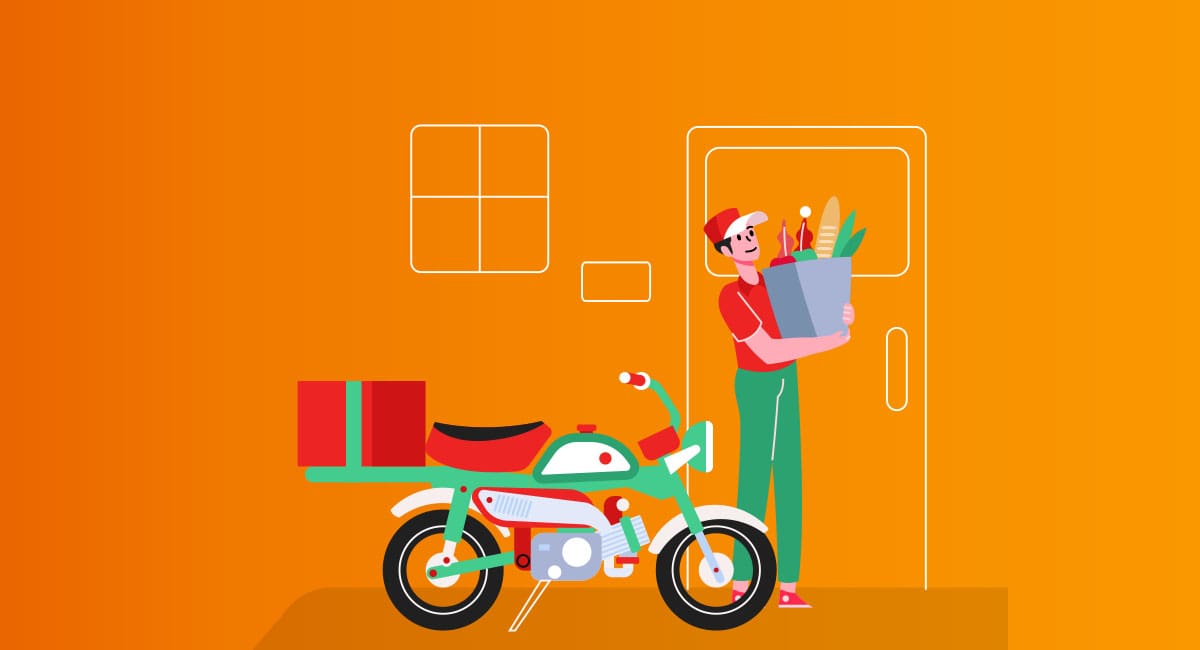 The popularity of online ordering and delivery service is on a meteoric rise. From delivery giant Amazon to small business, everyone focuses on pickup and direct-to-customer delivery options. The new ordering and delivery concept have swept the entire globe, and the delivery business is not an exceptional one. Businesses are investing in goPuff clone as the solution helps them to address all the demands accurately. Learn everything about goPuff right away, explore its business & revenue model, and much more.
The U.K. delivery market was valued at 8.5 billion euros in 2019; it's entirely up from 8.1 billion, measured in 2018. While there are many players in the United States market, Grubhub held the largest share, about 34%, while UberEats is in the second position with 24%.
Looking at the rising market, most businesses are investing in delivery app development to build and launch a delivery platform similar to goPuff. Impressive delivery apps have made it easier for customers to get everything delivered at their doorsteps; they order pizza, fast-food, or any of their favorite cuisines from their favorite ventures with few taps of the business.
Restaurant takeout and delivery are taking a bite out of dining traffic; it's found that about 60% of U.S. users takeout or order delivery once a week. However, to meet the increasing demand of the market and food lovers, businesses need to opt for unique strategies and approaches that ensure their success in the competitive business market in no time.
What is goPuff Clone?
goPuff clone is a ready-made app solution that comes with all the features and functionalities that allow your customers to place an order for meals and snacks online. Get an app like goPuff and gain a competitive advantage in the highly volatile market.
What is goPuff?
goPuff is a digital ordering and delivery platform operating in more than 500 US cities. The company has about 200 fulfillment centers as of September 2020. The delivery app makes it easier for users to order items and get them delivered to their doorsteps without hassle. The company was valued at 3 billion as of October 2020.
Success History & Funding History of goPuff to Look into!
goPuff is a digital ordering and delivery platform operating in more than 500 US cities. The company has about 200 fulfillment centers as of September 2020. The delivery app makes it easier for users to order items and get them delivered to their doorsteps without hassle. The company was valued at 3 billion as of October 2020.
Headquartered in Philadelphia, Pennsylvania, goPuff was founded in 2013 by Rafael Ilishayev and Yakir Gola. The company was initially found as an on-demand hookah delivery service, but later it expanded to a food and goods delivery service. It helped people to get the things that are being sold in convenience stores. goPuff started providing delivery service in Philadelphia before expanding its business service to other cities like Phoenix, Atlanta, Seattle, Boston, etc
goPuff raised around $8.25 million in 2016 in A round funding. Later in 2019, the company reportedly raised $750 million in funding after raising SoftBank's investment, with a commitment for $250 million more. In the same year, goPuff also opened a new headquarter in Finnigan's Wake building in Northern Liberties.
goPuff announced that it had raised around $380 million in 2020; the funding was led by D1 Capital Partners and Accel, increasing its valuation to $3.9 billion. In November, the company acquired BevMo for $350 million. The alcoholic beverage chain owned around 161 stores in Washington, Arizona, and California.
goPuff Business Model: Have a Look into it!
goPuff delivers goods found in convenience stores like drinks, toiletries, household items, snacks, and baby and pet products. Besides this, it also enables shoppers to purchase various beverages such as spirits, wine, Beer, and many others available in the market.
In 2015, goPuff also launched a beer delivery service named as goBeer. Later in 2016, the company also launched an alcohol delivery service known as goBooze. goPuff follows a fantastic business model that helps the company satisfy all the customers' needs in a short duration of time. The company's business model is quite similar to the DoorDash business model, helping the company achieve massive success quickly.
goPuff acts as an integrator between users and retails stores. The company provides vast opportunities to those who want to earn by working part or full time. Explore the essential segments of goPuff to know how it operates in different countries.
How goPuff Benefits its Users?
People who don't have time to go out
Business people and corporates who want to treat their team without investing more time.
People who don't have a kitchen facility
How goPuff Benefits Ventures?
Retail stores without home delivery service facility
Vendors who don't have an excellent operational area
Vendors who want to drive more traffic
Retail stores who want to enhance their online branding and customer base
How goPuff Benefits Delivery Providers?
People who want to work with flexible timing
People who want to leverage useful tips.
goPuff Revenue Model: Check How Delivery Platform Makes Money?
For businesses willing to enter into an online business can consider investing in an e-delivery solution ensuring business growth and success in a shorter time. But besides supporting all in one delivery app, it becomes vital for you to understand the mode of revenue generation. Check to know how you can generate money with an app like goPuff.
Commission on Order
You can serve your service from retail stores to customers' doorsteps by helping them to place the order online and get the product delivered to their doorsteps. Just like other delivery service apps, you can charge some commission percentage on every delivered order. Usually, you can charge around 15 to 20% from the retail stores for the same.
Advertising Fees
Besides commission, you can change advertising fees from vendors by allowing them to advertise their business on your platform. To be on the top, vendors will definitely pay an extra charge for the same, helping you to generate massive revenue in no time.
Delivery Fees
You can charge delivery fees from the customers or restaurants as per your preference. The charge depends on $5 to $8 per order.
How Much It Cost to Build a goPuff Clone?
Numerous factors affect the app development cost to a great extent. These factors include platform selection; features integrated into the app solution; besides this, many additional factors determine the development cost of a mobile app, including:
App Size
App Design
Development Team
If you want to build an advanced business solution for your delivery business at a pocket-friendly price, get in touch with our team right away. We will listen to all your requirements and ensure to cater to all of them efficiently by providing you with unique solutions for your business.
Learn to Know How goPuff Clone Script Streamline Your Business Profit
"They are focusing and investing in goPuff clone script to improve and streamline their working practices. goPuff clone script helps firms to complete all the business processes faster and simpler. You can go well with the mobility solution ensuring it gives a boost to your business profit, revenue, and customer satisfaction..
How an App like goPuff Drive Growth to Your Snack Business
The convenience store market is forecasted to grow at 0.28% CAGR and set to reach around USD 48.1billion in 2024. The statists clearly show that the delivery industry is growing these days exponentially, but they're more viable in the digital wave; an app is your apt solution.
According to a survey, more than 74% of customers are satisfied with the on-demand delivery service. In comparison, 68% of users prefer to use the delivery app for leveraging "instant delivery" while ordering the needed things. Thus, it wouldn't be mistaken if said that a delivery app like goPuff has a long way to go. If you are looking for a fantastic app solution for your business check our E-Delivery, the premium product to find the best one for your delivery business that ensures to cater to all your needs.