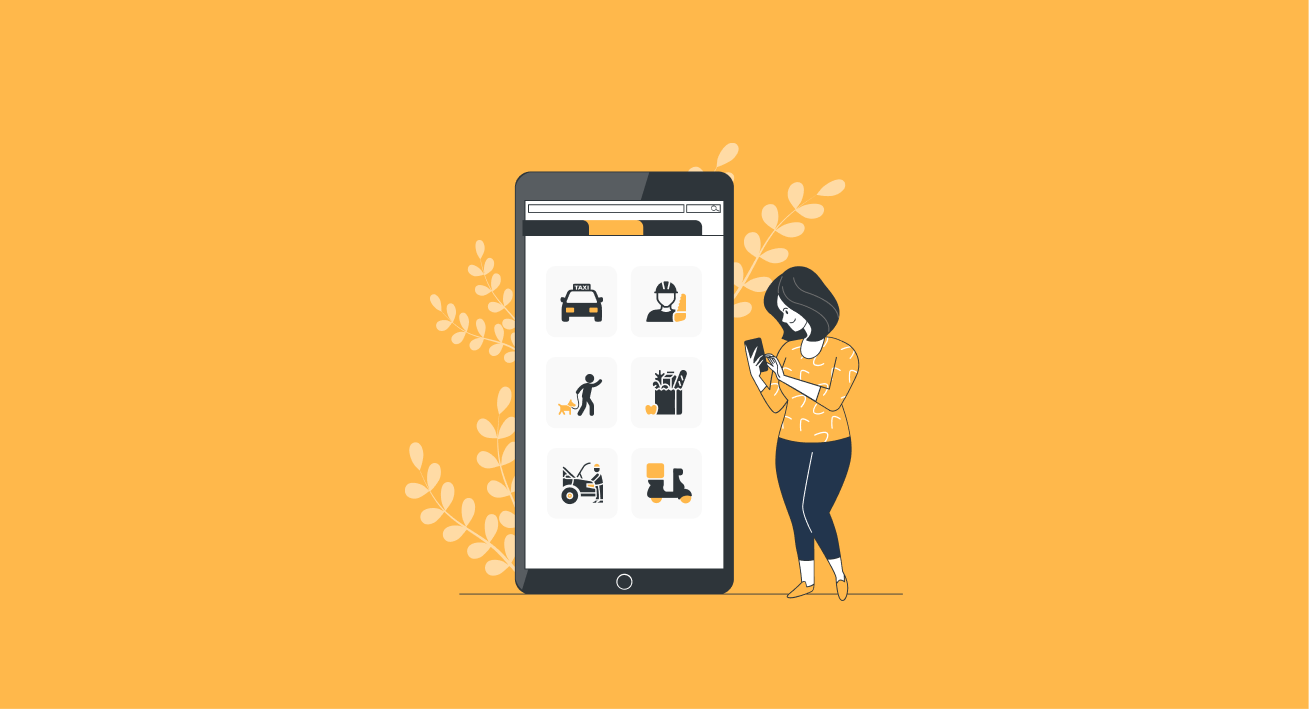 Are you hungry? To place an online food order, use Uber Eats. Are you bored? Netflix is available for binge-watching. Feeling unwell? You can contact board-certified healthcare professionals for complete virtual healthcare services through the Heal app. In conclusion, due to their accessibility, quickness, and ease of use, on-demand apps are all around us. Additionally, because on-demand apps provided goods and services at users' doorsteps or digitally, the COVID-19 epidemic increased demand for and dependence on them.
Have you been searching for a business idea that would help your startup reach new heights? An on-demand app for startups to provide on-demand services may be your lucky charm. The market for on-demand apps and websites will be worth $335 billion by 2025 , according to the most recent data from PwC.
An on-demand delivery app brings your favorite things to your home, unlike the customers of the past when you had to leave your house to eat the cuisine of your choice or make a purchase. You request the product's delivery, hence the name. Nearly every industry you can think of is now a part of the on-demand economy, from entertainment to transportation and food delivery.
With a few clicks on your smartphone, you can do many things, such as viewing new movies or television shows, buying food or clothes, scheduling a doctor's appointment, and much more. This blog emphasizes the popularity of on-demand apps and includes some promising on-demand app ideas for entrepreneurs.
On-demand Economy: Interesting Facts You Need to Know
Because of its accessibility, simplicity of use, etc., the on-demand economy has recently seen tremendous success. It took the place of the conventional business model.
In general, small business owners and entrepreneurs are adjusting to the change.
For instance, restaurants have begun to provide online food delivery services as they have come to understand their necessity.
In addition, the online food ordering market is increasing by leaps and bounds because people are so obsessed with getting their favorite dish at their doorsteps rather than driving a vehicle and waiting for their turn outside the restaurant.
Here are some jaw-dropping statistics that will help you understand why this is the best time to invest in the on-demand economy.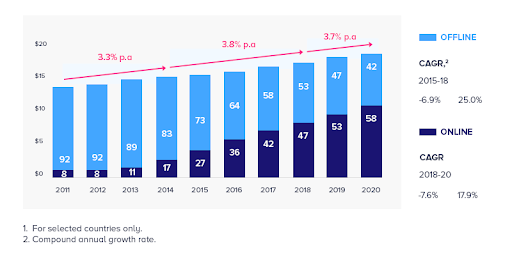 Source: Global Vincitore
According to Statista.com's prediction, mobile app revenue would reach 935 billion US dollars, more than doubling its 461 billion US dollar forecast for 2019.
Demand for business apps is growing at an unprecedented rate because of the increased use of Houseparty, Zoom, Hangouts Meet, and Microsoft Team surfaces.
According to AppAnnie's data, business applications saw downloads of over 62 million during the week of March 14–21, 2020, across iOS and Google Play
By 2025, 1,337.1m consumers are anticipated in the video streaming (SVoD) market, according to Statista.com.
According to Apptopia, from February through Sunday, March 15, 2020, fewer people downloaded the top food delivery apps daily in the US, down from 265K to 185K.
The number of grocery delivery apps is being downloaded on a record-breaking basis each day as the COVID-19 pandemic spreads across the United States.
Instacart, Walmart Grocery, and Shipt had an increase in daily downloads of 218%, 160%, and 124%, respectively, from February to Sunday, March 15, 2020, according to Apptopia.
Global Data Analysis and Forecast predicts that by 2022, online grocery sales will likely account for close to 10% of total grocery sales.
On-demand home services market would expand by $1,574.86 billion during 2020-2024 with a CAGR of over 49% by 2021, according to Technavio market research experts.
The above statistics clearly defines how on-demand business model appealing entrepreneurs and allow them to transform their conventional business practices.
Now, it's time to uncover some promising on-demand app ideas that business owners can think of to stay afloat in the competitive market.
Promising On-demand App Ideas for 2023
Things pertinent to their wants and interests are still in high demand from audiences. To increase user happiness, personal connections with users are required. Because of this, on-demand apps are in demand, which increases the appeal of the mobile-based business model.
The greatest app concepts for your on-demand business are listed here, and you can try them out. So let's begin our exploration.
On-demand Apps for Healthcare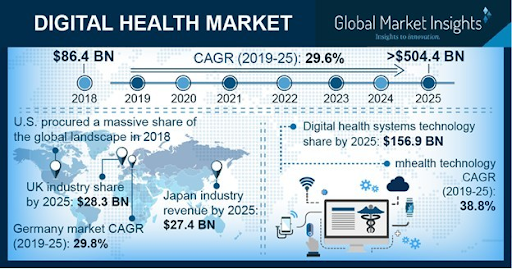 Source: PR Newswire
The term "mobile health" (or "mHealth") refers to medical and public health services delivered via smart devices like smartphones, tablets, etc. The industry for on-demand health apps does certainly have a bright future.
Personal healthcare on-demand apps make up a sizable portion of the market. Therefore, you may develop an on-demand healthcare app that is compatible with all categories of Smart devices to guarantee simple accessibility for a large range of patients.
Additionally, concentrate on creating apps that permit access via websites. Many users find completing chores on a desktop or laptop more convenient. Finally, provide numerous communication options with medical professionals, including secure messaging, live chat, video, and phone calls.
On-demand House Cleaning App
In order to save valuable time in today's fast-paced world, working professionals, single-parent households, elderly people, and those who can afford it have contracted with professionals to do cleaning services.
It is evident that on-demand house cleaning services are popular. In addition, demand for house cleaning services will increase over the next few years as professional work expands.
On-demand Grocery Apps
Due to its vast customer base, grocery is a huge vertical that has successfully entered the on-demand market. Additionally, during the statewide outbreak shutdown, many first turned to their local grocery store for basic necessities. Thus, the development of grocery applications was inevitable.
Additionally, you run a conventional grocery store and want to take advantage of digital transformation. In that case, you can invest in grocery delivery app development as it offers your customers quick delivery, high-quality groceries, discounted prices, and much more.
Online Food Delivery Apps
Source: McKinsey
Online food delivery is another industry that has grown significantly. With its powerful and alluring features, it has surpassed on-demand services. Because they don't have to wait at the takeaway counter, people are more at ease while using meal delivery applications.
In a very short period of time, numerous meal delivery platforms have entered the market and amassed a sizable customer base. In addition to small food entrepreneurs, hotels, restaurants, and cafes, it has helped foodies as well.
Additionally, a substantial increase of $365 billion is predicted for online food ordering by 2030. This market is undoubtedly well considering for investment and the development of on-demand food delivery apps. Zomato, Swiggy, Postmates, Uber Eats, Doordash, etc., are popular food delivery apps.
Ridesharing Apps
The advancement of technology has greatly reduced the stress associated with traveling between locations. As a result, online ride-booking apps are becoming more and more necessary for people to enjoy their trips. The time has come to think about and invest in ride-sharing app development services if you want to capitalize on this expanding sector.
Summary
These on-demand service apps are riding another wave on the lookout and adding something unique from what was already in the industry by providing spectacular ways to make a living. These apps for on-demand services have a significant impact on clients' lives.
Every company giving app development services has benefited from the rise of these apps, which has brought in many projects. The five top on-demand app ideas in 2023, shown above, stand out for their benefits with a flexible strategy for completing tasks without any physical organization.
On-demand service apps may be the driving force behind the fluid economy that these wonderful applications offer, which is why they are becoming such a major current in the fast-evolving social economy.
Do you want to bloom in this thriving industry? Contact us for on-demand app development services to assist your business with a versatile on-demand app.