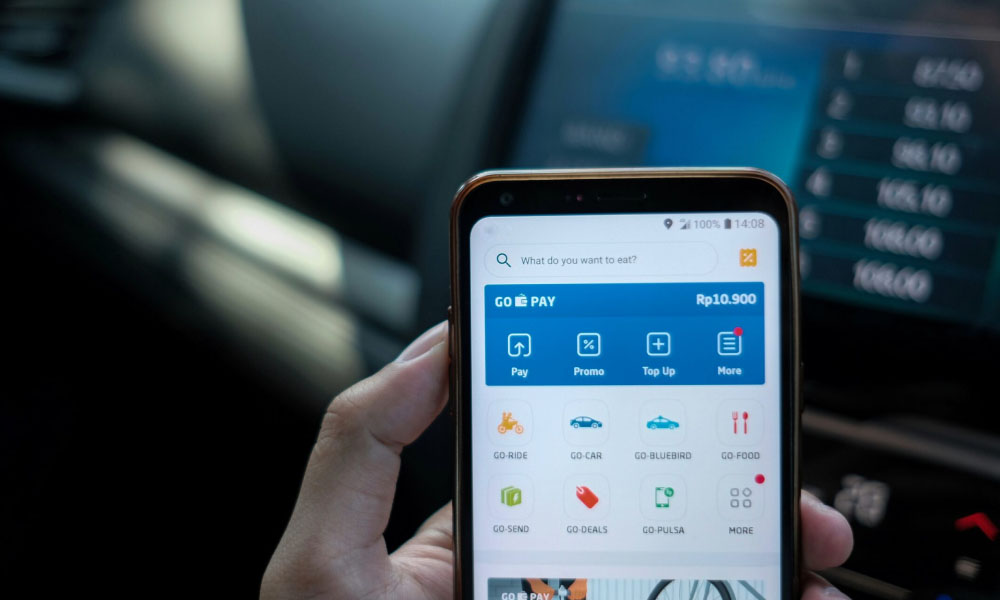 Since bitcoins and digital money transfers, there have been significant changes in the financial sectors. Online payments, fundraising, international transactions, and transactions take place in a more secure setting. The efficient and secure nature of cryptocurrency transactions is due to blockchain technology. One such rapidly growing blockchain-based platform is a trading platform for cryptocurrencies.
Cryptocurrencies have dominated fiat money ever since the emergence of blockchain technology. Numerous bitcoin trading platforms have proven successful, and Paxful is one of them. It has become a significant component of the bitcoin ecosystem. So let's briefly describe Paxful business model, sources of revenue, and how Paxful works.
The most popular open-source, peer-to-peer Bitcoin marketplace is Paxful. It's a location where users can instantly purchase Bitcoin using a few different payment options. If you're a buyer, you can select from various payment options, including cash, gift cards, bank transfers, and more. Of course, you can always use your remaining balance to buy more Bitcoin if you need it.
It's obvious that Paxful is one of the most straightforward cryptocurrency marketplaces where consumers can buy and sell cryptocurrencies directly. There are benefits to utilizing Paxful's free wallet, and the company has built several security safeguards into its platform.
It has a highly secure system to reduce danger and safeguard user accounts. Due to its excellent convenience and dependability, the exchanger has replaced LocalBitcoins as its main rival. Users of Paxful receive a FREE Bitcoin wallet when they sign up. Every day, it has made a thousand transactions worth over 8000 BTC. It is important to research Paxful's business model and revenue sources if you plan to run a company similar to it. But first, let's look at some more Paxful material and fascinating facts.
Overview of Paxful
Launched: 2015

Headquarters: New York, United States

Founders: Ray Yussef, Artur Schabacker
Paxful is Deadwood, South Dakota, in the Wild West of money, if cryptocurrency is that. Paxful, which was established in 2015, has steadily developed into a pillar of the Bitcoin trading industry.
Paxful today manages the trading of about $25 million worth of Bitcoin each week and employs over 200 employees in its four offices across the globe. And while most San Francisco-area cryptocurrency exchanges are far from the peak they hit during the 2017 boom, Paxful has experienced a steady upward trend throughout its life.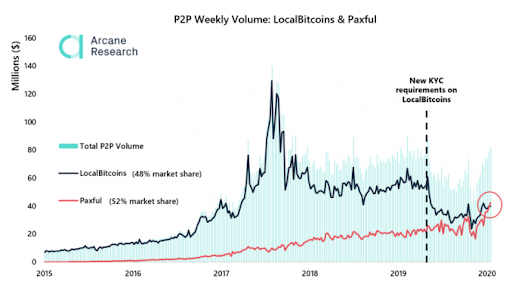 Source: CoinGape
The peer-to-peer cryptocurrency trading market is highly competitive. Paxful and LocalBitcoins, two of the leading challengers, are well-known examples. However, on June 17, 2020, Arcane Research reported that Paxful's trade volumes have finally overtaken LocalBitcoins'.
This is an impressive accomplishment for the P2P trading network, which has not only maintained consistency over time but also forged partnerships with some of the top cryptocurrency exchanges in the world, like OkEx.
The distinguishing characteristic of Paxful workflow is that users can purchase and sell bitcoins with anyone using one of the "300 payment alternatives."
The numerous payment alternatives include digital currencies, gift cards, debit/credit cards, online wallets, bank transfers, etc.
Users of Paxful can buy and sell bitcoin online, conduct business using a safe escrow service, use a free wallet, benefit from a reputation system, and more.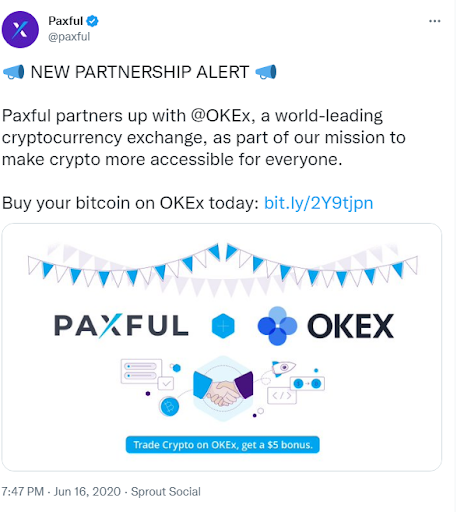 Source: Twitter
Paxful just recently declared cooperation with OKEx. By enhancing liquidity and access, the goal is to improve the user experience. In addition, Paxful will serve as an on-ramp for OKEx services, allowing their customers to purchase Bitcoin using any of the more than 100 fiat currencies the platform supports.
Countries Supported By Paxful
Most nations throughout the world, Paxful works. Being based in the US, it naturally supports customers there and those from many other nations worldwide.
Only 35 nations and areas are now excluded from Paxful, including the Solomon Islands, Christmas Island, Cook Islands, Greenland, and others.
How Does Paxful Work?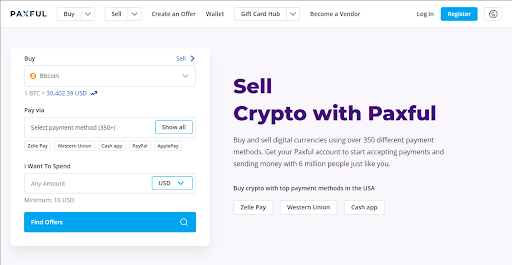 Source: Paxful
Users of Paxos begin by selecting an offer from the ones offered, and an expert seller assists them in the transaction through an online chat. Once everything is configured, they pay the seller directly to obtain their bitcoin by using a chosen account. The required verification of all users ensures the security of transactions.
Step 1: The user must first register with the Paxful exchange. Any of the documents must be provided by the user for verification. Afterward, log in to the account.
Step 2: At that point, the user can buy or sell bitcoins. Users can publish adverts regarding their needs if they wish to acquire or sell cryptocurrency.
Step 3: If the live chat interaction between the buyer and seller is successful, the payment procedure is completed. After completing the fiat currency, the seller checks and then clicks "Mark as paid."
Step 4: Subsequently, cryptocurrency transfers from the buyer's wallet to the escrow wallet. The procedure was then finished.
With this knowledge, you can look up offers and choose the seller you want to buy from. Then, you can proceed and pay them if you accept the terms, and they will release the asset to you. Of course, the length of time needed to complete a transaction varies depending on the trader, the chosen payment method, and additional elements like the time needed for the transaction to be confirmed.
Depending on your wallet, Paxful assesses transaction fees to the merchants. These sums differ depending on the size of the transaction and are lower if you utilize Paxful's own wallet.
It's interesting to note that Paxful sellers can choose their own coin prices and trading restrictions. With them, you can purchase Tether, Ether, and Bitcoin. Although Paxful appears to make trading simple, we only suggest it for experienced users.
How Actual Paxful Works For Start P2P Trading?
You must enter your phone number, email address, and password while signing up. You can access your free wallet once you have finished this step. The next step is a verification procedure. The level of verification you use usually decides your limits for trading on Paxful:
| Verification level | Type of documentation | Trade limit amount | Trade volume lifetime limit | Send from wallet lifetime limit |
| --- | --- | --- | --- | --- |
| 1 | Phone | $1,000 | $1,000 | $1,000 |
| 2 | Email and government-issued ID | $10,000 | $10,000 | $10,000 |
| 3 | Address | $50,000 | Unlimited | Unlimited |
| 4 | Enhanced due diligence | Higher than $50,000 | Unlimited | Unlimited |
As soon as you can link a payment method, you can start work with Paxful after completing the level one verification, which takes almost no time at all. However, other levels, particularly level 4, where further measures are performed to authenticate your identification, take longer to acquire verification.
Go Through The Paxful Business Model
The marketplace where you can rapidly purchase and sell bitcoins is called Paxful. Paxful is a peer-to-peer exchange where trading takes place completely under escrow. In addition, users of this Exchange are permitted to display advertisements with data on the number of bitcoins, the payment method, the date of sale, etc. On this Exchange, offline trading is also supported, allowing users to transact in person.
This idea is very beneficial to identify spammers in the Exchange since it will improve the traders' experience and provide a secure ecosystem. In addition, reviews and rating sections will be introduced for each user so that traders may independently write about their trading experience with the specific trader.
The amazing workflow Paxful is how many different ways you can pay. This Exchange provides more than 300 payment methods in six main categories, including
Online wallet
Bank transfer,
Gift cards
Cash in person
Amazon gift card
Cryptocurrencies
On the Paxful platform, cryptocurrency exchanges happen online. If payment is done using a third-party system, this also occurs on the website, or the parties reach an exchange algorithm agreement through chat. To exchange one cryptocurrency for another, atomic swaps are employed.
Smart contracts with escrow are utilized to ensure an honest exchange on the website. In addition, a system of reviews and reputation ratings has been implemented on the site to combat fraud associated with other methods of Exchange.
How Does Paxful Make Money?
Your profit remains after deducting all costs from the total revenue; this is what you will get at the end of the day. Profit also indicates whether or not your clients are satisfied. In order to estimate your revenue and manage your cash flow, revenue streams must be defined from the start.
However, the question of how a peer-to-peer cryptocurrency marketplace generates revenue emerges. Here are several revenue sources for Paxful that you can consider.
Publication Fees
The website may be paid a commission or a set sum for each cryptocurrency exchange. In order to prevent users from feeling discomfort over its loss, the charge should be minimal. If the money is already in the site's wallet, it can be charged right away, or you can utilize the virtual deposit option when the money is collected at the end of the transaction.
Transaction Fees
Paxful costs 1.00% for every trade, which is higher than other exchanges. The amusing thing is that buyers can trade for free, while sellers must pay a service fee.
Deposit Fees
Once more, they are variable fees that are determined by the deposit method. For instance, the charge is 2% for Google Play and iTunes, 1% for cash deposits, 0.1% for bank transfers, and 1% for digital currencies.
Revenue From Advertisements
To boost the platform's profitability, advertising promotion fees, banners, contextual advertising, and paid links are all employed on the website and in the Paxful application.
Wrapping It Up
Paxful is an excellent example of the fascinating, lovely, unusual, and odd ways. Bitcoin is making its way into our world. As an aspiring business owner, you might know about the popularity of bitcoin and other cryptocurrencies. Get a Paxful clone script from us, a perfect platform to start a crypto exchange business.