How Does Meituan Work? Embrace Meituan Clone and Serve Online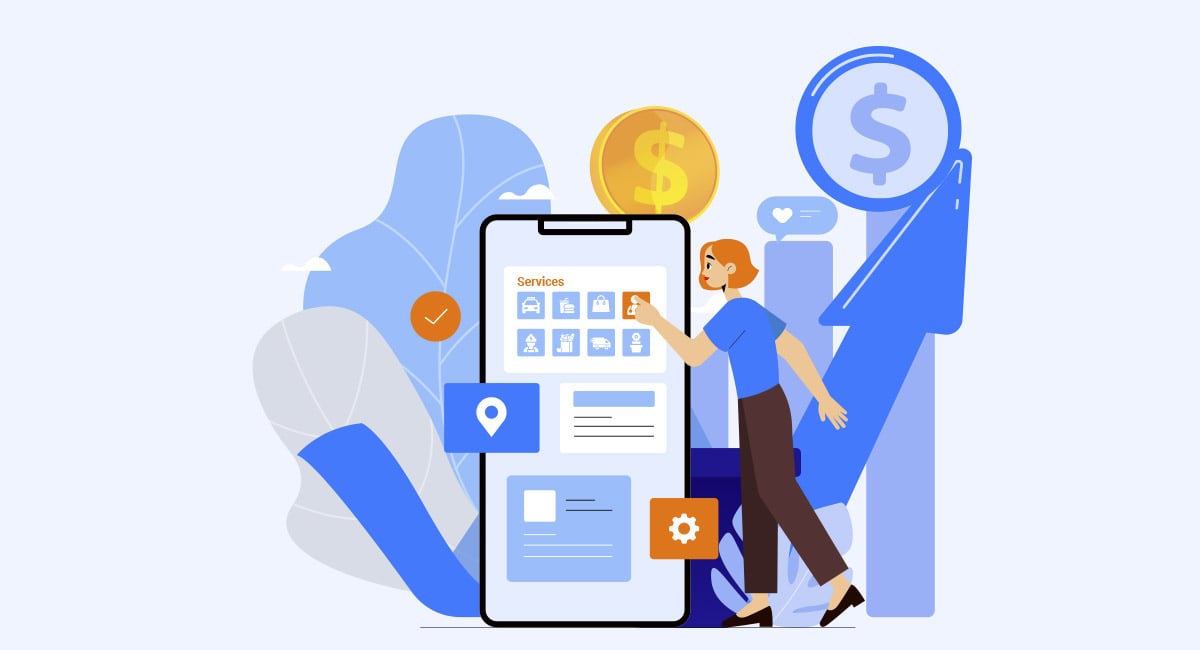 Online shopping, online food ordering, online payment, online banking, etc. are the buzzwords of today's internet-driven world and they all have become more common over the past few years with the innovation in technology. On the verge of becoming a digital business world, China stands on the top of the eCommerce game and is dominating the largest market share. According to the latest report, the expected china eCommerce market growth for 2021 is at 20.1% and the key reasons are increasing usage of smartphones and the corona pandemic. Without any ado, let's jump out to Meituan's business, revenue model, and why entrepreneurs are taking a keen interest in the development of the Meituan clone.
If we talk about the Chinese eCommerce market then Amazon and Alibaba are the popular market players, but recently, a new and innovative type of online platform grabbing eyeballs in the foreign market and that is none other than Meituan. Now you must be excited to know what it is and why it is successful. Well, take a deep breath, and keep reading.
What is a Meituan Clone?
Meituan clone is a ready-made app script that comes with enhanced features that are available in the current multiservice market sector, you could easily embrace the Meituan clone app for your on-demand business.
What is Meituan?
Founded in 2010 by Wang Xing, Meituan is the world's fourth valuable startup and known as an all-in-one app with all the third-party services including travel, entertainment, hotel, food, grocery, and household services.
Meituan is also known as Meituan-Dianping. Until 2015, they were independent entities, but now it has merged in 2015 and offers plenty of services to its users. According to the research conducted by Fast Company, Meituan-Dianping is giving tough competition to the world's most innovative and iconic brand, Apple.
About Meituan-Stats and Facts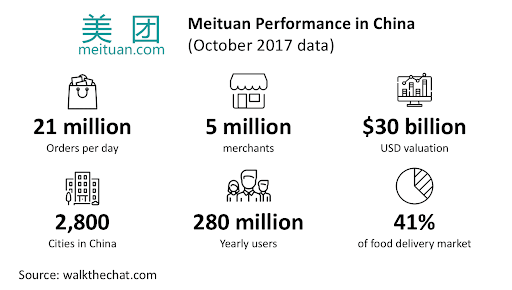 Source: WalktheChat
Company Name: Meituan Dianping
Inception Year: March 2010
Founder's Name: Wang Xing
Headquarter: Beijing, China
Active Users: In the year 2020, 448.6 million active users
Industry Type: eCommerce and On-demand
Available Language: English and Chinese
Operates in: More than 2800 cities
No. of Employees: 57566
Business website: www.meituan.com
Annual Revenue: $17.6 B
How Does Meituan Make Money – Dianping's Funding History
In simple terms, Meituan is an amalgamation of different apps such as MakeMyTrip, Zomato, Uber, DoorDash, and Mobike. After WeChat and Meituan, it seems like China has become the home of super apps and covering a huge spectrum of businesses and verticales. Yes, it offers multiple services to its users under one roof. Till 2015, the company was popular for selling discount vouchers, but a merger with one of the popular eCommerce giants, Dianping, a Tencent-backed online food delivery platform has changed the whole game.
Meituan offers a vast range of services. From finding the best restaurants to travel-related services to online food and taxi booking, the company offers 4 different apps that allow users to access various services. Now, let's have a look at its funding history.
In the year 2012, Meituan was engaged with movie ticket selling business
In 2013, it stepped into the food delivery and hotel booking business.
In 2014, the company received funding of $12 million from Sequoia Capital.
In 2015, it merged with Dianping and raised around $4 billion Seres C from Tiger Global, Coatue, Trustbridge partners, etc.
In 2016, Alibaba acquired Ele. Me, an online food delivery platform and rival of Meituan-Dianping, at a whopping price of $9.5 billion.
This was not enough, Meituan-Dianping also looked for a chance to enter the on-demand business model and tried to adopt the business model of the Chinese popular ride-hailing app, DiDi Chuxing.
In 2018, the company bought China's popular bicycle-sharing system, Mobike for $2.7 billion. With 200 million active users and 30 million daily trips, Mobike claims to have 8.65 million registered users on its platform.
In the same year, it was all set to launch its IPO in the Hong Kong Share market. Meituan claims 340 million users and has 4.7 merchants across its platform. According to recent reports, the company is aiming for a more than $60 billion valuation with the IPO.

Source: PR Newswire

Here you can see with a market share of 62%, Meituan has become a primary search engine for tourists in China. It is also linked to Yelp, but it has captured 100 times more market share than Yelp.
The food delivery business is facing fierce competition in not only China, but across the globe. In today's data, Meituan has a market share of 60% in the Chinese food delivery services and its close rival is Ele. Me which is backed by the giant player, Alibaba.
In the year 2020, the company has made it official and renamed " Meituan Dianping' to Meituan.
Journey of Meituan: Business Operations and Platform Evolution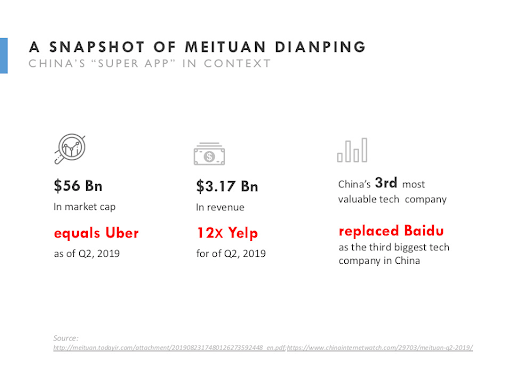 Source: The Next Billion
From offering online food delivery service to digital payments to online taxi service to entertainment, Meituan has evolved with time. Launched in 2013, the company's main aim was to provide food delivery services. Partnered with thousands of restaurants with reviewing facilities, Meituan Dianping has continually made its way since 2015.
In 2016, it has also acquired payment service provider Qiandai and stepped into digital payment services.
Uber gave its china market to DiDi, in 2017, Meituan launched a ride-hailing service in a few cities of china. Later in 2018 it expanded its service in Shanghai and captured 30% of market share within only a few months.
In August 2019, Meituan entered the mobile power-bank sharing business nationwide. They have started a charging station at some of the busiest venues such as stores, restaurants, malls, airports so that users can easily charge their phone when they run out of a battery.
Components Involved in the Working of Meituan Business Model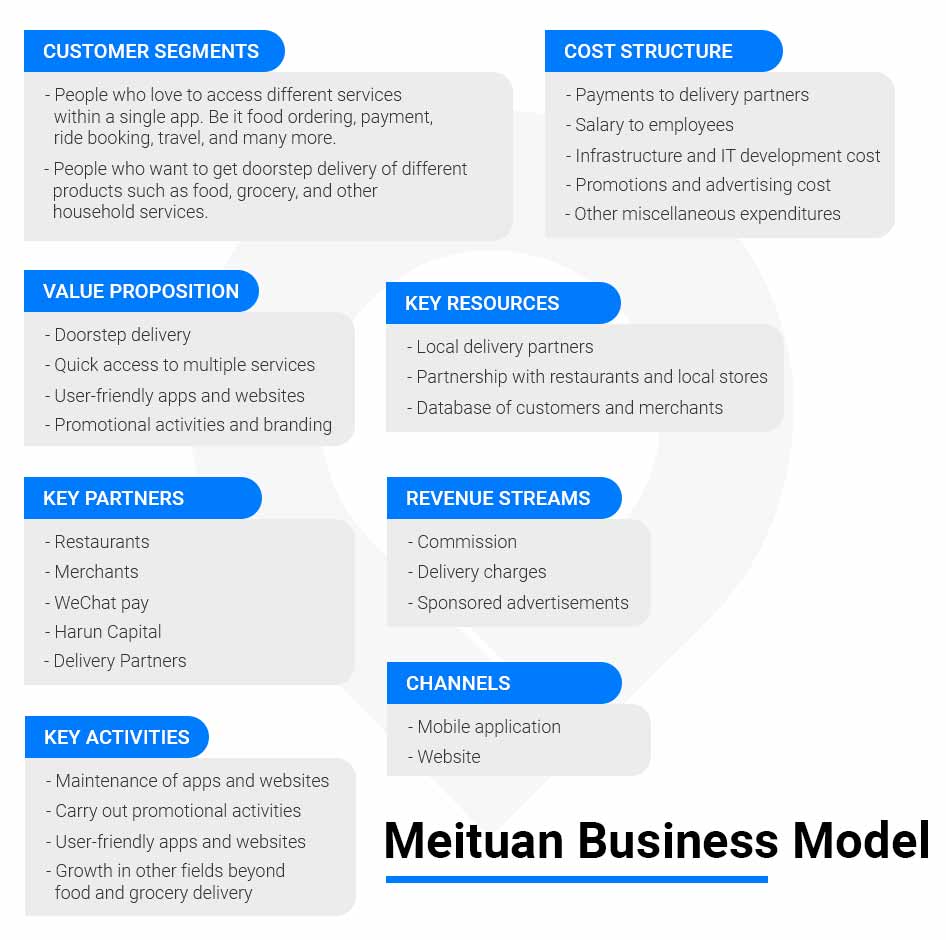 Meituan offers multiple services and it consists of three key players such as customers, merchants, and drivers. If you want to understand how the app works for these different key players, let's throw some light on its business model.
Meituan for Customers
This segment consists of the end-users means people who access multiple services using the Meituan app to get things done. Meituan app offers a seamless experience to its users and it contains:
People who are looking to order food from restaurants
People who want to access services at affordable prices.
People who want to access various services using a single app
People who want to enjoy quick and secure deliveries
Using the Meituan app, consumers search for specific solutions. Be it food, grocery, taxi, payment, or entertainment. Users can ask for specific services, make payments, track the status and get things done quickly.
Meituan for Merchants
There are lots of suppliers and vendors are associated with the Meituan app. Service providers, restaurant owners, and store owners are taking advantage of Metiuan's popularity and expanding their business reach. Merchants are taking a keen interest in partnering with the Meituan app for several reasons.
It is one of the popular Chinese online portals
It helps merchants to make a strong customer base
It offers a lucrative opportunity for the business expansion
It adds value to your existing business
Vendors, suppliers, or merchants who are new to the online industry and find it valuable to their business, sign up with it and earn handsome profits.
Meituan for Drivers
Drivers are an important part of delivery operations, individuals who are willing to earn additional income by delivering goods to customers can become part of the Meituan family. All they need to download the app, go through some verification processes and they can start delivery operations. There are several perks you can enjoy as a Meituan's driver
Easy sign-up process and drivers are allowed to work at their convenience
No rigid work pressure
The monetary perks are also lucrative
Meituan Revenue Model – How Meituan Makes Money
Income from commission and advertisements are the key revenue sources of Meituan. The major revenue source of Meituan is commission income received from merchants and suppliers such as restaurants, store owners, and other vendors. For each request, they earn a specific amount of commission as a middle man.
Apart from commission, it also earns a significant amount of revenue from sponsors and advertisements. Different merchants or suppliers can advertise their services or products by placing banner ads and Meituan charges a certain amount for these services.
How Much Does It Cost To Develop The Meituan Clone App?
More and more entrepreneurs are taking advantage of modern tools and technology for their business expansion. They are choosing to develop a super app solution to automate their business tasks giving customers a wide range of services. Besides, the cost for this depends on the platform and features you want to include in it. If you are new to online business, it would be great if you shook hands with experienced technology partners as they will guide you thoroughly to your project.
They also have a skilled team of developers that consists of the project in charge, UI/UX designers, app developers, web developers, and testers. All you need to find the right technology company that fulfills all your requirements and comes up with the best solutions.
Realize the Superpower of Meituan Clone Script for Your Business Growth
Businesses across the globe are going digital and making people's lives easy as it was never before. Meituan Dianping is china's one of the super apps that allow users to get multiple things done with a couple of clicks. Due to its wide functionalities, the company has already established itself in the global online platform that connects consumers to merchants for various services.
All things taken into consideration, Meituan Dianping has already achieved success by offering various services to consumers. Want to develop an Maituan clone script? Contact us now for a free consultation.