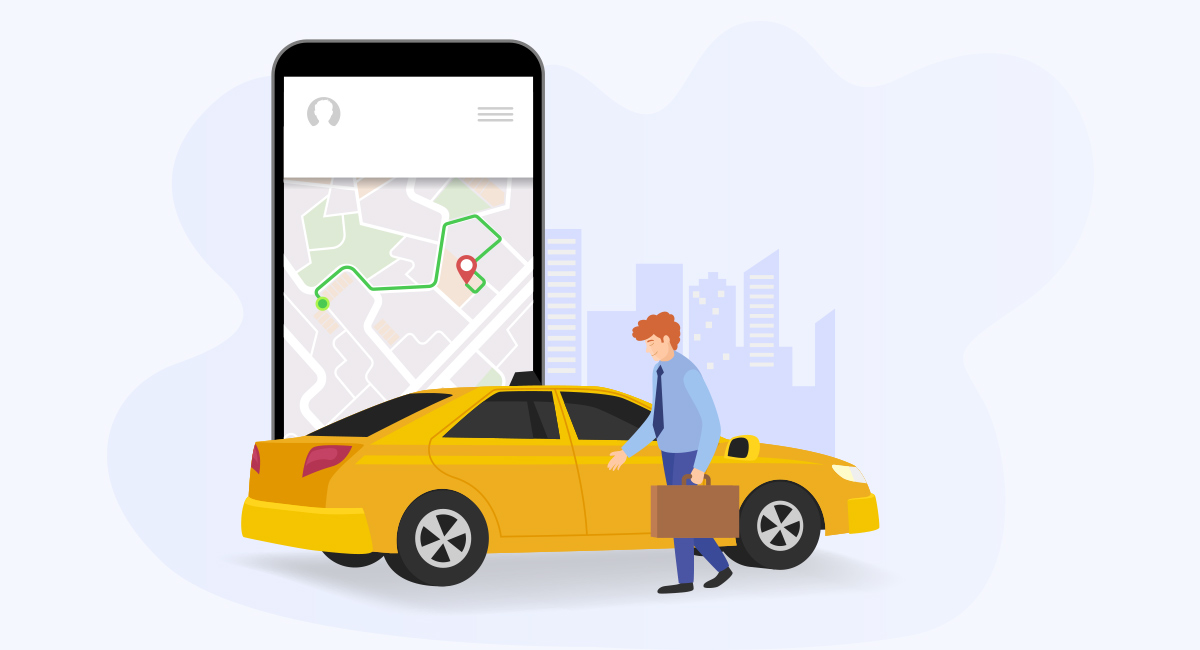 Over the last few years, taxi service booking mobile apps have made a prominent name in the transportation sector, where people can book a ride within a couple of clicks. Apps such as Uber, Lyft, Didi, etc., have been doomed in popularity and transformed the face of the conventional taxi industry. The online taxi market is booming across the globe, and the middle east is not far in the race. In Israel, "Gett" is arguably becoming just as iconic, resonates with smartphone users, and has achieved huge success in a short time. So without any further ado, let's discuss how Gett works, what kind of revenue model it follows, and the cornerstones that helped them become an ace in the Israel transportation market.
Earlier, booking a taxi was a daunting task. In addition, you no longer need to wait on the roadside or wave your hand; take out your smartphone, open an app and get a taxi at your doorstep within a few seconds. Due to this level of convenience, the online taxi market is forecasted to reach $327.54 billion by 2026.
Gett, previously known as GetTaxi, was founded by Israeli entrepreneurs that lead Europe, Russia, the USA, Israel, etc. taxi market. Gett offers ride-sharing services for taxis, bikes, and carpooling through a powerful app. To get a clear idea about Gett, its funding details, business, and revenue model, let's discuss its various aspects in detail.
What is a Gett Clone? Stand Your Fleet Business Apart from the Competition
Gett clone app is an online platform comprising various modules to manage taxi booking business online. With the advanced tech stack, businesses can serve swift bookings to the customers and upscale the platform for future, increasing needs. If you are an entrepreneur and want to start an online cab booking business, get your business digitized with an app like Gett and become a reputed taxi industry leader.
Gett Founders, Funding and Facts
Gett is an taxi application founded in 2009 by Israeli entrepreneurs that lets users book a cab to travel from point A to point B with an estimation of fare and arrival time and allows users to split the cost with co-passengers, all by following a couple of steps within the app.
The company entered the transportation market in the year 2009 and a unicorn valued at $79.6B and provides affordable ride options to passengers.
Originators: Dave Waiser, Roi More
Headquarter: London, UK
Established: November 2010
Valuation: $79.6Billion
Gett Revenue: $166million
Number of Employees: 850
Website: http://www.gett.com/
In the year 2009, founders had to wait for more than 30 minutes for a taxi, and the idea got a blink in their minds. With limited resources and funds, they finally turned their idea into reality and launched Get Taxi in the summer of 2011. It was initially launched in London.
Later, they expanded their operations and started to serve in Moscow in 2012 and opened their first branch in New York. In the same year, they raised $30 million from British-based American billionaires. Later in the year 2014, they have also generated an additional fund of around $25 million from Vostok Nafta Investments.
Till date, Gett has raised more than $750 million in funds, including more than $300 million from the Volkswagen Group in the year 2016.
Since its launch in 2010, with its full-fledged plan that astonished the Israel transportation market, Gett has experienced impressive growth. To understand how it works and how they have been making huge revenue, let's dig into the Gett business and revenue model.
How Gett Works
Workflow of Gett is easy. All you need to do is perform a few steps, and you are done.
Step 1: Riders can request a cab from a dedicated app or website
Step 2: Nearby drivers get notified with riding details (name, location, etc.)
Step 3: Drivers reach the customer's location
Step 4: Customers make payment from the option given
Step 5: Driver and customer can rate the service based on their experience.
Gett Business Model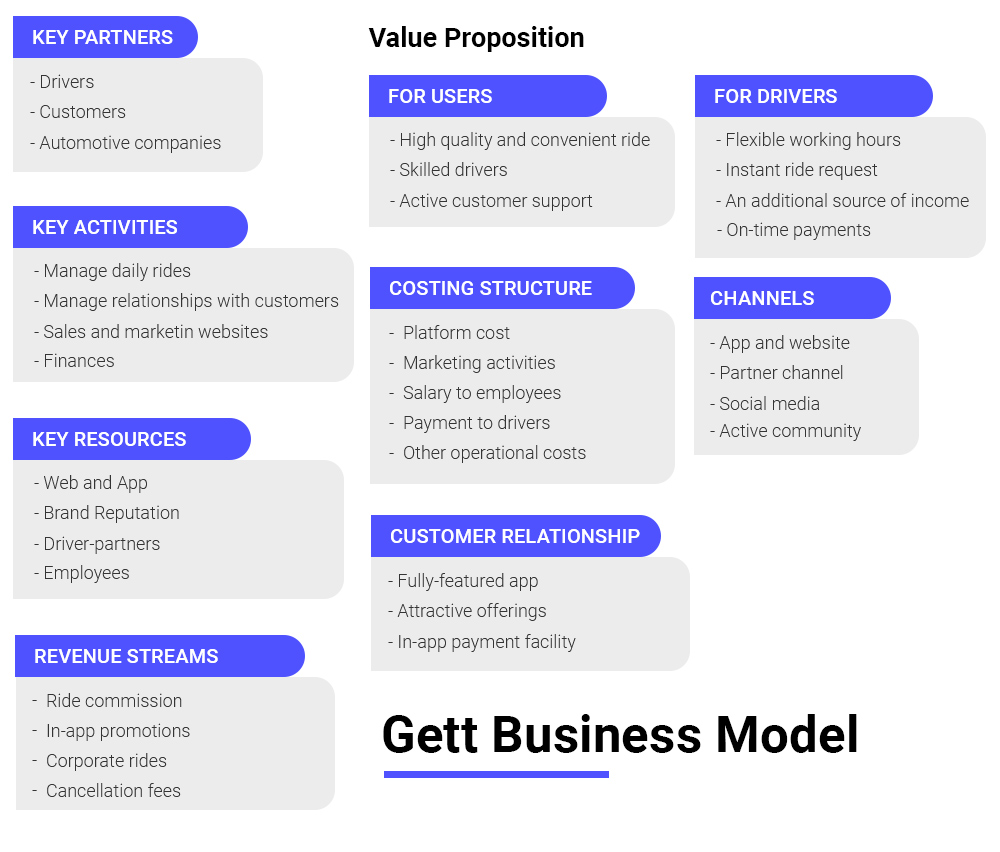 Gett follows a simple business model just like Uber that connects customers to book a ride with drivers who are willing to offer their ride service at their convenience. Gett receives income in the form of commission from each completed ride.
Key Segments in Gett Business Model
Customers
Drivers
Investors
Value Proposition
Gett offers an excellent facility for two of its important segments- customers and drivers.
For Users
Gett offers a complete online solution; users can any time book nearby taxis and also avail of special discounts on special occasions on their rides.
Gett app comes with powerful features such as ETA, multiple payment options, social login, split fare, and much more makes it easy for users to book a ride instantly.
Prices of Gett are usually lesser than the ordinary taxi fares.
For Drivers
Gett provides fully functional apps to drivers so that they can accept or reject ride requests at their own convenience. Before offering services, drivers have to upload some documents for the verification process. Once the profile gets approved, they can offer their services.
Drivers can earn additional income
However, they can also work flexibly
They are also provided quick customer support in case they face any issue
Gett Revenue Model
Gett's revenue model is simple as its major revenue source is income from commission. However, its revenue model also includes other sources such as surge pricing, revenue from cancellation of rides, and advertisement of other products on the app and website. Let's see what are the major revenue sources and how Gett makes money.
Ride Commission
Gett keeps a certain amount of fare while customers book any ride. Gett has set various percentages for every city. Moreover, the fare also depends on the choice of vehicle and location.
Surge Pricing
Gett increases the price as per the demand and situation. For instance, Gett can earn extra revenue and boost profit during peak hours and amid festive days.
Ride Cancellation Fee
If any passenger cancels the ride after booking, they have to pay cancellation fees.
Revenue from Endorsements
Since Gett has a solid customer base and made its name in the European and UK market, it allows other businesses to promote their products and services. For that, they charge a certain amount, and this has become another important source of revenue for Gett.
Why Entrepreneurs Opt For Gett Clone App Solution
Modern technology advancements have surely compelled business owners to revamp their existing business models. The online taxi reserving trend is taking over the traditional cab booking service. With online systems, transportation business owners embracing the Gett clone enables them to enjoy growth in terms of revenue and user base.
Moreover, customers no longer need to wait for a cab; all they need to do is enter pickup details, and the cab will arrive at the location. In addition, multiple payment options, attractive deals, and discounts split rides, etc., encourage users to book a ride more often. If we look from the business perspective, then investing in technology solutions reap multiple benefits in the long run and give an edge over competitors. It also gives them access to higher profits, a good user experience, and much more.
If you are clueless about embracing an Gett clone script for your business, all you need to do is shake hands with an experienced on-demand technology partner who has optimum resources and a skilled team that caters to the fantastic solutions to your need.
How Much Does it Cost to Develop an App Like Gett?
Making an app like Gett has hit the sweet spot as it allows passengers to book a cab at their convenience. For entrepreneurs investing in an app like Gett would be a perfect choice as this app solution can automate their business, generate sales opportunities and offer numerous golden opportunities for growth.
If you are a novice in the online taxi business and looking for pocket-friendly solutions, then you should opt for a white label taxi app solution where you can customize the app as per your requirements.
On the other hand, if budget is not the constraint and you want to integrate all the modern features, you should go with a custom app solution. Both have their own pros, all you need to discuss your requirements with us, and we won't take a second to assist you. Contact us now because people's propensity towards online solutions is increasing, digitize your business with modern tech solutions and be a leader in the exploding taxi market.