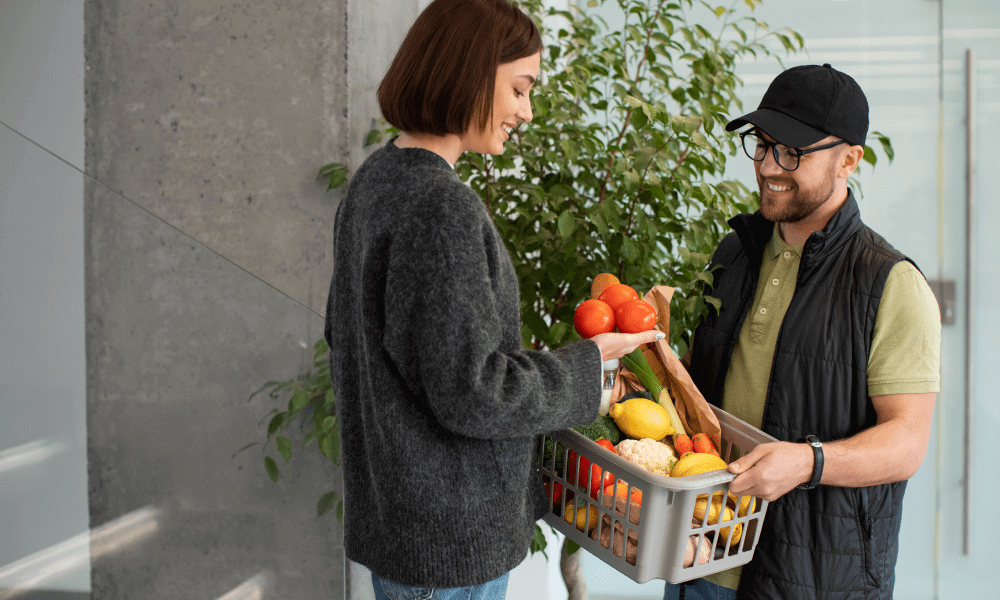 The online grocery business is booming worldwide; an ever-changing number of people opt for the convenience of using a mobility solution to purchase their groceries online. The global eCommerce market size was valued at around USD 9.09 trillion in 2019. It is projected to grow at a CAGR of 14.7% between 2020 and 2027. Increasing penetration of the internet and smartphone is bolstering people to use on-demand app across the world. Hence, demand for the Jow app clone increasing as it can satisfy the rising needs of customers and ensure business longevity while spending less.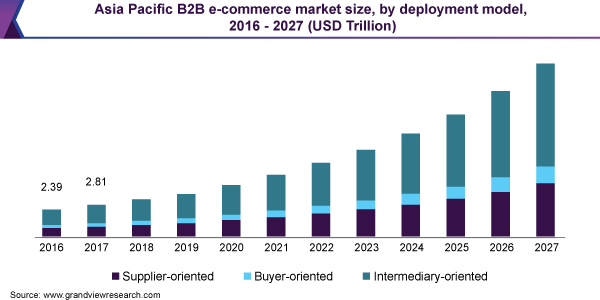 The online grocery market operates on a highly-competitive platform with multiple players fighting it out for about $900 million pie. The report also shows that the grocery delivery market is forecasted to grow by 70% CAGR, and it will reach around $7.5 billion by 2022.
Europeans aren't buying groceries online, but that doesn't mean that they will not buy in the future too. Many customers love the idea of shopping online as it saves enormous time by not having to visit the supermarket. The mobility solution enables pushing a shopping cart down, connecting local shoppers, and customers who are looking for grocery services. The convenience of shopping online groceries is alluring and is loved by most people these days.
What is Jow Clone?
A Jow Clone is a ready-made solution that allows restaurant and delivery businesses to automate their operations while spending less. Moreover, customers can browse the menu, easily place food orders and get them delivered to their doorsteps with advanced tracking features.
Company Details and Facts about Jow App
Jow is an on-demand grocery shopping app that simplifies shopping. It also advises customers about what and when to eat. The mobile app offers free and straightforward recipes that adapt to food lovers' tastes. It automatically creates and views a customized menu with delicious and mouth-watering recipes. Users can fill the cart with all the ingredients which are essential for cooking the food.
Founded in 2017, the company's headquarter is in Paris, France. French e-grocery app, Jow combines online grocery ordering, recipes, and recommendations to customers. The company has raised around $7 million in new funding. The funding round was led by Stride.VC, alongside Jyri Engeström and Caterina Fake from Shan-Lyn Ma and Yes VC, the co-founder, and CEO of Zola. Previous seed backers, partners of eVentures, and DST Global also participated in the funding round.
Jow App is presently supporting five leading grocery retailers of France, including Monoprix, Auchan, Carrefour, E.Leclerc, and Chronodrive. The company claims to help you with your weekly online food and grocery orders without any hassle; you can get your weekly shops completed in as little as a minute. The french mobility solution has gained massive popularity among the users in a short duration of time. Hence developing an app similar to Jow can prove to be a beneficial option for your delivery business. You can consider investing in ready-to-use E-Delivery solutions to effectively address all the growing needs of the market.
Some Amazing Facts About Jow App
Launch date: 2017
Employees: 20 people
Ownership: Angel, accelerator
Firm valuation: €25—38m (Dealroom.co estimates Dec 2019.)
Total Funding: €7.9m
App Available on App Store: Google Play Store | Apple App Store
Why Developing a Jow Clone app is a Beneficial Option?
Drastic growth is measured in the delivery business during COVID 19 outbreak. A report by eCommerce News predicts that the top 10 leading grocery stores will generate combined sales of around 200 billion euros and grow at an annual rate of 20% by 2030. Four on-demand grocery delivery platforms are from Europe, while others are France, the United Kingdom, Spain, and Germany. It is estimated that the highest online grocery market size is from Europe.

IGD released the top leading global online grocery stores by 2023. The research agency estimates the report covering the next five years; it shows that China will grow at a 31% compound annual growth rate and experience an online grocery market share increase by 3.8 to 11.2%. It merely means the Chinese online grocery market will increase by the same size as the entire market in the other ten countries in the same year.
The report also shows that France has around 4.5% of the online grocery channel share. In France alone, the online grocery industry will jump and will be worth around 10.2 billion euros and shows a growth of 8.2% CAGR to be worth around 15.1 billion euros in 2023. And then, the country's online grocery channel share is estimated to be 6%, while it's growing at 4.5% a year every year.
If you aim to become a part of the top online grocery service providers in France or any other country's aspects, it becomes essential for you to invest in customized products. Elluminati Inc is here with a private label delivery app helping you launch your business in multiple counties and cities hassle-free.
Simple and easy-to-use solutions ensure a fantastic experience offering to your ideal customers, it allows them to other their needs products, easily with few taps. There are numerous benefits that delivery business owners can leverage by developing an app similar to Jow App.
App Like Jow: How Does It Make Your Business Future Proof
Launching a delivery business online has become a need of the hour these days, and precisely and importantly aroused grocery delivery demands are revamping the market tactics to win. Small businesses can invest in mobile apps to maximize their business growth and success in a short time. Business websites can help owners to promote their grocery delivery business online. Some of the benefits of online business include:
Global access all the time.

Improved client service

Provides greater flexibility

Cost-saving option

Ensure faster delivery of products

Increased professionalism

Decrease paper wastage

Opportunities to handle your business from anywhere globally.
Customers can visit your business solution to know everything about your delivery business; they can browse to find the items they need. There are numerous opportunities that grocery businesses can leverage to launch their business online.
Online Business Opportunities for Grocery Delivery Business
Run an online shop

Manage suppliers

Communicate with customers

Collect customers feedback

Offer services online

Allow food lovers to make appointments and reservations online

Ensures adequate finance like online banking, employees pay, tax, etc

Research competitors
Jow App Clone: How it Helps Business to Make Your Business Future Proof
Keep in mind that the business market is changing and evolving constantly; hence you need to opt for useful tools to keep up with the trendy demand. When it comes to keeping up with the market, it becomes essential for you to launch a mobility solution that ensures your business growth and success.
It's a good idea to build an advanced solution for your business. Before moving to the development phase, consider having a quick look over the workflow to understand how the app works to ensure your business expansion. Besides this, when you are planning online aspects for your delivery business, it becomes essential for you to consider various pointers such as:
Research market to know your competitors and customers

Use advanced business tools

Identify which online aspects will benefit your online business

Plan your budget to work out efficiently

Understand all laws and regulation to eliminate legal issues

Consider all your business requirements, including which software is best for your business, etc

Prepare your business for all risks like scams, viruses, data theft, hardware damages, etc.

Identify whether your employees need the training

Be realistic about budget and time to manage all online aspects efficiently
How Much Does It Cost to Craft an App Like Jow?
When you are considering switching your business online, then the app development process plays a crucial role. According to the report, Android users can choose from 2.7 million apps, making the Google Play store number one with the highest number, while the Apple app store stands second with 1.82 million available apps for iOS.
The number will increase in the upcoming year; hence, it becomes vital to develop a mobile application for your business. But when it comes to creating a mobile app, then the first question that struck in anyone's mind is the development cost. Contact us to know how much it cost to craft an advanced delivery solution for your business.
How Jow App Clone Script Works Generating Outstanding Experience
The Jow App Clone Script, follows a more straightforward process ensuring to generate significant business operations. Registered app users can explore various categories and subcategories to order things they require through the platform. All essential modules and features integrated into the solution make it easier for businesses to satisfy customers' needs efficiently. Explore how Jow App clone works to offer a fantastic experience to customers on-demand.
Users can place the order after exploring all complete list on the platform

Vendors receive the delivery request and prepare the package

Stores can request delivery to providers

The delivery provider accepts the request and collects the parcel to customers doorsteps

Customers are allowed to track real-time status on their device

Once the delivery provider delivers the parcel, customers can provide feedback
Launch Your Delivery Business Online with Jow App Clone Today!
Developing a mobile app for your delivery business is one of the best approaches. It will definitely increase your business sales and traffic in no time. If you want to invest in a customized app solution, then Elluminati Inc is all here to help you with it. Our dedicated and professional team of developers ensures to craft practical solutions that answer all your business and customer requirements ensuring your business survival in the market for many upcoming years.