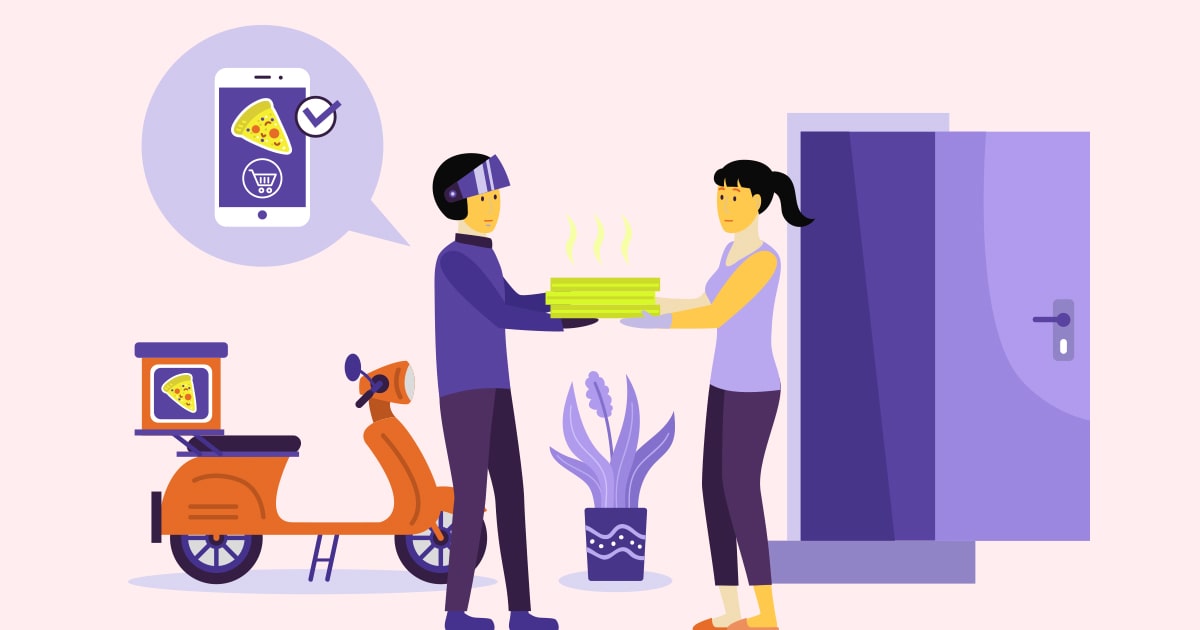 Do you know what people do these days when they want to enjoy their favorite meal? Whether they rush to their favorite restaurant to enjoy their favorite meal? If yes, then they are leaving in the older era. Now people don't have to rush physically in search of their favorite restaurant searching for their favorite food;. Explore the DoorDash business model to know how DoorDash works to ensure a perfect experience offering.
According to a report, on-demand food delivery services are increasing drastically with each
in the passing year, it is increasing by 20% each year and predicted to reach around $365 billion in revenue by 2030. Food lovers have made trends of delivery services at the doorstep, which has given the on-demand businesses a great extent.
Food delivery businesses are facing tough competition in their field. If you are planning to establish your roots in today's competitive market, then it becomes mandatory for you to know how DoorDash works? Which business model do they follow? How do they generate revenue? and much more. Have in-depth knowledge of the DoorDash business model to achieve massive success in your business field.
What Is DoorDash Exactly?
An American on-demand food delivery service DoorDash was founded by Stanford students Tony Xu, Andy Fang, Evan Moore, and Stanley Tang in 2013. At the initial stage, this platform provides logistics services to the users, but now it online offers on-demand food delivery services to the end-users.
DoorDash was successfully launched in May 2019 in Palo Alto. Later it expanded its service in around 4,000 cities while more than 340,000 stores across Canada and the US-registered themselves with the platform. DoorDash is considered one of the largest third-party delivery services in the USA, it is estimated that the company has made around $13 billion since it was launched.
The business model of DoorDash is designed efficiently to benefit users and restaurants. It allows users to search for restaurants nearby them and enables them to order their favorite meal from the restaurant to leverage it at their doorsteps. While it provides access to the restaurants to expand their business, their food delivery business and improve their customer base to a great extent.
Explore How DoorDash Works: Have Deep Insight Into Its Business Model
DoorDash offers an effective platform to the users, which allows them to order their favorite meal from their favorite restaurant with a few simple taps on the platform. DoorDash provides an opportunity for the service provider to earn more for their livelihood by accepting more service requests placed by customers and availing them with their ordered meal right at their doorsteps. Doordash business model is designed to benefit all the three segments, these three segments include:
Customers.
Restaurant owners.
Deliver providers.
Most delivery businesses follow the hyperlocal business model, but Doordash follows the same business model with a minor difference. Check how Doordash works to offer a seamless experience to customers on their demand, explore its complete flow right here.
Customer Explore Menu and Order Food
Customers can check the whole menu before placing an order from their favorite restaurant. They can even sort the items as per their preference and place orders with a simple press of the button.
Multiple Payment Options
Once after placing the order, users can pay for the requested order using multiple options supported by the platform.
Restaurant Prepare Order
Once Doordash receives the order, the platform forwards it to the respective restaurant. Food vendors prepare the food and pack the prepared meal for delivery.
Track Order
Delivery providers, once accept the delivery request and pick the prepared meal by the food vendors. Customers and admin of the system can track the service providers' real-time location.
Deliver Food and Collect Feedback
Delivery providers reach customers' destinations as early as possible to deliver prepared food. Customers, after receiving the meal delivery, can provide their valuable feedback as per their experienced gain.
DoorDash Business Model – Check Everything to Know About the Delivery Giant!
DoorDash's business hiked with each passing year due to its successful business model. It has successfully tied up with famous restaurants and has satisfied the demand of end-users in numerous cities. Explore the business model completely to know how DoorDash raised funds? How does DoorDash charge? How does it make money? Explore everything to know how you can grow your delivery business and expand it to a great level of success.:
Customers
Restaurant owners
Deliver providers
DoorDash business cathed the hiked with each passing year due to its successful business model. It has successfully tied up with famous restaurants and has satisfied the demand of end-users in numerous cities. Explore the business model completely to know how DoorDash works and raised funds? How do DoorDash charge? How does it make money? and much more. Explore everything to know how you can grow your delivery business and expand it to a great level of success.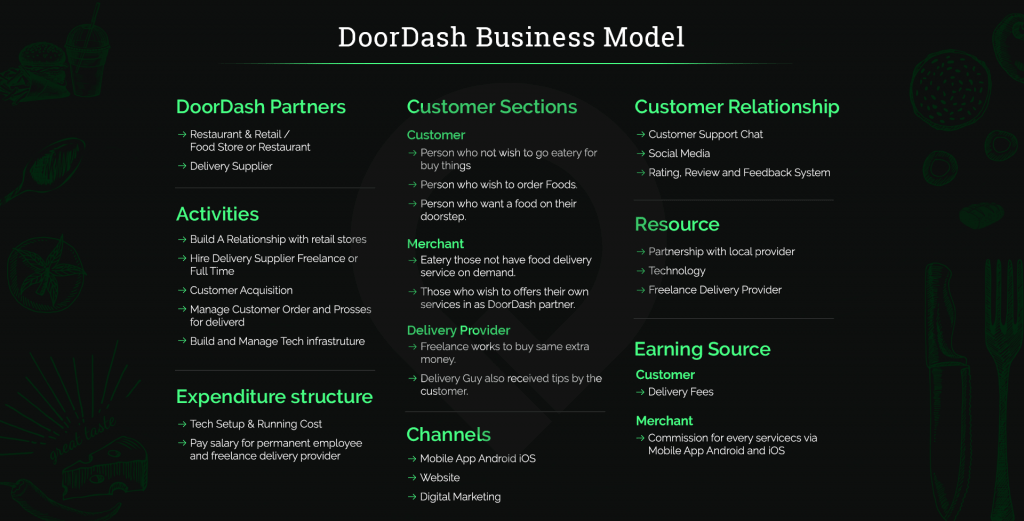 DoorDash Partners
DoorDash has raised around $700 million through several financing rounds from investors including Khosla Ventures, Charles River Ventures, Sequoia Capital, SV Angel, SoftBank, Kleiner Perkins, and many more.
DoorDash raised around $400 million in February 2019, surpassing the company's total funding to $1.4 billion, which later valued around $7.1 billion. As of May 2019, DoorDash additionally raised funding of $600 million from other key partners in 2019, while it was considered as one of the leading food delivery service providers in the United States. It becomes quite easy for you to integrate more and more stakeholders with the business process. Key stakeholders integrated with the DoorDash business model involves:
Service providers and retail stores who aim to expand their business reach.
Delivery suppliers who provide their service to foodies.
Activities
The key activity involves the development of the digital platform, which connects foodies with their favorite restaurant and helps them to get the food delivered right at their doorsteps. Other activities which are included in the model are:
Develop an efficient relationship with retail stores.
Hire service providers to satisfy the need for foodies.
Improve customer's engagement with social media and other forms of marketing.
Provide a digital platform to service providers to manage and accept service requests.
Craft an excellent platform with the help of the technology stack.
Provide users with enhanced payment experience.
Expenditure Structure
There are certain expenses which you need to carry out to earn huge profit in returns. Hence, the expenditure structure which involves in the business model are:
The expense to develop a tech setup.
A cost that you need to invest to manage and run your delivery business efficiently.
Pay commission and salary to service providers registered with the platform.
How Are Customers Benefited From It?
Users can leverage the use of your business model in various ways, these ways involves:
Users who don't like to go physically to restaurants.
Food lovers who love to order food through an advanced platform.
Multiple payment options like debit and credit cards.
Leverage the advantage of offers and discounts by placing them through a digital platform.
How Can Delivery Providers Leverage Its Use?
When it comes to a successful and useful business model, then delivery providers of your business acts as the biggest strength for your brand. Delivery providers can leverage various benefits through the business, these includes:
Delivery providers are provided with an optimized route to reach their customers' location as early as possible.
Earn more profit by providing their delivery service to customers.
How Retail Stores And Restaurants Are Benefited Through It?
Retail stores and restaurants are considered as stakeholders of your delivery business, they can benefit from the following ways:
Retail stores can satisfy the hunger of more customers locally.
Restaurants or retail stores can earn more for their delivery business.
Offer convenient delivery service through the app.
Develop Strong Relationships With Your Customers
Developing strong relationships with customers ensures business success and helps businesses to leverage long term benefits for their delivery business, thus this business model acts in the same manner.
Leverage the power and efficiency of social media platforms for your delivery business promotion.
Enhance band image in the market.
Provide all-time service to customers.
Collect customer reviews and feedback through the advanced online food ordering system.
Resources
Resources help you to keep your survive in this competitive business market, thus to enjoy the competitive edges business model avail your with numerous resources like:
Feature-rich platform to engage more service providers and retail stores.
Technological stack that operates efficiently across various platforms.
Impressive web portal and app for the use of service providers.
Revenue Streams
Every business entrepreneur loves to earn more revenue from their business, and this business model provides them with the same opportunities, this business model also benefits service provider who registers themselves with the platform:
Foodies who love to order their favorite meal through the app.
Service providers will leverage this platform to satisfy the demand for foodies.
Service providers use the platform to manage delivery services.
Investors who invest their amount to show support for decision-making.
Food stores and restaurants provide their business service on the platform.
Earning Source
This business model provides you with numerous sources using which you can generate huge revenue from your delivery business.
Collect delivery fees from customers after delivering them with excellent service as per their demand.
Retail stores and restaurants can provide their delivery service to customers after successful registration, they need to pay commission from retail stores and restaurants.
Summing It Up:
DoorDash business model can prove to be very beneficial for almost all the delivery business. They can leverage the fruit of success in their business field after considering the same business model into their online food delivery segment. Every one of us knows that the demand for food delivery service is increasing with each passing day; thus, it can prove to be very beneficial for you to invest in advanced solutions similar to DoorDash. Hence, check how DoorDash works to offer a smoother experience to customers each time they request the platform's delivery service.
The vast untapped market is waiting for newbies to try their hands and make their name in today's competitive business world. If you want to leverage successful business journeys, then learn the working flow of it and understanding the DoorDash business model can act as the cherry on the cake, thus exploring all the pointers briefly before stepping into the untapped and competitive business market.